Bioluminescent Clear Kayaking in near Orlando and Daytona Beach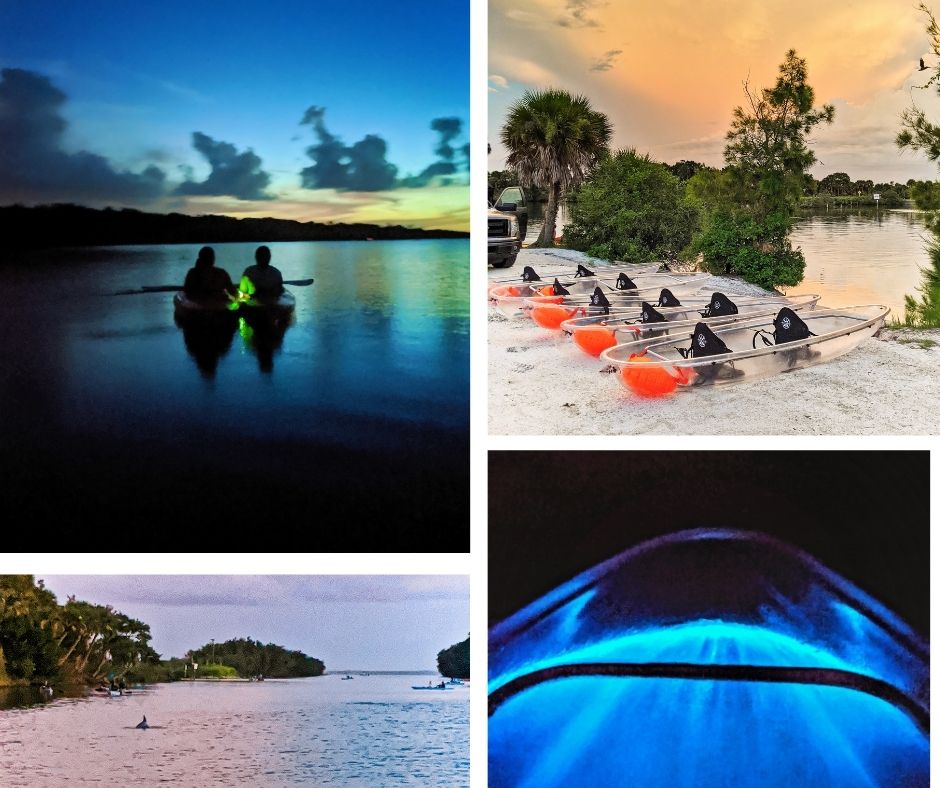 Bioluminescent clear kayaking in Florida is one of the coolest things you can do near Daytona or Orlando. The water glows and the dolphins splash blue water, clear kayaking at night is a truly unique Florida experience.
Clear kayaking with bioluminescence is one of the most beautiful experiences you can have in Florida. An unusual watercraft for an unusual natural phenomena: perfect combo. There are lots of places to enjoy clear kayaking on the Florida Gulf Coast, but fewer on the Atlantic, and doing the bioluminescence in a see-through kayak is remarkable.
Clear Kayaking is relatively new to the world of paddling, but it's a welcome addition. We were fortunate to get our first experience with it in one of the most unique natural areas in the USA. We got to experience bioluminescent waters at Merritt Island National Wildlife Refuge with Get Up and Go Kayaking. Wow.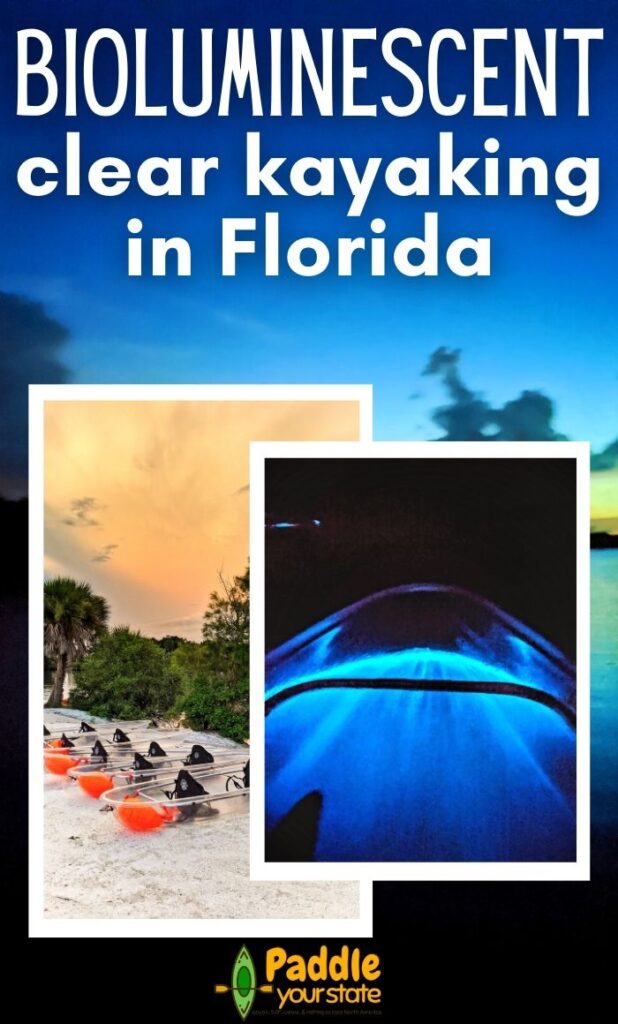 Book this tour at here:  Bioluminescent Clear Kayak Tours in Titusville
What is Bioluminescence?
So what is bioluminescence? Have you seen pictures of that glowing blue water or the silk worms dangling from cave ceilings, glowing in the dark? That is bioluminescence. It's a light source put off by living things and is found all over the world in all kinds of ecosystems, including the deepest parts of the ocean.
To experience bioluminescence in Florida and the Caribbean, you need to get out on the water when the currents are the warmest. The bioluminescent plankton come to the top four feet of water and release their light when agitated. It's like another world. In addition to the plankton, Florida also has comb jellies that come through in the fall, and they too give off a bioluminescence.
Clear kayaking with bioluminescent creatures and in a pristine environment like the Florida coast is a very special experience.
What to Expect with Bioluminescent Clear Kayaking
Unlike other sorts of clear kayaking when you go out on the water in the daytime and get to look through to the springs below or through the shallows, like when you're kayaking in the Florida Keys and South Florida, bioluminescent clear kayaking happens at night, from just after sunset until dawn. If you're scared of the outdoors in the dark, this is NOT a good activity for you.
Because the bioluminescent plankton are so small, giving off just a tiny amount of light each, it must be very dark for the experience to be the brightest. If you do bioluminescent clear kayaking on a night with a full moon, you won't be able to witness the phenomena very strongly at all.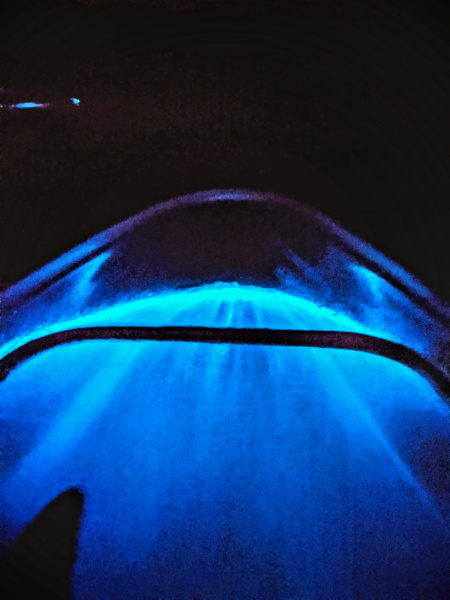 When to do Bioluminescent Clear Kayaking
Starting in June when the days are consistently in the 80s and the nights are not much cooler, the bioluminescence really starts, and this is when most of the clear kayaking takes place. The warmer the night, the brighter the lights. Bioluminescence continues through the summer with it disippating at the end of August.
It gets tricky to align clear kayaking in Florida for both bioluminescence AND great weather. The summer is hurricane season, and while named storms are few and far between, evening winds and surprise storms can happen all through the summer. That's no need to fret, but just a reminder to be flexible when planning your trip.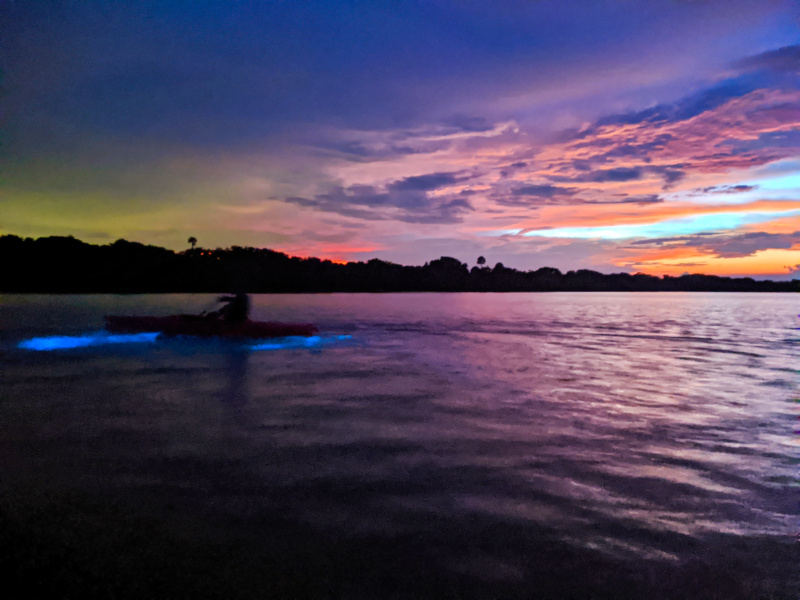 How to See the BEST Bioluminescence
You don't just paddle out and see the water glow with bioluminescence when you're doing clear kayaking. You have to actually agitate the water and activate the bioluminescent plankton. This can be done by the bow of the clear kayak breaking the water as you move through. You kayak paddles hitting and scooping the water brings out the best glow.
The really fun part of bioluminescent clear kayaking is when the wildlife passes by and activated the glowing water. Seeing it through the kayak or beside you, the outlines of fish, dolphins and more make for an exciting experience.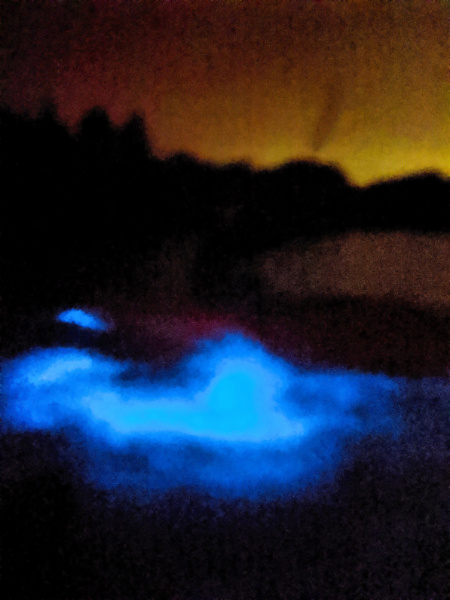 Wildlife to See at Bioluminescent Clear Kayaking
Yes! There is a lot of wildlife when you're doing bioluminescent clear kayaking! The most common sight, by total amount, that you'll see is fish. Thousands of glowing fish just below the surface light up the night as your kayak cuts through the water. In the shallow areas, mullet fish jump and skim along the surface like shooting stars, sometimes even jumping in your boat.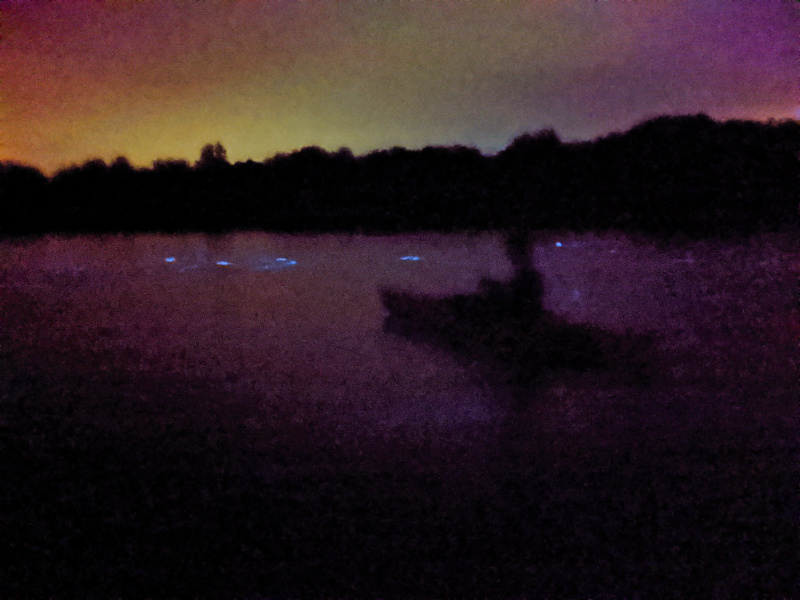 The real highlight of the wildlife for bioluminescent clear kayaking is the dolphins. We've gone out, both clear kayaking and just on our own in our standard kayaks, and been completely in awe of the dolphins. They actively swim, hunt, splash, and even jump in the dark. Each time they break the surface or speed up under water you can see them. At one point we had four dolphins below us and then surface directly next to us.
More wildlife to see when bioluminescent clear kayaking include large manatees, which glow subtly, sharks (they keep their distance), birds at sunset, and racoons on the shores.
The big ticket wildlife to see glowing below the surface is an alligator. Because bioluminescent clear kayaking happens in salt water instead of fresh water, there are very few alligators, but there are some. If you're lucky enough to see one underwater, you'll get to observe their bodies and large tails swiftly pushing them past you. Remarkable!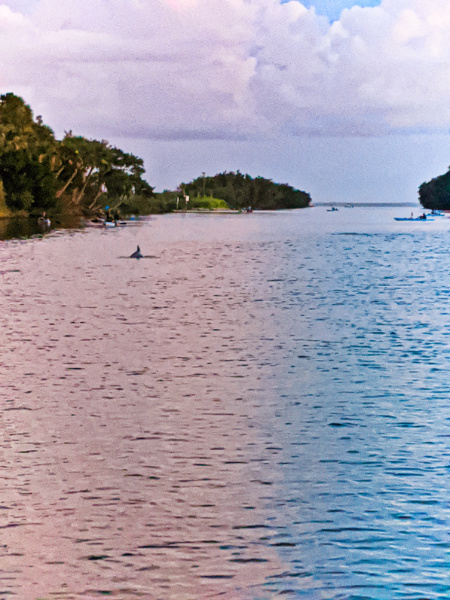 Being Prepared for Night Kayaking
You could just show up to your bioluminescent clear kayaking tour and head out on the water, but you might be uncomfortable or just not have the best time, so it's important to be prepared. From bug spray and clothing to taking photos, here's everything you need to know before clear kayaking with bioluminescence.
Bug Protection for Bioluminescence
Yes, bug protection is important. Clear kayaking for bioluminescence happens on warm, humid nights when the mosquitos come out in full force. Bug spray is helpful, for sure, but you'll also want to be fully clothed in pants and long sleaves. I know, it's hot out, but there is usually a breeze on the water cooling it a bit. The long pants and long sleaves really will make the bioluminescent experience much better.
I also recommend a hat and, if you have them, kayaking gloves. The less skin you have exposed to the night air, the fewer bug bites you'll get. I know this all sounds like it's just too much, but really the experience is fantastic and out of this world, so just be proactive to prevent the bugs and you'll have a great time.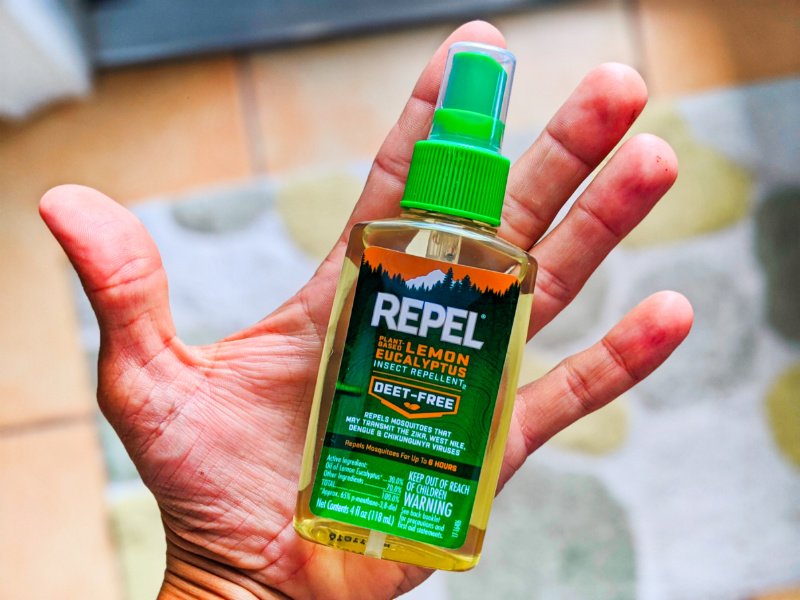 What to Wear for Nighttime Clear Kayaking
Like I said, wear long sleaves and long pants for bioluminescent clear kayaking. We actually will double up our shirts and sometimes even wear special anti-mosquito clothing to ensure we minimize our bug bites.
When it comes to pants, wear pants. Don't wear shorts. Jeans will be too hot, so athletic pants that AREN'T formfitting is recommended. Also, clear kayaks don't have the most comfortable seats, so if you have padded biking shorts you can wear under your pants, that would be a smart bonus.
Additionally, a hat and even gloves are helpful when you do night kayaking.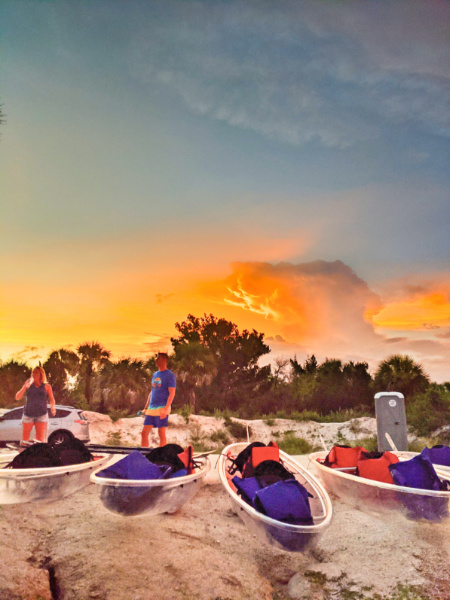 Photography During Bioluminescence
Honestly, bioluminescent clear kayaking is something to be enjoyed in the moment. It is very difficult to get good bioluminescence photos. The light is very dim in relation to how cameras take in light and reproduce images. If you have a special camera with specific nighttime settings that are meant to function is extremely low light, you may have success.
The other thing that impacts being able to get good photos of bioluminescent clear kayaking is that by nature, the bioluminescence happens due to excessive motion. If you know anything about low-light photography, you know that things must for very still to get good photos.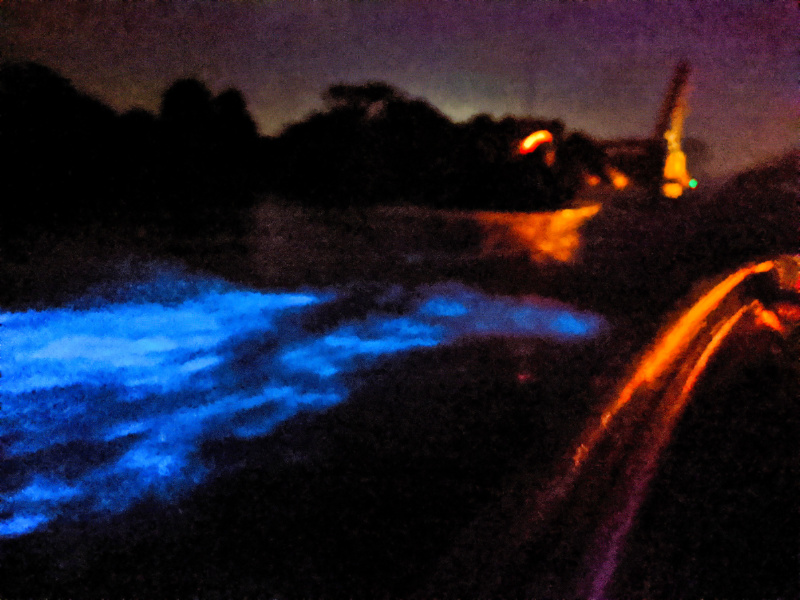 Where to do Bioluminescent Clear Kayaking
While there are lots of nighttime kayaking experiences all around Florida, bioluminescence only happens in a few places, and bioluminescent clear kayaking only happens in Titusville. The Merritt Island National Wildlife Refuge is a part of Canaveral National Seashore and is directly adjacent to Kennedy Space Center (NASA). It's just over an hour from Daytona Beach, Orlando or Cocoa Beach to get to the launch site at Merritt Island NWR.
There are a few other places that you can enjoy nighttime clear kayaking, but the bioluminescence is more rare. On the Gulf Coast side of Florida, the Shell Key Preserve and Fort De Soto both have seasonal bioluminescence, but it's tough to get a clear kayaking tour of it. Get Up and Go Kayaking, who we went with at Titusville, also does an LED glowing kayaking tour at Shell Key sometimes, so if that's of interest, when you book with them be sure to ask!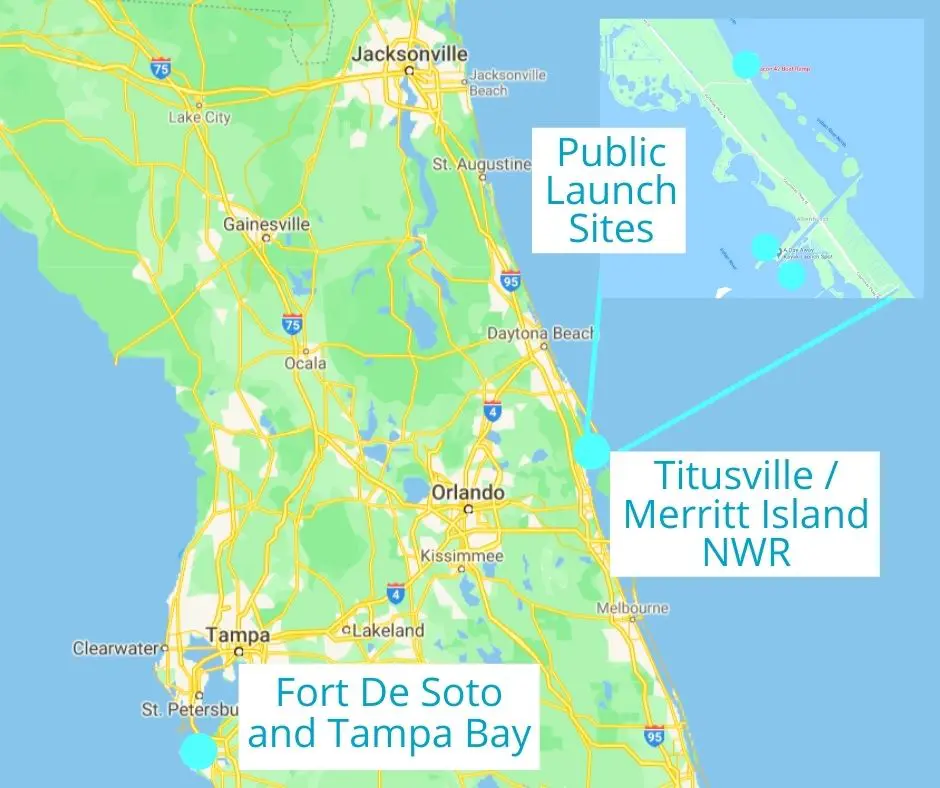 More Clear Kayaking Tours in Florida
Clear kayaking is so cool, either for bioluminescence or just to see active wildlife underwater. If you're interested in kayaking in South Florida, clear kayaking in Florida State Parks or other unique waterways, here are more options for clear and glass bottom kayaking around Florida:
Silver Springs State Park, Ocala
Rainbow Springs State Park, Dunnellon
Rock Springs / Emerald Cut, Apopka / Orlando
St Pete Beach Glass Bottom Mangroves, St Petersburg
Sugarloaf Key

, Florida Keys

Shell Key Preserve, Tampa – GLOW TOUR HERE!
Crystal River Manatee Paddle, Crystal River / Gulf Coast OR Three Sisters Spring
The CHAZ (river), Homosassa / Gulf Coast
Bonita Springs Mangroves, Ft Myers / Naples
Night Kayak Key West, Florida Keys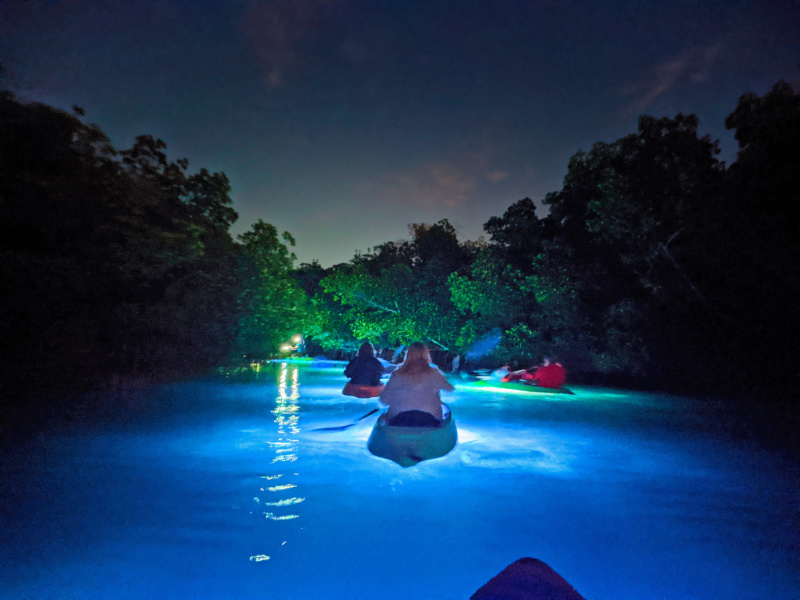 If you have any questions or commentary, please leave a comment or send us a note. We're happy to help point you to awesome experience on the water all around North America!
*Tour links are often affiliate links; we may receive a small commission at no cost to you if you book through our provided links.