Guided Kayaking on Tarpon Bay at Sanibel Island, Florida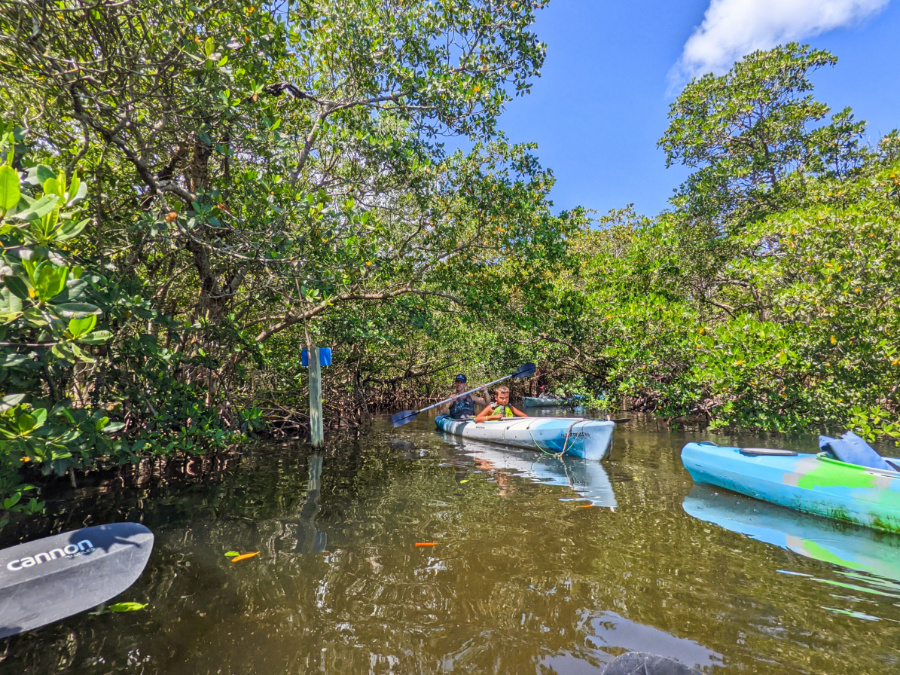 Kayaking Tarpon Bay and the Ding Darling National Wildlife Refuge on Sanibel Island is a must-do on the Florida Gulf Coast. Different than the Everglades, see what you'll find kayaking on the Gulf Coast.
When people ask about paddling spots, particularly when they're looking for cool kayaking trails, we often point them to mellow rivers or interesting lakeshores. On Florida's Gulf Coast at Sanibel Island, you'll find one of the best places to kayak in South Florida. Kayaking Tarpon Bay and the Ding Darling National Wildlife Refuge is a must.
We went out with kayak guides, Tarpon Bay Explorers, and also got to paddle on our own, have explored a fair amount. This sheltered part of the Gulf Coast and Intracoastal Waterway is great for spotting wildlife and getting kids out on the water in a safe, unique place. This is one of the best things to do on Sanibel Island.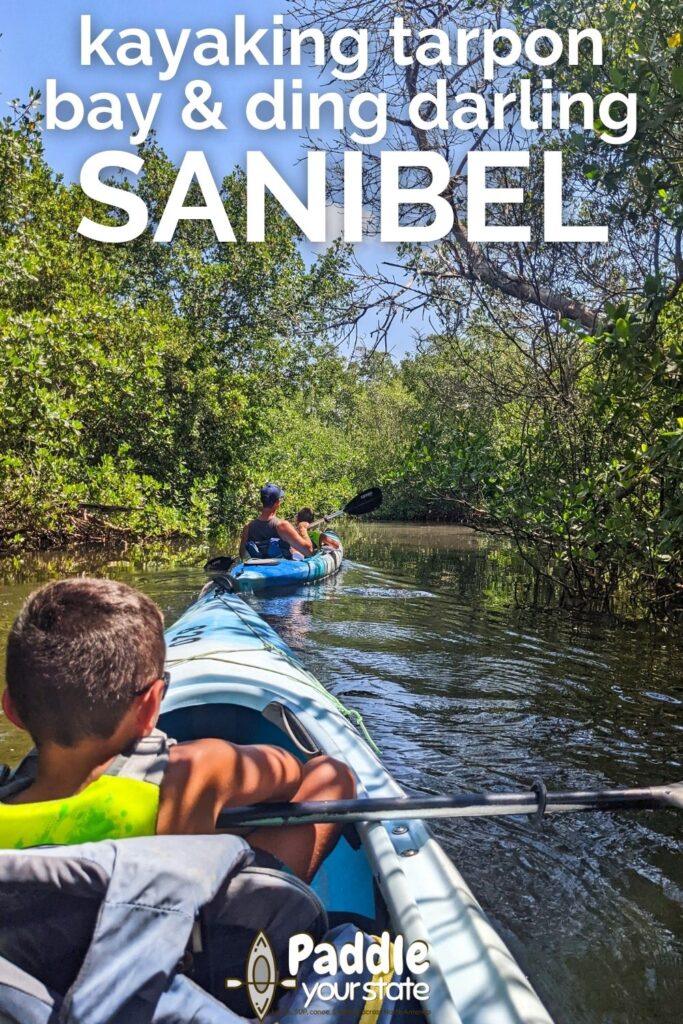 Tarpon Bay Explorers Tour
We do a lot of kayak tours in addition to our own paddling, and really enjoy them. The experience can be a missed bag, but if it's good for us, we try to share what we really enjoy. Doing the Commodore Creek Kayak Trail with Tarpon Bay Explorers on Sanibel Island makes the cut for a quality tour due to the actual guiding, the environment and the solo paddling experience. Here's the full scoop.
The route for going out into the Ding Darling National Wildlife Refuge via Tarpon Bay starts at the paddling company's headquarters, then skirts the edge of Tarpon Bay on Sanibel's eastern side, before heading into the mangrove streams. While Tarpon Bay itself is actually really large, the majority of this particular kayaking tour goes through the mangrove islands. For people that aren't used to Florida kayaking, mangrove tunnels and passages might seem strange or uncertain, but they're actually really fun to kayak through.
The mangrove portion of the Tarpon Bay kayaking tour follows the Commodore Creek Kayak Trail waterway, complete with markers to ensure you don't get lost in the mangroves. As you enter the creek (actually a saltwater passage), follow the markers 1-17. This will ensure you can find your way out and that you experience the diversity of habitats along the paddling trail.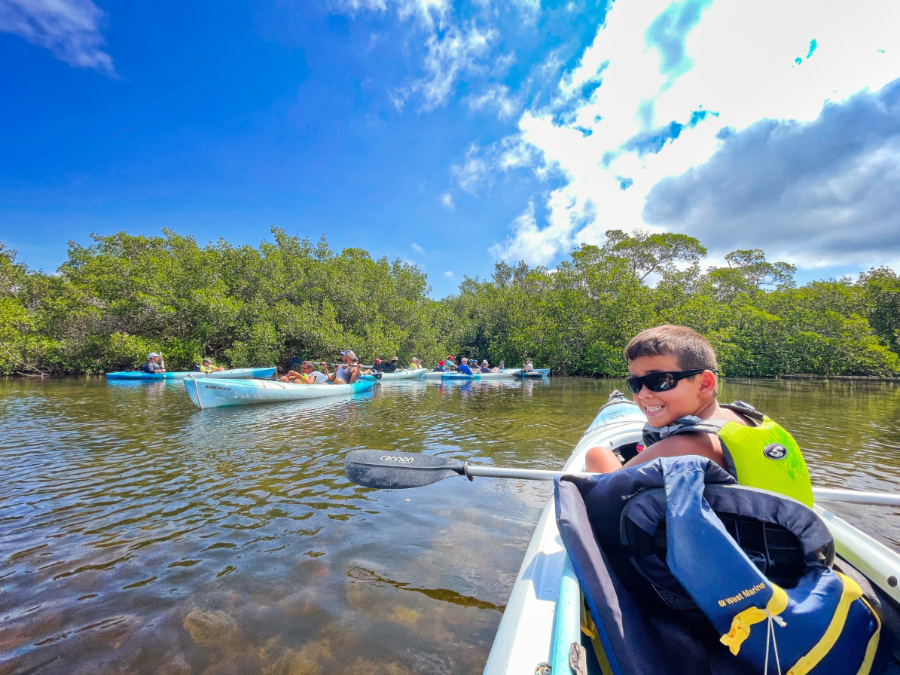 What makes the Tarpon Bay Explorers Kayak Tour Unique
Regarding the actual tour we did with Tarpon Bay Explorers, we followed our guide through the many passages and small lakes (still saltwater) until the Commodore Creek Kayak Trail loops to rejoin itself. From there, our guide released us all to paddle on our own, ensuring we knew how to get out of the mangrove islands. It was actually really great to be let loose to explore without the rest of the group.
When you're doing a guided kayak tour, often there are a fair number of people with minimal experience joining you. This is usually not a problem, but in a destination like Sanibel Island where you have people visiting for all over for the beaches, kayaking here is usually not the primary purpose of the visit. What this means is that when you get a bunch of novice paddlers together in a narrow waterway, they sometimes don't know how to control their paddle craft properly… turning it into moments of bumper boats.
Because of the amount of greenhorn kayakers on this tour, our we very much appreciated being able to head out on our own after the guided tour portion. We actually were able to keep our kayaks for the rest of the day if we wanted, as the additional time is included with the cost of the tour. I wish more kayaking companies would do this!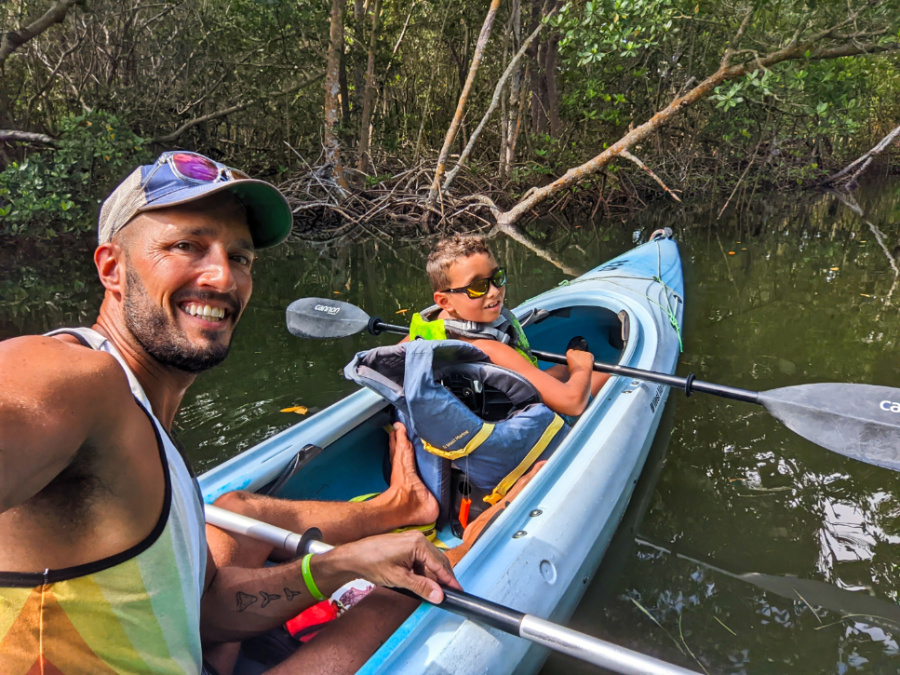 One final element of our Tarpon Bay Explorers kayak tour that we loved was our guide. We went with Savannah, a marine biologist, who was ready and willing to share ALL the knowledge about the Gulf Coast ecosystem and the habitats found in Tarpon Bay. She was shard, had a great eye for wildlife and was very patient with the kids and novice paddlers on the tour. Bravo for a well executed paddling trip!
Note: if you don't often do kayak tours, it is customary to tip your guide. How much you tip is up to you, but for a two hour or less tour we'll tip about $10 per person, sometimes more. It depends on the technicality, the engagement and the overall experience.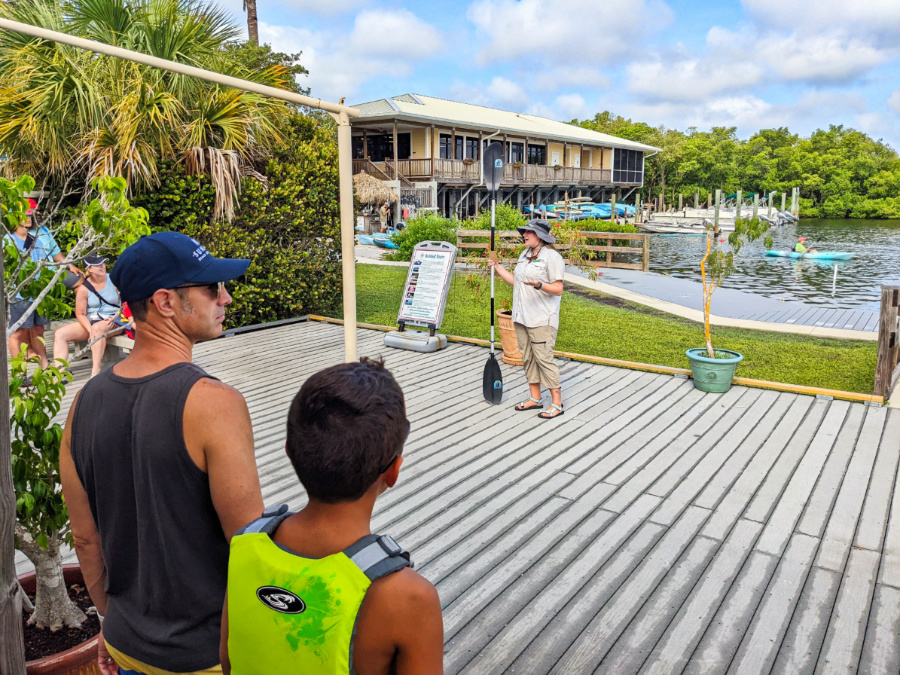 Know Before You Go Out on Tarpon Bay
Kayaking on Tarpon Bay is a mix of both shaded coves and open water. Being prepared with sunblock is HIGHLY recommended. The Florida sun is hot and can really get you if you're not used to it, or even if you are. We tend to use waterproof SPF 30 for kayaking and it's kept us burn free on many trips, including when we did the tour for kayaking the 10,000 Islands in Everglades National Park.
Another thing to consider when you're getting on the water at Tarpon Bay is that you'll be kayaking into the Ding Darling National Wildlife Refuge. This unique area, of both open water and mangrove forest, is full of wildlife. I love bird watching and wildlife photography, so kayaking here is my perfect storm. With photography gear comes the need for dry bags. If they're offered and you've got camera gear you want to keep safe, use a dry bag.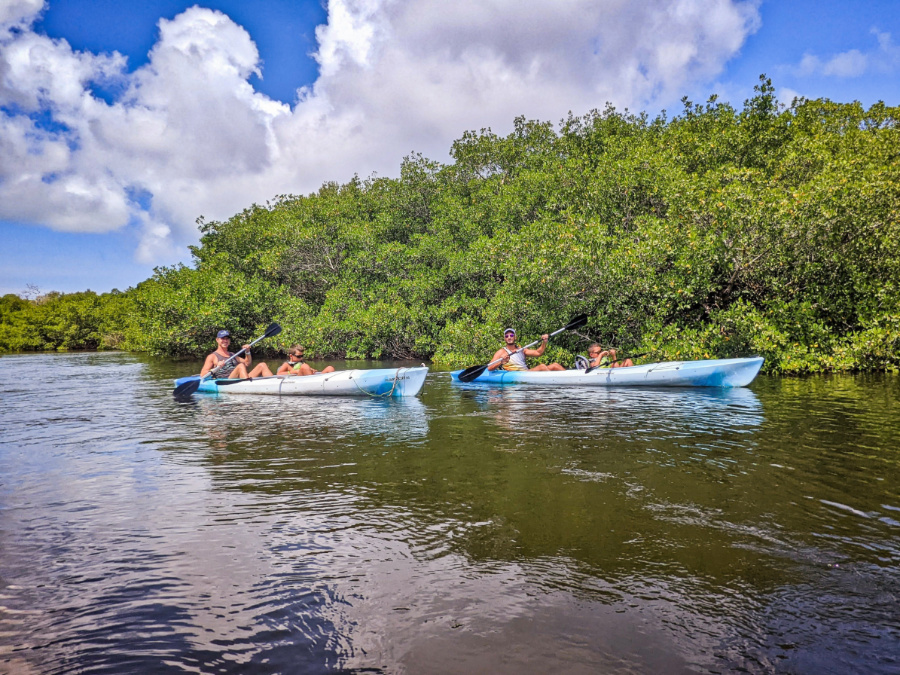 How are the Mosquitoes on Tarpon Bay?
We have been to some buggy places, like doing the bioluminescent kayaking at the Merritt Island National Wildlife Refuge or when we've been paddling in Wisconsin, but our experience on Sanibel wasn't bad actually. You think of South Florida in the summer being bad for mosquitoes, but they weren't actually a problem for us kayaking on Tarpon Bay or in the Ding Darling National Wildlife Refuge.
We do like to take preventative measures when we're kayaking though. We use different bug repellent sprays, and recently we even got some deet-free bug repellent wipes. If you're concerned that the mosquitoes are going to find you, take the precautions you need to before heading out on your kayak tour.
Highlights of Kayaking Tarpon Bay and Ding Darling Wildlife Refuge
We're always excited to kayak places that are different from our normal paddling trails. We live in North Florida, so spend a lot of time on rivers and the Intracoastal Waterway. Getting into the watery mangrove forests of Sanibel Island was a nice change. Entering the Commodore Creek Kayak Trail was like stepping into a totally different world, and I loved it.
Wildlife to Watch for in Tarpon Bay
When you're paddling in Tarpon Bay, keep your eyes peeled for all sorts of marine life. Look out for manatees, sting rays of different sorts, sharks, sea turtles and even… wait for it… tarpon (large fish). While some of the wildlife can be elusive if you're at water-level vs on a SUP with a higher vantage point, you can still have success by keeping your eyes peeled and knowing what to look for. When you see smooth circles on the top of the water, that's often a "manatee footprint" left by their fluke as they push through the water, and then they often surface with a loud exhale. Sting rays and sharks leave a similar smooth trail when they suddenly swim away quickly.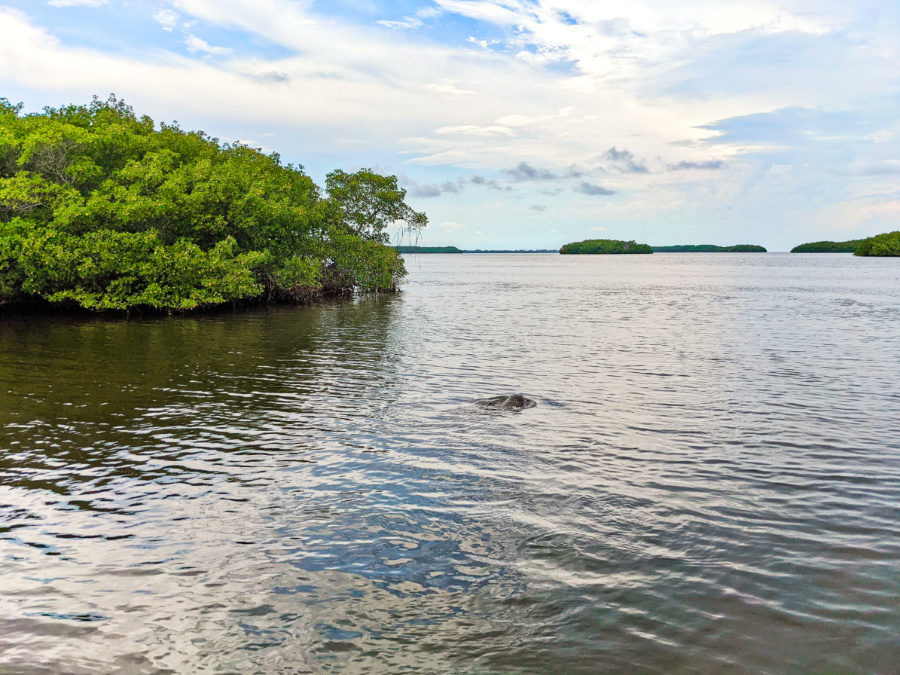 Since Tarpon Bay is relatively shallow in most parts, you don't see tons of dolphins, but they do come into the bay. Watching for wild, breaking water and fins to spot dolphins hunting in the shallows. What's really cool is when you can spot them swimming on their sides and fishing.
When it comes to birdwatching on Tarpon Bay and within the Ding Darling National Wildlife Refuge, you're in for a treat! Whether it's ospreys and eagles or spoonbills you're looking for, you'll spot something cool when you're on the water. There are quite a few types of heron and egrets here, which means LARGE birds both wading and fishing as well as swooping low sometimes. If you really look as you paddle, you'll even find nests with babies.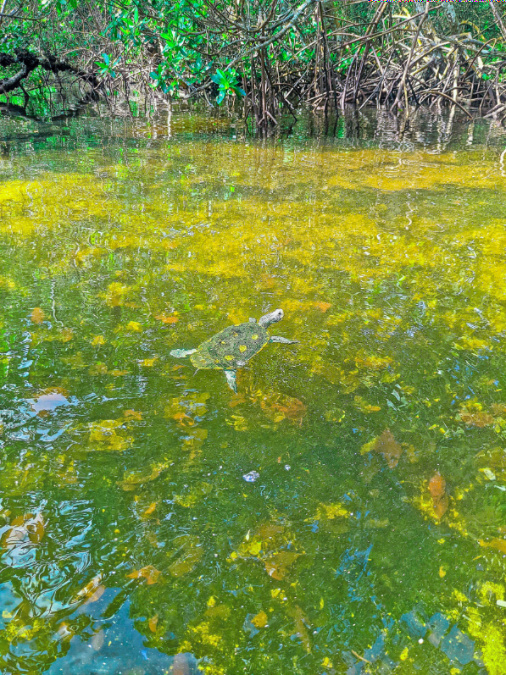 Paddling the Mangrove Tunnels of Commodore Creek
In addition to the wildife, the other thing we really enjoy about kayaking on Tarpon Bay is the mangrove tunnel area. With tight passages, low hanging branches and some technical turns, kayaking in the mangrove forest is really fun with kids. We've seen some really cool things in mangrove tunnels, from humongous spiders high overhead to mangrove crabs and seastars. The shaded, sheltered areas are wonderfully unique and interesting for kayaking.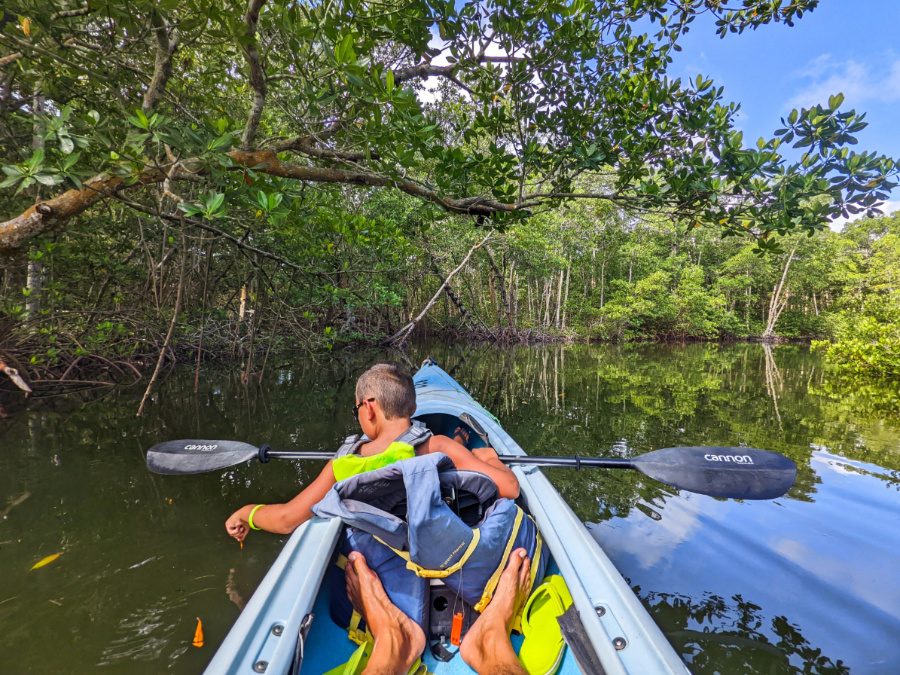 Gear for Kayaking on Tarpon Bay on Your Own
So, yes, you can explore Tarpon Bay and the Ding Darling National Wildlife Refuge on your own. Wether you pay the launch fee and go out from the Tarpon Bay Explorers ramp or if you enter from another spot, you can paddle without doing a tour. The bay itself is rather broad and there is plenty of mangrove shoreline to poke in and out of, as well as small passages to navigate, but the Commodore Creek Kayak Trail is the highlight.
If you're sticking to the open bay, either kayaks or standup paddleboards are good for getting out on Tarpon Bay. What gets tricky though is if you're on a SUP and the tide is going out, as the bay and the managrove passages aren't very deep. Because SUPs have fins on their underside, low tide and submerged branches make this NOT a great spot for exploring via SUP. We recommend kayaks for paddling Tarpon Bay during any tide level.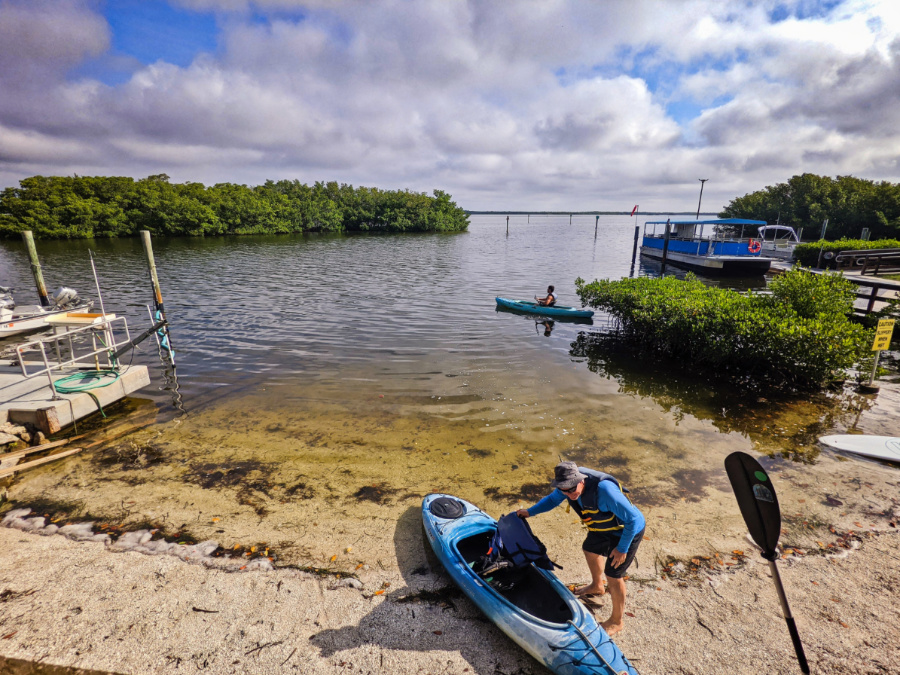 Where is Tapon Bay / Sanibel Island?
Sanibel Island is just west of Fort Myers, Florida on the Gulf of Mexico. It's about a half hour from downtown Fort Myers, about 40 minutes from the Southwest Florida International Airport, and about 45 minutes from Naples and Marco Island. From Tampa, it's about 2.5 hours' drive and about 3 hours' drive from Orlando. You do have to cross the causeway bridge (toll) to access Sanibel Island.
Once on Sanibel, Tarpon bay is on the eastern side of the island, not far from the bridge. To pinpoint even more, the Commodore Creek Kayak Trail is in the northwest corner of Tarpon Bay, adjacent to the Ding Darling National Wildlife Refuge which covers a fair portion of Sanibel.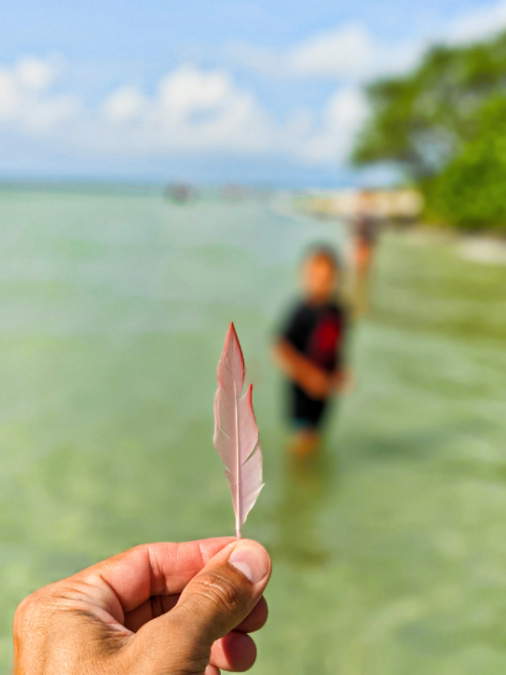 Can I paddle the Ding Darling Wildlife Refuge Other Places?
Great question! Yes, you can access the Ding Darling National Wildlife Refugre for kayaking from a variety of places. Here are five launch sites to go from for accessing the different parts of the refuge:
Blind Pass Beach (closed currently, 2022)
Port Sanibel Marina
Sanibel Boat Ramp
Dixie Beach Parking
Castaways Canoe and Kayak Rental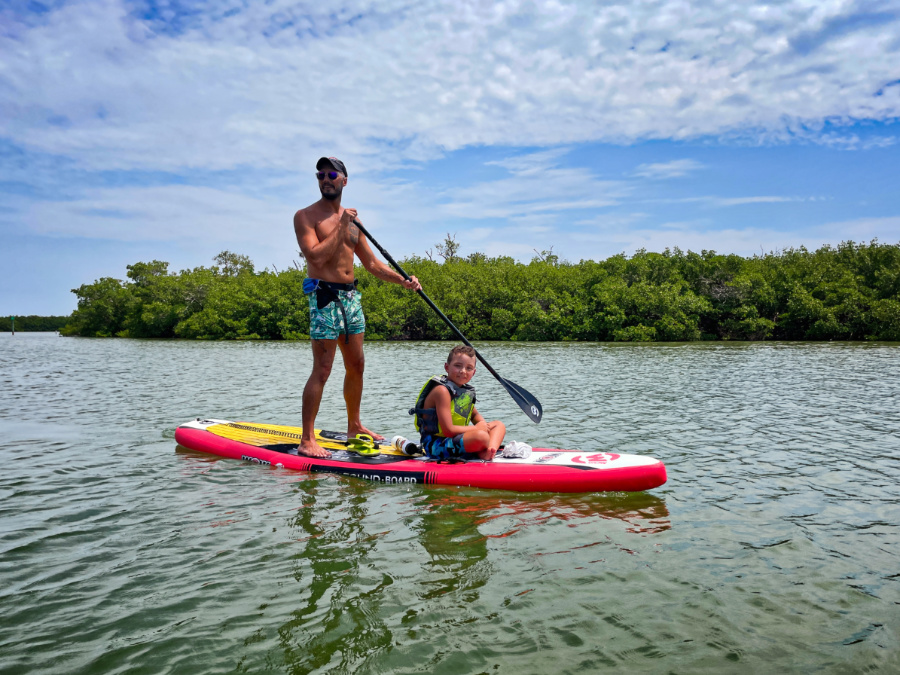 More Kayaking Spots around Sanibel Island
Since Sanibel is an island and there are lots of other islands around, there are quite a few spots to launch kayaks. While a lot of these are for more of open water paddling, there a some nice bays and even a few more mangrove tunnels to explore:
You can also kayak or SUP from the many beach access points, and if you're staying at a resort, such as the Sundial Beach Resort, they may even provide kayaks and SUPs for guest use. There are paddling opportunities everywhere!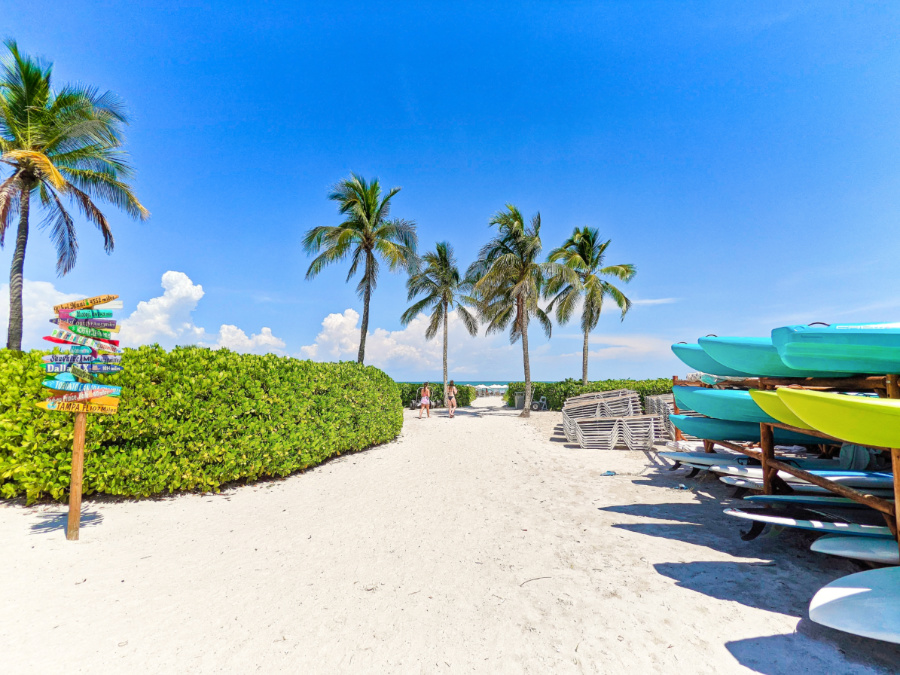 If you have any questions about the Tarpon Bay kayak tour or paddling around Sanibel and Captiva, please let us know. Leave a comment or send us a note and we'll help you find the right paddling spot for your trip!