Kayaking on Michigan's Lower Peninsula is a beautiful way to see the state. From natural areas on Lake Huron to a different way to see Detroit, these kayaking spots and tours are perfect for summer travel.
Although known for its prime location right in the middle of four Great Lakes, kayaking on Michigan's Lower Peninsula isn't just sea kayaking in open water. Some of the best paddling in the state can be found throughout its extensive systems of rivers and inland lakes. You'll find it's very different from kayaking Michigan's Upper Peninsula.
Among these spots, Michigan has some of the most unique, interesting and beautiful paddling features to discover in the country. Float atop the waves and paddle in awe as you make your way past Lake Superior's tremendous geological structures, through the winding canals of Detroit's sprawling cityscape, down the waves of a challenging whitewater park or simply a leisurely float down a calm flowing river.
The countless inland lakes and river systems, combined with over 3,200 miles of freshwater coastline provides an incredible supply of paddling opportunities for all experience levels. Here are some of the top launch spots in Michigan's Lower Peninsula for family-friendly day-trips, extensive multi-day adventures, or exciting whitewater runs.
Best Lower Peninsula Day Trips
Spending time in the Midwest in summer and fall is absolutely beautiful. Very similar to kayaking around Door County and Green Bay, Wisconsin, paddling in Michigan gives you the Great Lakes and hidden inland gems.
Au Sable River (Difficulty: Beginner)
One of Michigan's calmer and more pristine river paddling experiences can be found on the relaxing Au Sable River. Kayakers can expect a peaceful day on the water immersed in an amazing natural environment complete with towering pine trees and winding river bends. And with lots of camping options available, this tranquil waterway can also be stretched into an easy multi-day trip as well.
*SUP Friendly Paddling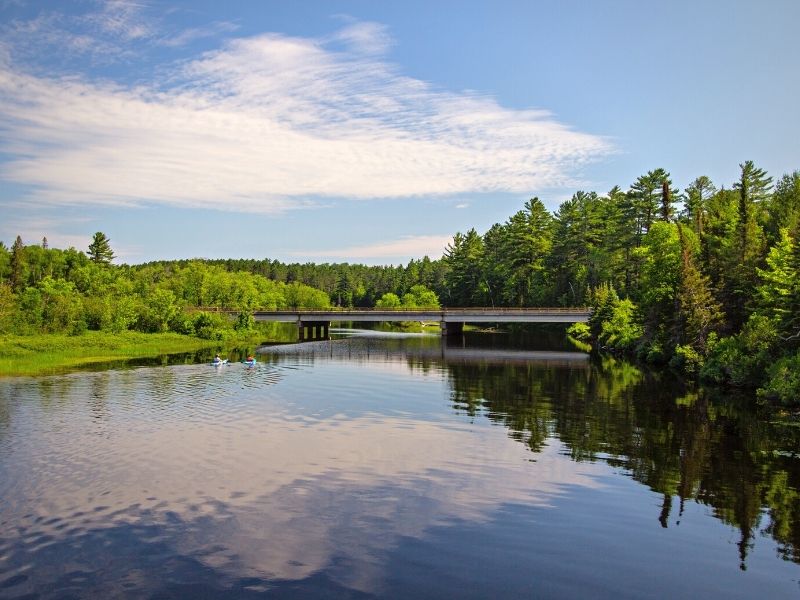 Grand River/ Grand Rapids (Difficulty: Beginner)
Running right through the heart of downtown Grand Rapids, the Grand River is an excellent way for paddlers of any experience level to discover the beauty of the city and the surrounding wilderness. While paddling through the longest river in the state, take advantage of the popular fishing scene and bring your rod for the chance to catch salmon, steelhead, walleye, and many more species that call the Grand River home.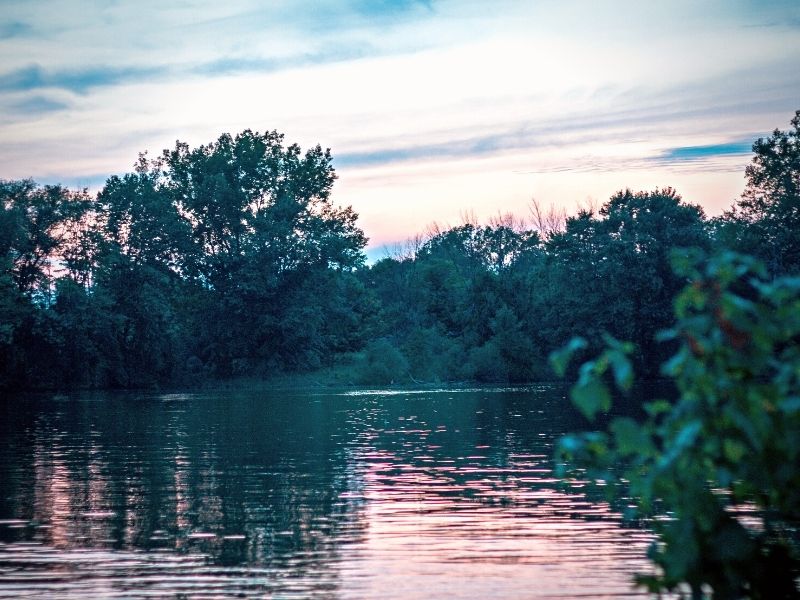 Turnip Rock (Difficulty: Beginner)
Considered to be one of America's most incredible natural rock formations, the vegetable-shaped island has become a popular attraction for kayakers throughout the Lower Peninsula's Northern tip. Since the natural wonder can only be seen from the water, a easy 4-hour kayak trip along the beautiful Port Austin shoreline is well worth the trip and easily navigable for all experience levels.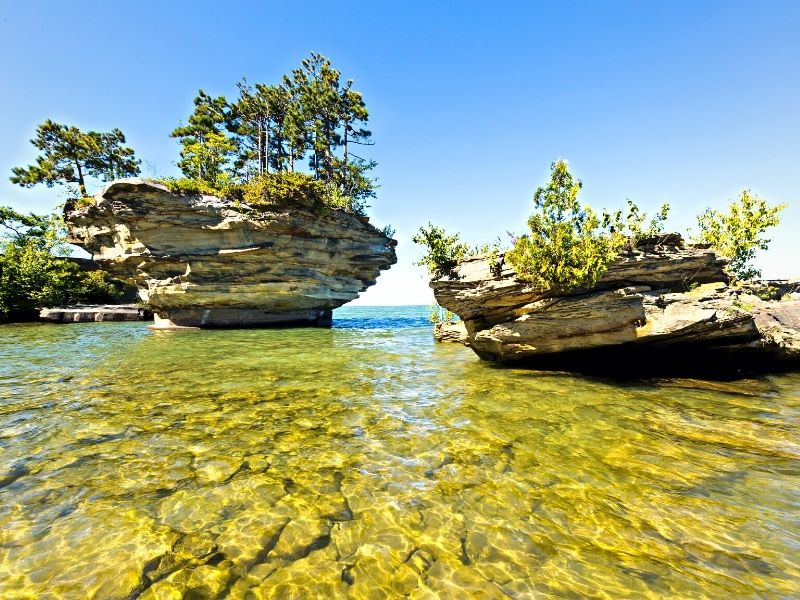 Crystal Lake (Difficulty: Beginner)
Known for its crystal clear waters and stunning shades of blue, Crystal Lake is among the best spots for a fun and relaxing day on the water surrounded by beautiful waters and pristine wilderness. Also, the 21-mile sandy beach along the shoreline is an excellent place for picnics and swim breaks throughout the day.
*SUP Friendly Paddling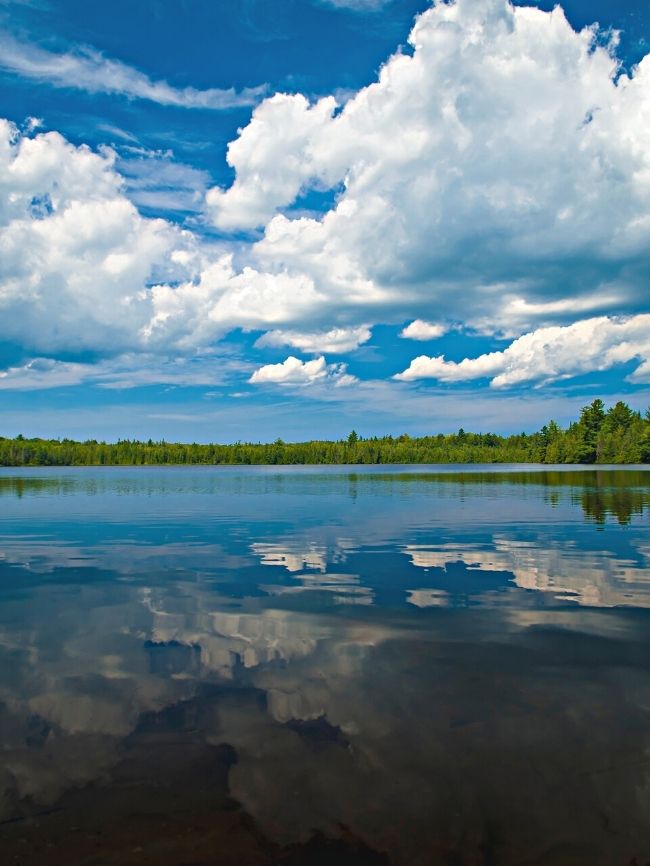 Detroit Canals (Difficulty: Beginner)
Sometimes called the "Venice of Detroit", the dense system of Detroit's canals take paddlers through some of the best sights the suburban landscape has to offer. Kayakers can look forward to exploring various waterside neighborhoods mixed in with scenes of overgrown flora. And for those looking to explore the area without chance of getting lost, there are some excellent tour operators offering a guided tour throughout the canals that we have listed below.
*SUP Friendly Paddling
Lower Platte River (Difficulty: Beginner)
This short, beginner-friendly float is perfect for kayakers looking for a fun, simple, and rewarding afternoon on the water. With beautiful sand dunes and a diverse population of blue heron, ducks and deer, the slow moving waters of the Lower Platte will provide non-stop scenery throughout the journey.
*SUP Friendly Paddling
Seven Lakes State Park (Difficulty: Beginner)
With six lakes and over 230 acres of water to discover, the kayaking found in Seven Lakes State Park is some of the most tranquil paddling in the state. As the majority of the lakes are often entirely free of boat traffic, you're likely to have any one of the lakes to yourself as you explore the calm bays and shaded shorelines during a relaxing afternoon adventure. SUP Friendly Paddling
Straits of Mackinac (Difficulty: Intermediate)
Built as a bridge connecting the Lower Peninsula with their northern neighbors, the Mackinac Bridge and the surrounding straits provide an interesting day-trip. Paddling under the bridge offers a unique view of the waterway that splits Lake Michigan and Lake Huron. However, this trip should only be attempted by those with some sea kayaking experience as unpredictable waves and freighter wakes can be challenging for beginners.
Lower Peninsula's Best Multi-Day Adventures
Like if you've been kayaking in the Adirondacks, kayaking Michigan's Lower Peninsula offers a fair number of paddling trails and multi-day kayak trips you can plan. Whether you choose to camp with your watercraft or just do portions of the Michigan paddling trails, you'll love the scenery and wildlife.
Chain of Lakes Water Trail- Lower Chain Route (Difficulty: Intermediate- Advanced)
The infamous Chain of Lakes Water Trail consists of over 100 miles of paddling through 12 lakes and various interconnected rivers. However, for those looking to experience the best section of this lengthy paddling trail, we recommend a trip down the 30 mile Lower Chain Route. This intermediate-advanced route runs through five lakes and features fast moving sections of river, an open water crossing, and periods of high waves.
Grand River Heritage Water Trail (Difficulty: Beginner)
Running from Grand Rapids all the way to Lake Michigan, Grand River's 41-mile water trail reveals some of the best scenery that Michigan's longest river has to offer. And with an average speed of 3 miles per hour, the river is an ideal route to explore for all experience levels.
Huron River Water Trail (Difficulty: Intermediate- Advanced)
One of the longer excursions on this list, the Huron River Water Trail consists of 104 miles of waterway and runs through Ann Arbor all the way to the open waters of Lake Erie. But this also isn't your average calm river paddling like most of the Michigan rivers. The entire route features a variety of paddling challenges including alternating stretches of rapids and placid waters.
Inland Waterway (Difficulty: Beginner)
Located in the northern tip of Michigan's Lower Peninsula, the 40-mile long Inland Waterway Trail is a popular route for kayakers looking for a historic trip running through a variety of different rivers, and lakes. From Petoskey to Lake Huron, paddlers will experience the magnificence of seven state parks as well as some unique rivers. Overall, the trail is without rapids, portages, and few motorized vessels making for a calm trip great for beginners looking for a longer adventure.
Sleeping Bear Dunes (Difficulty: Beginner)
With countless inland lakes, rivers, and Lake Michigan paddling opportunities, the area of Sleeping Bear Dunes National Lakeshore can keep kayakers busy for days. One of the most impressive sights is the 400-foot high bluffs along the stretch of Lake Michigan's shoreline that will awe and maze paddlers who are used to the flat geography of Michigan's Lower Peninsula.
Lower Peninsula's Rapids and Whitewater Runs
Upper Platte River (Difficulty: Intermediate)
Both longer and more challenging than the Lower Platte River, this 3-4 hour run contains fast moving waters with sharp turns, mild rapids, and various obstacles of fallen branches to maneuver. Although paddlers won't experience the intensity of whitewater in this run, the fast moving currents still make for a fun and exciting challenge.
Bear River Whitewater Park (Difficulty: Advanced)
This spectacular Class 3 run is guaranteed to excite paddlers joining the many travellers from across the country visiting the Bear River Whitewater Park. The park offers various exciting challenges including roll overs, ledges, and tight squeezes that will make you forget that you're in the heart of downtown Petoskey.
Sturgeon River (Difficulty: Advanced)
Sturgeon River contains the fastest moving water in the Lower Peninsula and features a wide range of rapids all the way up to Class 3. The run should only be attempted by experienced paddlers as the current is extremely fast and requires strong paddling along with quick decision making. Experienced kayakers will find Sturgeon River to be a fun and exciting trip.
Tours
Historic Detroit Canal Tour
For those looking to experience the wonder of Detroit's canal system with the supervision and guidance of an experienced guide, this group tour is a great way to explore the city. Knowledgeable guides also inform on all of the area's fascinating history.
https://www.detroitriversports.com/about-morning-canal-tour
Guided Kayak Tours at Sleeping Bear Dunes
The wonders of Sleeping Bear Dunes should be experienced by everyone regardless of paddling experience. Offering professional guides, this is a rewarding trip filled with stunning scenery. Your guide will stay with you every step of the way to monitor your paddling on the open Lake Michigan waters and to take lots of amazing pictures of you and the bluffs.
Weather and When to Visit
Due to cold temperatures, freezing waters, and harsh winters, the summer is usually the best season to venture out into Michigan for paddling trips. For most, the season lasts from April to September. Brave paddlers will continue on some of the unfrozen waterways until the late fall to experience the beauty of the changing colors, but this should not be attempted by inexperienced or unprepared kayakers as cold waters and unpredictable weather patterns create added risk. Even in peak season, kayakers should check an up-to-date weather forecast before every expedition.
Great Lakes Paddlers
Thinking about making Michigan your new go-to kayaking base? Consider joining the South-Eastern Michigan paddling community of Great Lakes Paddlers. In addition to monthly meetings of like-minded kayaking enthusiasts, the group plans roughly one paddling excursion a month to one of the state's best paddling spots. Open to all experience levels, Great Lakes Paddlers is full of paddlers looking to promote Michigan kayaking and explore the best regions of the Lower Peninsula.
https://www.greatlakespaddlers.com/join-us/
Just the Tip of the Iceberg
The almost overwhelming amount of open water, river, and inland lake kayaking opportunities are waiting for you and your paddle. We've got you covered with this list of the best spots in the state, but you'll quickly realize that the Michigan paddling scene has more to offer than what initially meets the eye. This is just a taste of the buffet.