Rover Inflatable SUP Review – WOW Watersports lightweight Standup Paddleboard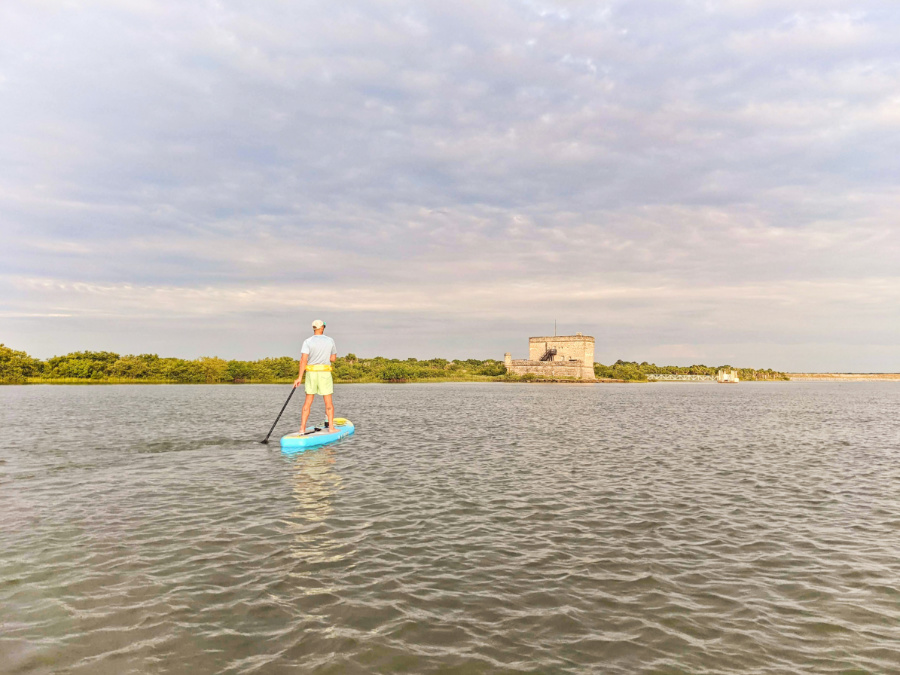 Review of WOW Watersports Rover Inflatable SUP - see what makes this standup paddleboard so easy to transport, use and enjoy getting out on the water.
We've got another great inflatable standup paddleboard to try! The Rover inflatable SUP from WOW Watersports has joined our paddling gear this summer and it's been a welcome addition. Sister product to the WOW Soundboard inflatable SUP, the Rover is more narrow and a bit lighter for transport. Check out our full review of what we like about this product.
Need-to-Knows About the WOW Rover Inflatable SUP
I'll say this first: I love that my WOW Rover inflatable paddleboard is blue and yellow. It makes me happy whenever I inflate it and get out on the water, adding a splash of color. But there are more things I like about this SUP than just the color, including its unique fin and other features.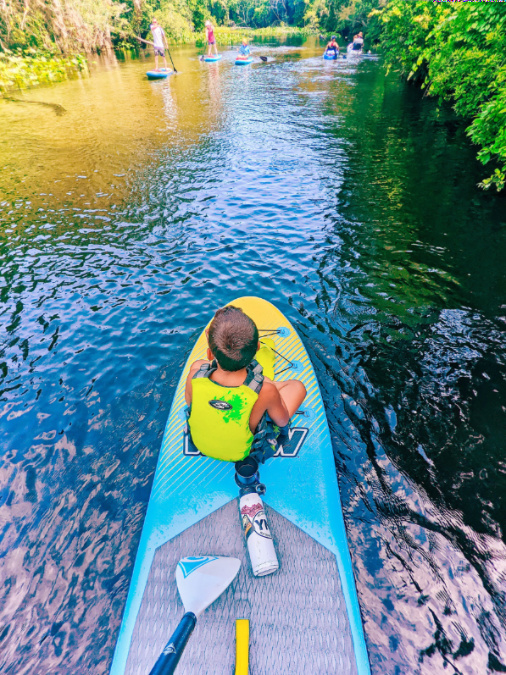 How Sturdy of an Inflatable SUP is the Rover ?
Yes, the Rover inflatable SUP is sturdy. At 10'6″ long, it's not as long as other inflatable SUPs, and that slightly shorter length does make a difference when it comes to rigidity (I feel it improves it). Also, the Rover is plenty wide (32″ across) making it wide enough for newer standup paddlers to get comfortable pretty quickly. But what really matters is how the board is pumped up.
I'm just going to quote myself here: "Like with any inflatable SUP, the WOW Soundboard does require that it's pumped up properly. The people who moan about inflatable SUPs are 99% of the time not actually filling them properly, so they think they are lame." This statement is totally true with nearly every inflatable paddleboard.
The WOW Watersports Rover inflates to 15 PSI, but it's firm enough to support a large adult at 11 PSI. Anything less than 11 PSI and it has more of a bend than I am okay with. Ultimately, if you're following the product guidelines, you'll be happy with how firm the WOW Rover is, but the higher the PSI within range, the better.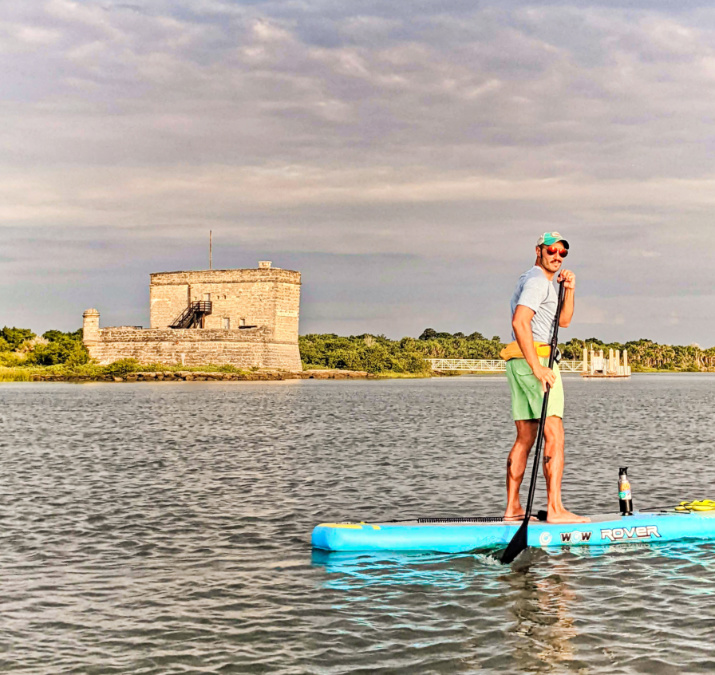 Is the Rover Inflatable SUP Easy to Setup?
The air capacity on this board is pretty standard for most inflatable SUPs. Setup is really easy as it's just removing the WOW Rover from its backpack, unrolling it, pumping it up (we use an electric one to do most of the work) and then finishing it off with the manual two-way pump that comes with the board. Complete setup takes less than 5 minutes, as does putting it away. If you're putting your board away somewhere sandy, like we do when we paddling in the Florida Keys, you'll want to have a towel and broom to clean it up, which adds a few seconds to the process.
Don't forget to add the fin! The detachable fin on the WOW Rover Inflatable SUP has a different setup than more paddle boards I've used:
insert fin at front of the horizontal slot

slide fin ALL of the way to the back of the slot
insert cotter bar (plastic rectangle attached to fin) through the base and fin holes.
It's really easy to do, but if you don't slide the fin all the way to the end of the track, you won't be able to fully insert the cotter bar. While the fin will feel very secure still, to ensure you don't lose it if you encounter an underwater obstacle, be sure you do this correctly.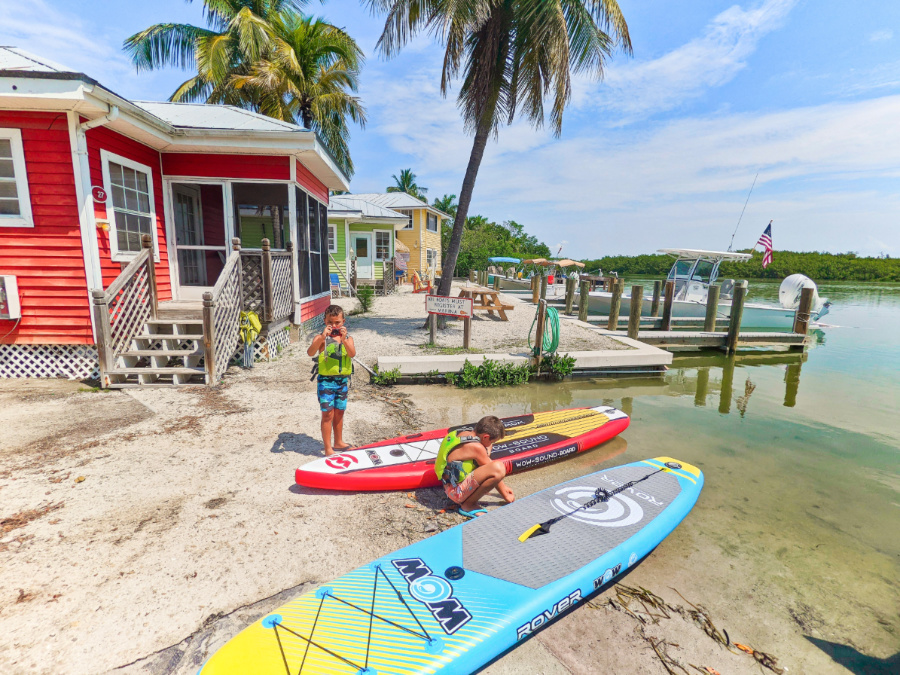 Features of the Rover Inflatable Paddleboard
I already mentioned that I love the color of the Rover inflatable SUP, but there is more to it. Like with its sister board, the Soundboard, it has an unusual deck material where you stand. A soft but durable foam makes the Rover comfortable for either standing, kneeling or sitting, and it has GREAT traction.
The bungie system at the front of the board is a bit longer than most, making it easy to tie down a dry bag, sandals, water bottles and more. And then there's the bonus of an actual cup holder that screws into the Rover as well. The provided cup holder also fits the WOW Sound Buoy, which you can either purchase on its own or it comes with the Soundboard Inflatable SUP.
The last feature, and this is a standard for inflatable paddleboards, is the backpack for storage and transport. With solid construction, it's very easy to carry and pack the Rover inflatable SUP back into. I've had some boards that you have to be very specific in how you pack it back up, but the WOW Rover actually fits easily with all its gear, including the manual pump.
What's included with the WOW Rover Inflatable SUP
The WOW Watersports Rover inflatable paddleboard comes with everything you need to get on the water. The complete kit has:
the 10'6″ WOW Watersports Rover SUP
detachable fin
ankle cable
three piece paddle
standard size two way manual air pump
screw-in cup holder (fits the WOW Sound Buoy if you want)
storage backpack
It all fits easily in the backpack, and to make sure, it also has a cinch strap to keep everything together if you like. It's really easy to setup and put away.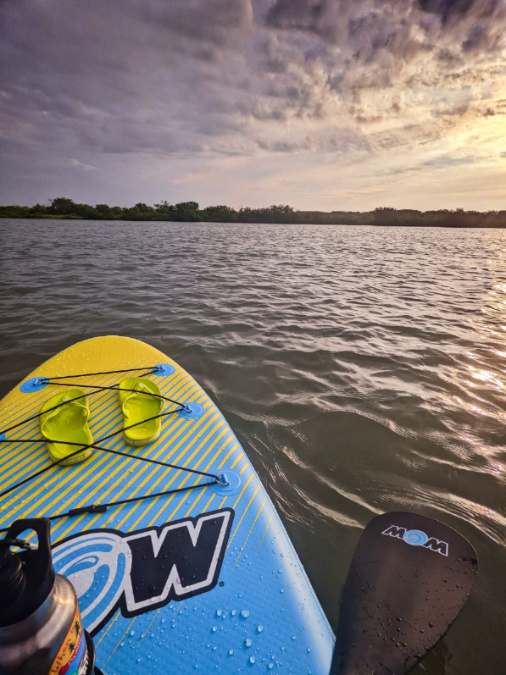 Comparison to Other Inflatable SUPs
What I like about the WOW Watersports Rover SUP in comparison to other inflatable paddleboards I've used is both the texture of the decking (like I mentioned with this board and the Soundboard) and it's ease of putting away. Its performance on the water is directly comparable to my longest-used SUP (the BIC Wing), with this board being easier to put away. It balances well, but takes waves head-on with a splash due to its rounded front.
The Rover inflatable SUP is also great for having child-passengers. When one of our kids rides on the front, we don't install the screw-in cup holder, as we don't want whomever is sitting there to back into it and potentially bend/break the screw.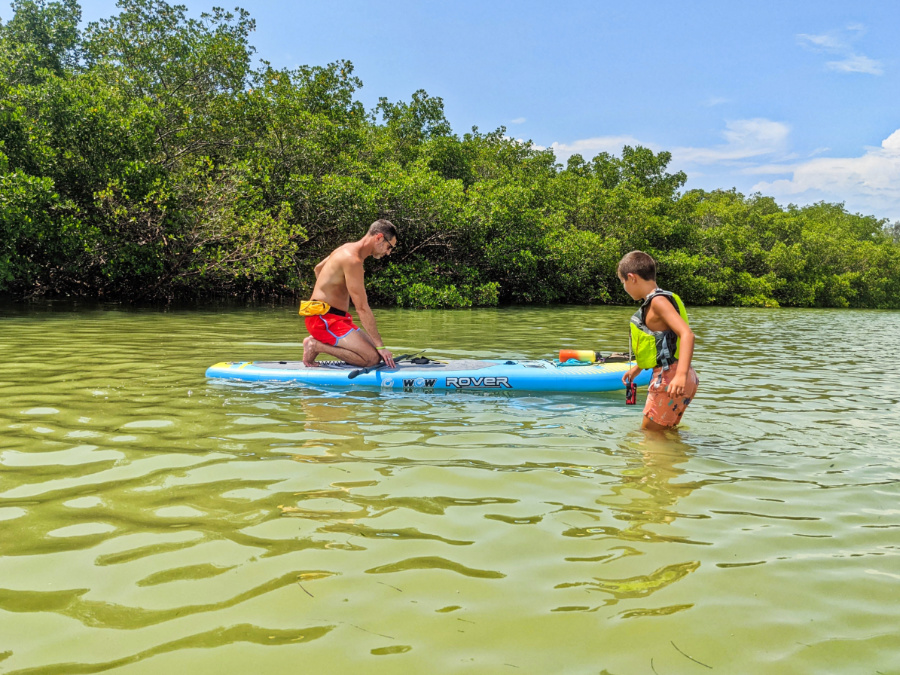 Where can I get a WOW Rover Inflatable SUP?
The WOW Watersports Rover is available directly through the manufacturer, or several other retailers. Here are links to check pricing and availability:
If you have any questions about the WOW Rover inflatable SUP or any other gear or SUP destinations, please let us know by leaving a comment or sending us a note. Happy paddling!