Kayaking Michigan's Upper Peninsula: Beautiful Paddling Spots on the Great Lakes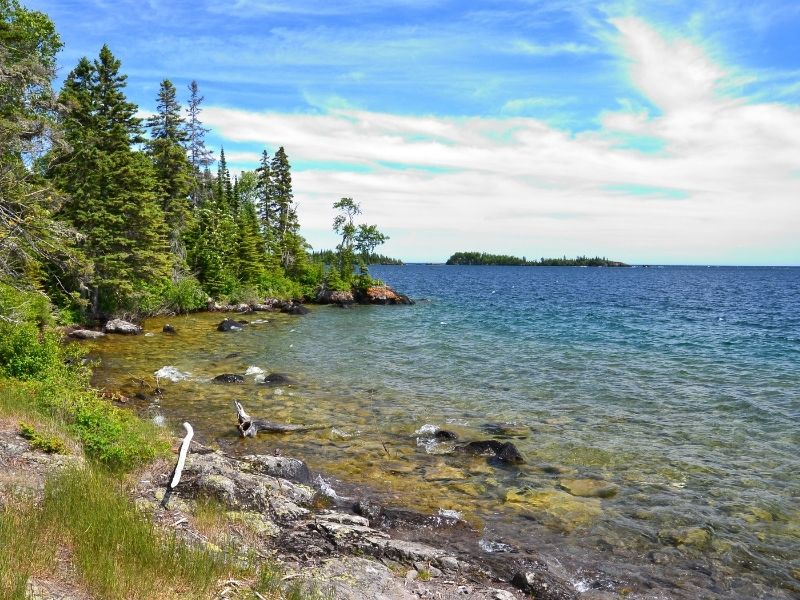 Kayaking on Michigan's Upper Peninsula includes beautiful rivers and the shores of Lake Superior. Places to launch for beginners or experienced kayaking in Michigan's Great Lakes area.
Kayaking on Michigan's Upper Peninsula is awesome, and it includes paddling at Isle Royale National Park, which is so wonderfully remote. Yes, there are some mosquitoes to deal with during the summer, but kayaking on the Upper Peninsula is really special. It's similar to kayaking on the Lower Peninsula, but fewer people.
Lake Superior, the Sylvania Wilderness Area, and Lake Gogebic are just a few of the impressive bodies of water that keep adventurous kayakers busy for days. And these huge lakes don't even begin to scratch the surface of what Michigan's Upper Peninsula has to offer. With 1,700 miles of Great Lakes' coastline, 4,300 inland lakes, and countless navigable river systems, it's safe to say that paddlers have enough options to stay in the water for months, if not years.
The calm waters of secluded lakes, and gentle rivers are perfect for day-tripping beginners while raging whitewater runs, and tiring multi-day sea kayaking expeditions will prove ideal for those with more experience. In compiling the ultimate list of the best paddling spots in Michigan's northern strip, we've listed some the top places where kayakers are sure to find stunning waterfalls, historic shipwrecks, challenging rapids, and dizzying canyons.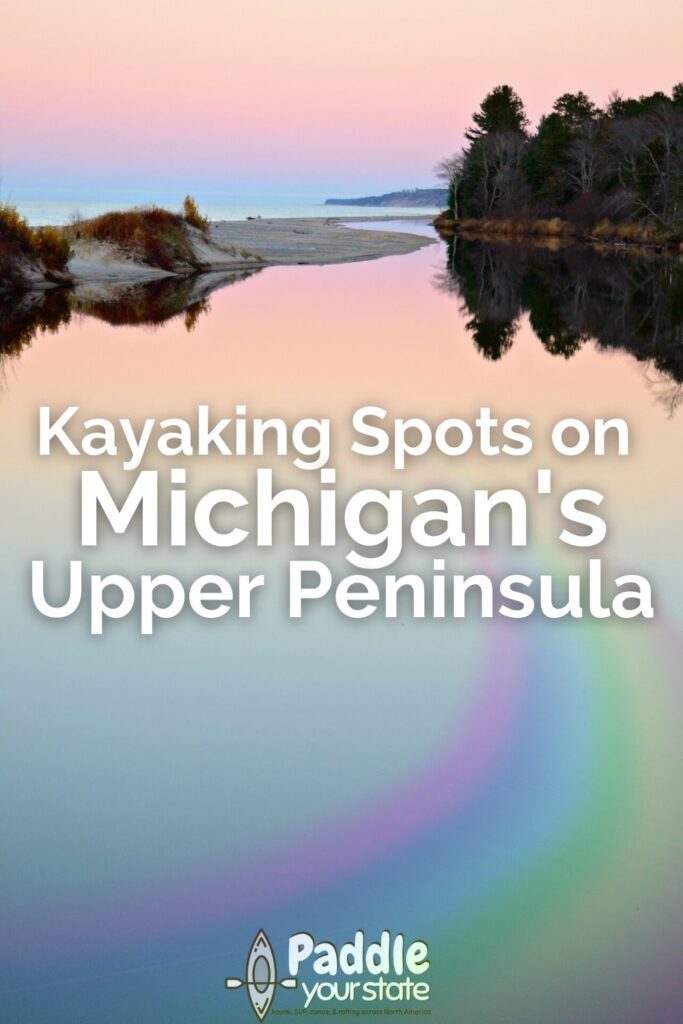 Upper Peninsula Kayaking Spots for the Perfect Day-trip
Even though multi-day kayaking trips are a favorite way to explore Michigan's Upper Peninsula, these day trips are nearly as good. With some more mellow paddles on broad stretches of water, as well as some great river kayaking, grab a paddle and hit the water with one of these choices.
Lake Gogebic (Difficulty: Beginner)
Starting with the Upper Peninsula's largest inland lake, Lake Gogebic's peaceful atmosphere is ideal for a calm day of paddling through Michigan's pristine wilderness. Stretching across two time zones and with an extensive 36 miles of shoreline, most have yet to discover the best spots on the lake. Optimal for families and beginners, Lake Gogebic and the surrounding features found within the state park are guaranteed to provide a fun-filled weekend on the water.
*SUP Friendly Paddling
Where to Launch: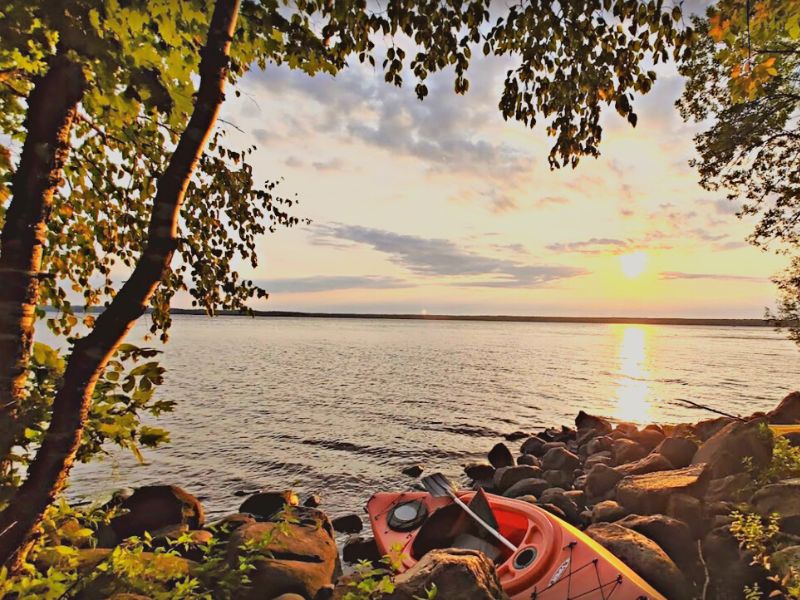 Two-Hearted River (Difficulty: Beginner)
This adventurous 4-6 hour trip through zig-zagging waters will delight and amaze kayakers of any experience level. Many sections of the shoreline are lined with spectacular sand dunes which contribute to the non-stop gorgeous views throughout the route. And because the majesty of the Two-Hearted River has yet to be discovered by most paddlers, you'll likely to have the river all to yourself as you paddle down this secluded waterway.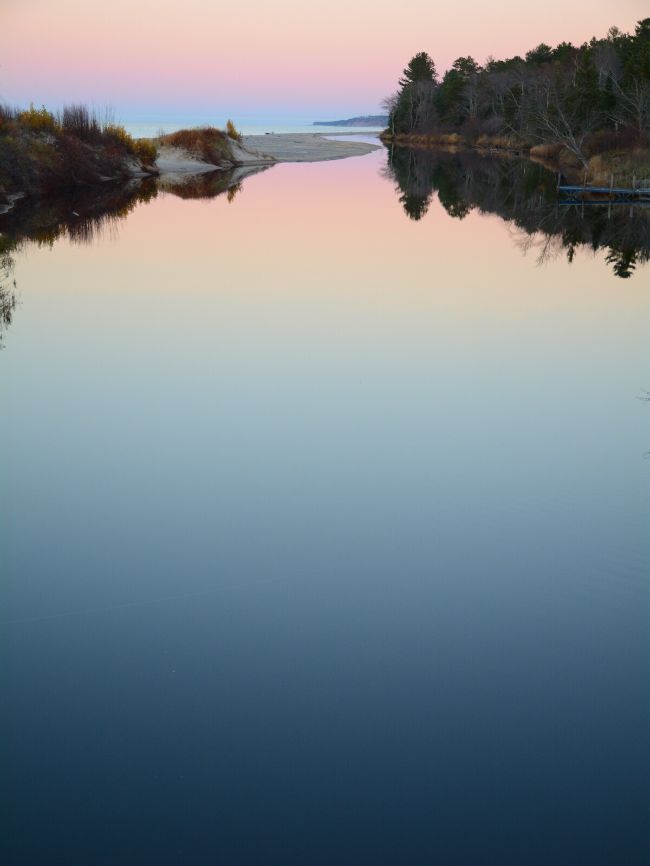 Tahquamenon River (Difficulty: Beginner)
Blue jays, warblers, kingfishers, beavers, and sea otters are just a few of the many critters that have been known to live on the shoreline of the Tahquamenon River. Throughout the three-hour paddle, allow the gentle current to guide you through deep forests, open meadows, and quiet backwoods. Overall, the Tahquamenon River is one of the best places in the Upper Peninsula for less experienced kayakers looking to experience the region's irresistible charm.
*SUP Friendly Paddling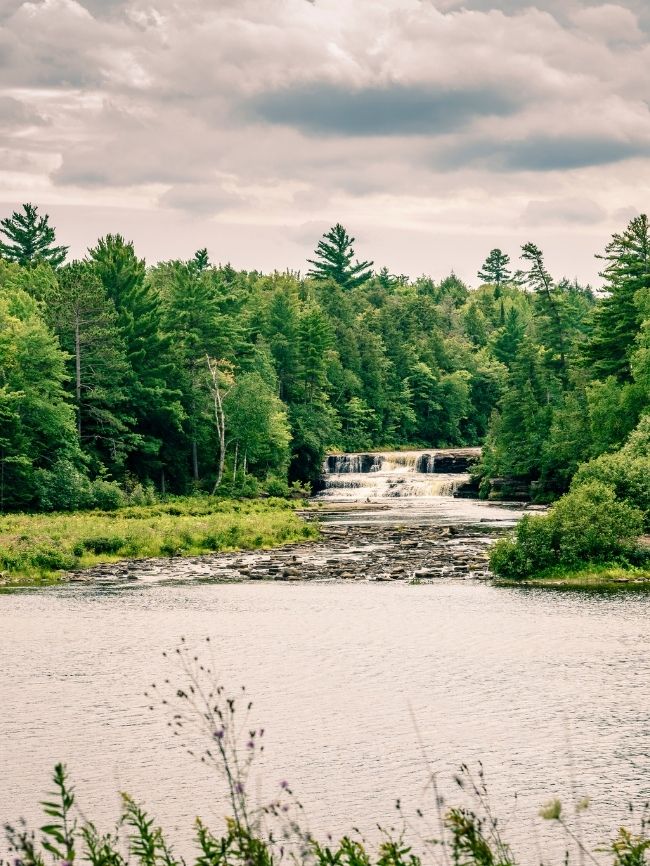 Sault Ste. Marie and Soo Locks (Difficulty: Beginner)
One of the most rewarding experiences in the Upper Peninsula is the stretch of water connecting paddlers between Sault Ste. Marie and the Soo Locks. This 7-mile adventure begins on St. Mary's River and continues through the famous Soo Locks joining Lake Superior and Lake Huron. Paddlers will be greeted by the action of the busy shipping lanes as well as some of downtown Sault Ste. Marie's most historic buildings, including the Edison Sault Power Plant.
Note: if you keep paddling or paddle northward, you'll cross into Canada. Expect border patrol to stop you or turn you around, unless you're planning to officially enter Canada. Much like kayaking the Yuma River in Arizona or Big Bend National Park in Texas, you need to be aware of international boundaries.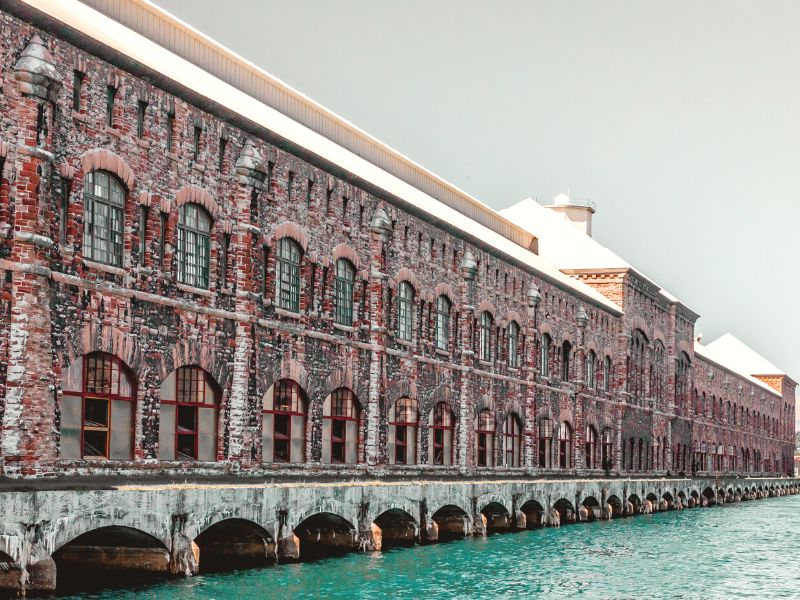 Mackinac Island (Difficulty: Beginner)
Although the most popular way to experience the wonders of Mackinac Island has long been to attempt the 8-mile route by bicycle, midwestern kayakers are now beginning to make a trail of their own. In a matter of hours, paddlers are able to witness Mackinac's spectacular shorelines and calm waters. Some of the incredible features you'll find along the way include the beautiful Round Island Lighthouse as well as the famous rock formations; Devil's Kitchen and Arch Rock.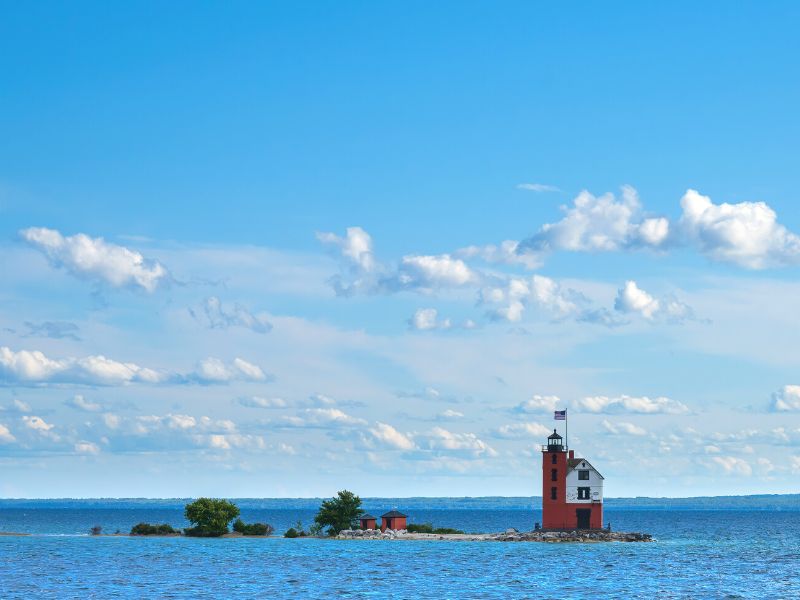 Drummond Island (Difficulty: Beginner)
A must-visit kayaking spot for any Upper Peninsula paddling trip, the expedition from Drummond Island to the shipwrecks of Scammon Cove is definitely one of the more interesting experiences on the list. The calm, clear waters surrounding the island are perfect for spotting a few of the many shipwrecks that have made Drummond Island their final resting place. Be sure to download the "Michigan Shipwrecks Story App", which has been designed to help kayakers find these incredibly preserved sunken wrecks.
Pictured Rocks (Difficulty; Intermediate- Experienced)  
In recent years, the awe-inspiring Pictured Rocks has become one of Michigan's most famous landmarks. Part of the National Parks Service, Pictured Rocks National Lakeshore is a beautiful, protected space for paddling and boating of all sorts.
A trip to the stunning 200 foot high cliffs will also include exploration of hidden caves, waterfalls, and rare sandy beaches. However, this trip is not recommended for beginners as changing conditions on the unpredictable waters of Lake Superior can become extremely dangerous for the inexperienced. Read below for our recommendation on the best tour provider offering a safe journey to the Pictured Rocks.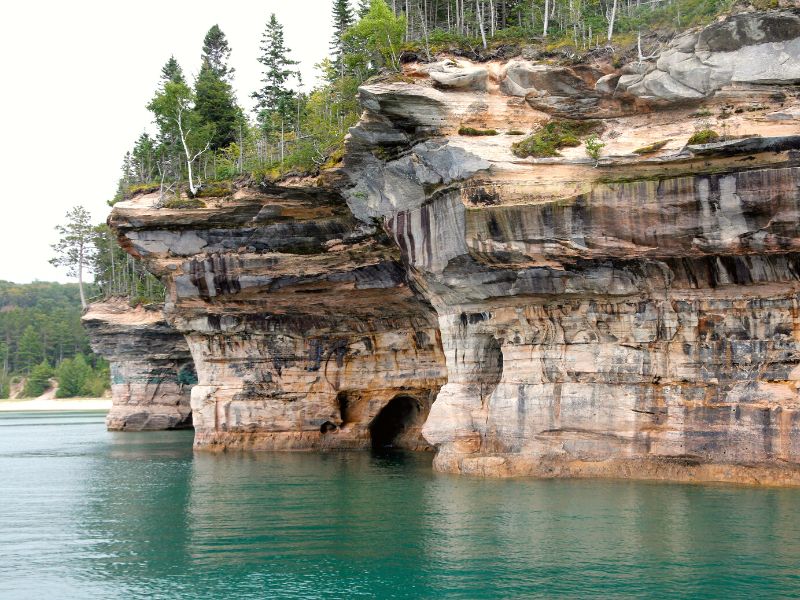 Upper Peninsula's Best Multi-day Excursions
Ahh, the multi-day kayaking adventure! If you're new to paddling, this may not be the best way to get acquainted with it, but what an amazing experience. The Upper Peninsula has quite a few paddling trails that are ideal for multi-day trips, but you can also do partial legs if you aren't up for camping your way across Michigan.
Kayaking at Isle Royale National Park (Difficulty: Intermediate- Experienced)
Far from civilization, this rugged island surrounded by Lake Superior offers an unforgettable 4-day paddling trip for adventurous kayakers. Known for its large population of beavers, wolves and moose, Isle Royale National Park's impressive ecosystem is perfect for those looking for an immersive and isolated experience.
Kayaking at Isle Royale National Park is amazing, but also can be dangerous. Because of the microclimate of Lake Superior, sudden storms and fog can show up unexpectedly. Be sure that you have informed the Park Service of your expedition when you set out and be well prepared for a variety of kayaking scenarios.
Where to launch:
Keweenaw Peninsula (Difficulty: Intermediate- Experienced)
The Keweenaw Peninsula, surrounded by Lake Superior on three sides, features an extensive 110 mile water trail highlighting the region's stunning nature and rocky coastlines. We have linked the start and finish points for the most scenic stretch of the peninsula but more adventurous paddlers can complete the route as a complete loop using the same embarkation spot. 
If you want a day paddle, launch from High Rock Bay for kayaking towards Gull Rock Lighthouse in Lake Superior. While it is several miles round trip, with the proper planning and proper gear, you can do the paddle in good weather.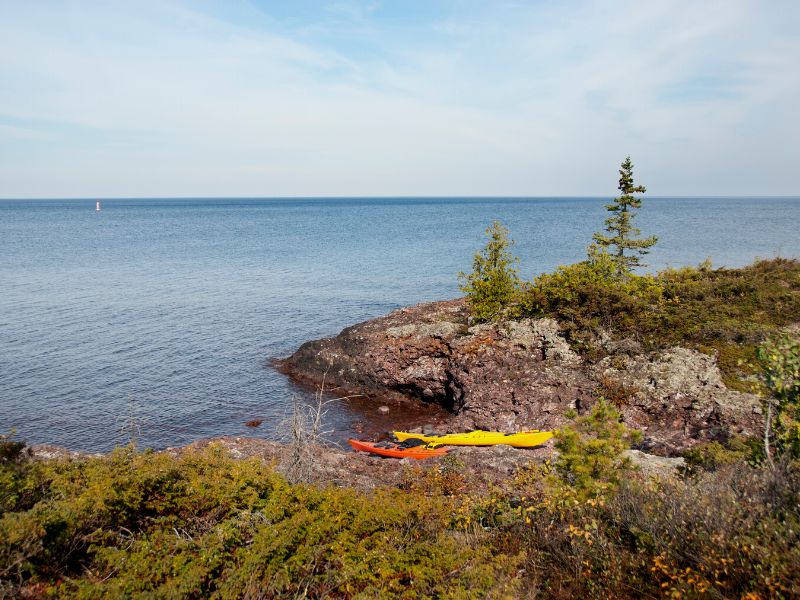 Hiawatha Water Trail (Difficulty: Intermediate)
Another 100+ mile long paddling trail, the Hiawatha stretches across the southern shore of Lake Superior and showcases some of the most beautiful spots in the state. Highlights include the Pictured Rocks National Lakeshore, the Grand Island National Recreation Area, and the Hiawatha National Forest.
Menominee River Route (Difficulty: Intermediate)
With Michigan on one side, and Wisconsin on the other, this border river provides paddlers with a perfect blend of calm paddling mixed with incredible wilderness and some mild Class 2 rapids. The most popular route is a mere 6 hours and can be completed in a day. But the river can also be easily stretched into a longer multi-day adventure. Overall, the Menominee is highly recommended for a truly beautiful route.18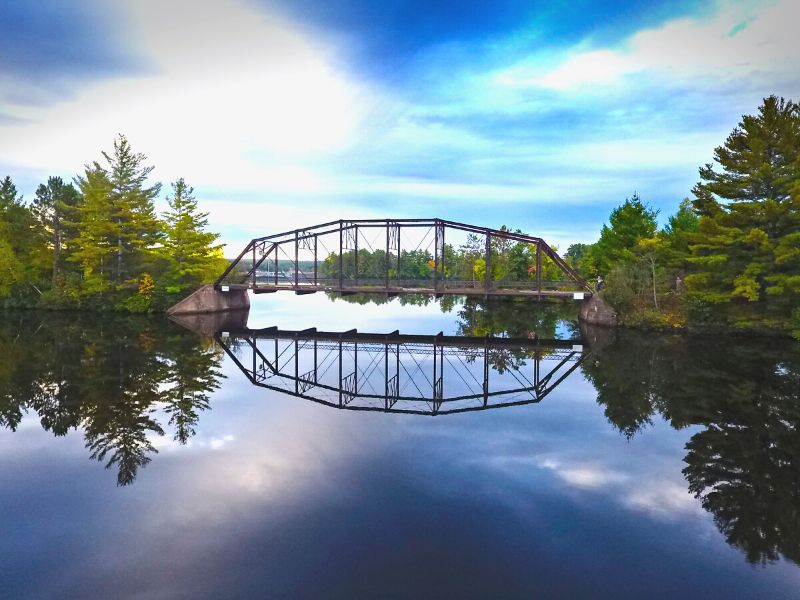 Sylvania Wilderness (Difficulty: Beginner)
The staggering size of the Sylvania Wilderness area contains the perfect ingredients for an unforgettable kayaking trip. With 19,000 acres of wilderness and 34 lakes to explore, paddlers can spend days paddling, portaging, and camping in this isolated environment. Keep an eye to the sky to catch a glimpse of some of the many bird species including bald eagles, osprey, and loons.
Clark Lake, Crooked Lake and Katherine Lake are all great places for kayaking. Launch in the northeast thumb of Crooked Lake for an interesting paddling journey around this large, many-thumbed, blob-like beautiful lake.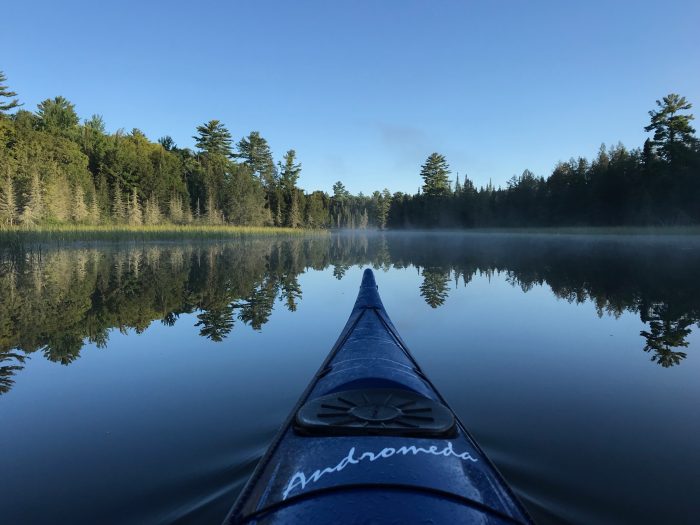 Whitewater Runs in the Upper Peninsula
Paddling on Michigan's Upper Peninsula can also be pretty wild, and better conquered with whitewater rafting. Though the scenery may vary from paddling in Idaho or the Grand Tetons, the rapids are just as exciting.
Montreal River (Difficulty: Experienced)
For many whitewater paddlers in the country, the stretch of river known as the Montreal River Canyon is one of the most advanced runs in the Midwest. Rapids along this canyon run range from Class 2 to Class 4 with fun play spots, ledges, and holes. The staggering 300 foot-high walls on either side create the perfect backdrop for an amazing day on the water. Check water levels before launching, and if you're already on-location, inquire locally for a guide (none currently advertising this run).
Black River (Difficulty: Experienced)
This stretch of whitewater through the Gogebic County into Lake Superior is another one of the more difficult runs in the Upper Peninsula. The 2.6 mile long route contains rapids rated between Class 4 and Class 5 and takes you through some of Michigan's most magnificent wilderness. Between runs, be sure to check out some of the other sensational waterfalls sprinkled throughout the Ironwood area. 
If you're not experienced at kayaking small waterfalls and cascades, this run may be too advanced for you. You can haul out with a significant hassle at Potawatomi and Gorge Falls, and Rainbow Falls too, but if that's the plan, it's better to start and end further upriver before any of the Class II to IV rapids.
Piers Gorge (Difficulty: Experienced)
Located along the Menominee River, this collection of drops, holes, surf waves, and haystacks have earned Piers Gorge a "bucket-list" status amongst whitewater kayaking enthusiasts. The rapids range from Class 2 to Class 4, culminating in the ultimate Class 4 drop at Missicot Falls. Don't miss out on an opportunity to experience this action-packed, high-adrenaline route in the heart of the Upper Peninsula. True North Outpost does a guided trip through Piers Gorge, as does the Wildman Adventure Resort.
Top-Rated Paddling Tours in the Upper Peninsula
Pictures Rocks Landscape Tour
This is the perfect guided-trip for those wanting to experience the majesty of one of Michigan's most remarkable landmarks. Expert guides will show you how to safely navigate the unpredictable waters of Lake Superior and discover some of the area's most impressive hidden gems.
Paddle Pictured Rocks is a boat assisted kayaking tour, but is very different from the Everglades 10,000 Islands boat assisted kayaking tour. This is a much larger boat and covers more ground. This tour goes out of Munising, Michigan.
Agate Harbor Paddle Tour
For those looking to experience the best that the Keweenaw Peninsula and Copper Island has to offer, this is one of the most scenic paddling tours in Michigan. Expert guides will take kayakers throughout the crystal clear waters in order to visit various geological landmarks as well as a chain of barrier islands. This tour goes out of Copper Harbor, Michigan.
Keweenaw Adventure Company does the Agate Harbor tour, as well as other paddling expeditions around the Keweenaw Peninsula. And they also do…
Isle Royale National Park Kayaking
That's right! The same crew that does the Agate Harbor kayaking tours do the expeditions at Isle Royale National Park! Join the expert guides of the Keweenaw Adventure Company to discover the largest island in the largest freshwater lake. The complete route will take you through the island's remote and scenic coastline while introducing you to the Upper Peninsula's dense wildlife population.
Things to Know for Kayaking the Upper Peninsula of MI
Every summer, paddlers flock to the Upper Peninsula for trips ranging from whitewater rivers, sea kayaking on Lake Superior, or calm floats on one of the many inland lakes. The short season usually starts at the beginning of June and is over by the end of September. However, for those looking to get in the water during the spring or fall months, be sure to pack smartly and prepare for colder weather. That being said, some of the more hardcore paddlers can still be found exploring the waters of Lake Superior throughout the winter with the appropriate gear.
During the summer season, paddlers can expect daily averages of 70º F (22º C) throughout most of the Upper Peninsula. When kayaking on Lake Superior, kayakers should be prepared for strong winds that can pick up unexpectedly. Also, both cloudy days and powerful thunderstorms in the Upper Peninsula are common. Visitors should be prepared for changing weather conditions and closely watch the weather forecast before any trip on the water.
Soo Ultimate Paddle Day
Kayakers looking to join the welcoming paddling community of Sault Ste. Marie should consider planning this year's Upper Peninsula Trip around the annual Soo Ultimate Paddle Day. This action-packed event has a non-stop itinerary including races, SUP yoga, live music, and a relaxing float down St. Mary's River. Use the link below to stay notified about this year's event including information on date, food vendors, and this year's events.
Wildlife to Watch for When Kayaking Michigan's Upper Peninsula
I'm not going to lie, the highlight of wildlife to watch for when you're kayaking on Michigan's Upper Peninsula is moose. Moose are a big ticket item everywhere you can find them, and thankfully Michigan and Minnesota have healthy populations. Like we talked about with kayaking in Yellowstone or paddling in Grand Teton National Park, give moose their distance! They can be aggressive and can kick forward.
Other wonderful wildlife on the rivers and lakes include beavers, otters, black bear and so many dear. Since most kayaking on the Upper Peninsula happens in summer and fall, you also can turn a paddling trip into a birdwatching adventure. It may not be the tropical birds you see when you're kayaking in South Florida, but they ducks, geese and owls are amazing!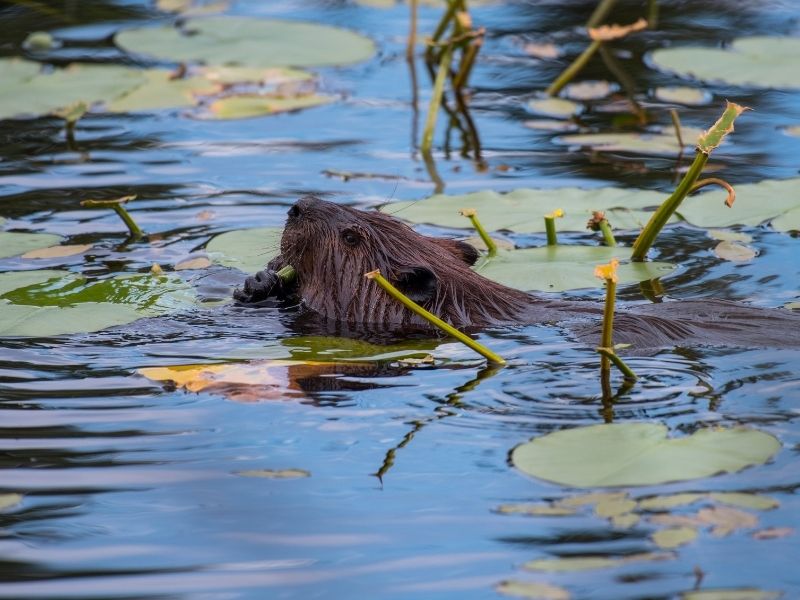 With so much to offer, the hardest thing about a kayaking trip to Michigan's Upper Peninsula will be forcing yourself to leave. All of the different rivers, lakes, and sea-kayaking opportunities will guarantee that paddlers of any experience level never get bored. After a scenic urban paddle through Sault Ste. Marie, head over to a challenging whitewater run, a comfortable float in the calm waters of Lake Gogebic, or venture out onto a week-long journey along the coast of Lake Superior. Whatever you choose, we know that the Upper Peninsula won't disappoint.