Clear Kayaking on the Florida Gulf Coast: 5 Best Tours for Unique Paddling and Wildlife
Clear Kayaking on the Florida Gulf Coast is one of the most unique experiences to plan. Paddling with manatees and through mangrove tunnels are just some of the options. Visit Florida springs and more for clear kayaking.
Clear kayaking on the Florida Gulf Coast is becoming more and more popular, and now there are several places to do clear kayaks from Naples up to the start of the Panhandle. The transparent kayak helps paddlers see the wildlife that exists below the surface and observe the underwater world in a totally different way.
We've picked our top five spots for clear kayaking on the Florida Gulf Coast and each is totally different and worthwhile.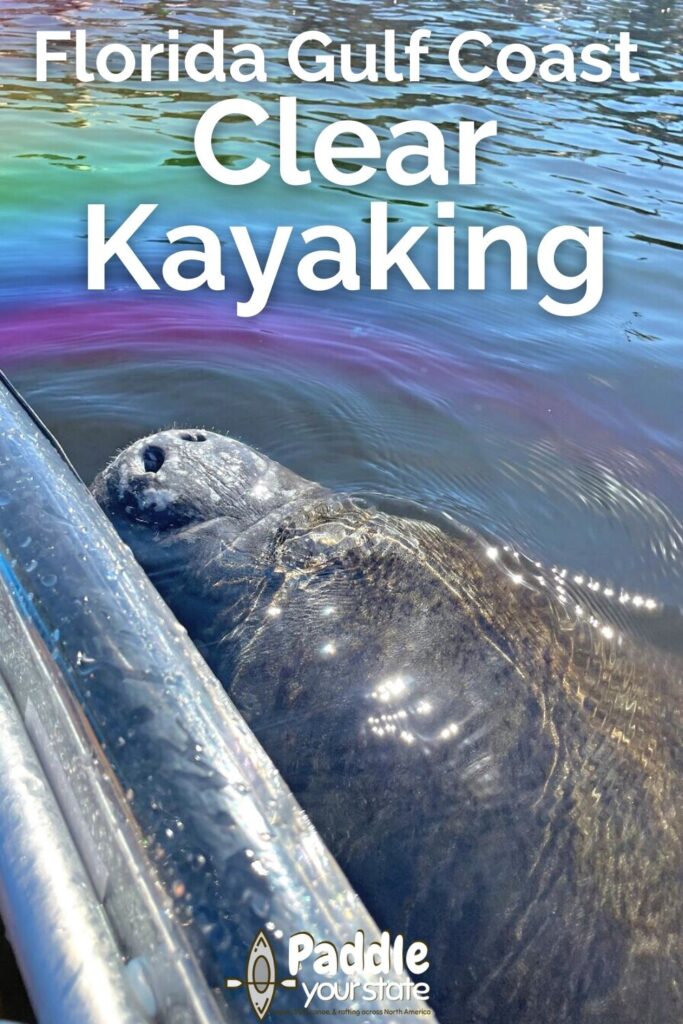 What are clear kayaks?
Clear kayaks are constructed of the same material as bulletproof glass and submarine portholes. This means they're sturdy and let you see straight through them. Being able to see all the wildlife underneath the kayak, unobstructed, is what makes them such unique watercraft.
Wildlife You'll See Clear Kayaking on the Florida Gulf Coast
Depending on which Florida Gulf Coast clear kayaking tour you choose, the wildlife will vary. If you're paddling through the estuaries or the gulf islands, no doubt you'll come across dolphins and sea turtles. The mangroves bring all kinds of fish, sharks and birds. As you get inland, the manatees are the really find, particularly in the winter months. But my favorite…
Roseate spoonbills are one of the prettiest animals you'll see when you're clear kayaking on the Florida Gulf Coast. While the Roseate Spoonbill wades in the water to feed, they also hang out in the mangrove branches. You'll be mesmerized by how pink they are. They're not related to the flamingo but get their bright pink hue in the same way, from the crustaceans they eat.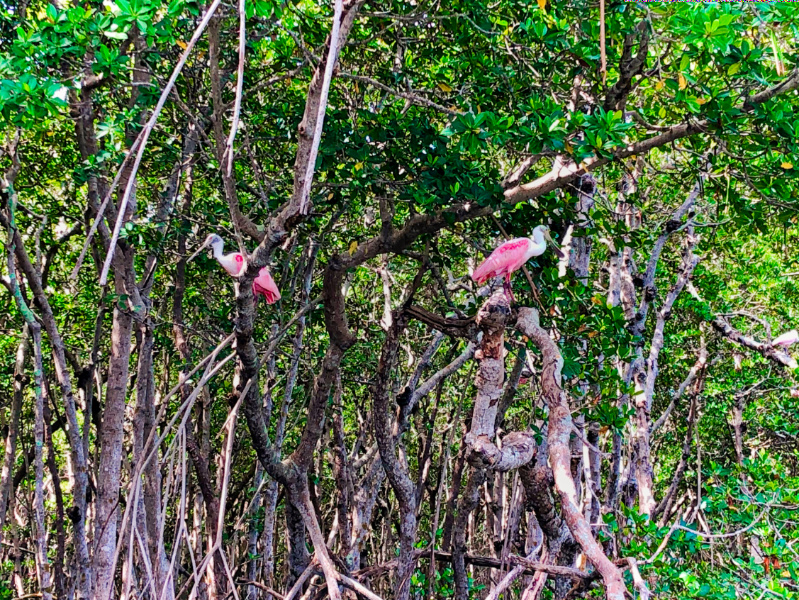 5 Clear Kayaking Tours You'll Love on Florida's Gulf Coast
While there are 8-10 different clear kayaking tours to choose from on the Gulf Coast of Florida, we've picked the five we love the most. Each is very different from the next and all are 30 minutes to an hour off I-75, so each is very easy to add to a Gulf Coast road trip.
Clear Kayaking to Shell Key Preserve, Tampa Bay
The clear kayaking tour to Shell Key Preserve is a very unique kayaking trip, as it crosses a fair amount of open water to get to the main paddling destination. Starting at the edge of Tampa Bay proper in Tierra Verde, just south of St Pete Beach, you'll paddle out through some of the most gorgeous turquoise water on the Gulf Coast.
This is a fine paddle for experienced OR beginner paddlers. Because it's a combination of open water and mangrove islands, you'll get a broad view of Florida's ecosystems and completely varying nature. Really cool and fun!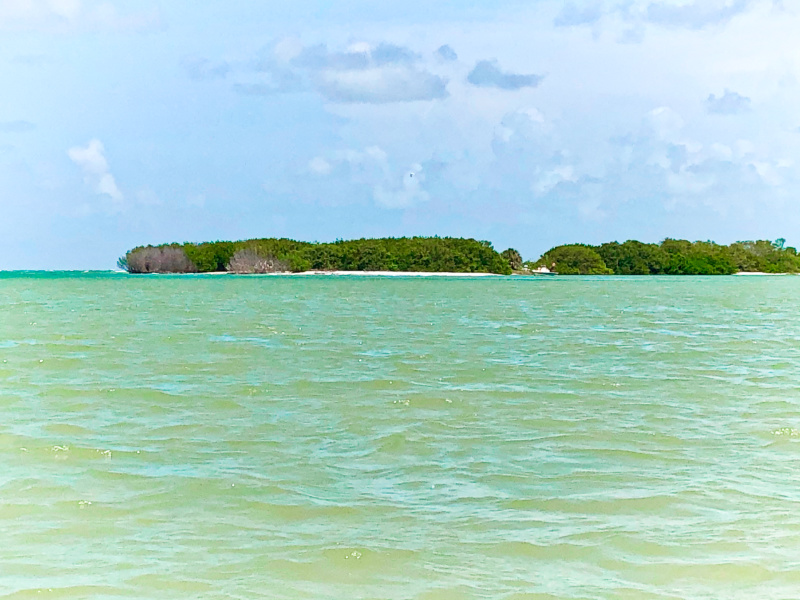 Highlights of Kayaking to Shell Key Preserve
The entire tour is about 3 miles. It was a little overcast and windy the day we went. The overcast skies were appreciated though – the average temperature in St. Petersburg in July is 91-degrees Fahrenheit with a lot of humidity.
Check out more great Florida day trips from MyCornacopia here!
The first stop is a mangrove island. If you've never seen a mangrove in person, they're fascinating. The mangrove is a salt-tolerant tree whose roots stick out of the ground. Mangroves are essential to Florida because they protect the mainland from storm surge when a hurricane hits. They're also crucial to the animals of the area. Fish will use the mangroves to lay their eggs. Once the eggs hatch, the baby fish live there for protection until they're large enough to go out into the Gulf.  You'll also find mangrove tunnels here.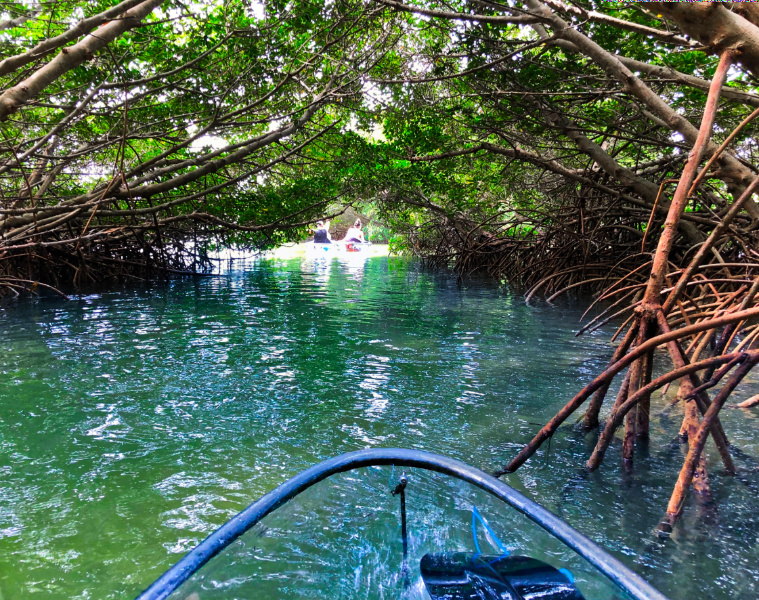 Shell Key Preserve is undeveloped and sits at the tip of Tampa Bay. The barrier island of Shell Key is about 195 acres and is home to birds, fish and a wide variety of wildlife. And of course, shells! The only way to access Shell Key is by water making it incredibly peaceful.
Shell Key is known for its tradition of shell trees. You'll notice trees on Shell Key that have shells hanging off of them. No one knows how they got started, but you can add to them yourself as you enjoy clear kayaking on the Gulf Coast of Florida.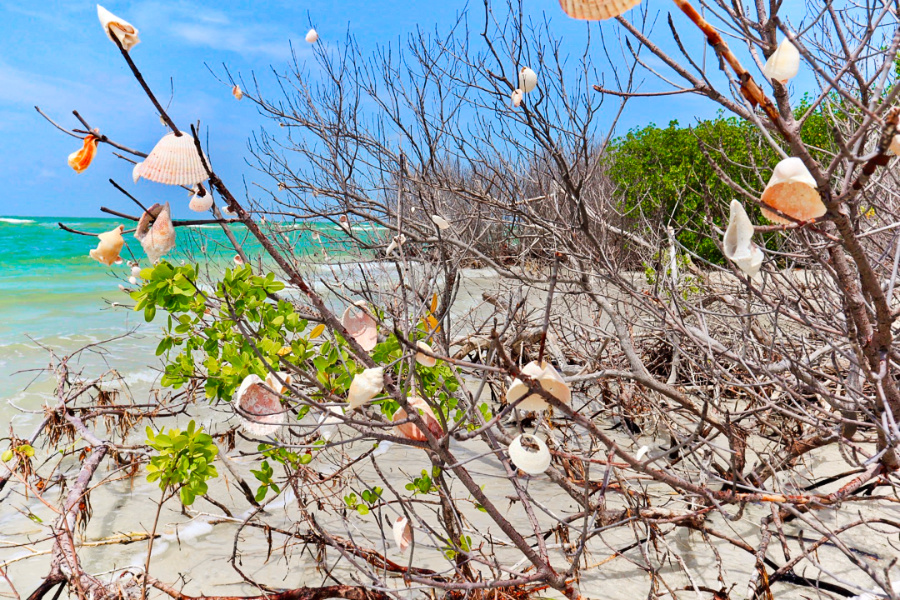 Tarpon Springs Clear Kayaking
Tarpon Springs isn't one of the most famous places on the Florida Gulf Coast, but it's one of the most special. The shape of the bay and the fresh water flowing in from the inland freshwater springs make for a beautiful place for clear kayaking. Tarpon Springs is a wonderful place for kayaking with manatees.
Starting in November and lasting into early spring, the manatees make their way into the springs inland from the coast and then back out to the bays as the temperatures fluctuate. Tarpon Springs is the perfect spot to observe this, and how cool for manatees to swim under you while enjoying clear kayaking!
Highlights of Visiting Tarpon Springs
Tarpon Springs is really fun to explore on foot. Being the sponge diving capitol of Florida and a very strong Greek community, it's one of the most unique towns in Florida. After your morning of clear kayaking with manatees, wander the waterfront eating Greek pastries and gyros, shopping for sponges and art. It's a great day trip from Tampa Bay.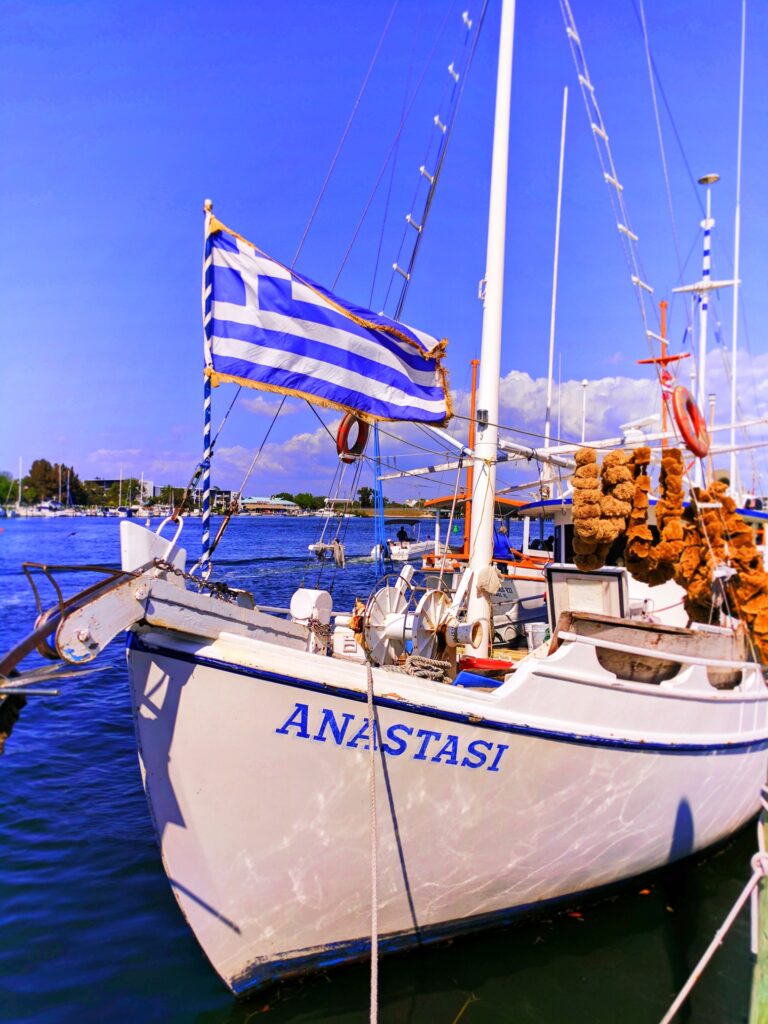 Clear Kayaking in Crystal River with Manatees
Crystal River is a famous spot to see manatees. It's the only place in Florida where you can legally swim with manatees, but truly you shouldn't. Swimming with manatees teaches them to come close to humans and not fear them, thus having long-term negative effects. But doing clear kayaking in Crystal River where there are so many manatees and you are NOT willfully interacting with them, that's a great idea!
If you're thinking that clear kayaking with manatees won't be as good or as special as swimming with them, don't worry. Because manatees are such large creatures, so people who swim with them get very nervous and even panic when in the water. And although manatees don't have hands, they will sometimes hug people in the water which can be either special or terrifying. Clear kayaking with manatees gives you a remarkable view and experience, without the uncertainty of being in the water.
Adjacent to the Crystal River area where you can clear kayak with manatees (or swim if that's what you prefer to do) is the Three Sisters Spring Reserve. One of the most beautiful, pristine freshwater springs on Florida's Gulf Coast, getting to clear kayak here will completely wow you. You haven't seen water this gorgeous on the Gulf Coast before.
Highlights of Crystal River in Winter
While we don't encourage people to swim with manatees, during the winter months when they are in Crystal River in large numbers, swimming is allowed. You are not allowed to touch them and you are supposed to keep your distance, but many don't follow those rules.
The benefit of clear kayaking with manatees during the winter at Crystal River is that you get a great view of the enormous creatures and you can be confident that you are not going to break any laws regarding your interactions with the manatees. Also, even though it's Florida, getting in the river in the winter is FREEZING. We've done it, and I don't recommend it.
Naples and the Estuaries for Clear Kayaking
Naples is a beautiful town and is one of the best places to kayak in South Florida. Just to the north is Bonita Springs, which is where you'll find Lovers Key State Park and countless mangrove island and passes. This estuary area is one of the best for clear kayaking on the Florida Gulf Coast. With the sheltered waterways and preserves all around, kayaking in the Estero Bay Aquatic Preserve is awesome!
This is a particularly good place for wildlife watching, including dolphins, nurse sharks, rays and so many different types of birds. Clear kayaking in Estero Bay is an easy day trip from both Naples and Fort Myers. The winding paths are really cool to explore.
What makes this Florida Gulf Coast clear kayaking so different from the other places we've shared is the sheltered mangrove tunnels. There are a few really magical things about Florida and mangroves are one of them. They filter out millions of gallons of water each day and they are a unique habitat for many creatures… and they also look like they're straight out of a mystical nature fantasy novel.
Within the quiet mangroves you can often spot sharks, iguanas, rays and more wildlife. You'll love clear kayaking through the tunnels surrounding Estero Bay. Such a fantastic Naples / Fort Myers excursion!
Things to do in Naples and Fort Myers
Naples is almost like the gateway to Everglades National Park on the Gulf Coast. It's the perfect combination of Florida nature in the Glades and the countless islands of the Gulf. In addition to there being several kayaking spots in Florida's National and state parks close to Naples, the beaches and town are wonderful on their own.
Check out the Naples Botanical Garden and Celebration Park to get a feel for the town and then end the day at the beach. The Naples Pier is a long one stretching out into the Gulf and it's a great place to both watch for dolphins and catch the sunset.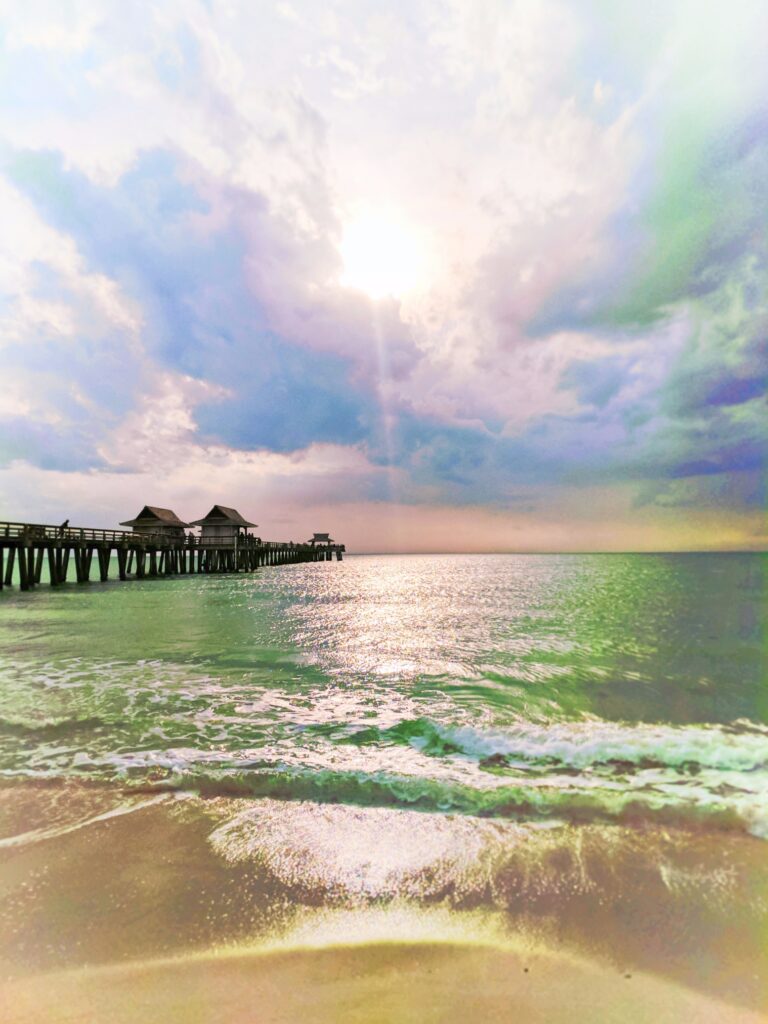 Fort Myers is the other big town near the Bonita Springs / Estero Bay clear kayaking area. Fort Myers Beach and Sanibel Island are famous for their beach combing. One of the highlights of Fort Myers Beach is the sandbar that forms about thirty feet out in the water. Watch for conchs, crabs and more when you're on the sandbar. It's a different sort of Gulf Coast experience from the clear kayaking.
Also in Fort Myers Beach is the Matanzas Pass Preserve. If you don't get enough of the mangroves that you kayak through, there are actually boardwalks and trails here where you can explore the mangrove islands on foot.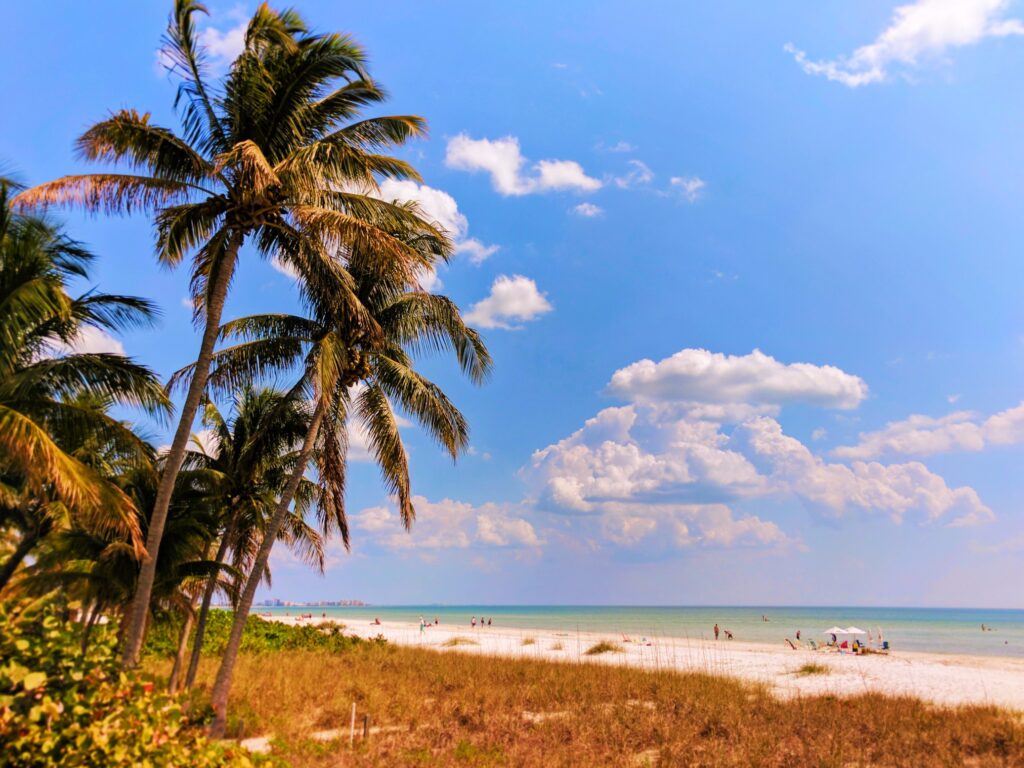 Rainbow River Clear Kayaking
This is one of the prettiest places in Florida, and to get to explore Rainbow Springs State Park via clear kayak is really cool. The Rainbow River is known for being one of the most colorful waterways on the Gulf Coast, with an incredible combination of limestone, bubbling spring areas, unique underwater vegetation and beautiful riverbanks.
The cypress trees and oaks that line the Rainbow River are full of birds, from ibises to herons and egrets of every sort. The Rainbow River is also known for have a solid alligator population. WHAT?! Yes, but don't worry about that, here's why:
alligators are NOT interested in people and will sooner stay asleep or swim away than approach
you're in a clear kayak, so you can safely observe from a distance
alligators like to preserve their energy so seeing them laying in the sun or swimming slowly is 99.9% of the time as exciting as an alligator encounter will get.
Paddling on the Rainbow River is one of the most beautiful kayaking experiences on the Florida Gulf Coast. You'll love it.
Visiting Rainbow Springs State Park on Land
In addition to the clear kayaking on the Rainbow River, you can visit Rainbow Springs State Park too. It used to be one of the Florida Attraction Parks, so you'll see that there are around 15 man-made waterwalls as well as the overgrown ruins of an old zoo. It's strange and cool. If you go hiking at Rainbow Springs State Park, stay alert for wildlife, including snakes and black bears. It's a bit wild.
For swimming, Rainbow Springs is perfect, with a consistent 72 degrees water temperature year round. There is a large swimming platform for jumping off of, and bring your snorkel gear too, as you can swim over and explore the massive headspring.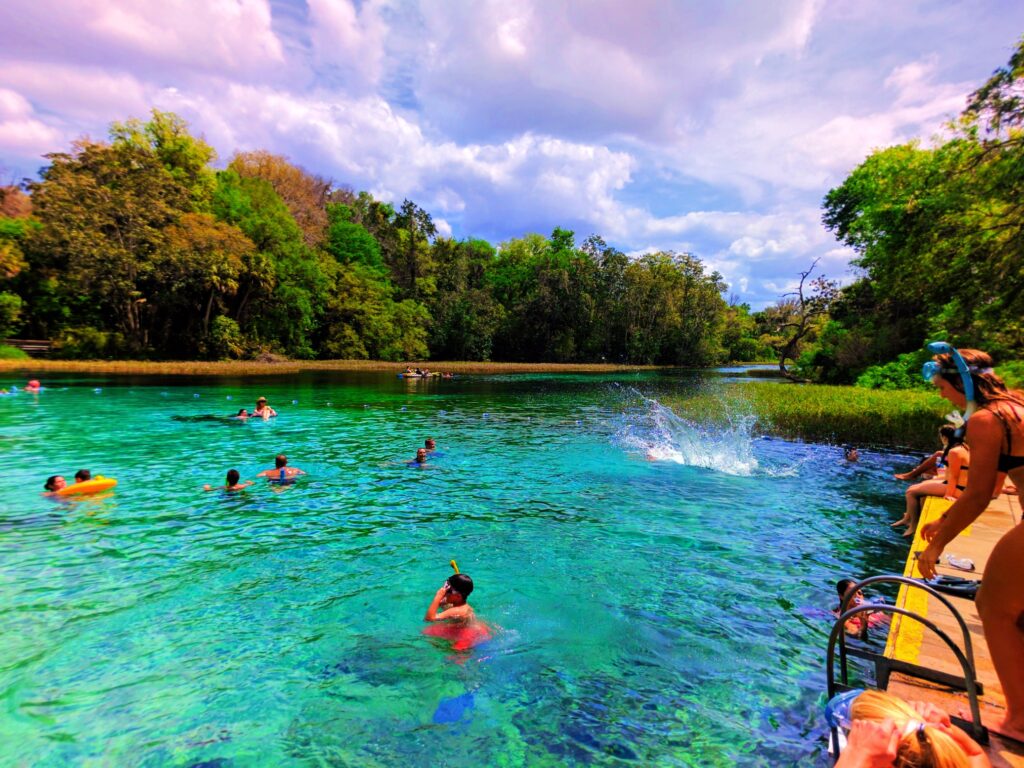 Where else can I do clear kayaking in Florida?
There are actually a surprising number of clear kayaking spots from different tour companies all around Florida. On the Atlantic Coast at Titusville is our favorite: Bioluminescent Clear Kayaking. In Key West you'll find glass bottom kayaking, which is slightly different and you can only see through the bottom. From Miami to Silver Springs, you'll find even more.
Check out these other clear kayaking tours around Florida to see which you can fit into your FL vacation!
Locations for clear kayaking at some of the more than 1000 freshwater springs in Florida:
Apopka / Rock Springs / Emerald Cut
Crystal River / Chassahowitzka River
Weeki Wachee Springs
Silver Springs
Rainbow Springs
For saltwater clear kayaking that may include dolphins, mangrove and more unique Florida sights:
Tampa Bay
Naples
Key West
Sugarloaf Key
Tarpon Springs
Jupiter
Miami Beach
Vero Beach
Fort Pierce
Bioluminescent clear kayaking happens at Titusville / NASA just south of Daytona Beach. And then one last really unique spot is the Winter Park Chain of Lakes, which is a series of freshwater lakes connected by manmade canals, including the Venetian Canal. Every clear kayaking tour is different and beautiful in its own way!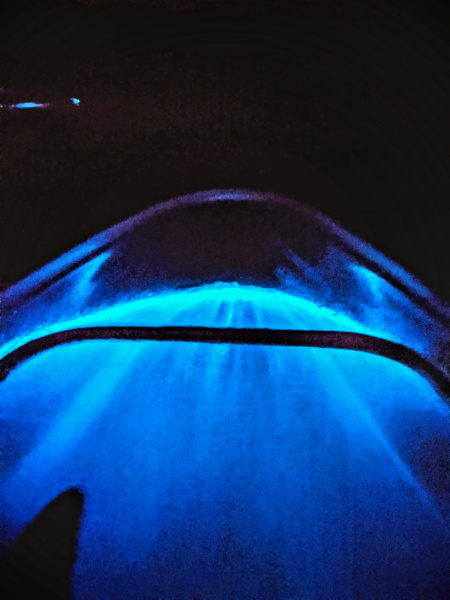 What To Bring for Clear Kayaking
Remember that everything you bring with you has the potential to get wet. So be sure to be careful.  The following items are suggestions to make any kayaking trip more comfortable, safe and enjoyable (affiliate links included in some items):
If you are interested in this specific tour, please take a look at Get Up And Go Kayaking. They have a variety of tours in different locations and do a wonderful job.