Kayaking in California's Sierras: from Tahoe to Sequoia National Park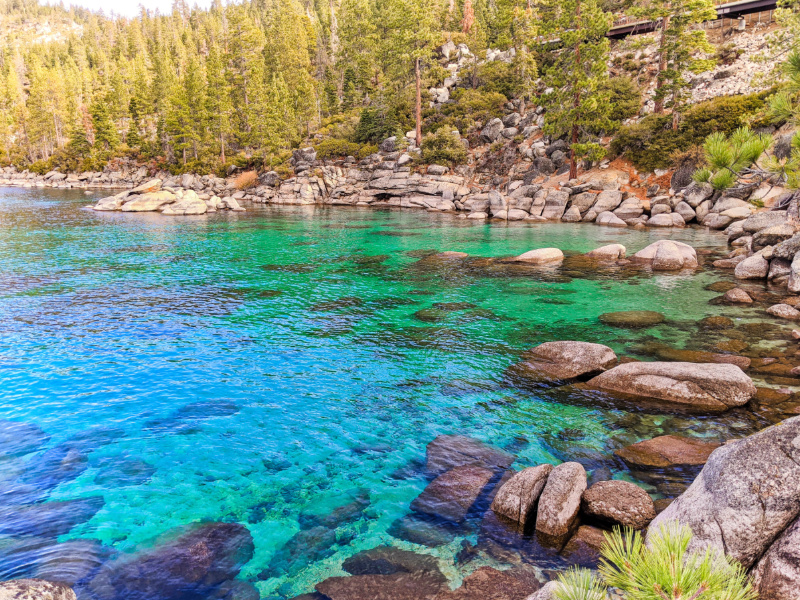 Kayaking in California's Sierras is a gorgeous and wild experience. From paddling on the Merced River out of Yosemite National Park to the crystal blue waters of Lake Tahoe, 15+ spots for kayaking and SUP in the Sierras.
Kayaking in California's Sierra Nevada mountains is very different from paddling the coastal waterways of Southern California. Towering trees, twisting, rapid rivers, and mirror lakes reflecting the faces of mountains, all in a temperate climate that allows you to experience the beauty nature has to give. Regardless of the season, Central California's Sierra Mountain region is full of sights to behold. In an area known for being highly environmentally conscious, anyone looking to surround themselves with outdoor lovers who pack it in and out is sure to feel right at home.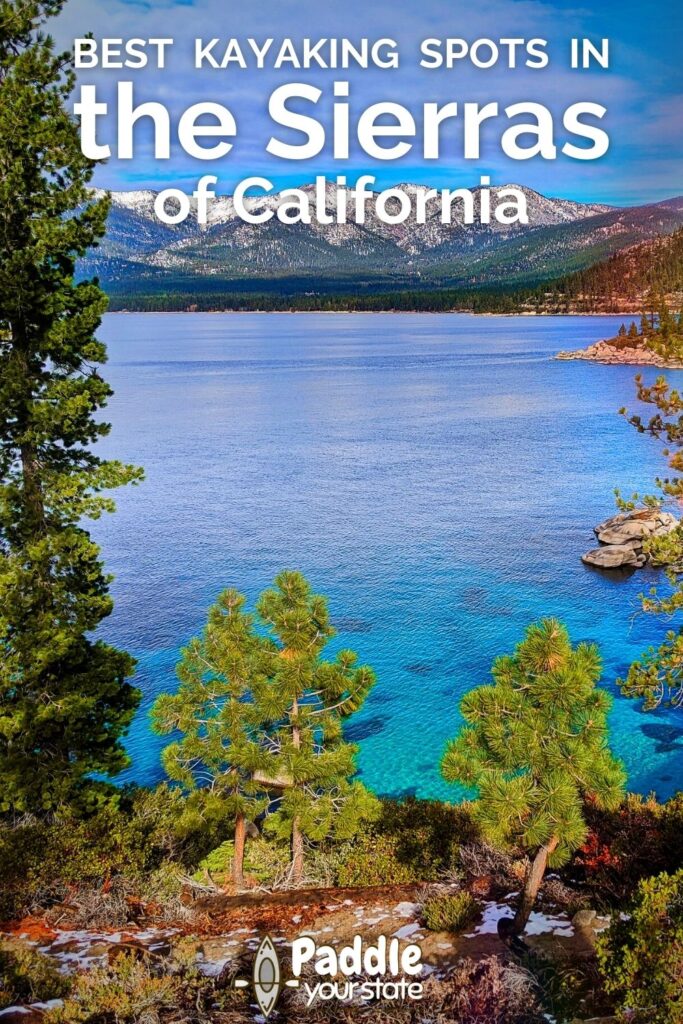 Kayaking at Lake Tahoe in the Sierras
Spanning across a stretch of the border between California and Nevada, with the winning combination of clarity and a depth of over 1,600 feet, Lake Tahoe is a treat for those who enjoy seeing history preserved beneath them or complete immersion in nature. Water temperatures are between 40°F-65°F year-round. Watercraft, docks, and other manmade objects that find their way to the bottom of the lake are nearly frozen in time due to the lake's natural preservation. The water here is so clean that it is not required to be filtered before being bottled by local companies. 
At 22 miles long by 12 miles wide, the 72-mile circumference of the lake provides ample opportunity to find a cove to your liking. Summer brings great weather to paddleboard or kayak along the coves, even adventuring part of or the entire circumference. Temperatures in the range of 50°F-80°F in these months make the cool water all that more inviting. Intense kayakers looking for something extreme should be sure to visit this area in the winter months. Even with lows reaching the 10s in the harder weeks of winter, Lake Tahoe's mass keeps the water from freezing over, leaving it more than able to still be paddled. 
Sand Harbor State Park, Nevada
Yes, this is on the Nevada side of Lake Tahoe, but it's an easy location and the clarity of the water is amazing. Also, there are kayak and SUP rentals at Sand Harbor State Park, so this makes for a good place to stop if you aren't planning a paddling vacation, but just happen to be in the area.
From the beach on either side of the State Park's peninsula, put in your kayak or SUP and paddle the edge of the lake as far as you like. You'll love the bald eagles, the epic rocks and the unbelievable blue water.
Launch location:
Baldwin Beach at South Lake Tahoe
With no need to haul kayak or SUP equipment down steep trails or through the woods, Baldwin Beach is as close to beach parking as one can get in the Tahoe area. Along the south shore of Lake Tahoe, one is able to look out over the water from their own vehicle. As it is a small pebble beach, water shoes are recommended if you plan to run along the shoreline, but they are not required.
Slightly further from town, Baldwin Beach is less popular with the crowds while still allowing for the shared beauty of the stretch of sand among the evergreens. This is a SUP friendly spot!
Launch location:
Kayaking at Emerald Bay State Park, SW Tahoe 
Along the southwest end of the lake lies the isolated Emerald Bay State Park. With several nearby campgrounds, hiking trails, and shores along the water, Emerald Bay is a gorgeous stop. This area is also home to California's first maritime heritage trail. Scuba divers, or those confident with their freediving ability, can tour the underwater interpretive panels, detailing the history of barges, boats, and piers.
With depths ranging from 10-60 feet, the clarity of the water allows those on the surface above to easily gaze at all that's beneath them. The largest issue with this section is its difficulty to reach by kayak. With no immediate beach entry points to take a kayak or SUP off a car, one may have to enter the lake at Baldwin Beach, paddling a mile and a half to the mouth of the bay. The semi-remote nature of this spot makes it all the more desirable for some. This is another SUP friendly Lake Tahoe kayaking spot.
Launch location:
Tahoe Keys Kayaking, SE Tahoe
A quaint little suburban community on a set of keys, the Tahoe Keys are great, calm waters for those who enjoy exploring marinas on kayaks or paddle boards. One can park at the marina to easily get their watercraft into the water. If you are looking for something of a challenge, adjacent to the marina's entrance, there lies one of the rivers that feed into Lake Tahoe. This is a good SUP spot.
Launch location:
Upper Truckee River, SE Tahoe
Located adjacent to the Tahoe Keys, parking and getting to the water shouldn't be an issue. It is recommended to visit towards the end of summer or beginning of fall for the best upstream river paddling conditions. Spring snowmelt can cause intense and difficult to navigate rapids; something that should be avoided like the plague for any entry-level paddlers kayaking. However, from September to October, this 21-mile long river proves an excellent course to check out native flora and fauna.
It can be exhausting paddling upriver, but the benefit of a route of this style is being able to relax on the way downstream whenever you so choose, nearly all the way back to your vehicle. Remember, THIS IS FOR AUTUMN PADDLING.
Launch Location:
Commons Beach, NW Lake Tahoe
For those searching out a more family-oriented environment, in the sense of ease of transport, minimal hikes, and access to groceries all while being a stone's throw away from the water, Commons Beach park is the spot for you. On the western shore of Lake Tahoe, Commons Beach hosts a variety of restaurants and hotels.
Community events, such as Wednesday movie nights or Sunday music in the park, are hosted at the beach's amphitheater. The shoreline here may not be as naturally intricate as the surrounding areas, but for kayakers bringing little ones along, it is a spot that's hard to beat. Bring a SUP for paddling here too, if you like!
Launch location:
Yosemite Kayaking and SUP Spots
The United States' third oldest National Park, Yosemite itself is a great physical example of our countries' connection to preserving the natural world from our own impact. Most well known for its towering waterfalls and the world-famous granite cliff face, El Capitan, on the side of Half Dome, Yosemite National Park also hosts beautiful rivers and lakes, great for those seeking to get out on the water rather than up on top of a mountain.
Kayaking Tenaya Lake by Yosemite
A glacial lake featuring a couple of dedicated picnic locations, easily finding itself hidden in the shadows of the towering mountains surrounding it. Being outside of Yosemite Valley but still within the park itself, there is a comparatively minimal amount of traffic and distractions from other guests. Mountain faces reflected on the lake make for a stunning spot to cool yourself off. At the elevation of 8,150 feet, the intensity of the sun contrasted by the frigidity of the water makes for a refreshing day. This is a great Yosemite SUP spot.
Launch location:
Merced River out of Yosemite
Sometimes, the best part of paddle sports has nothing to do with paddling. If all you want out of your time on the water is to be closer to the people you hold dear, or grow a deeper appreciation for the natural world, Merced River's Stonebridge is a launch site you'll need to explore. For a more mellow experience, plan to have a car parked at Sentinel Point Beach, only a mile downstream.
Carving through the heart of Yosemite Valley, the Merced River is the soul of the towering granite domes to either of its sides. The ancient flow of this river makes for a wonderful picnicking opportunity. If you'd like, you could wait to eat your pre packed lunches until arriving at Sentinel Point Beach, only a few yards away from Yosemite Falls' vantage point parking. This is a good river SUP spot.
Launch location:
Experienced Technical Paddling on the Merced River
If you're a more experienced kayaker or even intense inflatable SUP user, you might want the challenge that the rest of Merced River has to offer. These are not routes for long, hard to quickly maneuver kayaks. Starting at Redbud Picnic site as the put-in with a 14 mile away take-out site at Briceburg suspension bridge, one can follow the twists, waves, and drops that class III-IV rapids have to offer. All while immersed in a valley known globally for its jaw-dropping beauty.
If those 14 miles aren't enough to satisfy, one can take the take-out point at Briceburg suspension bridge and instead have it be a put-in or continuation to follow the river another 12 miles, coming out at Bagby Reservoir. On this route, you'll hit even more class IV rapids, making it essential to have a spotter. These routes should only be attempted by those with experience in white water environments as a fun day on the river can go wrong in a moment without proper training. 
Launch location:
Kayaking in California's Sierra National Forest
South of Yosemite and far less crowded is the Sierra National Forest. It lacks the same monumental rock formations that brought Yosemite its fame but the Sierra National Forest shouldn't be overlooked. Kayakers and paddle boarders alike are sure to enjoy the rocky, pine-surrounded lakes; many with roads making them easily accessible. That's not to mention the dozens of campgrounds across the forest, allowing for multiple-day exploration without ever needing to head back to civilization. 
Wishon Reservoir Paddling
Nearby to Lily Pad campground and Wishon Village RV park, this open reservoir fits those wanting to get outdoors as well as avoid influxes of crowds. Wishon reservoir provides mirror flat water that lets you cruise around the two-mile-long lake with ease, particularly in the hours of early morning. Tired of paddling but still wanna spend the day on the water? Wishon Village also offers boat rentals, as well as most essentials at their camp store. 
Launch location:
Kayaking Courtright Reservoir in California's Sierras
If even an RV park is too many people for your liking yet you still enjoy the idea of paddling for days on end, surrounded by trees, less than ten miles north of Wishon Reservoir, you'll find Courtright Reservoir. Courtright does offer you the ability to pay for a campsite, similar to Lily Pad campgrounds, but there are also areas dedicated to dispersed camping. Voyager rock campground is only accessible by high-clearance 4WD vehicles or by cutting across the lake. If you're seeking to just "get away" from it all, bring your tent and hammock along, as there is no feeling like being along the water of alpine lakes.
Launch location:
California's Famous Bass Lake
One of Sierra Nevada National Forest's premier lakes for a variety of activities. Wake up early in the morning and kayak the shorefront of Bass Lake or feel free to spend a few hours strolling one of the dozens of trails the area has to offer. Hike up Glass Rock for a great vantage point. With numerous campgrounds and a resort on the lakefront, there are sure to be nearby accommodations for adventurers of all kinds. 
Launch location:
Can I Kayak in Sequoia and Kings Canyon National Parks?
I would love to say that Kings Canyon and Sequoia National Parks are prime kayaking destinations, but due to the nature of the rivers in both parks being very rocky and the rapids being Class III+, it's not a destination we recommend for most paddlers. If you are an experienced rapids paddler, kayaking in Sequoia National Park is possible on the Kaweah if you have the skills and gear for a Class IV paddle, or the Kings River for a similar experience.
Outside of the southern entrance to Sequoia National Park is Lake Kaweah, which is beautiful and has three great launch points offering different views and shorelines to kayak along.
Launch sites on Lake Kaweah:
Tours for Kayaking in California's Sierras
4 Day Sierra Nevada Tour and Lake Tahoe Tour – A round trip tour from San Francisco, including accommodation, of Yosemite National park and the Sierra Nevada Mountain range. Have a guide show you the best spots, including Yosemite's giant sequoias and the ghost town of Bodie State Historic Park. It wouldn't be a complete tour without being able to also decide between kayaking or paddle boarding the pristine waters of Lake Tahoe. 
Historic Tour Lake Tahoe West Shore – Take a morning tour of the calm waters of Lake Tahoe's historic west shore. Have a guide teach you about how the lake was used before the modern introduction of casinos and resorts.