After your first long paddling adventure you'll understand the value of good paddling gloves. These are actually the best kayaking gloves I've tried. I got the NRS Guide Gloves as a back up pair to my normal kayaking gloves and they actually became my primary pair. I love them and think they're ideal for paddling in rough water or humidity.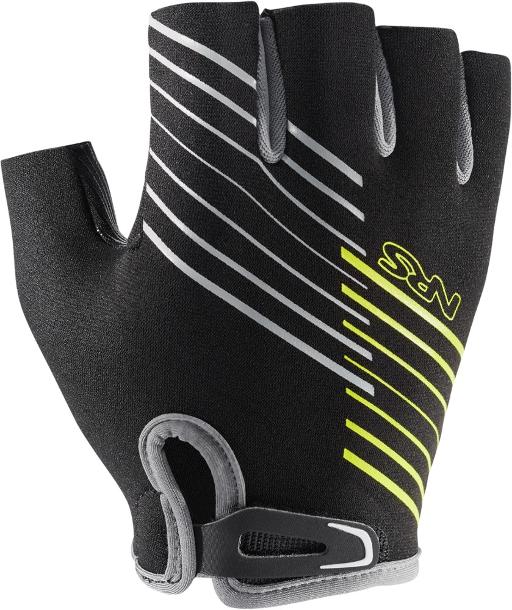 What makes these the best kayaking gloves
The main thing I like about the NRS Guide Gloves is their flexibility while still providing a good grip. I found with other kayaking gloves that aren't as flexible, that they would be very tight to start and then after 30 minutes or so of activity loosen up enough to be comfortable.
I think these are the best kayaking gloves currently available for a budget price. Coming in around $20 per pair, the price doesn't break the bank and the quality is better than expected. The fit is just how you'd like (I wear a large) and the stitching/assembly doesn't leave any wear rub spots.
We'll see how these hold up after a few seasons, but for now they seem to be showing minimal wear and tear.
Feel of the NRS Guide Gloves
The NRS Guide gloves are primarily neoprene, so wearing them is like wearing a wet suit for your hands. Being fingerless, these are great for easy use of a phone or camera without having to remove them. For cold water paddling, they still keep your hand warm enough, but full coverage is better if you're going to be in 50 degrees F or less temps.
Really, these are the best kayaking gloves I've found so far and highly recommend them.
Where to buy kayaking gloves
Lots of online and brick and mortar retailers carry gloves meant for paddling. I like to shop through REI first because they stand behind their products and have a very good return policy. Shop for NRS Guide Gloves here!
You can also purchase them directly through NRS, through any wet suit supply shop, or in larger sporting goods stores.