Great Kayaking Spots in Tennessee, from the Smokey Mountains to Downtown Nashville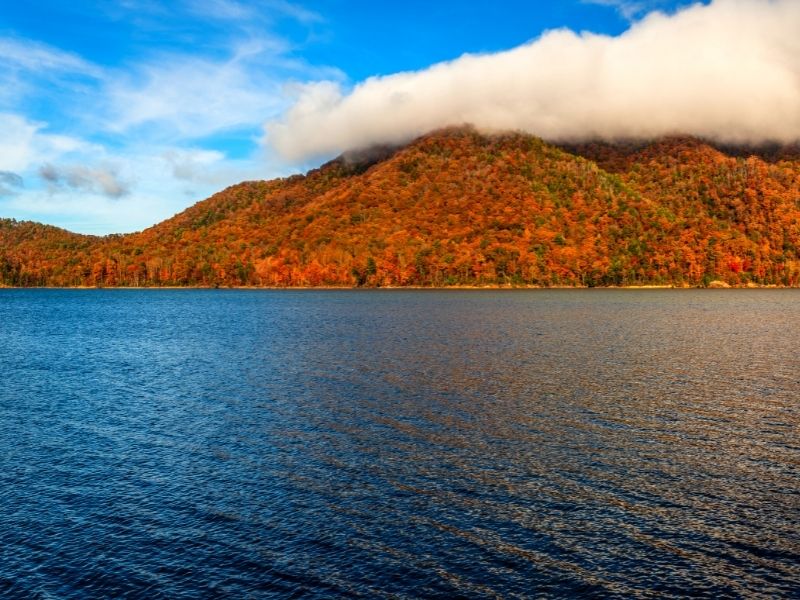 Kayaking in Tennessee ranges from paddling on quiet rivers to intense whitewater rafting in the mountains. From Great Smokey Mountains National Park to downtown Nashville, guide to kayaking all around Tennessee.
If you're looking for a great state for beautiful paddling spots, look no further than a trip for kayaking in Tennessee! The state has countless rivers and lakes that make for perfect paddling conditions. There are so many reasons Tennessee is such an excellent place for kayaking: the scenery is beautiful, with mountains and forests providing a stunning backdrop as you paddle along; there are plenty of places to kayak, including both urban and rural areas; fall colors will make your jaw drop.
The weather is perfect for kayaking most of the year, with mild temperatures and ample rainfall. The people in Tennessee are friendly and welcoming, always happy to help out a visitor or give them some pointers about the best places to go kayaking. The state is home to many kayak manufacturers to find everything from basic kayaks to high-end models. Finding a spot appropriate to your level won't be a problem with our guide.
Easy Kayaking Spots in Tennessee
Many first-time kayakers launch from Nashville on the Duck River. Outside of the city and into the more rural parts of Tennessee offer a great outdoor adventure, including the Powell River, Watauga River, and many others not listed in this article. Finding a leisure paddle for beginners or those paddling with families won't be a problem, even if Tennessee is technically landlocked. Some of the scenery you'll encounter is similar to kayaking in Door County, WI… So pretty!
Duck River
Less than an hour from Nashville is Duck River, the longest river in the state. With waters only going up to a Class II, there's a tremendous five-mile paddling trail taking in a slow trip alongside turkeys, blue herons, and ducks!
The Nature Conservancy gives an excellent overview of Duck River and what you can expect to see on a paddle. https://www.nature.org/en-us/get-involved/how-to-help/places-we-protect/duck-river/ 
Powell River
As the second-largest undammed river in Tennessee, it is one of the most diverse rivers in a temperate climate nationally and worldwide. Home to over 100 species of fish and an abundance of birds, turtles, and vegetation of primarily undeveloped land. Winding through the northwest section of Tennessee, the 114 miles of water feeds into the Norris Reservoir. Its popularity is apparent with the Powell River Kayak and Canoe Regatta, with an annual 12-mile race across nine categories. 
Note: Watauga Lake is in the Northeast corner of Tennessee, so if you're planning on kayaking both, be sure to plan your travels appropriately.
*SUP friendly
For a complete rundown of need to know information, visit the River's official website. https://www.powellriverblueway.org 
Cumberland River
Starting north, in Kentucky, the Cumberland River traverses through Tennessee and has a total length of over 700 miles. Popular for lazy floaters and leisurely paddlers, this kayak trail is perfect for Nashville. Paddling through the city, kayakers will go through three bridges and have the Nashville skyline. 
*SUP friendly
Paddling Magazine gives an excellent overview of paddling in and around Nashville, including the Cumberland. https://paddlingmag.com/trips/destinations/kayaking-nashville/ 
Watauga River   
Starting in Western North Carolina and ending in East Tennessee, the Watauga River runs nearly 80 miles and is a popular fishing and paddling site.  While there are some calm areas, those wanting a whitewater experience will have no problem finding it here. Regardless of age and skill, Watauga has something for everyone. 
For those planning a trip, check out American Whitewater's website in the area. https://www.americanwhitewater.org/content/River/view/river-detail/1143/main 
Harpeth River
The Harpeth River State Park is a haven for water enthusiasts as it is host to nine rivers and over 40 miles of paddling trails. Beyond that are many points of interest, including archaeological and historic sites. Launching won't be a problem; just don't go off the archeological areas. Although advanced paddling can be done, beginners will enjoy the Class I river. 
For rentals and local information, pop into any outfitters in Kingston Springs.
Check out Tennessee State Parks' website specific to Harpeth River State Park for planning a trip. https://tnstateparks.com/parks/harpeth-river 
Experienced Kayak Launches in Tennessee
Whitewater paddling is something you can find an abundance of in Tennessee. Whether getting their adrenaline pumping on the Cumberland River or exploring the deep gorges of the Nolichucky River, you won't have issues finding your next adventure. 
Big South Fork of The Cumberland River
The Big South Fork of Cumberland River is home to adventure paddling. Most sections of rivers in Big South Fork are only for skilled paddlers. Be sure to check with locals about current conditions before heading out. 
Check out the National Park Service website for complete information on the Big South Fork.  https://www.nps.gov/biso/planyourvisit/whitewaterpaddling.htmhttps://www.nps.gov/biso/planyourvisit/whitewaterpaddling.htm 
Nolichucky River
The Nolichucky Gorge is one of the deepest gorges in the eastern part of the US. The scenic river hosts intermediate raids class III-IV. While the river starts in North Carolina, it cuts through the northeastern part of Tennesse, bringing adventure with it. Check the National Park Service for how heavy the river is flowing or through local outfitters. 
Visit the following website for a great trip overview of the Nolichucky River in Tennessee. https://paddling.com/paddle/trips/nolichuckey-river-tennessee 
Tellico River
Tellico River is a beautiful Appalachian waterway best paddled in the winter or spring. Kayakers will pass hikers and fishermen catching trout and waterfalls. With easy access next to Cherohala Skyway, this is an excellent trail for those wanting to up their game. Kayaking clubs use the lower part of the Tellico for training intermediate paddlers. 
For information on planning your trip visit the following website. https://rootsrated.com/chattanooga-tn/white-water-paddling/tellico-river 
Little River 
A paddle down Little River, Tennessee, starts at Perry's Mill Dam, taking you 7.5 miles to River John's. Beginning at the upper section of the river is easy enough, and you can arrange parking and a pick-up shuttle for the float from beginning to end. If starting from River John's, you'll run into a few easy rapids with a pleasant current that you can simply ride through without much paddling. This nearly 5-mile float will take a couple of hours, and you can combine both the upper and middle sections of Little River. Don't forget to get out much before the dangerous Rockford Dam. https://www.knoxviews.com/bubbas-guide-paddling-little-river-blount-county 
National / State Park Kayaking Spots in Tennessee
Tennessee shares national parks with neighboring states such as the Great Smoky Mountains National Park. Specific to state parks, many spectacular parks offer incredible scenery, including Meeman-Shelby Forest State Park and Burgess Falls State Park. While it may not be the largest state in the union, it does have its share of vast spaces; to the east is the Appalachians, and to the west is the mighty Mississippi River.  Finding a paddling trail won't be challenging, given the waterways that pass through the skinny state. 
Kayaking in Great Smoky Mountains National Park
Regardless of your experience level on a kayak, the Great Smoky Mountains National Park has something to offer. For beginners, lessons are abundant from various outfitters. For the more advanced kayaker, head over in August for the Paddle Grapple competition, allowing paddlers to do a 3 mile or 6-mile paddle by kayak, canoe, or SUP board Fontana Lake.  
For a more detailed description of the area and kayaking opportunities, visit Patriot Getaways. https://patriotgetaways.com/blog/kayaking-canoeing-smokies/ 
Burgess Falls State Park
Burgess Falls State Park is a beautiful space in Putnam and White County. Take the 4-mile roundtrip paddle up to Burgess Falls for those wanting a workout. Be mindful of the wildlife surrounding you through Cane Creek just before the falls. 
For further information, visit their Tennessee State Park website.https://tnstateparks.com/parks/burgess-falls 
Where to launch:
Meeman-Shelby Forest State Park
On the banks of the Mississippi River in western Tennessee is the Meeman-Shelby Forest State Park filled with dense trees. Just 13 miles north of Memphis, TN you wouldn't know you were so close to the city. The state park hosts two lakes, of which Poplar Tree Lake is most famous for fishing. Keeping your eye on the horizon, you should quickly see some of the resident bald eagles fishing. 
For more information on planning a trip to Meeman-Shelby Forest State Park, check out the Tennesse State Parks website. https://tnstateparks.com/parks/activities/meeman-shelby 
Rock Island State Park
Rock Island State Park is not for first-timers with several waterfalls and opportunities for whitewater kayaking. Various gorge areas are seen throughout the paddling trail, and water levels and currents do change gorges exist in the area, making it a very challenging paddle. Always check with local officials for current information on the paddling trail. 
Bending Branches gives an excellent overview of your kayaking Rock Island State Park options. https://bendingbranches.com/blogs/resources/kayaking-rock-island-state-park-tennessee 
Recommended Paddling Tours in Tennessee
Unless Tennessee is a road trip destination for you, you'll probably be looking for kayak rentals or guided tours for exploring. The main sorts of paddling tours you'll find are either city-centric kayaking/SUP tours or whitewater rafting. Birding and paddling trail tours are few and far between in Tennessee, but they do exist!
Kayaking and SUP Tours around Tennessee
Getting on a kayak for visitors landing in Nashville couldn't be easier with The Original Downtown Nashville Paddle Tour. A similar kayaking/SUP experience is available on the Tennessee River in Chattanooga. Book it here!
For those near Chattanooga, the sandhill crane kayak trip offers insight into the majestic sandhill crane that will transport you into the winter birds escaping the Alaskan and Canadian winter. Book it here!
Whitewater Rafting Trips in Tennessee
Don't forget that Tennessee has more than kayaking, but is also a great state for whitewater rafting! Just 30 minutes from Chattanooga you'll come to Ocoee where you'll find Class II-IV rapids on the Middle Ocoee River. Surprising and awesome paddling in Tennessee! Book it here!
Pigeon Forge and Gatlinburg are famous getaways in TN, and there is more there than Dollywood. You'll find resorts, skiing (seasonal), a big food scene and WHITEWATER! Raft the Pigeon River and you'll be able to say that you did more on your Gatlinburg trip than most people! It's got Class II-IV rapids depending on the season. Book it here!
When to Visit Tennessee
Living in the South myself, Tennessee is a fall and winter destination in my view, but some of the best kayaking happens in spring and early summer. Because it's much less of a Spring Break destination than South Florida or San Diego, as the weather turns from moody to gorgeous there are still fewer people visiting, leaving the waterways open for perfect kayaking! The start of fall is another great time to visit Tennessee, as it's just before peak autumn colors, but still amazing weather.
Weather in Tennessee
Generally, kayakers go out for a paddle in Tennessee from spring to autumn. We adore mid-autumn, as you'll float through trails, and the water is besprinkled with colorful leaves. For whitewater kayaking, May to October is preferred. Regardless of when you go, it is advisable to check water conditions with local officials.
Need to Know for Travel to Tennessee
Whether you're looking for a lazy float or an intense whitewater paddle, Tennessee offers more. Known for its southern hospitality, great food, and fantastic music, plenty of reasons to start planning your trip to Tennessee. You can fly into Memphis (MEM), Nashville (BNA) or Chattanooga (CHA) from most major airports.
Are you excited to add kayaking in Tennessee to your next trip to the Southeast? I hope so. We'll be on the water around Chattanooga a lot in the coming months, so if you see us on the Tennessee River or another waterway, say hello. Also, if you have any questions or additional paddling ideas, please leave a comment or send us a note!