Kayaking Near Asheville, North Carolina – the Outdoors Hub of the Southeast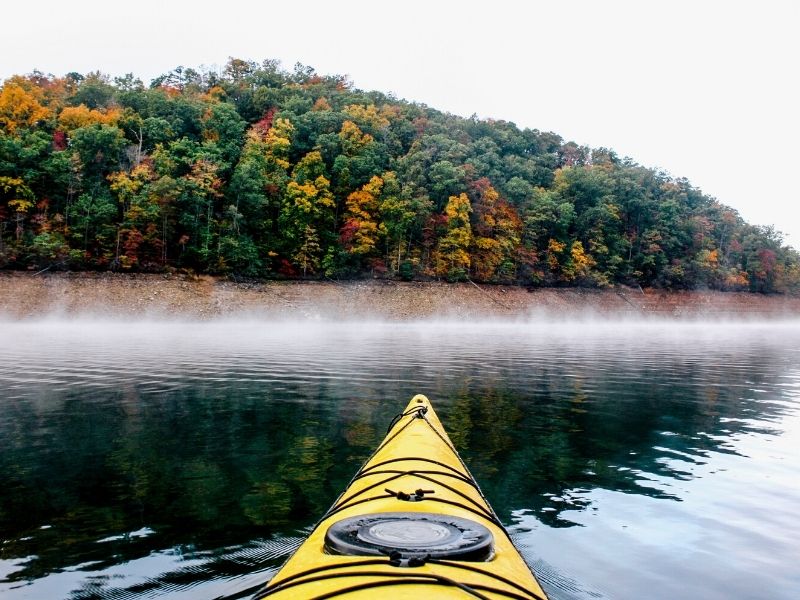 There are lots of spots for kayaking near Asheville, North Caroline. Being such an active city, you'll find it easy to get out on the lakes and rivers of Western NC.
If you're looking for a thrilling outdoor adventure, kayaking in Asheville, North Carolina is the perfect activity for you. With its rushing rivers and pristine lakes, the Asheville area provides some of the best kayaking in the Southeast. Whether you're a beginner or an experienced paddler, there's something for everyone in this beautiful corner of North Carolina. Bordering Tennessee and being in the middle of the Great Smoky Mountains you're sure to find an epic paddle surrounded by spectacular scenery. 
Easy Spots for Kayaking in Asheville, North Carolina
Finding a calm lake for a leisurely paddle or to get your feet wet as a first-time kayaker you won't have to look very far out of Asheville. Lake Lure, Lake Junaluska, and Lake Julian are great options for mountain lake scenery. For a bit of an adventure check out the Pigeon River for some class I and II rapids.
Not sure where to stay around Asheville? We've got some ideas, including some cool North Carolina resorts!
The Pigeon River
The Pigeon River is a tributary of the French Broad River, flowing into it out of the Great Smoky Mountains. This drainage is popular with whitewater paddlers for its variety of Class III and IV rapids. The Upper Pigeon between Walter's Dam and Hartford offers a challenging ride with rapids like Powerhouse, Roller Coaster, Double Reactionary, and Lost Guide. And here's the thing about rafting or kayaking on the Pigeon River: its flow is impacted by dam spillway releases, so you may see Class I and II rapids one day, then see III and IV the next if they do a release.
Downriver from Hartford, the Pigeon River is a more calm waterway with Class I and II rapids interspersed. This makes it a great option for families with young children who still want to enjoy some excitement on the river. American Whitewater has detailed information on the area. Tons of whitewater rafting outfitters dot the river. Check out Smoky Mountain Outdoors for more information about rafting the Pigeon River in the Tennessee portion. 
Where to launch: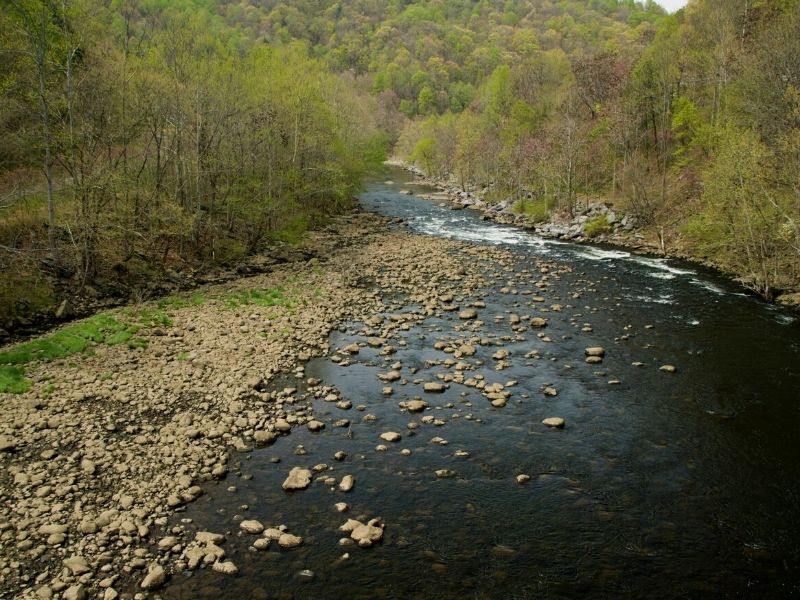 Fontana Lake
Located just west of Asheville is the town of Bryson Lake, home to Fontana Lake. The calm waters make for a great leisure paddle or fishing expedition in the middle of the Smoky Mountains. The area for exploration is over 30 miles so bring a map, or better yet hire a guide. 
Because Fontana Lake is made by a dam, the water level may fluctuate during spring months, but it is always high enough for kayaking.
Where to launch: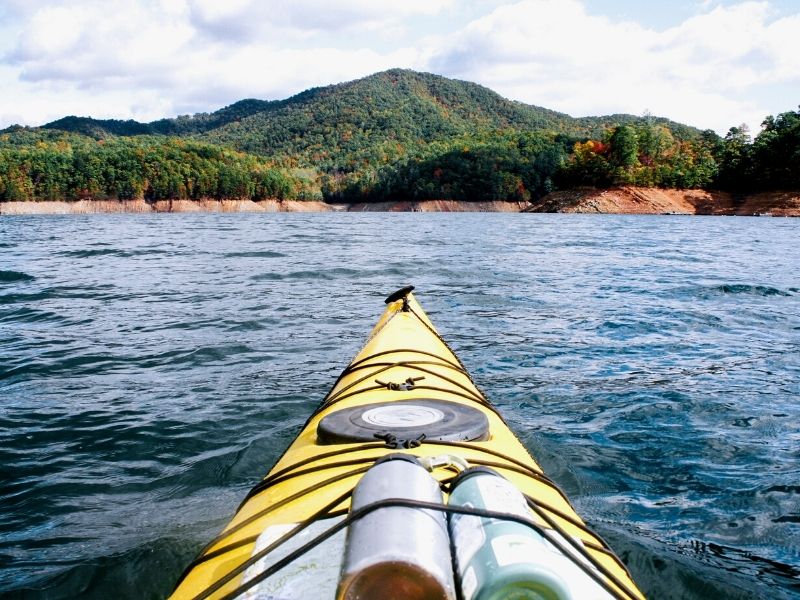 Cheoah Lake
Just west of Byron City (2 hours west of Asheville) is Cheoah Lake, a similar lake to Fontana except for its smaller size. Fishing enthusiasts will enjoy their next trout or bass for dinner. We've got a few warnings here, despite it being one of the most mellow kayaking spots near Asheville: 1.) it gets busy with motorboats so just maintain a good distance, and 2.) there is a dam, so be aware of your distance and obey all safety laws.
You can also go kayaking below the Cheoah Dam, which is also really beautiful and will actually take you along the North Carolina/Tennessee border. Ooh, may add this paddling spot to your Tennessee kayaking trip!
Where to launch: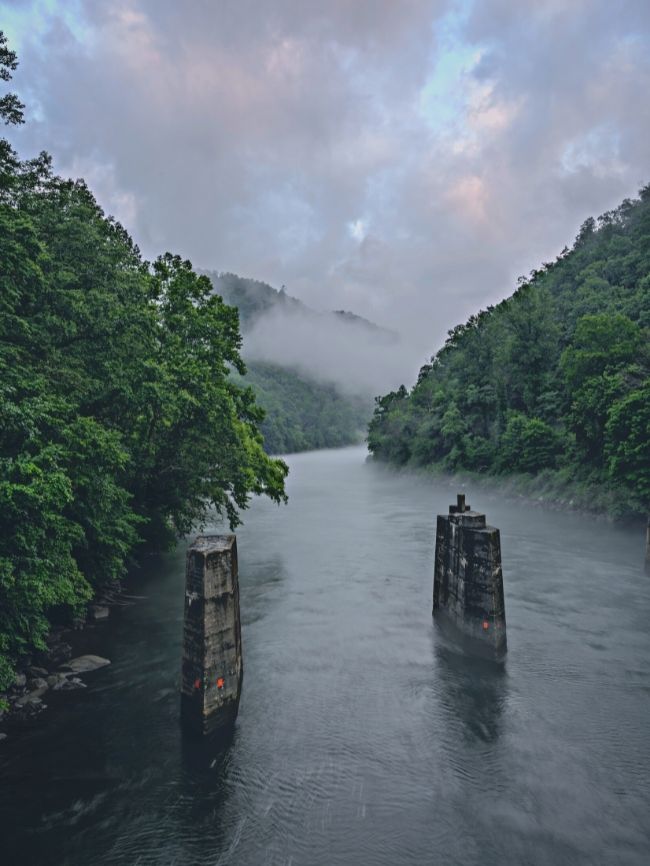 Lake Julian
The 300-acre Lake Julian Park in the town of Arden, NC is the perfect outing for families. Paddlers wanting to combine some fishing will be happy to know that the North Carolina Wildlife Resource Commission stocks the area with bass, catfish, crappie, and bream. Note that the area is home to the Asheville Rowing Club should you want to join the club and get some more paddling in on a regular basis. At the park you can launch your own paddle craft.
Where to launch: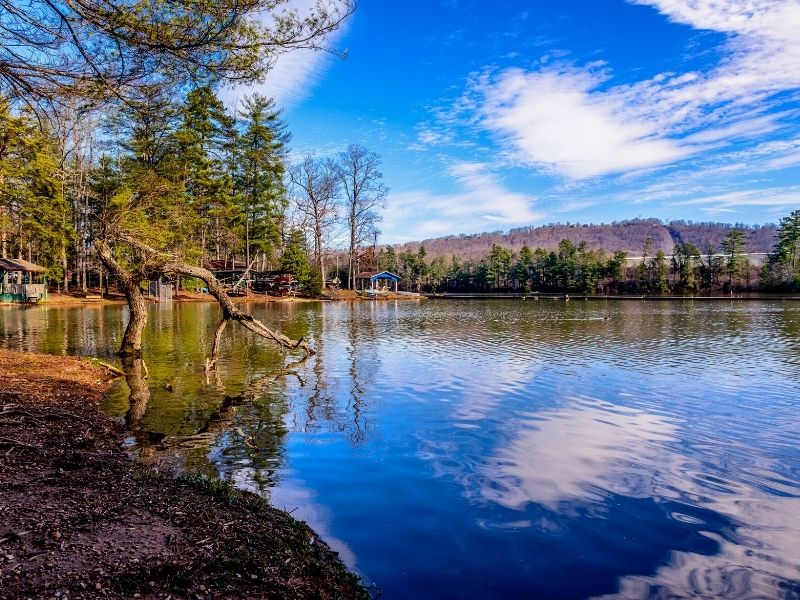 Difficult and Technical Kayaking in Asheville, North Carolina
While kayaking the Outer Banks of North Carolina means river deltas and beaches, kayaking around Asheville includes a wider variety of activities for paddlers to enjoy, including whitewater rafting, kayaking, and even river tubing. With its high mountains and many rivers, Asheville is the perfect jump-off point for an exhilarating paddle with canyon rapids ranging from Class II-V rapids. We have picked a few awesome paddling trails and routes below, but note this is by no means a comprehensive list. The Smoky Mountains website does a great job sharing whitewater opportunities and adventurous kayaking around Asheville, NC.
The French Broad River
The French Broad River is a local favorite for both kayaking and paddleboarding. Cliffs and forests line the river, while some stretches are beautifully farm-filled. You can enjoy sup if you launch in the town of Rosman and haul out without encountering whitewater.
The northern part of the French Broad River trail has something for every level of kayaking, and for those looking for a technical white water paddle, drop in at Craggy Dam. The trail winds down 140 miles from Rosman, North Carolina, to Douglas Lake in Tennessee. Those wanting to do a multi day paddle can do so as there are campsites for paddlers. Reserve at French Broad Paddle. 
Where to launch NOT for whitewater: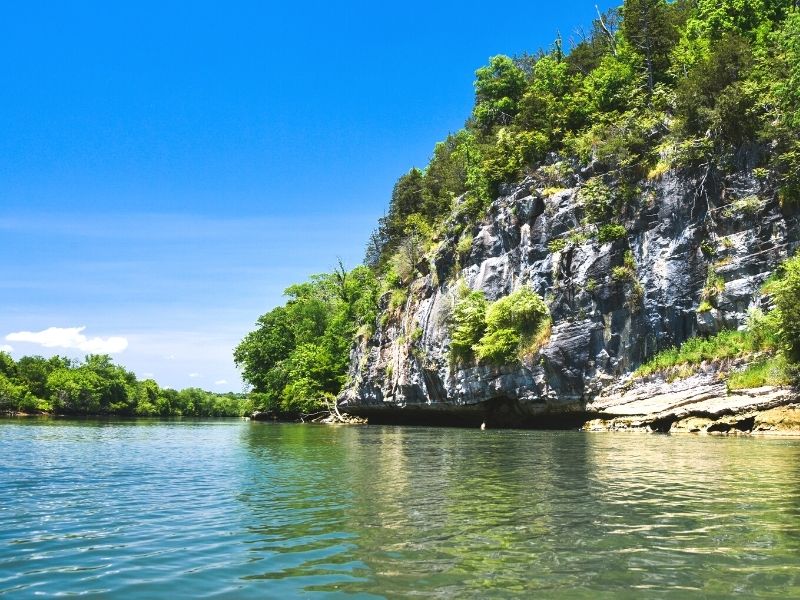 The Chattooga River
The Chattooga River was established as a federal Wild & Scenic River in 1974. The river is a steep trail through Blue Ridge mountain waters emptying out into the Tugaloo River. First-timers to whitewater rapids will enjoy Class II and III rapids in the Chattooga's section 3. For those looking for a more technical run, they can continue the trail going into a Class IV that finishes at Bull Slice. Beyond that, there are Class IV rapids which include Seven Foot Falls and Five Falls. 
Where to launch: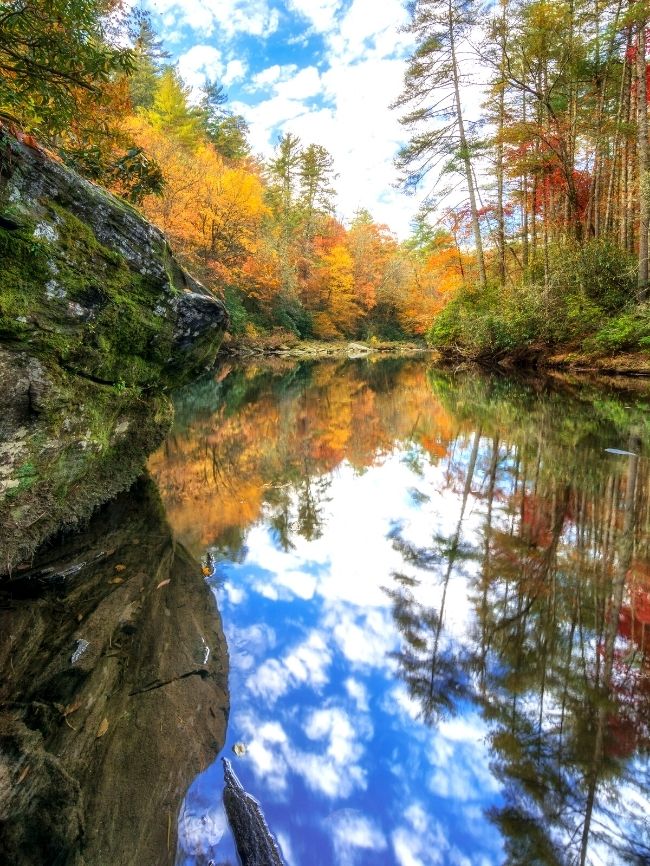 The Nantahala River
The Nantahala River is one of the most popular whitewater rivers in the east. Winding past a number of Blue Ridge peaks the river ends in Fontana Lake in NC. The river's name, a Cherokee word, translates to "Land of the Noonday Sun," giving the characteristic of the riverbank being tucked away from the day's sun by dense forests.
The river has controlled dam releases and it's great for a variety of experience levels. Between Nantahala Gorge and the Nantahala Powerhouse and Wesser is an eight-mile paddle through class II and III rapids. For those wanting more of a challenge go upstream towards the dam in the Nantahala Cascades for class IV and V rapids.
Where to launch: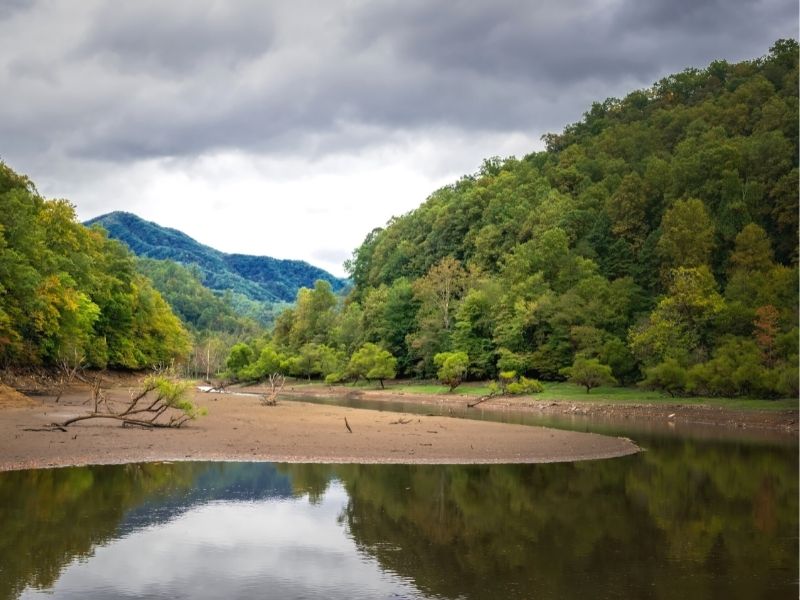 The Nolichucky River
The Nolichucky is located in one of the deepest gorges on the eastern side of the United States. The river offers intermediate and experienced rapids of class III-IV rapids. Starting in western North Carolina the river goes into Tennessee. This free-flowing tributary of the French Broad River starts north of Asheville in the Unaka and Bald mountains. 
What makes the Nolichucky River so cool is that the Tennessee portion is rapids rapids rapids, but then from Green Mountain and heading south it mellows out quite a bit as you go upriver. Yes, there are still some rapids, but not as much as downstream. The flow/water lever totally changes what the paddling experience is like, so this river is for sure good for advanced kayakers/rafters. You can do the smaller whitewater portion on the Lower Nolichucky River with USA Raft Adventures.
Where to launch: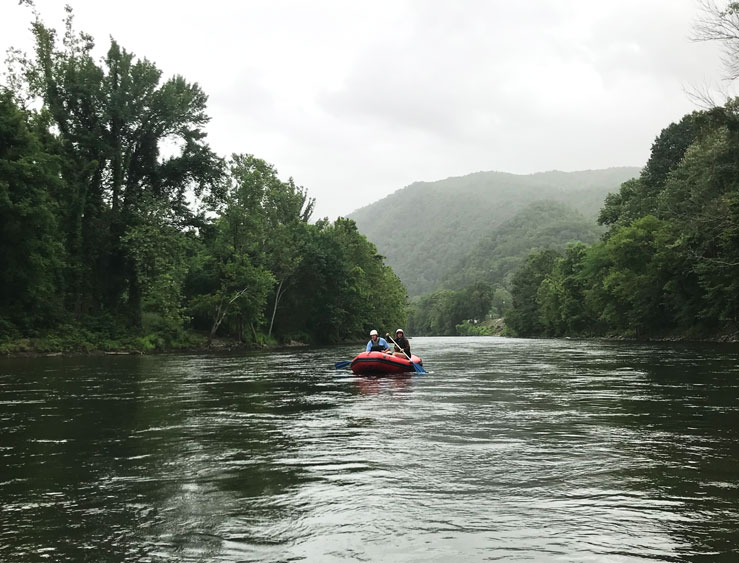 National / State Park Kayaking Spots near Asheville, North Carolina
The Great Smoky Mountain National Park is one of most visited parks in the entire US. With an array of beautiful Blue Ridge mountains surrounding western North Carolina, it's not hard to find a state or national park for a paddle. We mix it up below giving you a couple of lakes to visit and a whitewater adventure 
DuPont State Forest
DuPont State Forest is home to Cascade Lake, a stunning waterway surrounded by scenic mountains. From most of the campgrounds in the area you can paddle up to Hooker Falls. Great first those with little experience, the waterway provides calm waters with almost no current.
Where to launch: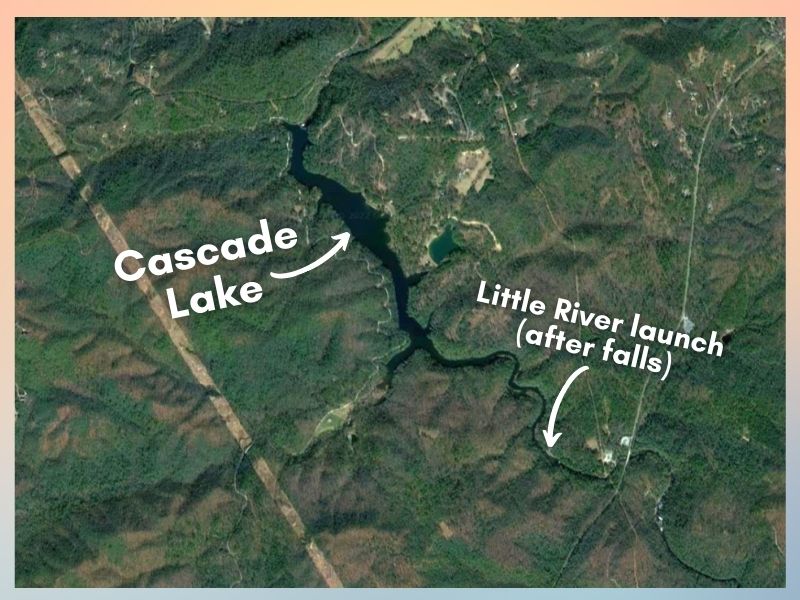 Lake Lure, Chimney Rock State Park
Lake Lure is often overlooked by kayakers and canoers because of its expansive size. Located in Chimney Rock State Park this lake is filled with hundreds of little enclaves and distinctive shorelines to explore. Morse Park on the western edge of the lake is a great launch site. Or choose the gorgeous shorelines dotted with beautiful water homes on the northern shore. Some trivia for movie buffs, the lake is known as a site of the popular movie Dirty Dancing. Find out more with local guides over at Lake Lure Tours.
Where to launch: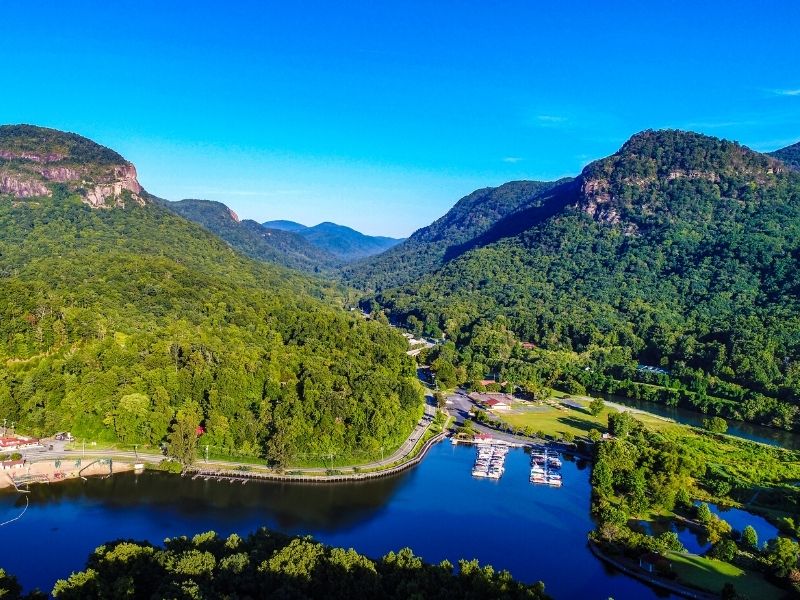 Pisgah National Forest
Transylvania County is known as the land of waterfalls and offers opportunities for whitewater kayaking. The South Mills run, located in Pisgah National Forest, gives 12 miles of a beautiful valley to get your next adrenaline rush. Read an account of one paddler's trip at Pisgah National Park- Paddling Pisgah: Exploring South Mills by Kayak.
Note that the South Mills Run is a mix of Class II and III rapids, so be prepared and only hit up this kayaking route if you're experienced and ready for a technical, but beautiful, paddle.
Where to launch:
Great Smoky Mountain National Park, Lake Junaluska
Lake Junaluska is a scenic Great Smoky Mountain lake perfect for water enthusiasts. It was set up like a mountain retreat for Christians in the early 1900s. These days it's home to numerous gardens, trails dotting the lakeside, and tons of kayak, canoe, and paddleboard rentals. Bird watchers will enjoy the lake and will have plenty of opportunities to visit residents' swans or spot migratory birds. Haywood County Tourism's website gives a great overview of the area. 
Where to launch: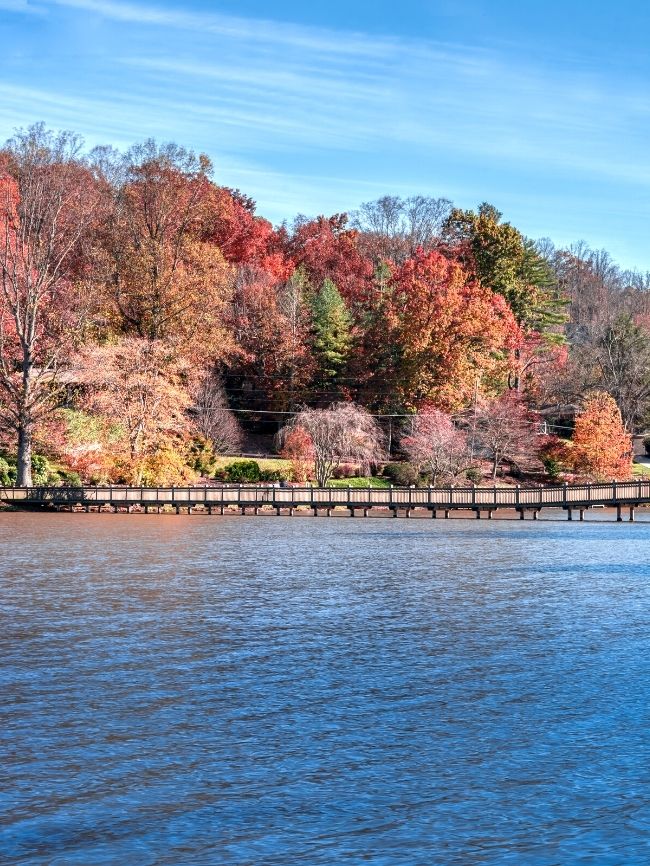 Recommended Kayaking Tours in Asheville, North Carolina
Kayak Tour at Lake Lure – Lake Lure is filled with biodiversity and getting a certified naturalist to point out local wildlife and flora gives you a better appreciation of the scenic mountain lake. Don't worry about whether you haven't paddled before the calm waters and a professional guide will help you get acclimatized with your kayak. Book your trip here!
Scenic French Broad Whitewater Paddle – The French Broad river is a very popular river for rafting with many tours being overcrowded. For those wanting to experience some whitewater kayaking this tour limits groups to five paddlers. Paddling down to Alexander Island through class II rapids might convince you to take up the hobby and gain more technical skills. Post paddle, you're rewarded with a beer! Book it here!
Need to Know for Asheville, North Carolina
If you're looking for a fun and unique city to visit, Asheville is definitely worth checking out!  Relax at any of the local hipster coffee shops, sample local cuisine, or do a walking tour of Asheville's street art. Hit happy hour at any of the numerous breweries as the city is home to the highest per capita breweries.
Weather in Asheville, North Carolina
Asheville, located in western North Carolina, is known for its temperate climate. The average high temperature in the summer months is in the mid-80s, while the average low temperature is in the mid-60s. The city sees an average of around 14 inches of precipitation annually, with most of it coming like rain. Asheville does experience occasional thunderstorms and drought conditions, so be sure to check the weather forecast before your visit.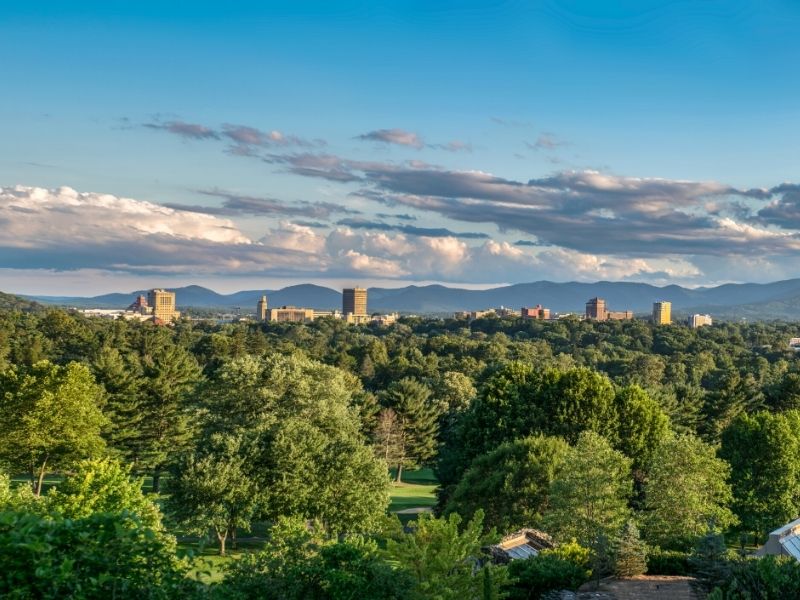 When to Visit Asheville, North Carolina
In the spring, kayakers can enjoy the beauty of the blooms lining the banks. The temperatures are cool, making it a perfect time to kayak. During the summer, the crowds are larger, but the weather is better for sun-bathing. Many people like to pack a fishing rod during summer as well. The fall season brings cooler weather and changing leaves, which makes it a great time to kayak in Western North Carolina. However, during the winter months only the most hardcore kayakers will be visiting this area. If you are looking for milder weather, you can easily head east to the coast where kayaking is available year-round. Just make sure to bring a few layers so you stay warm while paddling.