Best Kayaking Spots in Wyoming: from Yellowstone to Cheyenne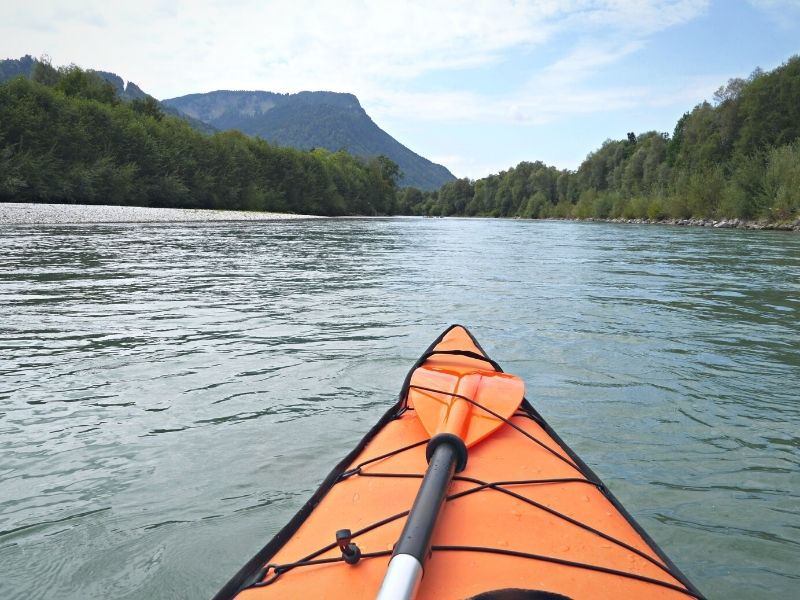 Kayaking in Wyoming is more than paddling in National Parks. From the the Platte River to mountain lakes, the best places to launch and enjoy kayaking around Wyoming.
Kayaking in Wyoming is one of the best ways to see this beautiful state. Known for places like Grand Teton National Park or Devil's Tower National Monument, Wyoming is much more than National Park lands. There are beautiful rivers for paddling, reservoirs that are great for enjoying SUP, and routes through canyons that avid, experienced kayakers will enjoy.
For thrill-seekers looking to hit the water, Wyoming offers many opportunities for an adrenaline rush. Skilled kayakers will not be disappointed with the fast-moving stretches of the North Platte River or the challenging whitewater of the Snake River. Families and novice kayakers can find easy paddling on lakes such as Jackson or Yellowstone. No matter your experience level, kayaking in Wyoming offers something for everyone. The scenery is second to none with towering mountains, rushing rivers and open meadows. With thousands of miles of streams and rivers to explore, kayakers will never tire of new challenges and stunning landscapes. So grab your kayak and head to the Cowboy State for some of the best paddling in the US.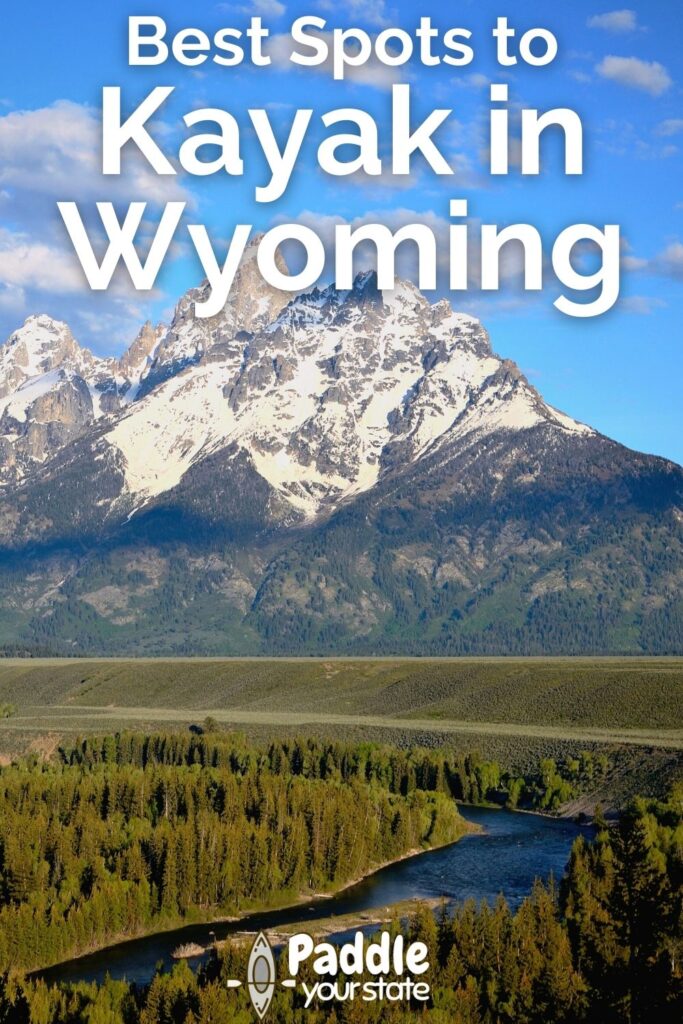 Easy Kayaking Spots in Wyoming
There is an abundance of kayak trails in Wyoming for those just starting or with little experience. The North Platte River is an ideal place to kayak with tons of wildlife and geological formations. The Glendo Reservoir and Boysen Reservoir both have a lot of shallow areas where you will not get into water trouble. The Pathfinder Reservoir is perfect and won't get crowded as other places in the area because there are many areas where you can go and it is not as crowded as the most popular spots. Kayaking in Wyoming is awesome, but not terribly popular, so that's a big win!
North Platte River – up to Class I
North Platte River is great for beginning kayakers and is one of the only floatable rivers in Central Wyoming. Given the river in Wyoming's arid expanse is a popular destination for fly fishermen in drift boats, party-loving rafters/tubers, and the odd canoeist due to its prize trout and beautiful scenery, kayakers will not be alone. The river has Class I and II rapids, which makes it the perfect spot for those new to the sport (and it's not too scary if you're worried about rapids). 
For more information on kayaking in the North Platte River check out this map provided by the Wyoming Game & Fishing Department.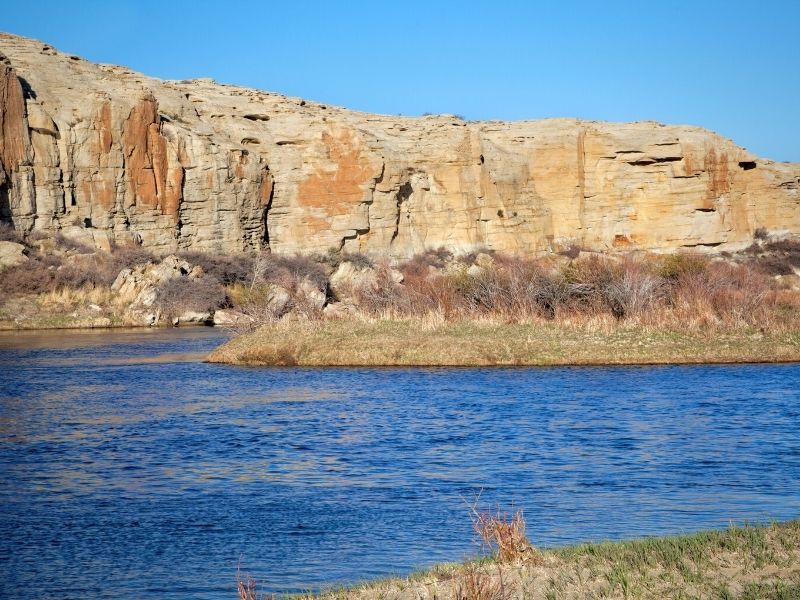 The Glendo Reservoir
The Glendo Reservoir is perfect for beginning paddlers. Located in Platte and Goshen Counties about an hour and a half north of Cheyenne, WY, the reservoir is surrounded by beautiful mountains, and there are several easy paddling routes to choose from. The water is calm and the scenery is gorgeous, so it's a great place to relax and enjoy some peace and quiet. This is one of the best spots for SUP as well.
There is more to do at Glendo State Park than paddling, but this is one of the best places for kayaking in Wyoming. While here, also enjoy hiking and biking, and cliff jumping into the reservoir. And by the way, there's a huge campground with 550 campsites (including yurts), so this is a great go-to home base for exploring Eastern Wyoming.
*SUP friendly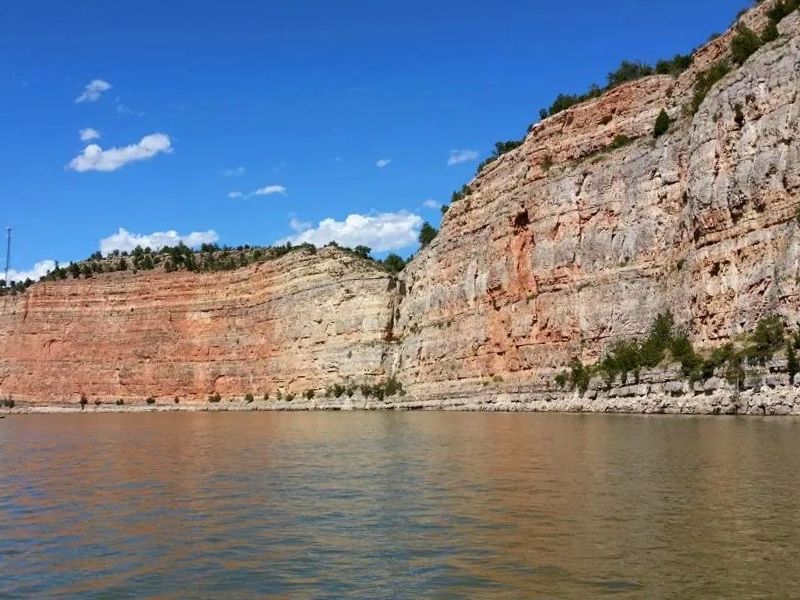 Pathfinder and Seminoe State Parks  
The scenery of the Pathfinder State Park is spectacular for kayaking. Located about an hour and fifteen minutes from Casper, Wyoming, the park offers a variety of paddling opportunities for all levels of kayakers, from beginner to advanced. One of the most popular kayaking trails in the park is the Platte River. It is also one of the less strenuous kayaking trails in the park, making it a great option for beginner kayakers.
When you're kayaking in the Pathfinder Reservoir area be mindful of the dam. You'll need to stay a safe distance away, which may vary depending on water level. While it may not seem likely that the water flow could impact you in a kayak, dams are powerful… and you don't want to get cited for breaking any posted laws.
Another state park to enjoy paddling that's nearby is Seminoe State Park. This is south of Pathfinder Reservoir and has similar scenery. There is also a dam here, so the same safety regulations apply.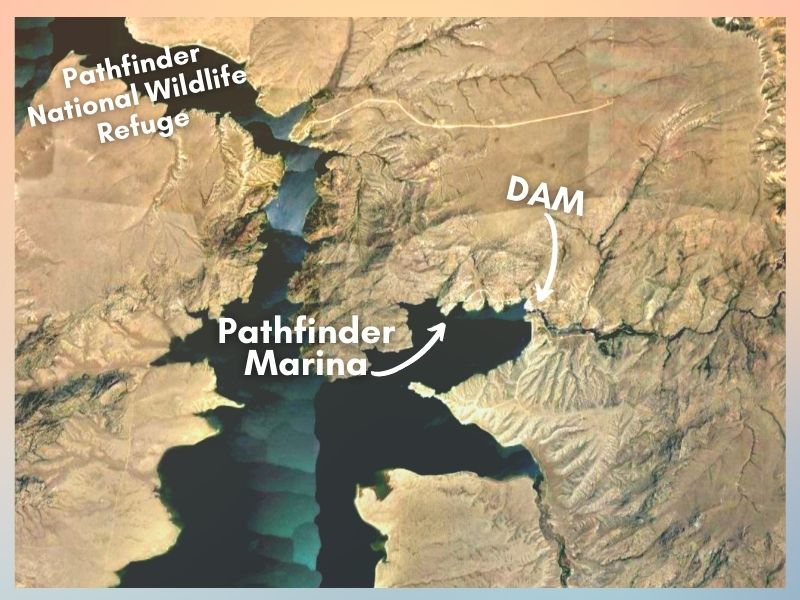 Kayaking the Green River Lakes
This beautiful spot just south of Jackson, Wyoming is great for paddling on the Green River where it's calm and on the lakes it feeds. This part of the Rockies is really striking and paddling on the lakes is the perfect addition to a hiking trip to the western part of the state.
When you're here, you'll find areas that you can easily haul out for a picnic, or you can even portage a short distance to explore smaller ponds and lakes. Kayaking in Wyoming is a treat when you visit places like the Green River Lakes.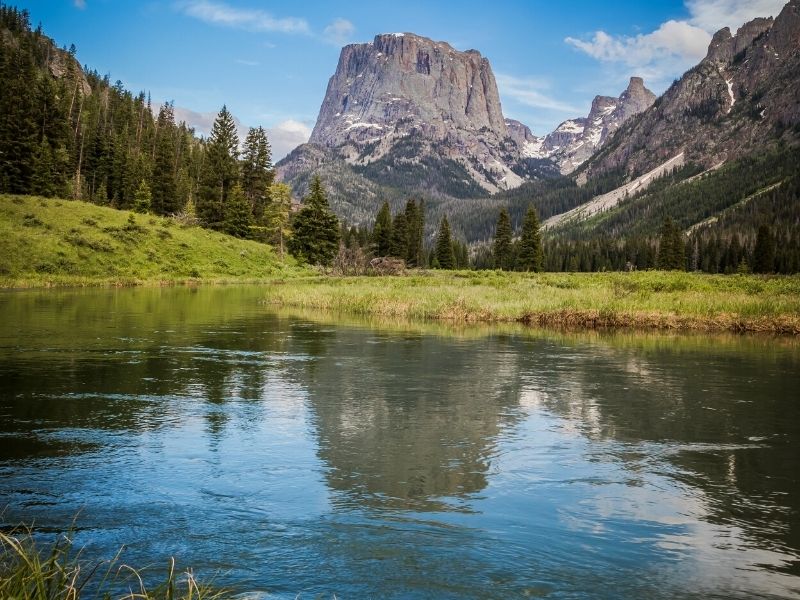 The Cloud Peak Wilderness Area  
The Cloud Peak Wilderness Area is a great place for an outdoor adventure complete with hiking, camping, fishing and paddling! Cloud Peak, at 13,167 feet, is the name given to a region that encompasses the Bighorn National Forest's highest peak. The area is covered in snow for much of the year. Although the Bighorn Mountains appear quite rugged, they are actually gentler than other mountains in Wyoming. The wilderness area offers a variety of paddling opportunities for all levels of kayakers, from beginner to expert. For beginners, the most popular kayaking trail in the park is the North Platte River.
*SUP friendly
For complete information on the area near Cloud Peak Wilderness and to be sure you can access this beautiful Wyoming kayaking spot (clear of snow and debris) check out the Tensleep Campground site. They keep things updated as the snow melts and the forest service roads become passable again.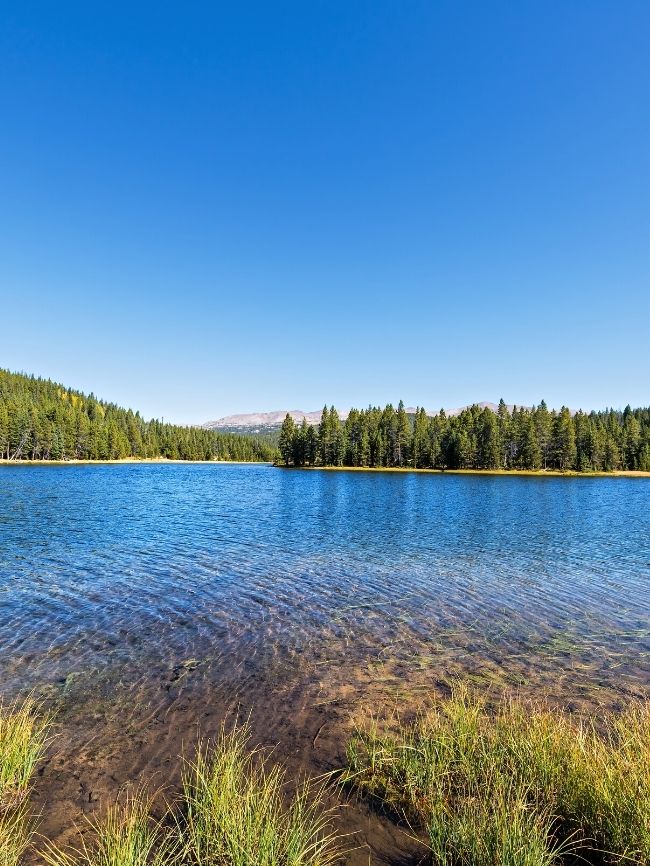 Experienced Spots for Kayaking in Wyoming
Kayaking in Wyoming: It's a thing. You may have heard of the Tetons, Jackson Hole, and Yellowstone National Park– these are just a few of the places in Wyoming that offer up world-class kayaking opportunities. The Snake River and its tributaries offer some of the best whitewater kayaking in the country, while Grand Teton and Jackson Lake offer up a more serene experience for those looking to take in the beauty of the area.
With over 3,000 miles of rivers and streams and more than 10,000 acres of lakes and reservoirs, Wyoming is a kayaking paradise. If you're an experienced paddler looking for a new challenge, or just want to explore some of the most beautiful scenery in the country, Wyoming is a must-visit destination. 
Kayaking in the Snake River Canyon
Snake River Canyon in Wyoming is an adventurous, experienced kayaker's paradise. With its numerous Class III, IV, and V rapids, the canyon provides a challenging and exciting experience for kayakers of all levels of experience. In addition to the rapids, the canyon offers stunning views of the Tetons and the Snake River itself. If you're looking for a challenging and beautiful kayaking destination, Snake River Canyon is definitely worth a visit.
The Natrona County of Wyoming gives a great overview of the Pathfinder Reservoir as it transitions into the Snake River Canyon.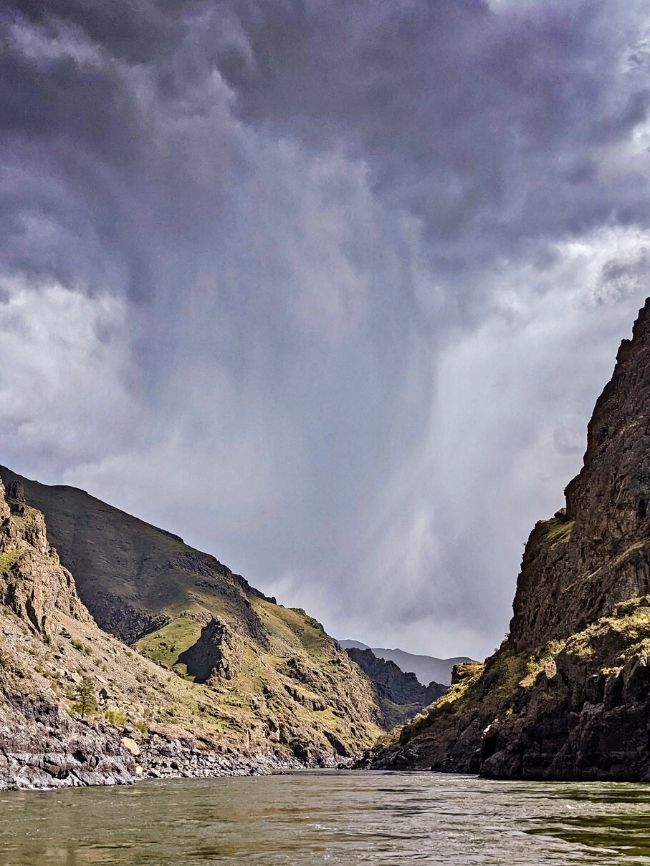 The North Platte River – Class II and III
I know that we've already mentioned the North Platte River, but it is such a varied waterway that it's appropriate for all kinds of paddling experiences. It's got stretches of calm waters full of fishermen and wild rapids that you need some skills to navigate.
The North Platte River has several options for more experienced kayakers. The upper section of the river has some fast-moving water with rapids up to Class III, while the lower section is more gentle with few obstacles. Either way, you will enjoy stunning views of the Wyoming landscape as you paddle. Beyond the kayaking don't forget to visit the Pathfinder Interpretive Center which takes you across a historic suspension bridge. 
Where to launch: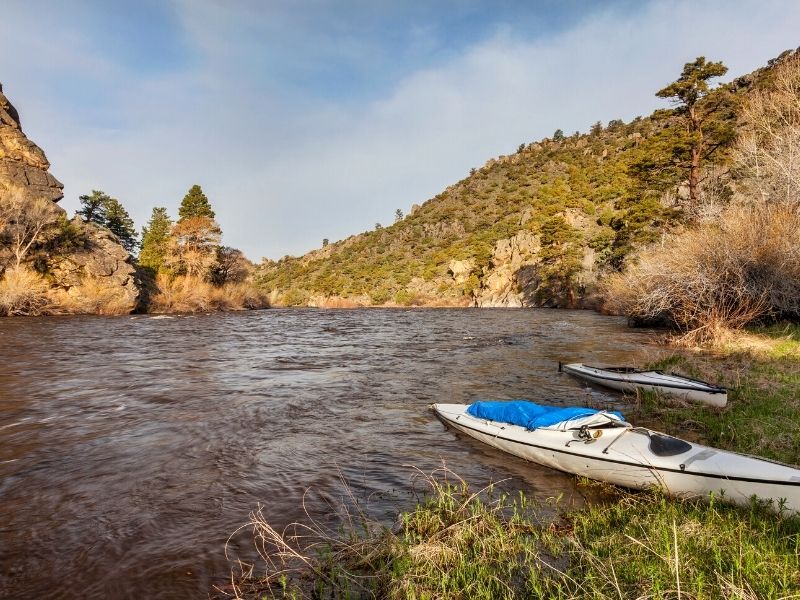 Green River Kayaking
The Green River is known for its exciting whitewater rapids, which make it a popular destination for kayakers. The river has something for everyone, with rapids ranging from Class I to IV. Experienced kayakers will enjoy the challenge, while novice paddlers can take it easy on the more moderate sections.
The Sweetwater County Joint Travel and Tourism Board's website provides tons of helpful information if you haven't been before. There is actually a kayaking park here, kind of similar to the Boise Whitewater Park, which we mentioned when talking about kayaking in Idaho, but it's natural vs manmade.
And yes, this is the same Green River you would be kayaking in Utah. Starting just south of Jackson, Wyoming and winding south into Colorado and then west into Utah, the Green River joins the Colorado River in Canyonlands National Park outside of Moab, UT.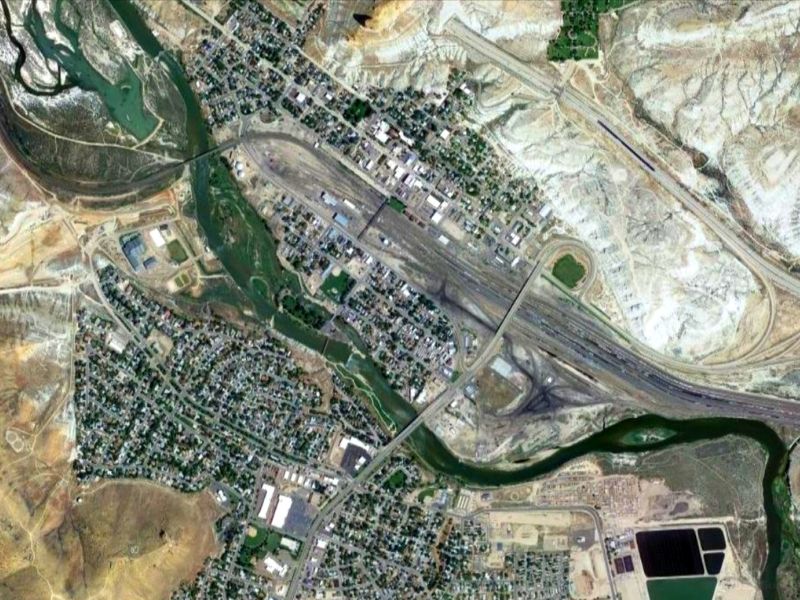 National and State Parks with Kayaking Spots in Wyoming
Home to some of the nation's most beautiful parks, Wyoming is great for a long summer road trip through the neighboring Grand Teton National Park and Yellow Stone National Park as well as Grand Canyon National. Whether you are a novice or are experienced kayaker, you will not be disappointed in the opportunities to take in the natural scenery of Wyoming on a paddle.
Grand Teton National Park 
Grand Teton National Park is home to some of the best kayaking on earth. In fact, in a recent survey of kayakers by Paddling magazine, the Jackson Hole and Grand Teton area was rated the number one spot in North America for overall paddling satisfaction. The Snake River and its tributaries offer a variety of paddling opportunities for all levels of kayakers, from beginner to advanced. The main attraction for kayakers is the Jackson Hole and the Grand Teton Mountain Range. These iconic mountains can be seen from anywhere in the park and are a breathtaking sight to behold. In addition to the amazing scenery, the park offers a variety of wildlife viewing opportunities, including grizzly bears, moose, and elk. Our recommendations are to check out Jenny Lake or String Lake.
*SUP friendly
For a deeper dive into kayaking, in the Grand Teton are check out our guide to Kayaking in Grand Teton National Park! 
Where to launch: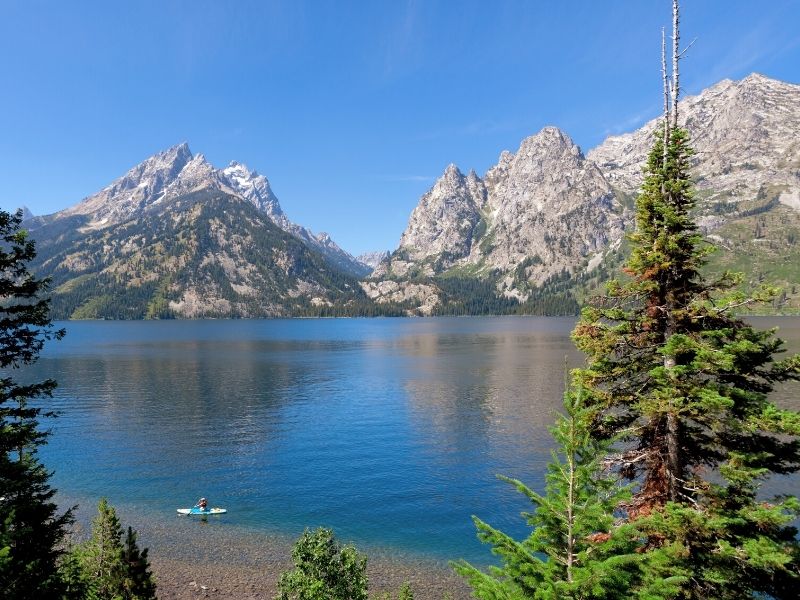 Yellowstone National Park Kayaking
Kayaking in Yellowstone National Park is a unique experience that offers something for everyone. The park is home to a wide variety of wildlife, including grizzly bears, bison, elk, and deer. Visitors can also enjoy amazing views of the geysers and waterfalls. There are a variety of kayaking trails to choose from, ranging from easy to difficult.
*SUP friendly
Check out our guide to Kayaking in Yellowstone National Park
Just east of Yellowstone National Park is the town of Cody, Wyoming. Check out the Shoshone Riverway for a different sort of kayaking in Wyoming.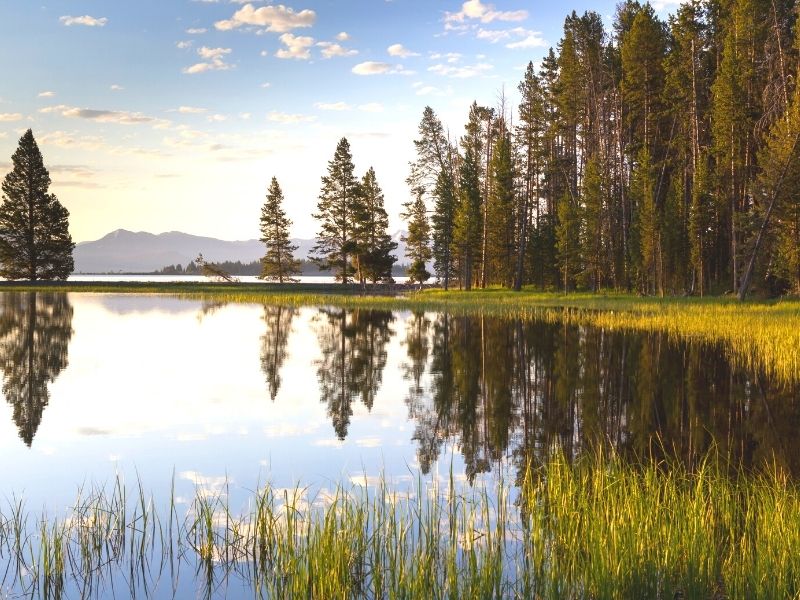 Bighorn National Forest
The Bighorn National Forest has several options for paddling. With many small lakes and pristine stretches of the Bighorn River, there are plenty of opportunities to experience Wyoming's natural beauty from the seat of a kayak or canoe. Visitors can also try their hand at white water kayaking on the turbulent sections of the river. For a more leisurely paddle, consider taking a scenic float trip down the river. With so many options available, there is something for everyone who wants to enjoy some time on the water in this beautiful park.
*SUP friendly
The area is managed by the US Forest Service vs the National Park Service. This means that the roads are rougher as you head to your launch spots, but there are also fewer people. The Bighorn is beautiful for all kinds of outdoor recreation, but its services are more primitive than you might expect.
NOTE: this is a different area than the Bighorn Canyon National Recreation area, which is adjacent to the north. This part of the Bighorn River is primarily forests and lakes versus epic canyons.
Where to launch: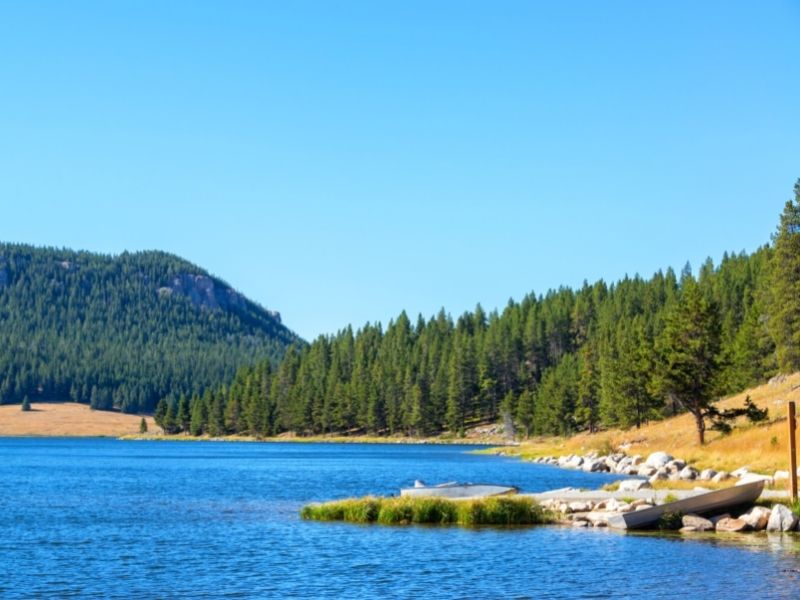 When to Visit Wyoming
Wyoming is best in late spring and early fall. There are a lot of visitors to both Yellowstone and Grand Teton National Parks in the summer months, but the rest of the state stays pretty mellow. June, July and August is when most of the rodeos and events take place in Casper, Cody and Cheyenne, but kayaking in Wyoming is typically impacted by that influx of visitors.
While much of the Teton area around Jackson is just opening up in spring, if you get to visit in May you may be lucky enough to attend the Teton Pow Wow Showcase in Jackson, WY. Representatives from all over Wyoming come together for a community celebration, competition and a general cultural event that the public is welcome to attend.
Weather in Wyoming
Generally, the best time of the year to paddle Wyoming is during the spring runoff when the rivers are fullest. However, kayaking is possible most of the year depending on what you're looking for.
The weather in Wyoming is typically mild, with temperatures ranging from the low 50s to the high 80s. However, it can get quite hot in the summer, and the wind can be quite strong at times, so it's important to be prepared for anything. If you're planning on kayaking in Wyoming during the summer, be sure to pack plenty of sunscreen and water, and be prepared for some extreme heat.
Need to Know for Wyoming
With so many options for intermediate and advanced kayakers, it is difficult to only narrow this list to what's here. Experienced kayakers will find plenty of places to kayak challenge themselves. For example, the North Fork of the Shoshone River is a Class III whitewater river with rapids ranging from easy to very difficult. The Greybull River also offers excellent opportunities for kayakers looking for a challenge with rapids rated up to Class IV. We apologize in advance if we didn't cover some of what you were expecting to see but hope you find new spots!
If you have a favorite paddling spot or know of some kayaking in Wyoming that MUST be shared, please leave a comment or send us a note. We're always happy to add more recommendations.