Kayaking in Texas is very surprising and interesting. From paddling through cities to exploring the Gulf Coast and Rio Grande. Tips for planning kayaking around Texas.
Kayaking in Texas is a great way to get out on the water and explore your surroundings, whether it's paddling through calm rivers or navigating choppy ocean waves. And when it comes to kayaking destinations, there are few places as unique as the Lonestar State! From the hill country of central Texas to the coastal shores of South Texas, this amazing state has plenty of pristine waterways and beautiful landscapes just waiting to be explored.
And you can't forget that a large part of Texas sits on the Gulf of Mexico. The Intracoastal Waterway actually ends in Brownsville, so if you hadn't thought about kayaking in Texas until now, just wait and see what we've got for you! With some kayaking experiences being similar to what you'll find in South Florida, Texas may surprise you as a paddling destination.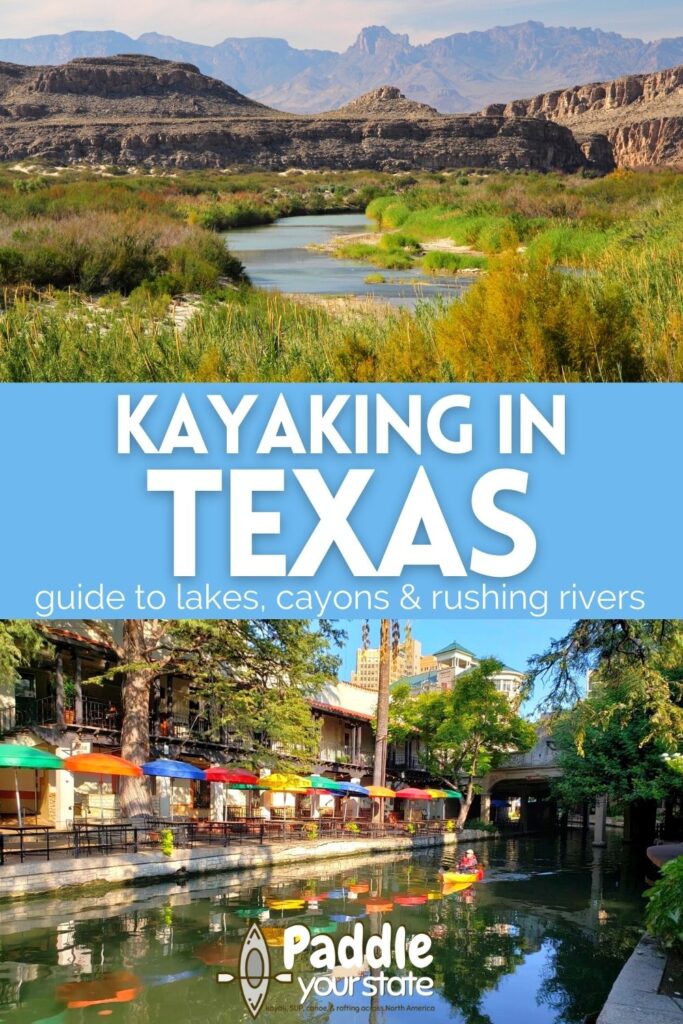 Easy Kayaking Spots in Texas
As the second-biggest state in the USA, Texas is vast with a diverse amount of waterways including slow-moving rivers like the Brazos and lakes just outside of several cities. Lady Bird Lake is perfect for those located in the Austin area. Lake Conroe, north of Houston is also a great lake with flat, clean water. Regardless of where you find yourself in Texas, beginner paddling trails won't be far. 
Kayaking the San Antonio River Walk
It used to not be allowed, but now on select days kayaking is allowed on the San Antonio Riverwalk. What a unique paddling experience! It is closely managed and only hard-side paddling gear is allowed, but if you'd like to paddle the San Antonio Riverwalk you can do it Fridays, Saturdays and Sundays. Because it's a waterway managed by the city, you do need to register before hitting the water.
Kayak from the Tobin Center and enjoy the Riverwalk waterway for 2 miles (4 miles round trip). You launch and haul out from the same area. Rentals are available if you don't have your own gear.
Where to launch: river level behind Tobin Center for the Performing Arts, downtown San Antonio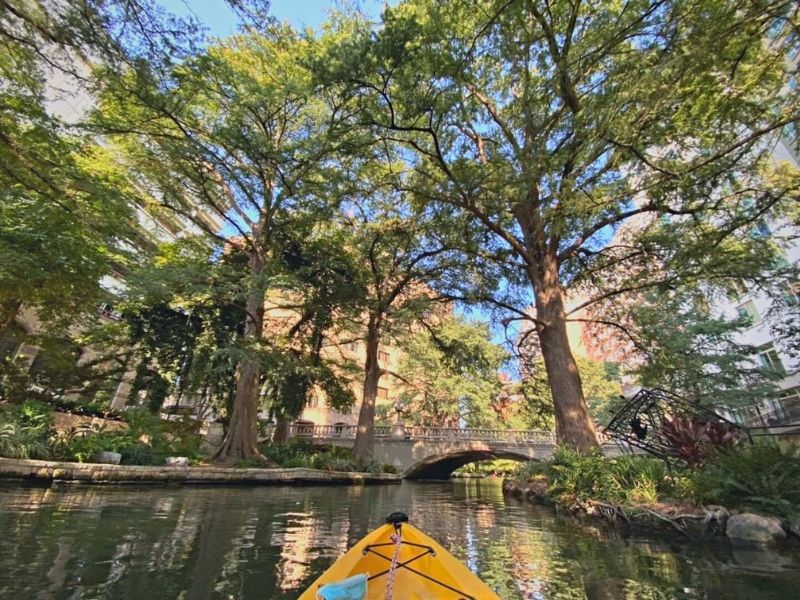 Lady Bird Lake in Austin, TX
Lady Bird Lake is great for paddlers who are wanting an urban adventure. This lake is found right in the middle of downtown Austin, and offers amazing views of the skyline. It has grown more popular and can sometimes feel crowded especially if you're looking for a more serene paddle. BUT its convenient location and the vibe of Austin make it one of the best places for kayaking in Texas.
*SUP Friendly paddling
Where to launch: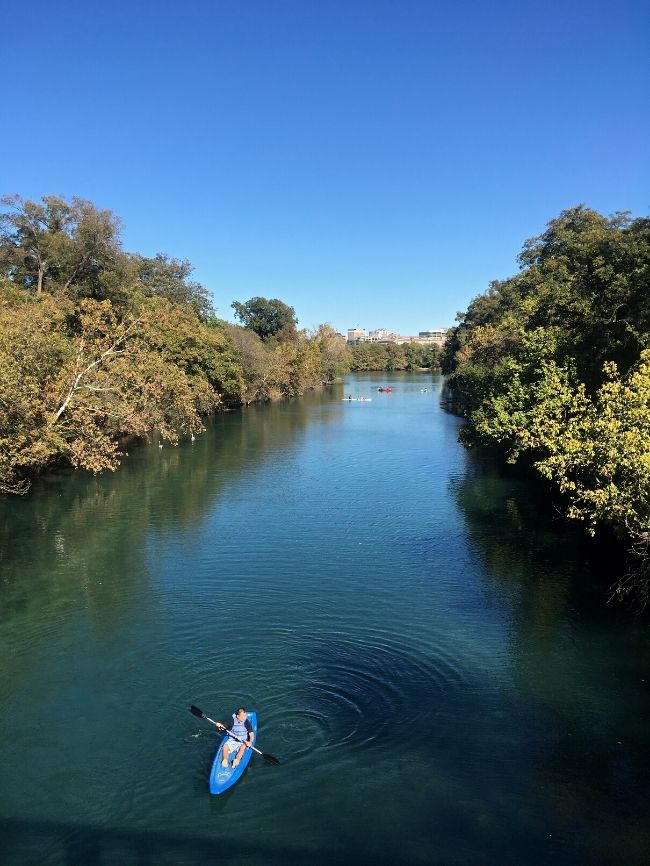 Galveston Bay Estuary
Galveston Bay Estuary is a great place for kayakers who want to explore the area's unique plant life. The bay is home to nourishing wetlands, including the largest seagrass habitat on the upper Texas coast. There are a number of trails available for exploring the beauty of the bay. Bird-watching and fishing in the area are other popular activities. Beginners will stay in the protected bay and those looking to get their heart rate up can paddle through some waves to get into the open ocean. 
There are several paddling trails, making this one of the best places for kayaking in Texas. You'll love the Gulf Coast habitat, especially if you've been paddling inland for several days or if this is your first Texas coast kayaking trip. Being a big birdwatching fan myself, paddling in estuaries is my complete jam, and the waterfowl of the Gulf Coast are some of the prettiest around.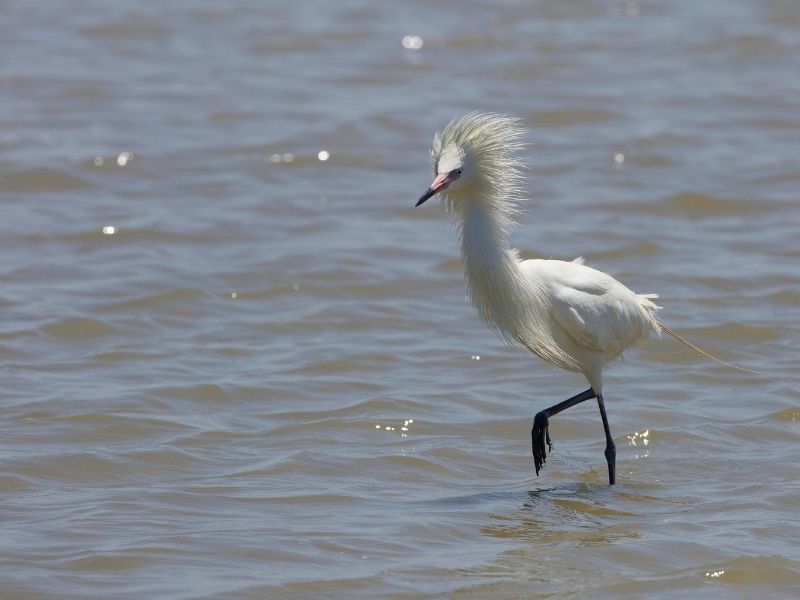 Brazos River – Upper and Lower Reaches
The mouth of the Brazos River, located between Houston and Corpus Christi, Texas. Here you'll find varying channels in the river delta, lots of wildlife and an opportunity to paddle southward along the coast to the San Bernard National Wildlife Refuge. Head north and you can re-enter the Intracoastal Waterway at San Luis Pass and paddle through a unique tidal area (tide dependent).
Kayaking the upper Brazos River in Texas involved either lake paddling, such as on Whitney Lake, or you're surrounded by gorgeous bluffs and a narrow channel. Paddling downstream provides a great adventure with the opportunity to camp on a sand bar. Fisherfolk will enjoy catching striped bass and birders will enjoy getting a glimpse of the colorful painted bunting. Since the flow of the river is 100% dependent on seasonal rains and dam releases, be sure to check the water level locally before planning a Texas kayaking trip on the northern stretches of the Brazos River. The Southwest Paddler provides a great introduction to the area. 
Where to launch: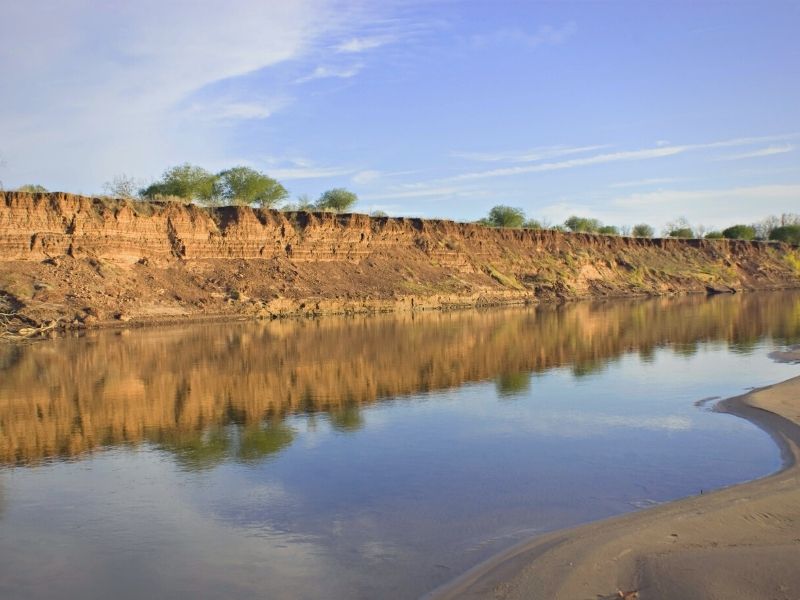 Cherokee Neches Paddling Trail
The Cherokee Neches Paddling Trail provides nearly 7 miles of serene beauty and wildlife. Before going out it's important to check the water conditions as during dry spells the water can be quite low and during rainy days can create some challenges. It's beautiful when you can get out on this paddling trail, as it's some of the more densely forested areas of eastern Texas.
At the southern end of the Neches Paddling Trail is the Neches River National Wildlife Refuge. Here you can put in and paddle upstream or even downstream quite aways. It all depends on water level, but the Neches River actually goes for hundreds of miles, through the Steinhagen Reservoir and all the way to Beaumont, Texas where it ends in Sabine Lake and spills into the Gulf of Mexico.
Where to launch:
Lake Conroe
Lake Conroe provides flats waters and is the largest recreational lake in the state. It's very near Houston, making it popular for quick getaways for locals wanting a refuge from the city. It has one of the cleanest waters in the greater Houston area and is great for a solo trip or a family outing. 
There are quite a few places to put in for kayaking on Lake Conroe. Our top pick is at the north end of the lake at the Stubblefield Lake Recreation Area. Here there are several launches, both for accessing Lake Conroe and for paddling upstream. It's beautiful here and there are some great paddling trails.
*SUP Friendly paddling
Where to launch: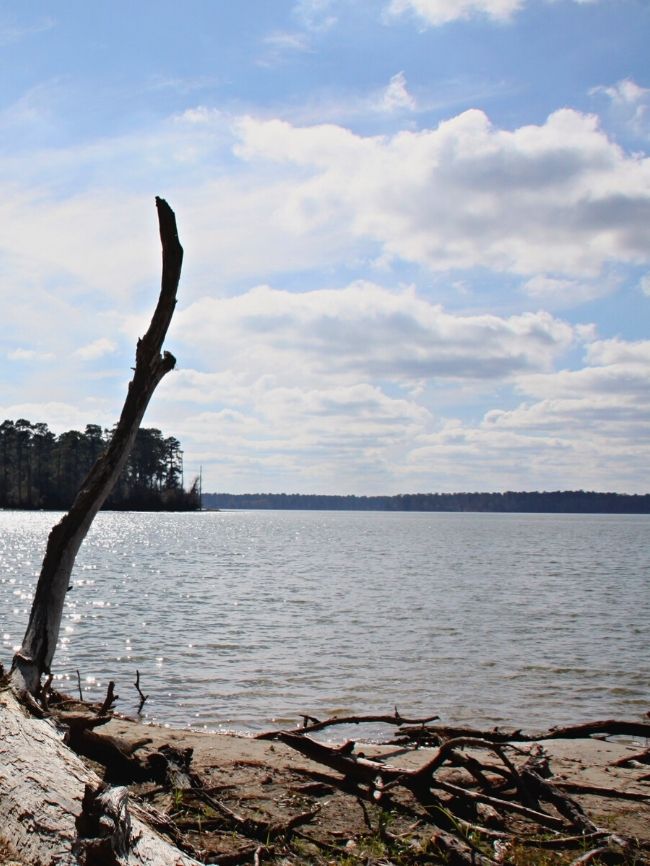 Caddo Lake State Park
Caddo Lake is a 7.6-mile loop around cypress swamps. The area is teeming with wildlife and flora including gray tree frogs, spring peppers, wood ducks, and many species of turtles surrounded by Spanish moss-draped bald cypress trees. It's pretty amazing.
Looking more like the swamps of Florida or somewhere you'd be kayaking in Alabama, the Caddo Lake area is NOT your typical Texas kayaking destination. Put in south of the main swamp area at the State Park or to the north within the Caddo Lake Wildlife Management Area for an interesting and gorgeous paddle through cypress trees. BRING THE BUG SPRAY!
*SUP Friendly paddling – watch for cypress knees when paddling in a cypress swamp. Your SUP fin will hit them if you're not careful.
The Texas Park & Wildlife provides a great overview of the Carter Chute Paddling trail, the primary kayaking route here at Caddo Lake.
Where to launch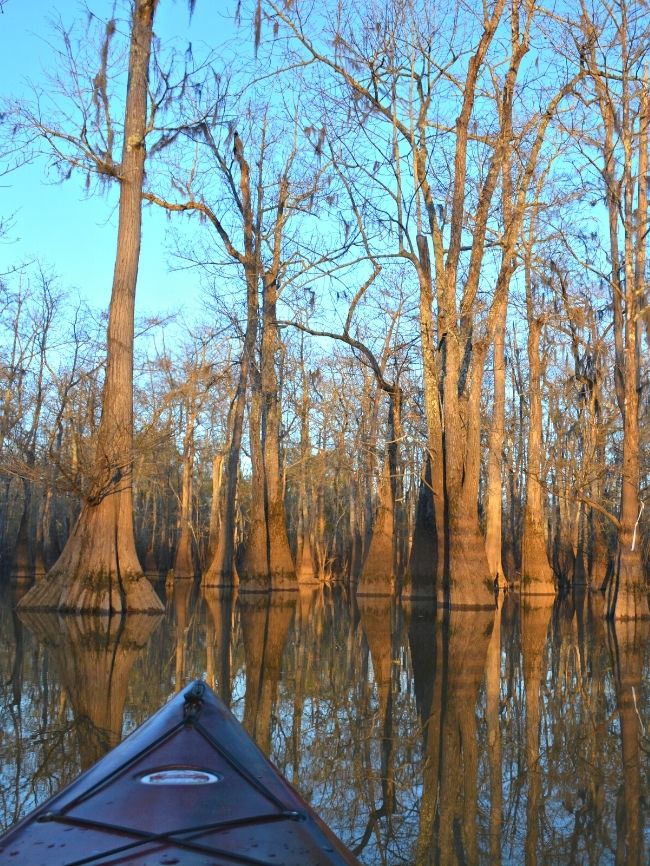 Experienced Spots for Kayaking in Texas
Experienced paddlers won't be disappointed with Texas whitewater offerings. With 15 major rivers, there are a number of opportunities to get the adrenaline pumping. The best time for this is during springtime and late summer when rains fill the waterways.
Guadalupe River, San Antonio
The Guadalupe River is a great choice for some whitewater kayaking just outside of the Alamo city. The most popular trail starts in Center Point taking you down nearly 10 miles to Comfort. For those wanting a weekend trip with camping or planned haul-out-hotels, simply keep going downstream for a total of 45 miles. The waters here are classified as II and III. 
Given the length of the river, we recommend checking the water levels on the Guadalupe River Trail as far as you think you might want to paddle.  If you want to start further down river, put in at the Bergheim Campground and paddle to Guadalupe River State Park, which is actually famous for its fall colors.
Where to launch: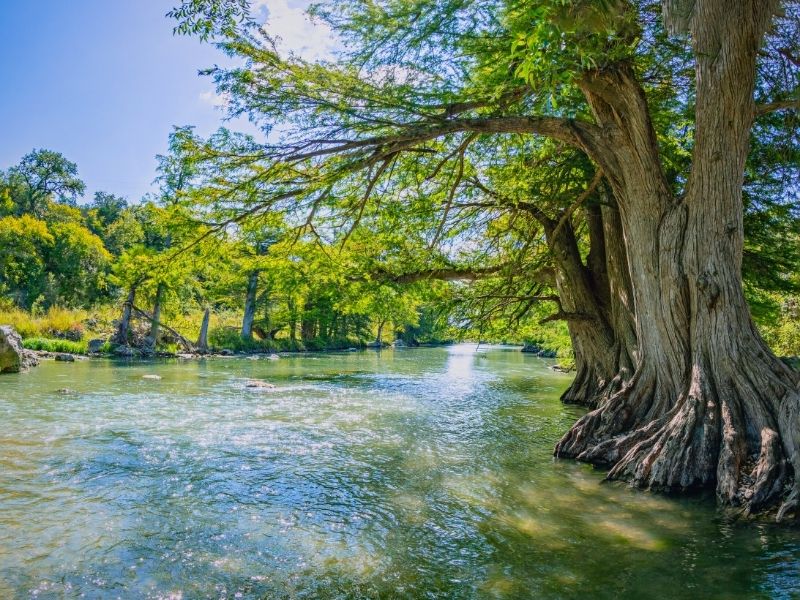 Little Walnut Creek, Austin
Dubbed the steepest urban creek in Texas, Little Walnut Creek is really pretty and perfect for a challenging paddle. Don't let the name fool you as it is anything but little. The steepness of this paddling route makes it quite technical. The gradient continues with little to no flat waters as you go down these rapids. Eddies dot the run but are sometimes filled with debris.  The waters are classified between III-IV (not for the faint of heart).
The American Whitewater website gives detailed information on the trail. Eventually the creek joins up with the Colorado River (not the same as that flows through Canyonlands National Park or the Grand Canyon).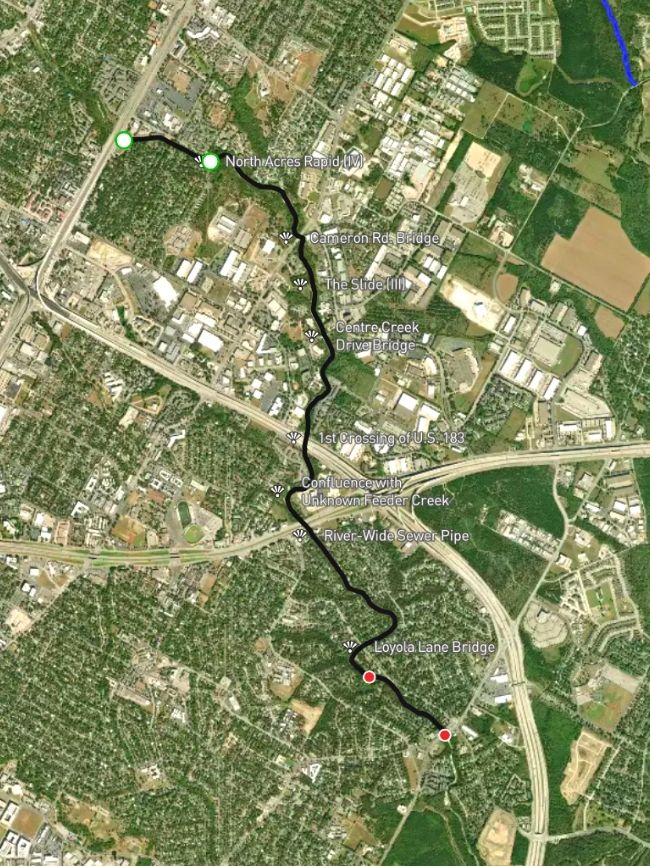 Devils River
Devils River may be one of the most difficult paddles to plan given its isolation in the middle of West Texas. Expect to pack 3 days of supplies. Read their rules, packing out is one of them. This keeps the waters are a pristine turquoise blue. The weather can be difficult to plan around and flash floods sometimes occur. But if none of this holds you back you're rewarded with Texas is cleanest waterways. The chutes and rapids are awesome! (Dolan Falls pictured below) 
Despite the beautiful setting, a trip down the Devils River can be challenging to plan, exhausting to navigate, and life-threatening to the unprepared.– Texas Parks & Wildlife Division
While you can do this adventure on your own if you're skilled and experienced, we recommend that you hire an outfitter such as Angell Expeditions to arrange this. If you do want to do it yourself, a permit is required for kayaking any of the 47.7 miles. Be sure you print the paddling map of Devil's River AND have an offline electronic version.
National / State Park Kayaking Spots in Texas
There are great, well-managed National and State Parks in Texas. The sites below are just a few of many which include Sea Rim State Park, Fort Parker State Park, and Estero Llano Grande State Park. For canyons, check out Big Bend National Park. On the ocean, Mustang Island, and for history buffs the San Antonio Missions National Historic Park. 
Big Bend National Park 
Big Bend National Park is located in southwest Texas and has a diverse landscape including mountains, desert, canyons, and the Rio Grande River. Some of the landscape is very similar to what you'll encounter kayaking in Idaho. With over a million acres of land, there are plenty of opportunities for outdoor recreation in Big Bend NPS. Paddlers will especially enjoy traversing through numerous canyons. Trips range from half-day paddles to multi-day trips. The most popular canyons include Boquillas Canyon, Mariscal Canyon, Lower Canyons, and Santa Elena Canyons.
The National Park Service provides a great overview of the area. The first thing you'll notice as you read up on kayaking in Texas waterways within the National Park is that you MUST have a permit. Do not hit the water without one! See River Regulations before planning this kayaking trip.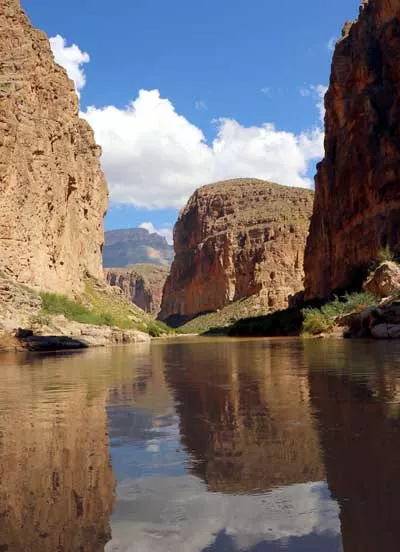 Padre Island National Seashore
Padre Island National Seashore provides a spectacular paddle through the salt waters of Laguna Madre which is filled with many shorebirds and small islands serving as rookeries. While Laguna Madre is shallow and quite protected, those up for the challenge of sea kayaking can go further out. Be sure to check in with the Malaquite Visitor Center and get an update on the weather and water conditions before heading out.  Plan to stay in one of the many great hotels on South Padre Island so you have pool access if the weather turns on you.
The National Park Service outlines information about canoeing and kayaking on Padre Island.  While not directly called out in their kayaking information, Padre Island National Seashore is famous for the incredible number of sea turtle who return here to nest. If you're paddling and you come across one, in the water or on the shore, give them LOTS of space and do not disturb OR TOUCH them.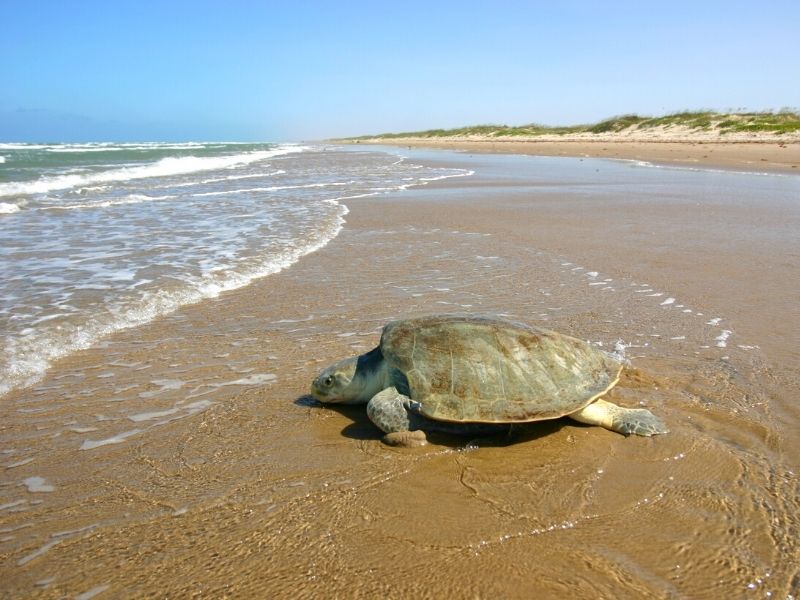 Mission Reach Paddling Trail- San Antonio Missions National Historic Park 
The Mission Reach Paddling Trail gives kayakers are 8-mile paddle taking you through San Antonio Missions National Historic Park. History buffs will enjoy the space as it is considered one of the top national parks in the state. The area is also known for its birds and cormorants, egrets, and heron are commonly seen. Those wanting to combine some fishing can catch sunfish and bass.  
This is a wonderfully unique paddling trail for its urban route and the way it goes through historic areas. Such a special experience to enjoy; one of the most unique spots for kayaking in Texas.
Where to launch: Mission Reach Paddling Trail Access Point Padre Dr, San Antonio, TX 
Mustang Island State Park Paddling Trail
The Mustang Island State Park Paddling Trail includes three different trails that total just over 20 miles. The trail gives the opportunity to cast in some of Texas' best shallow-water fishing, the North Trail is the longest and takes you through marsh and small islands. The Shamrock Loop takes you around the beautiful calm waters of Shamrock Cove, and is the shortest of the three. The Ashum Trail goes along the Corpus Christi Bay shoreline and great for birders like me.
Start at the Mustang Creek Public Boat Ramp and continue all the way to the coast for a fun, challenging kayaking experience. This will incorporate both state park land and public waterways.
Where to launch: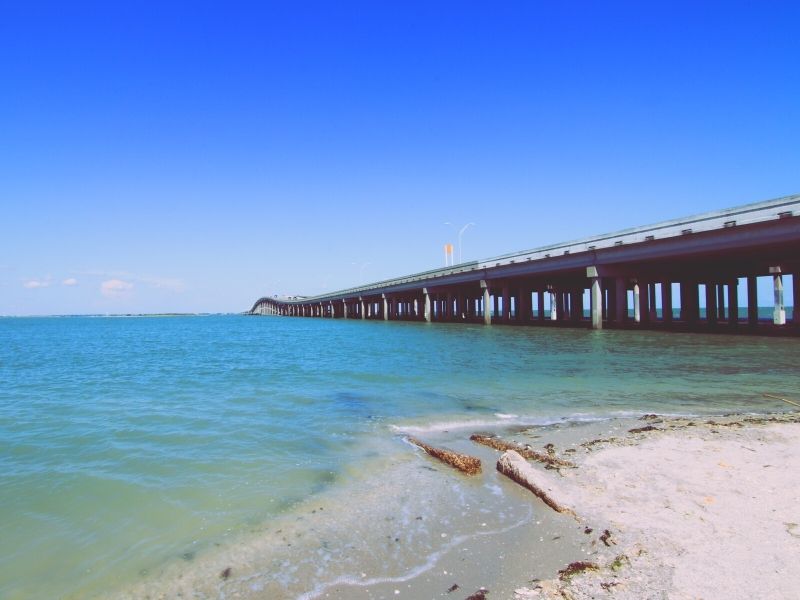 Recommended Kayaking Tours in Austin
Austin Skyline Kayak Tour: Get a guided tour of Austin's skyline with a knowledgeable local telling you about the growth of Austin, the buildings, and the events in the area. The view of the city from the water puts things into a more unique experience. Book it here!
Sunset kayaking tours in Austin are also available and are one of the pretties guided kayaking experiences you'll find in Texas. Book a sunset kayak tour in Austin here!
Lady Bird Lake Kayaking Tour: If you're more interested in knowing about the wildlife and exploring Barton Springs (four natural springs) check out Rowing Dock. This guided kayaking tour of Lady Bird Lake is perfect if you don't have your own gear and are just looking to be on the water and enjoy Texas nature. Book it here!
When to Visit Texas
The summers are hot and would be best avoided especially if you're going for a longer paddle. Generally speaking, spring paddling is the perfect time to get on the water. Erratic weather is one characteristic of Texas and planning based on local conditions should help prepare yourself. Given the sheer size of the state it's probably best to find a location based on the city you're coming from.
Weather in Texas
Texas weather is generally hot, but there are four seasons that the state experiences throughout the years. Texas has more variations in temperatures and weather than many other states in the US, as well as an unusually wide range of climates. Nowhere else in the country can you experience a polar blast in January next to a humid heatwave in July, all within close proximity of each other. Depending on where you are located in Texas, your season will vary. Just like anywhere else with seasons though, it's important to know what to expect so you can plan accordingly for whatever activity you have planned.
Need to Know for Texas
If you're considering a visit to Texas, here are a few reminders. First and foremost, Texas is a huge state – the second largest in the US, in fact. Its size lends itself to a diverse landscape that changes in geography and climate. That means that there's a lot to see and do, and it can be tough to know where to start. Regardless of if you're here for a kayak trip, the weekend in the city, or a road trip stay hydrated and try the BBQ.