Kayaking in Alabama is a fun way to explore the state, especially since it's not what you immediately think of when you consider visiting Alabama. From the bayou and Mobile Bay to the rivers or northern Alabama, the best spots to kayak and experience natures in AL.
If you've ever wanted to get out on the water and explore Alabama, kayaking is one of the best ways to do it. In this guide, we'll cover everything you need to know about the best sites for kayaking in Alabama. From selecting a beginner kayaking site to more advanced, multi-day expeditions the Yellowhammer State has more than southern hospitality, gorgeous gulf coast beaches, and college football, it's a haven for kayaking!
With biologically diverse waterways the rivers of Alabama are full of wildlife, easily explored by paddling. Add to that the fascinating bayous and Mobile Bay, and you've got an incredible place to explore. Some of the best kayaking in Alabama is just off the Interstate or outside of the big cities, so there are some great options nearby that you might not even notice!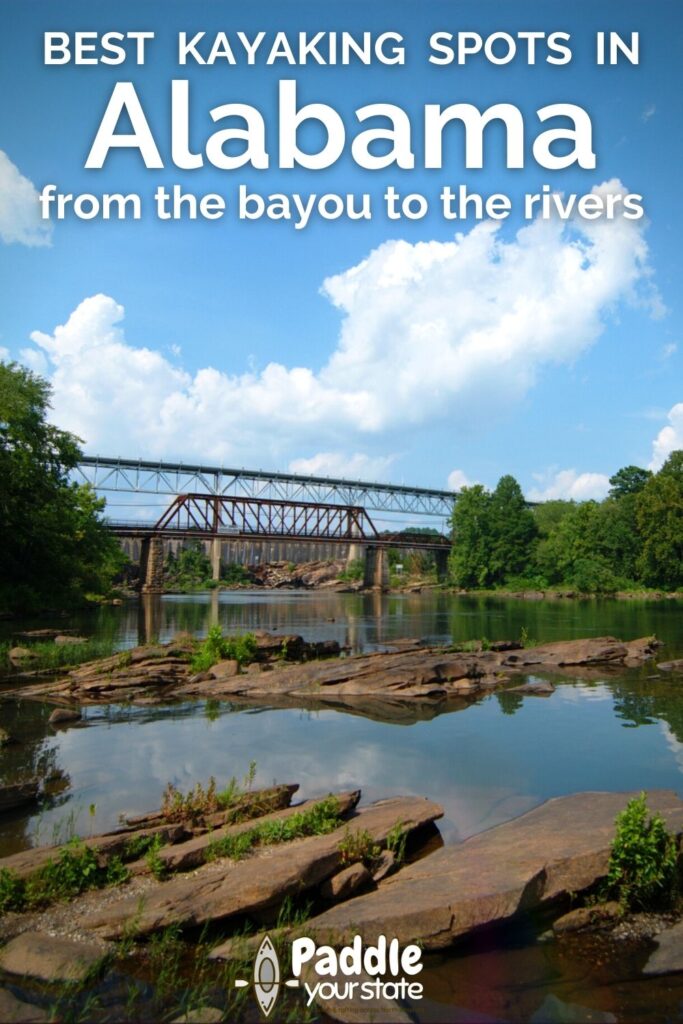 Easy Places for Kayaking in Alabama
If you are looking for a fun way to spend your time in Alabama, then kayaking may be the perfect option. Kayaking is a great activity that can be enjoyed by people of all ages and skill levels. It is also one of the most popular outdoor activities in Alabama with many rivers offering easy access points.
For those who want to give it a try, check out any of the four trails mentioned or use the following considerations for beginner paddlers. Find an area with slow-moving water or no rapids so you can get used to paddling without any major hazards. Once you have mastered these areas, look for creeks and streams that offer more challenging routes such as class 1 rapids and small waterfalls (there are lots in northern Alabama).
For even more adventure, head out to the Alabama Gulf Coast and paddle alongside dolphins, manatees, and sea turtles. Whatever route you choose, make sure to always be aware of your surroundings and never paddle alone. With a little bit of practice, you will be able to kayak like a pro in no time!
Flint River, East of Huntsville
The Flint River is the perfect river for a beginner day trip in Alabama's wilderness. The current runs slow and is shallow enough for you to stand. There are several bridges and roads to break up the paddle into manageable segments. Southbound paddlers should launch their boats at the Highway 72 bridge. Along the way, you'll discover a number of islands, streams, and even caverns. The Flint is also notable for the variety of fish that call it home, including several species of bass, and the smallmouth may be found in the bends.
This makes it the perfect spot for a fishing trip. Whether you're a beginner or an experienced angler, you're sure to catch something here.
For detailed information on kayaking the Flint River visit Alabama Scenic River Trail's official website.
Where to launch:
Hambrick Bat Cave, South of Huntsville
Alabama has one of the country's most diverse cave systems with nearly 5000 recorded caves. For those wanting a cave experience full of bats, look no further than Hambrick Bat Cave on Lake Guntersville which is home to over 50,000 gray bats. From Guntersville Dam it's a short 1.5 miles to the cave, easy enough for beginners. We recommend paddling to the cave just before sunset to get the incredible experience of the great bat emergence.
For a kayakers account of paddling to the bat cave check out We Are Huntsville's blog, which is a great resource for all things Huntsville, Alabama. 
Where to launch:
Cahaba River, Trussville, East of Birmingham
The Cahaba River is known for being one of the most biologically diverse ecosystems in the country. Starting in Trussville and ending 194 miles south in Selma, the Cahaba River is home to more than 60 rare species of plants, including the Cahaba Lily – a haven for photographers seeking the opportunity to take snapshots of an endemic lily that blooms in the area every spring. The area provides an opportunity for a light paddle with stops at rope swings to navigate the shallow shoals – making it a popular destination for nature lovers and outdoor enthusiasts alike.
For more information on the area visit the Cahaba River Society.
Where to launch:
Terrapin Creek, Piedmont, AL / GA border
For beginner kayakers looking to paddle Terrapin Creek, it is important to note that the creek is split into two sections, both of which can be done in one day. Both sections are easy and quick, making it a great choice for those new to kayaking. The creek is also a great place to relax and cool off with a swim. There are outfitters nearby who can provide rental kayaks and drop you off and pick you up at the put-ins, making it an easy and hassle-free experience.
To find out more about the Terrapin Creek area contact Terrapin Outdoor Center at terrapinoutdoorcenter@yahoo.com, 4114 County Road 175, Piedmont, AL 36272 
Where to launch:
Kayaking in Spanish Fort, Alabama on the Gulf of Mexico
Between Mobile, Alabama and Gulf Shores you'll find an area called Spanish Fort. This part of the Mobile Delta is beyond gorgeous with tidal marsh, saltwater lakes, cypress trees and alligators. This is a popular spot to ride airboats on tours, but there are great areas to enjoy kayaking too.
Going from just off the highway at Five Rivers Delta Center or Meaher State Park, you can wind your way up through where the Spanish, Tensaw, Apalachee, Mobile and Blakeley Rivers all come together. It's the perfect example of a Gulf Coast delta.
Where to launch:
Dauphin Island Kayaking, South of Mobile
When you're up north, kayaking in Alabama is all about streams through forests and shores of lakes and rivers. Here at Dauphin Island, just south of Mobile, it's nearly tropical for your kayaking experience. More similar to kayaking in Florida than other experiences, Dauphin Island offers sandy beach launches, warm waters for swimming between paddles, and dolphins all around.
Since the tide can be strong, even though it's the Gulf of Mexico, launch from the Public Beach on Dauphin Island. Paddle along the shore and enjoy bird watching and looking for dolphins and sea turtles. Also, you can kayak all around Dauphin Bay and even get out in the cove to visit the Audubon Bird Sanctuary.
If you're a strong paddler and have good endurance and sea kayaking skills, paddle east from Dauphin Island over to Fort Morgan. THIS IS A SERIOUS PADDLE. It's three miles of open water kayaking, so plan to bring the sunblock and lots of water and snacks. I would also recommend planning a pick up on whichever side you paddle to, just in case the sun zaps you and you can't safely cross back over.
Where to launch: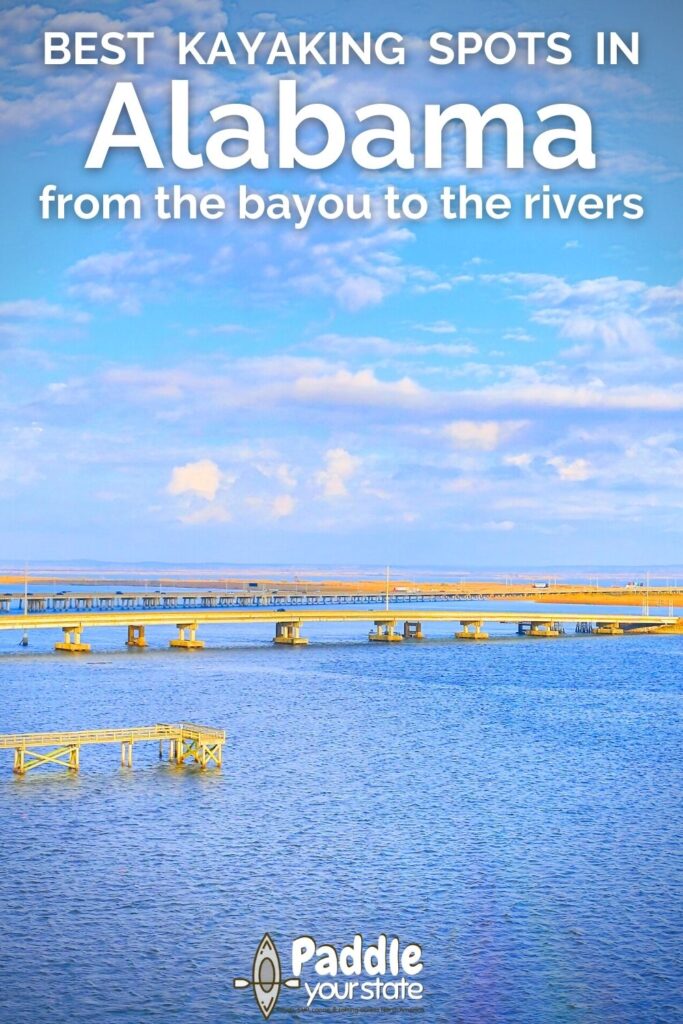 Difficult or Technical Kayaking Spots in Alabama
Done with the more simple rounds of kayaking in Alabama? Check out some of the spots you can aspire to paddle on; your kayak game is a bit more experienced. We outline four spots, but if there are other exciting and technically advanced but not impossible paddles, let us know so we can check them out and add them to our list! 
Note: DO NOT PADDLE on runs and in areas that you're unfamiliar with or do not have the solid skill to conquer it safely. It's better to go with a guide, another experienced kayaker, or a local paddling group that to do dangerous runs on your own.
Black Warrior River, Little River Canyon and Locust Fork
The Black Warrior River cuts through a huge portion of Alabama spanning seventeen counties and finally draining 300 miles to the south. For paddlers wanting to combine some fishing, the river is home to one of Alabama's best-kept secrets; it is a haven for bass fishing Alabama's Black Warrior River. The Black Warrior River is nothing short of adventurous with areas designated for whitewater kayaking such as the Little River Canyon. For a more tame experience check the Locust Fork section.
Little River Canyon NPS is located in the northeastern slice of Alabama, very near the AL / GA border.
Where to launch
Tallapoosa River and Lakes, West of Birmingham
The Tallapoosa River is a spectacular paddling journey through Alabama's beautiful Tallapoosa River Valley, with both naturalistic and cultural features to appreciate along. The river runs for about 265 miles from Georgia to Alabama. Beavers, otters, turkeys, feral pigs, and a variety of birds and fish including redeye bass can all be found in the area.
While this isn't a difficult paddle in terms of major rapids and runs, it is a tough one because of distance and the current. This is a great place for long paddles exploring Bankhead Lake and Valley Creek.
For a kayaker's account on the Tallapoosa River check out this great story. 
Where to launch:
Sipsey River, Northwest Alabama
The Sipsey River is a stunningly beautiful body of water with many years of history and great options for recreational adventures. With clear water and a flow that carves its way through the narrow sandstone canyons of northwest Alabama, the Sipsey River is the perfect place to enjoy the wild beauty of the state. The Sipsey River is 145 miles long and is surrounded by wetland habitats. It is one of the last wild, free-flowing swamp streams in Alabama and is considered one of "Alabama's Ten Natural Wonders."
The Sipsey River slices through the towns of Fayette, Tuscaloosa, Pickens, and Greene counties spanning 92-mile and containing 50,000 acres of bottomland wetlands and swamps. To learn more about the Sipsey River visit the Alabama Department of Conservation and Natural Resources website, Outdoor Alabama.
Where to launch: 
South Sauty Creek, Northwest Alabama
The beginning of the South Sauty Creek run is at the junction of County Roads 43 and 56 it's a tributary to the Tennessee River and will take you into the tranquil Buck's Pocket State Park. Only experienced paddlers should do this trail given the Class III and Class IV rapids. There's a lot to conquer here besides the technical rapids.
Guntersville Lake is a great option for much more calm waters, and it's the perfect example of the cool variety of kayaking in Alabama. For more information and trails dig into the maps of the area before planning your day. Also nearby is Buck's Pocket State Park for hiking, camping and more.
Where to launch:
Kayaking the National and State Parks of Alabama
Alabama is home to some of the most beautiful state and national parks in the country, perfect for kayaking. From the wide-open waterways of Gulf Shores, the spectacular DeSoto State Park, Wheeler National Wildlife Refuge to the secluded shoals of Little River Canyon National Preserve, Alabama has something for everyone. Here are just a few of our favorite kayaking destinations.
Wheeler National Wildlife Refuge, Northern AL
Located in Decatur, AL, the Wheeler National Wildlife Refuge receives thousands of wintering waterfowl each year. In addition, Wheeler National Wildlife Refuge helps manage and protect the habitat of a dozen federally endangered or threatened species. Kayaking and canoeing are popular activities on the refuge. With over 16,000 acres of water including sloughs, creeks, and the Tennessee River offer a variety of paddling experiences. 
The US Fish & Wildlife Service gives a great overview of the area and information for planning. There are several fishing spots and boat ramps you can plan your kayaking out of. 
Where to launch: 
Gulf State Park Trail, Gulf Shores
Kayaking the Gulf State Park Trail will take you through seven distinct ecosystems. Ideal locations for discovering flora and fauna include places around Lake Shelby, especially the seldom visited Middle Lake.
Kayaking on the Alabama Gulf Coast is a fantastic experience. It's an adventure from cypress swamps to freshwater lakes. The Coastal Alabama Back Bay Blueway has four distinct routes with 21 launch sites that allow paddlers to explore the rivers surrounding Gulf Shores, Orange Beach, and Fort Morgan. The Coastal Alabama Back Bay Blueway, which can be paddled by canoe, kayak or paddleboard, provides a wide range of possibilities for your next paddling excursion.
*SUP paddling friendly
For further information about exploring the Gulf Shores Park and the Coastal Alabama Back Bay Blueway visit the Gulf Shores & Orange Beach Tourism website.   
Where to launch:
DeSoto State Park, Northwest Alabama
DeSoto State Park is a public recreation area atop the spectacular Lookout Mountain just outside of Fort Payne, Alabama. For families and beginning kayakers, this is a great place to paddle. Ranger-led tours operate during the summer from June to October. The park provides all the equipment needed for the tour which lasts about an hour and a half.
For detailed information on the tours visit the Alabama Park Services website.
Where to launch:
Little River Canyon National Preserve, NW AL
Coming down through the northeastern corner of Alabama is Little River and the Little River Canyon National Preserve. The diversity of the area includes waterfalls, canyons, forests, sandstone cliffs and an abundance of wildlife. Little River Canyon National Preserve paddling is best done in winter and spring as summers bring drier weather and shallow water. Note this has been training grounds for Olympians as it hosts Class IV, V, and VI rapids. We listed this in our picks for experienced, technically advanced kayaking spots in Alabama.
For up-to-date information visit the National Park Service's website and check any notices about kayaking in Little River NPS.
Where to launch:
Recommended Kayaking Tours around Alabama
Get a good view of the Lower Mobile-Tensaw Delta on this top kayaking excursion for beginners or experts on the Delta Wildlife Kayak Tour. Visit marshes and see frogs, turtles, alligators, and bald eagles while paddling through them. Learn about the rich ecosystem from your knowledgeable guide and have a greater understanding of these local attractions. You'll discover about the delta's history and culture, both past and present. https://www.viator.com/tours/Mobile/Delta-Wildlife-Kayak-Tour/d4377-25782P5
For those on the Gulf Shores check out the Dolphins & Wildlife Kayak experience which gives insight into the Bottlenose Dolphins as well as other wildlife. Viewing these creatures from a kayak will give you a new sense of appreciation for mother nature's offerings. https://www.viator.com/tours/Gulf-Shores/Dolphins-and-Wildlife-Kayak-Experience/d29364-25782P10
When to Visit Alabama for Kayaking
For those planning a trip to Alabama for a paddle trip, be considerate of the mosquito season which starts in March and ends in September, as a result of the humid climate. Further south in the gulf area expect this to be a bit longer and while Alabama doesn't get hit with hurricanes as much as its neighbors to the east it is good to keep in mind that hurricane season runs from June until October. In the summer it can be dry in paddling trails so be mindful of planning around that. 
Weather in Alabama
The best time to kayak Alabama's state and national parks is typically in the spring and fall when the temperatures are mild and the weather is cooperative. Summertime can be quite hot and humid, and winter weather can be cold and windy. Whenever you choose to kayak, always be sure to check the weather forecast and dress appropriately. Note the Alabama hurricane season runs from  June 1 to November 30.
Need to Know for Visiting Alabama 
If you're a kayaker, then you should definitely consider adding Alabama to your list of must-visit destinations. With its many state and national parks, there's plenty of opportunity for exploration and adventure on the water. From the serene countryside waterways to the rushing rapids of the Tallapoosa River, Alabama has something for everyone who loves being on the water. So what are you waiting for? Plan your next kayaking trip to beautiful Alabama today!