Best Kayaking in Idaho: Whitewater and Still-Calm Destinations for Paddling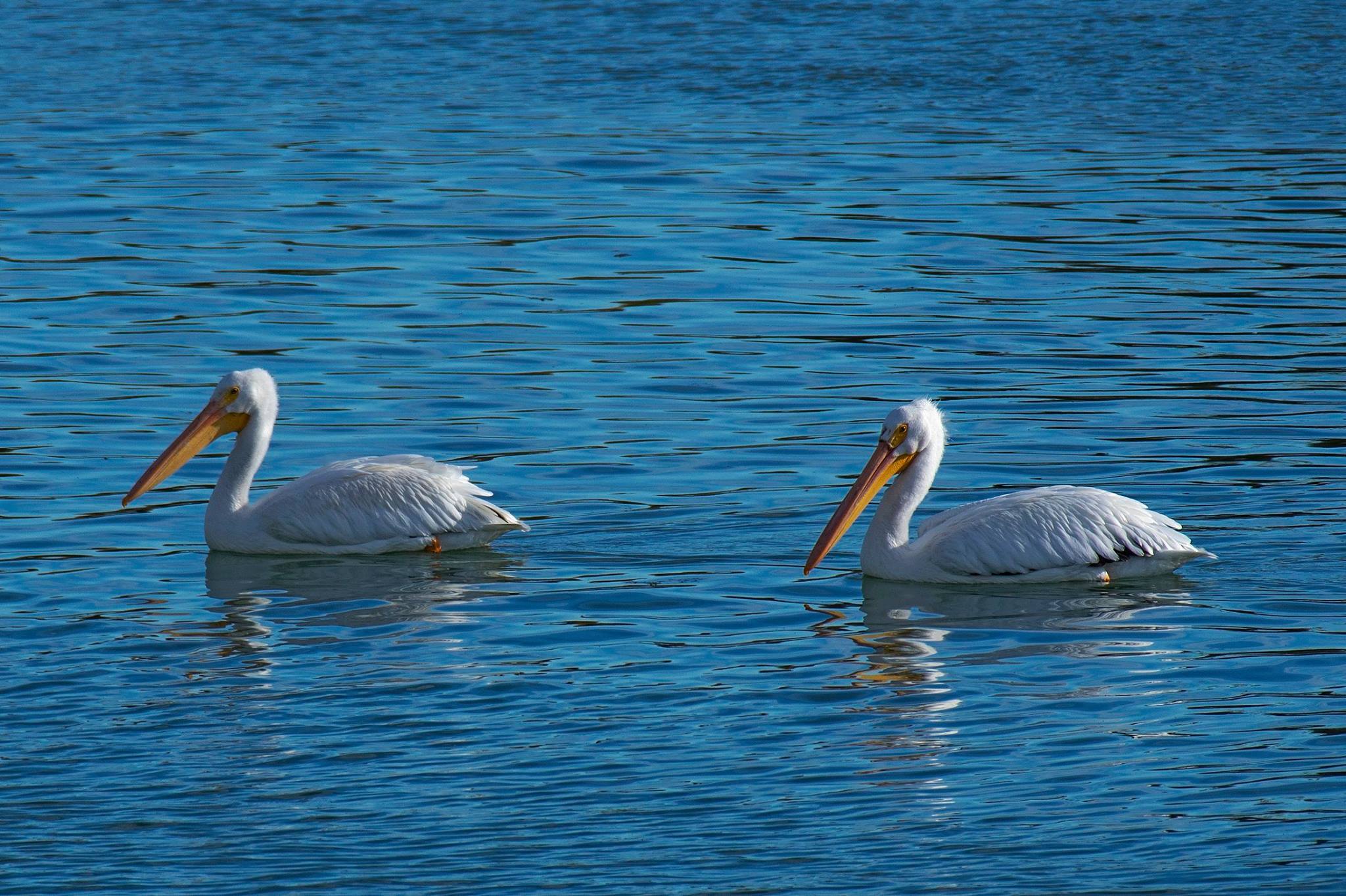 Kayaking in Idaho means choosing epic whitewater or stretches of still, reflective rivers. From paddling in Hells Canyon to tours at Shoshone Falls, kayaking in Idaho is an awesome adventure.
Kayaking in Idaho looks like a raging challenge on the surface, but it's actually of of the most diverse paddling destinations in the USA. Considered one of the best kayaking playgrounds in the country, it is too often overlooked by kayakers planning their next great water adventure. Despite its size, Idaho contains over 107,000 miles of lakes and rivers just waiting to be explored. With an unending supply of raging rapids, deep canyons, winding rivers, and placid lakes, Idaho offers the perfect kayaking for any experience level.
---
This is a "SAFETY FIRST" article. Be honest with yourself about your kayaking experience level and what you can safely paddle. Always let somebody know where you're heading and when you'll be back. If you can go with an experienced local or a guide, do it. Kayaking in Idaho is awesome, but there are so BIG runs.
---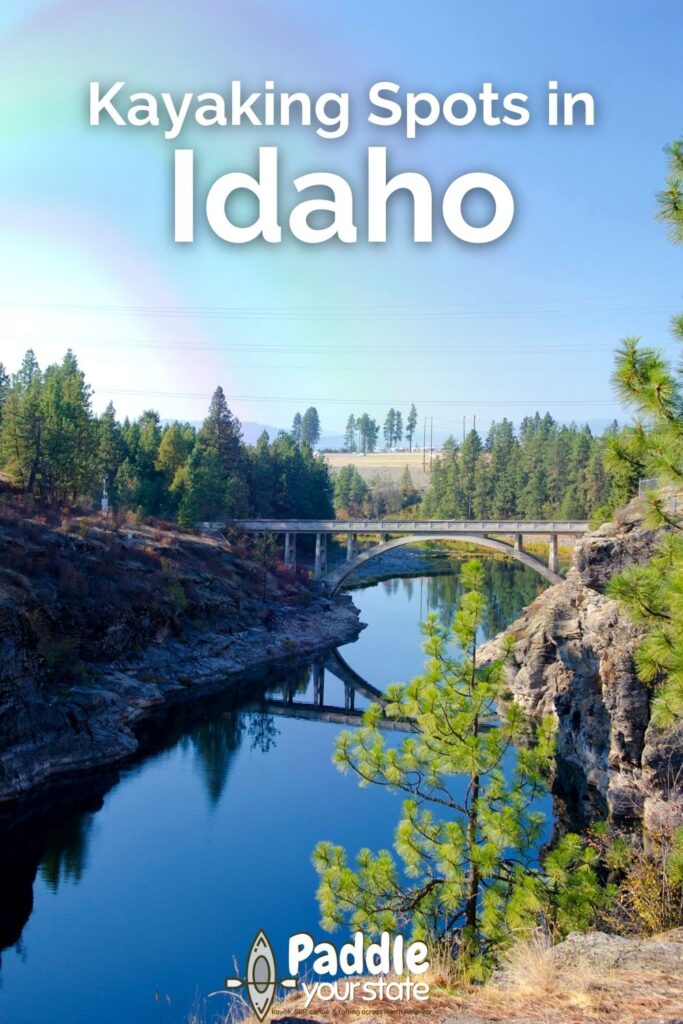 Whether you're looking for a tranquil day on the water or a challenging whitewater route (like you find in the Grand Tetons), Idaho is guaranteed to have something for you. For years, experienced paddlers have made their way to what has since been nicknamed, "The Whitewater State" due to its immense collection of whitewater runs. We could spend hours talking about the hundreds of paddling opportunities littered throughout the state, but in order to provide the best possible introduction to Idaho kayaking, here are the top fifteen kayaking spots to get you started with planning your next paddling excursion.
Note: we usually group our kayaking guides by difficulty level so you can pick a route that matches your skill. For kayaking in Idaho, we've set it up by region as even the most technical paddling routes have stretches perfect for newcomers.
We do recommend tours for rafting and kayaking in Idaho. There are lots of skilled guides to help you get deep into the wilds of the Sawtooth Mountains and Hells Canyon. Find an awesome tour here!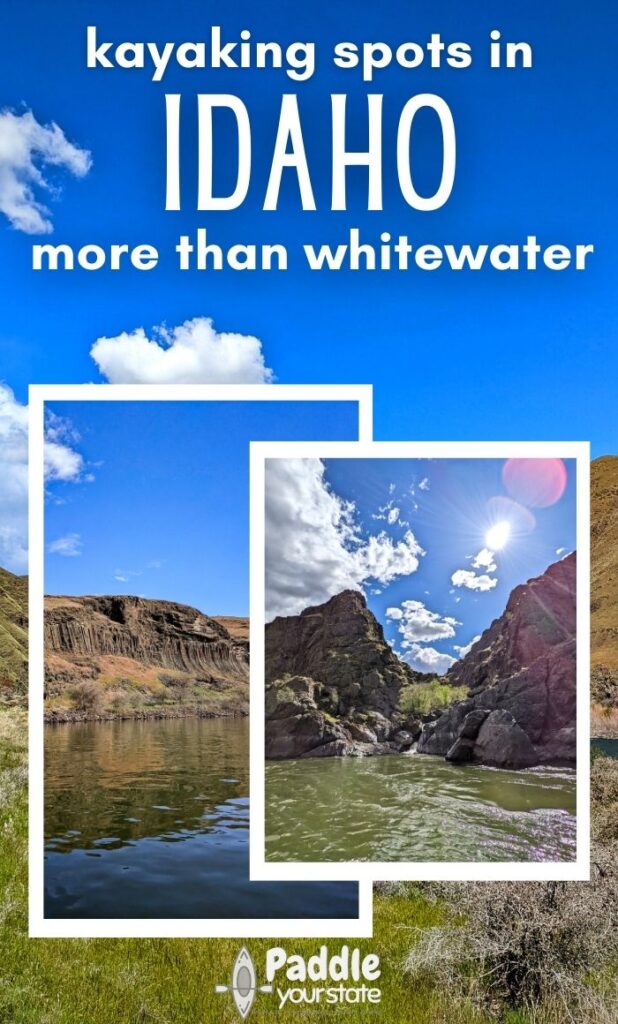 Best Kayaking Spots in Northern Idaho
In the spring, Northern Idaho tends to reflect the weather of what you picture in the Pacific Northwest, with plenty of rain and high streams. In the summer, it dries out and the raging rivers turn into rapids and calm stretches of water. This part of Idaho is wonderful for kayaking because although it's such a narrow limb of the state, it packs a big punch!
Remember as you're choosing your Idaho kayaking route, that even though many of our top picks have launch and pick up points, you can also make them round trip paddles by stopping before rapids or hauling out for a short distance for going back upstream.
Spokane River: Corbin Park to Stateline (Difficulty: Intermediate)
For kayakers traveling through the small city of Post Falls looking for a simple river run, this four mile route from Corbin Park to Stateline provides a fun outing on the Spokane River. Since the rapids are unlikely to exceed class 1 or 2, less experienced kayakers will enjoy a comfortable float down the river. But for those looking for a bit more of a challenge, put-in a bit further upstream to experience some of the more difficult rapids.
Note: you can also put in at Falls Park and head east on the Spokane River for a smooth, broad river paddle. Directly in Post Falls there are some wonderful sights, and exactly what you hope for in kayaking in Idaho.
Lake Coeur d'Alene (Difficulty: Beginner)
With almost 32,000 acres of water and 125 miles of shoreline to explore, Lake Coeur d'Alene is any kayaker's dream, and getting on the water is one of the best things to do in Coeur d'Alene. The second largest lake in Northern Idaho features wide bays, secluded coves, and remote beaches just waiting to be discovered. Also, be sure to keep your eyes open to see some of the swans, ospreys, and bald eagles that call this majestic lake home.
Kayaking on lake Coeur d'Alene is one of the best mellow picks for kayaking in Idaho. In summer, be prepared with sunblock or a kayak shade, because it can get HOT in the afternoons. Once you're off the water, there are tons of other things to do at Lake Coeur d'Alene.
*SUP Friendly Paddling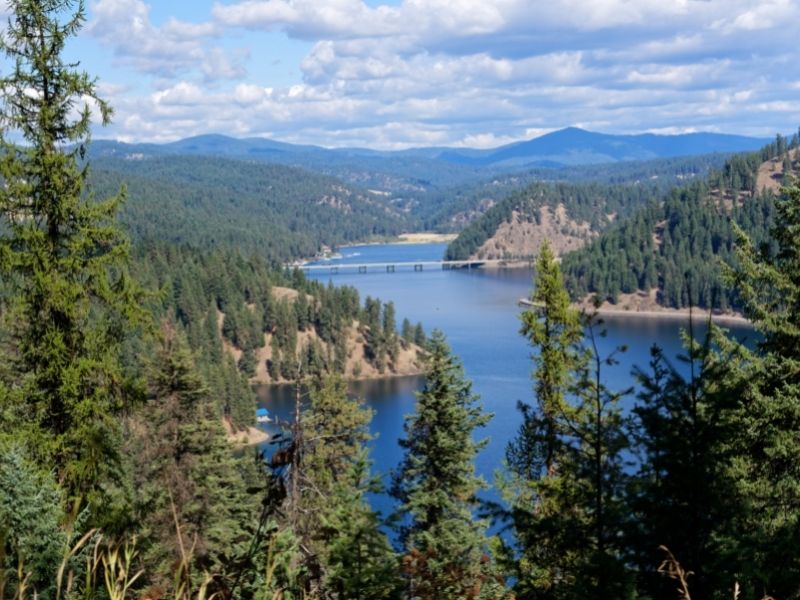 Hells Canyon (Difficulty: Experienced)
Two of Idaho's most impressive natural features are the incredible 1,000 mile-long Snake River and the jaw-dropping Hells Canyon, which are fully a part of one another. Throughout this multi-day whitewater route, paddlers will have the opportunity to experience the wonder of both the state's longest river and the country's deepest canyon. With rapids ranging from Class 3 to 5, paddlers will fall in love with this iconic stretch of river.
If you don't want to do a multi-day trip, there are plenty of smaller stretches, including down river as you approach Lewiston, ID and the Clearwater River. Check out this awesome guide to all the things to do at Hells Canyon for more tips!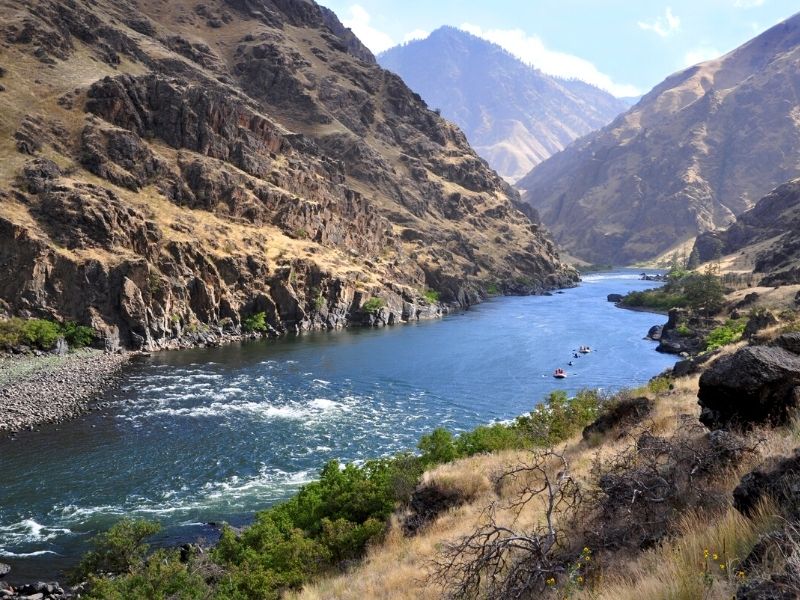 Hells Gate State Park (Difficulty: Beginner)
Located just down the road from Lewiston, Hells Gate State Park marks the perfect spot for a family-friendly day out on the water. Paddlers can spend time exploring the waters of the famous Snake River and take in the park's stunning natural beauty. After kayaking, the park also has numerous picnic spots, playgrounds, as well as the fascinating Lewis and Clark Discovery Center.
This spot is the tail end of Hells Canyon, so if the more technical kayaking in Idaho noted above wasn't quite your jam, this is perfect! Also, keep your eyes out for the huge North America Pelicans. There were several flocks here at Hells Gate State Park and up river a bit. These are the same sort of pelican you see when you're kayaking in the Tri-Cities of Washington or when you're in Yellowstone National Park.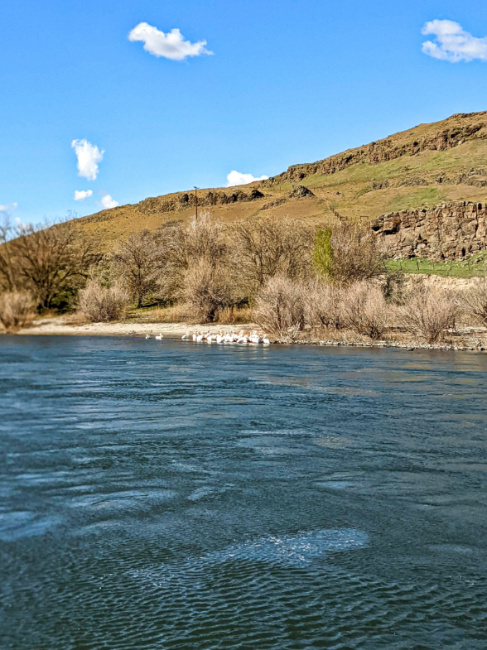 Salmon River (Difficulty: Experienced)
The Salmon River is also called the "River of No Return…" This is one of the most technical spots for kayaking in Idaho. One of the longest free-flowing rivers in the country, this 425-mile waterway has a long history of paddling. The best way to experience the Salmon River Canyon is by traversing down the Lower Salmon Route from Vinegar Creek into where the waters meet with the equally impressive Snake River in Hells Canyon. The confluence of the Snake and Salmon Rivers is beautiful and you can clearly see the difference in the two rivers' water clarity.
The entire route features rapids ranging from Class 2 to Class 4 and should not be attempted by beginners. Although we have attached the locations for the put-in and take-out spots of the entire 8-day expedition, the Lower Salmon is flexible and has options for more condensed trips if you're short on time or not ready for a paddle/camp experience.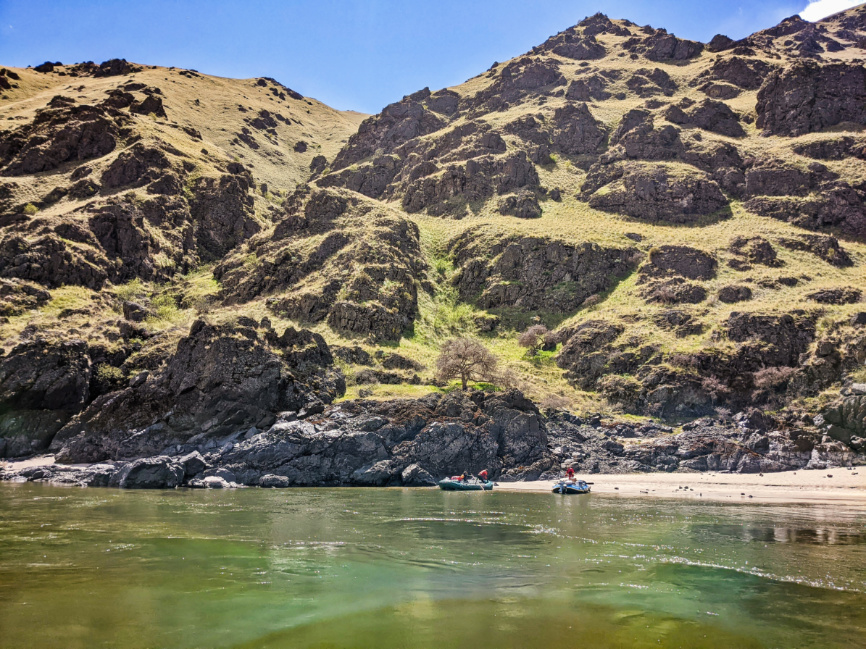 Central Idaho's Best Kayaking Spots
If you grew up on the West Coast, you're familiar with the Rain Shadow Effect. Central Idaho benefits from this in that the clouds have to drop their rain before crossing the Sawtooth Mountains, and that makes central Idaho much more dry. If you've been kayaking in Seattle, you know you chances of a dry paddle are a mixed bag, but not so much here in Central Idaho.
Stanley Lake (Difficulty: Beginner)
The calm waters of Stanley Lake feature some of the most breath-taking scenery for kayaking in Idaho. Located just 7 miles from the historic town of Stanley, the lake is regularly visited by those looking for a fantastic weekend getaway at the base of the stunning Sawtooth mountains. Just a few of the best ways to experience Stanley Lake include kayaking, stand-up paddleboarding, trout fishing, swimming, and hiking the nearby Idaho Centennial Trail.
*SUP Friendly Paddling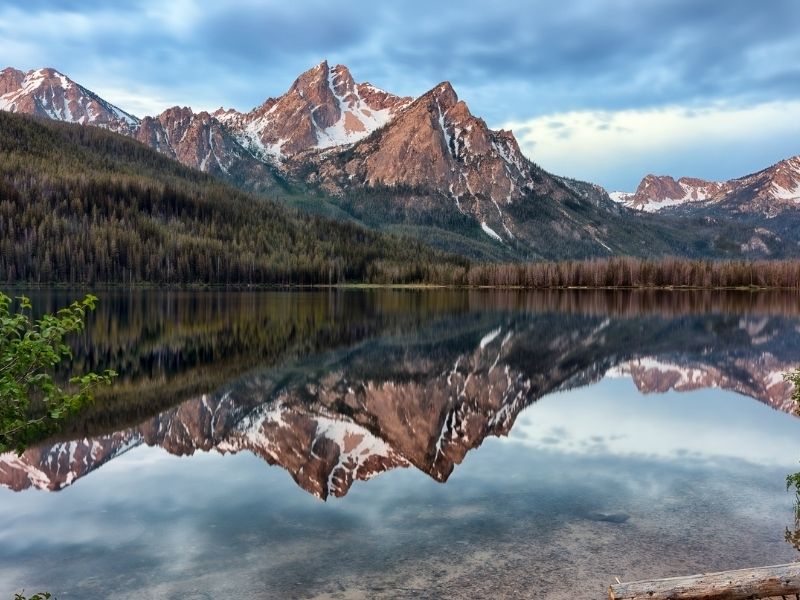 North Fork Payette River (Difficulty: Experienced)
For kayakers in central Idaho searching for a rewarding Class 5 whitewater run, look no further than the 16-mile North Fork stretch of the Payette River. For years, this run has served as the site of the North Fork Championship which has been widely regarded as one of the most challenging competition sites in the world. It should be noted that due to the intensity and difficulty of these rapids, the North Fork should only be attempted by experienced paddlers prepared for a tough challenge.
The North Fort of the Payette River is also popular for whitewater rafting when the water levels are right. Whether you're rafting or kayaking the Payette River, approach it with caution, with a helmet and with a sense of brave adventure.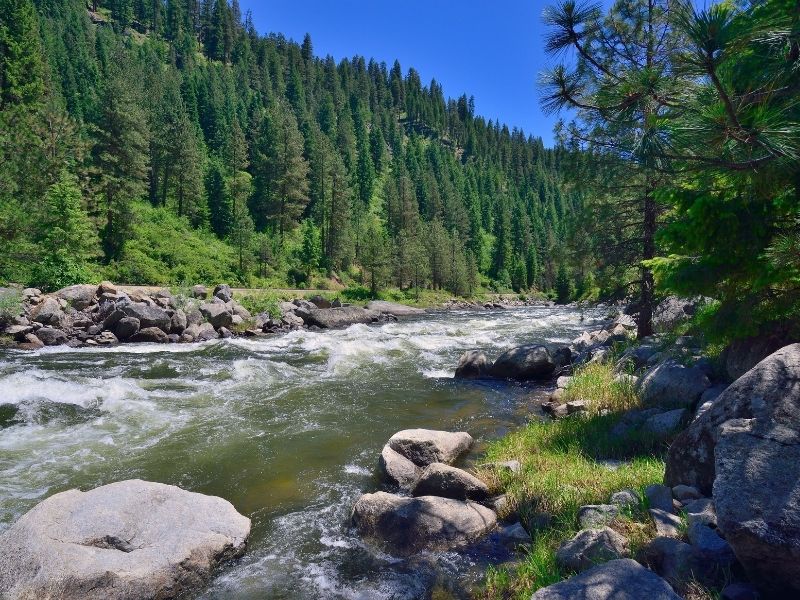 Boise River (Difficulty: Beginner)
While visiting Idaho's beautiful capital city, be sure to spend an afternoon floating down the Boise River through the heart of the downtown area. In addition to the cityscape, paddlers are treated to an unforgettable experience as they kayak past the urban habitats of many birds, plants and animals. The Boise River is guaranteed to provide a great warm-up before exploring some of the many exciting waterways located outside the city.
Even though it's when the Boise River is at its lowest water level, which isn't great for kayaking, paddling on the Boise in fall is beautiful. This is one of the most beautiful rivers to see fall colors in the Pacific Northwest. You'll love it!
*SUP Friendly Paddling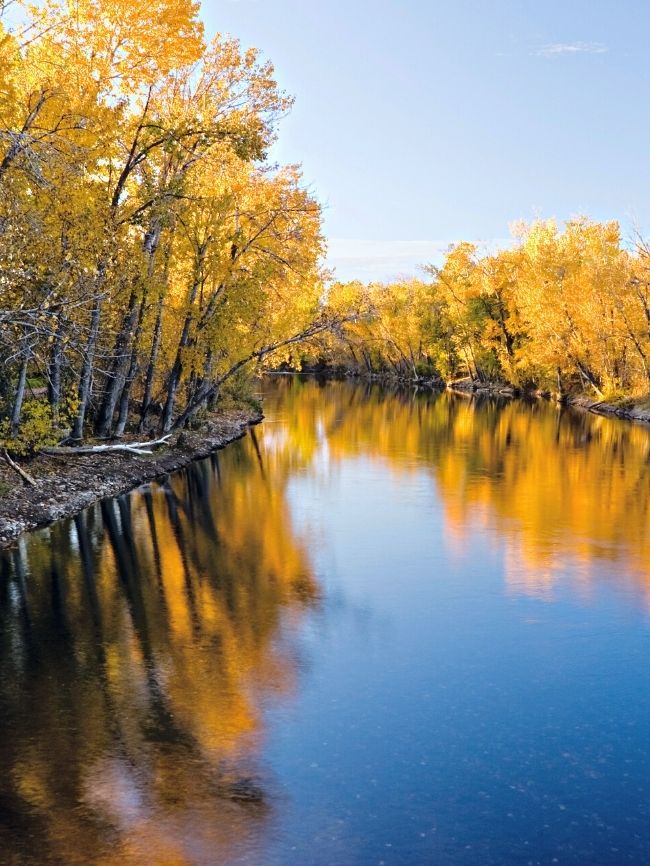 Boise Whitewater Park (Difficulty: Beginner- Experienced)
Since 2012, the man-made runs contained within the Boise Whitewater Park have provided the perfect training ground for paddlers looking to hone their skills. With surf waves and a wide range of rapids, this is a great spot for paddlers of all experience levels to practice before heading out into the real thing. Also, the park is constantly growing so be sure to stay up-to-date with the park's newest developments every year.
Yes, this is a partially constructed whitewater area, but that's okay. That means that the challenges are managed and specially crafted for awesome experiences. If you're unsure about whitewater kayaking, the Boise Whitewater Park is a good environment to test skills.
Note: it is still a true river and is still flowing fast, but the manufacture rapid areas are a good starting spot for developing skills. Still not safe like calm water kayaking. There is a similar whitewater park in Bend, Oregon on the Deschutes River.
Lucky Peak State Park (Difficulty: Beginner)
Just eight minutes outside of the bustling capital city of Boise can be found a calm, isolated wilderness area perfect for paddlers looking to enjoy a relaxing, fun-filled day on the water. While kayaking throughout Lucky Peak State Park, paddlers will be treated to incredible views of rocky canyons and towering tree lines. In addition to it's scenery, Lucky Peak hosts a wide variety of wildlife including owls, bad eagles, golden eagles and songbirds throughout the waterways.
Note: the primary kayaking/SUP area is actually a reservoir behind the Lucky Peak Dam. This area is shared with motor boats too, so be aware that there may be water skiers if you are heading into the center of the lake instead of the shoreline or upstream.
*SUP Friendly Paddling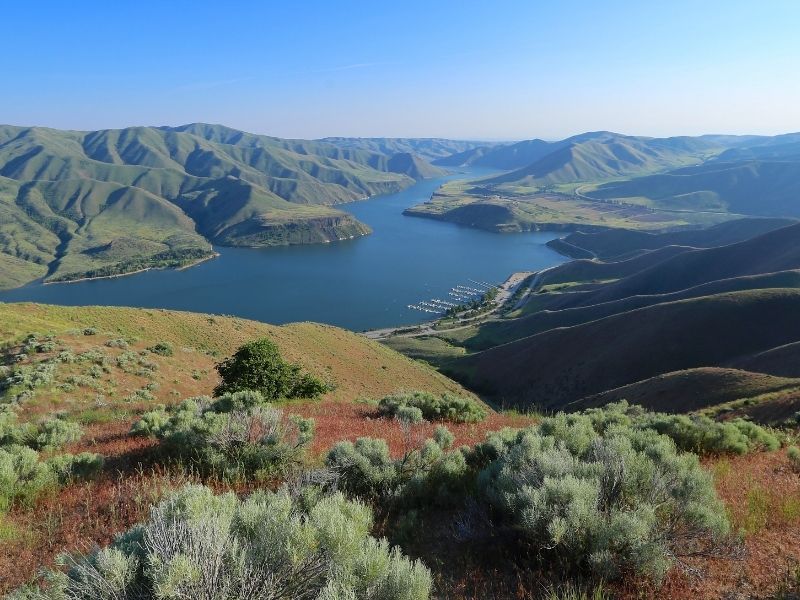 Best Kayaking Spots in Southern Idaho
I love Southern Idaho for kayaking. It's a straight up surprise. You've crystal clear water like the springs in Florida State Parks, and then you have calm lakes like in Yellowstone National Park. And then Southern Idaho also just has some remarkable landscapes that look like another world. Amazing!
Blue Heart Springs (Difficulty: Beginner)
This spectacular hidden gem is easily one of the most beautiful paddling spots in Idaho. Captivating, clear, blue waters will make kayakers feel like they've paddled into a remote oasis. Blue Heart Springs is gorgeous and is an excellent day trip for beginner paddlers looking for a refreshing experience. It's pretty near Twin Falls (45 minutes), so it's an easy addition to a paddling trip to Idaho.
Really, this is a very easy paddle and most of the adventure is driving to it, but once you're here on the water it is really beautiful and so unique in comparison to other spots for kayaking in Idaho.
Tip: very nearby is also Box Canyon Springs Nature Preserve. You can't paddle to these because of the small waterfalls and rapids, but you can hike to them. These are just freshwater springs, not Idaho hot springs.
*SUP Friendly Paddling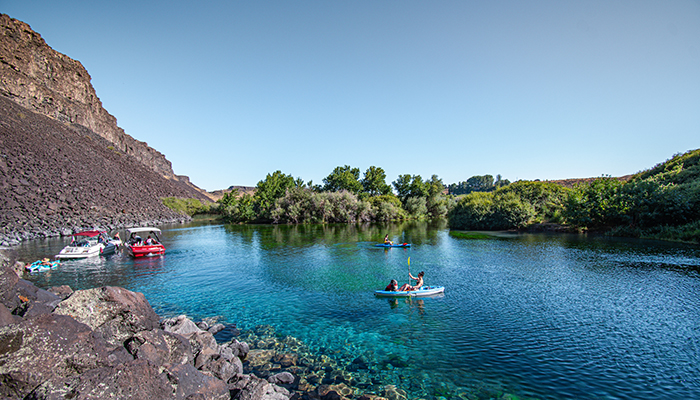 Centennial Park to Shoshone Falls (Difficulty: Beginner)
Often referenced as the Niagara Falls of the west, this 5-mile excursion to the awe-inspiring Shoshone Falls is one of the most rewarding adventures in Southern Idaho. Leaving from Centennial Park, paddlers can explore Snake River while immersed in a dense wilderness and base jumpers from the nearby bridge flying overhead.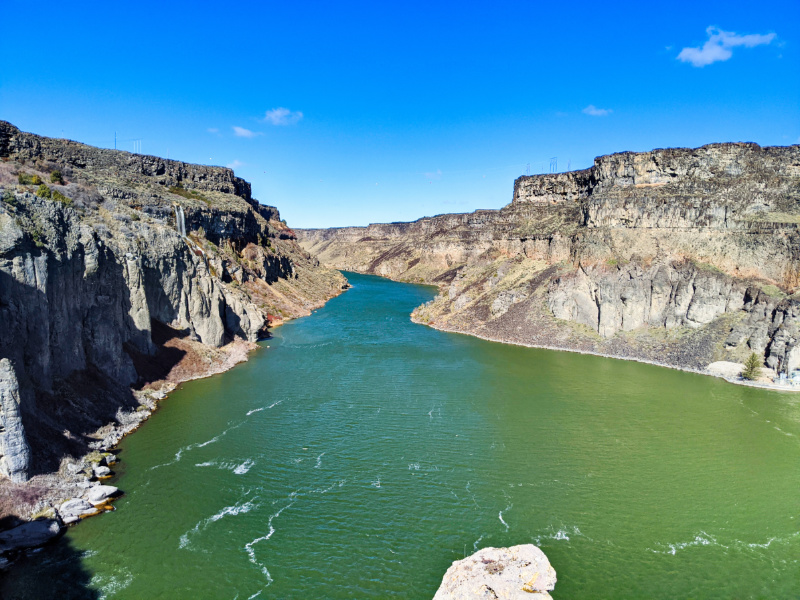 The 212-foot high falls at the end of the trip are poised to provide one of the most memorable paddling experiences in Idaho.
Once you've completed your kayaking here, take time to visit the actual Shoshone Falls overlook area. Nearly any time of day you can see rainbows in different parts of the basin and it's gorgeous!
Note: Y'all, don't try to paddle over Shoshone Falls. It's gorgeous and nobody wants to fetch your body from the base of the falls.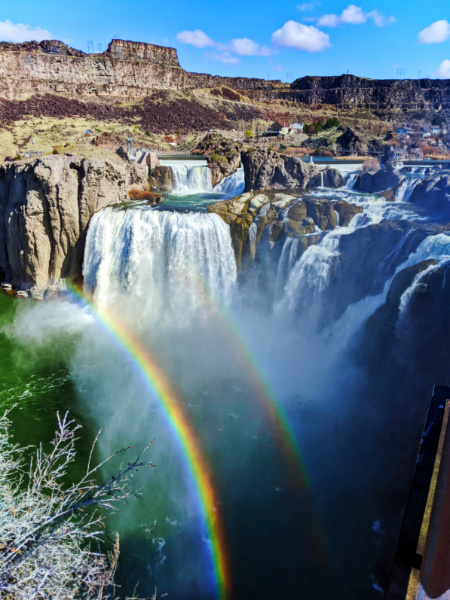 Murtaugh Reach (Difficulty: Experienced)
This classic run on the Snake River known as the Murtaugh Reach or Murtaugh Canyon is not for the faint of heart (seriously!). With features rated Class 3 and above, this dramatic run contains ledge drops, big waves, and holes littered throughout the 13-mile route. Not recommended for beginners, Murtaugh reach is guaranteed to provide a thrilling challenge for experienced paddlers looking for a fun day out on the water.
You should check out Oregon Kayaking's article all about Murtaugh Reach for a great account of the types of rapids and holes. It's an intense stretch of river.
Note: if you're not familiar with a "hole" in river kayaking terms, this paddling route is NOT for you. Holes can be very dangerous if you do not know how to avoid or paddle out of them. SAFETY FIRST.
Lake Walcott (Difficulty: Beginner)
Located next to the Minidoka Wildlife Refuge, this 17-mile reservoir of calm waters is one of the best spots for kayakers of all experience levels in southern Idaho. An Idaho State Park, the newly constructed docks provide excellent launch points and the nearby wildlife reserve is a great opportunity to witness some of Idaho's dense population of birds. With little wind, the calm waters are easily navigable by beginners and stand-up paddleboarders alike.
*SUP Friendly Paddling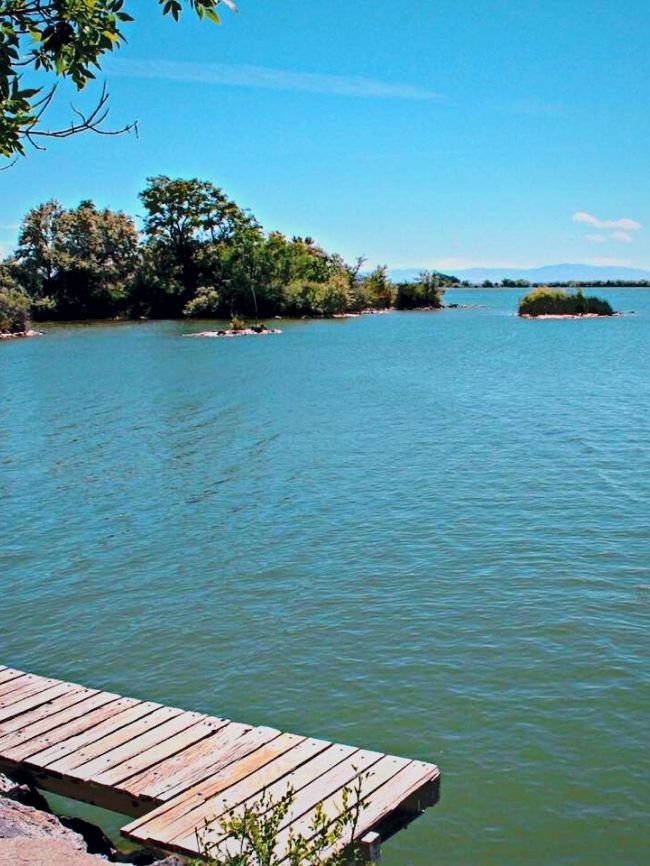 Ritter Island (Difficulty: Beginner)
Views of flowing waterfalls and the crystal clear waters of Ritter Island create an impeccable day-trip opportunity. Given its location in Thousand Springs State Park, you can't miss the opportunity to explore some of the nearby natural springs too, as it's pretty close to Box Canyon Springs Preserve and Blue Heart Springs.
Also, paddlers who fall in love with the area now have the chance to spend a night on the island in one of the beautiful newly constructed guest lodges. NOTE: the park closes in winter/spring, so paddling after Memorial Day until it closes in the fall are your only options for this striking Idaho kayaking spot.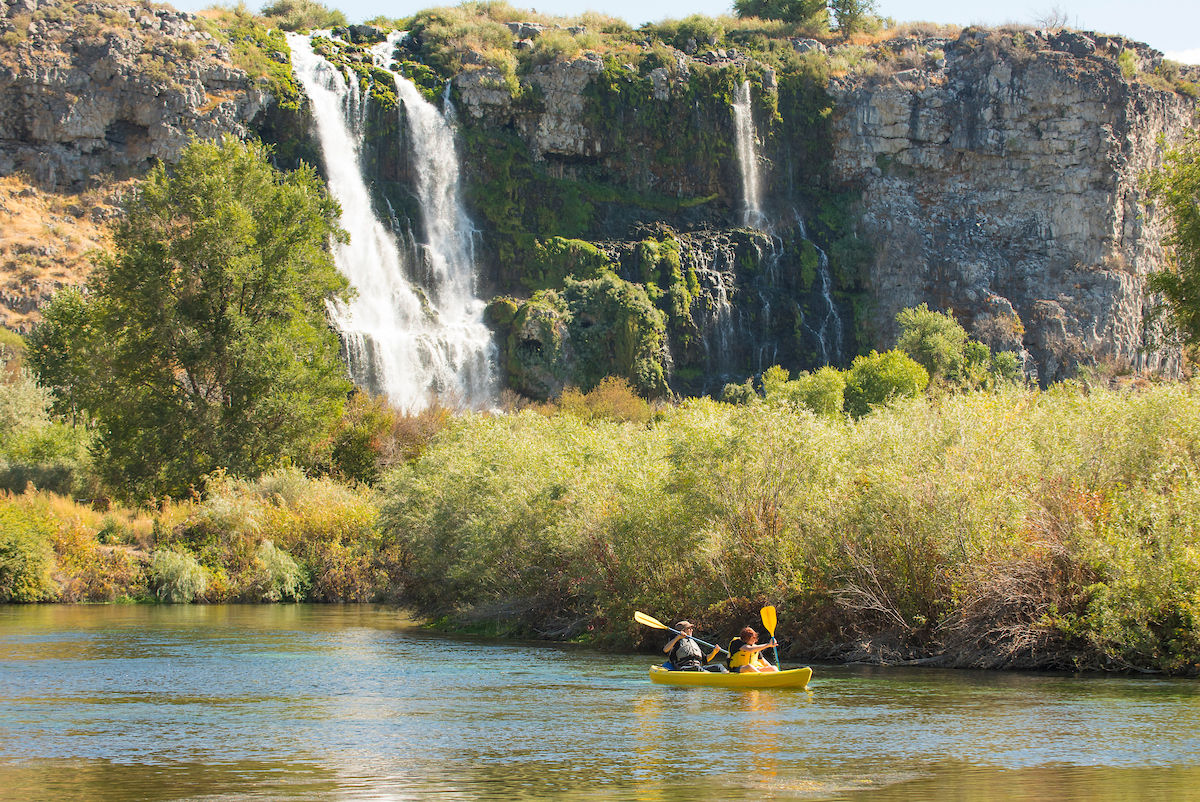 Paddling Tours in Idaho
Because kayaking in Idaho has so much whitewater and so many opportunities for paddling adventures that you may not be used to, going out with a guide is strongly recommended depending on your experience level.
Teton River Paddleboarding Adventure
For those looking for an incredible afternoon on one of Idaho's most scenic rivers, this paddling tour is great for the whole family. Spend three hours exploring Idaho's Teton river with the opportunity to see exciting wildlife like moose, beavers, and trout led by an experienced guide.
Salmon River Kayaking Expedition
This 4-day adventure will introduce experienced kayakers to one of Idaho's most challenging rivers. With rapids ranging from Class 2 to Class 5, expert guides will take paddlers throughout 85 miles of the infamous Salmon River.
Kayak Tour to Shoshone Falls
If you're looking to experience the majesty of the "Niagara Falls of the West" but want to use an experienced guide, this is one of the best tours for kayaking in Idaho. Groups will start by taking a scenic boat tour to the stunning Pillar Falls, followed by a rewarding 4-mile paddle to the base of Shoshone. 
Book this AWESOME kayaking tour here!
Weather and When to Visit for Kayaking Idaho
By far the best time to plan your next paddling trip to Idaho is during the summer as the majority of rivers and lakes freeze over during the winter. Throughout the summer months, paddlers can expect daily averages ranging between 80 and 90 degrees Fahrenheit for comfortable days out on the water. It is still possible to plan a trip during the early fall but paddlers will experience significantly cooler temperatures around 60 degrees.
There are times where the Snake and Salmon Rivers' water level drops quite a bit at the end of summer, so if you're paddling out of Lewiston, ID or upriver very far, consider how the water lever is in August. Conversely, kayaking in Idaho in mid to late spring means EPIC high water, so this is also a time to be very cautious and do your research. The high water marks in the canyons will surprise you!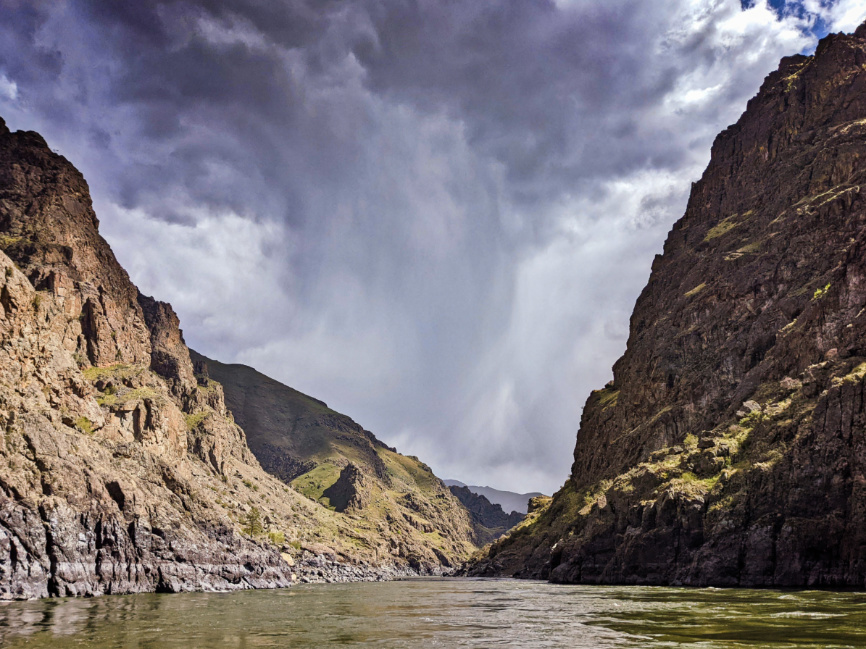 North Fork Championship
For a paddling event like no other, head down to Banks, Idaho on the weekend of June 16th to check out one of the most elite kayaking competitions in the world: the North Fork Championship. As previously mentioned, the rapids on the North Fork of the Payette River are some of the most challenging rapids out there and make for some great competition. If you're a competitor looking to test your skills or just a spectator hoping to watch some of the most technical paddling in the world, the North Fork Championship can't be missed.
With so many miles of waterways to explore, now is the time to get a head-start and begin preparations for your Idaho kayaking adventure. We guarantee that you won't be disappointed. The vast number of waterfalls, crystal-clear waters, canyons, and stunning landscapes will keep you entertained for days if not weeks. We can't wait to see you out there!