Kayaking in Utah is beautiful, whether you're in the Salt Lake City area or out rafting in Moab. There are paddling opportunities in spring and summer for every skill level.
Kayaking in Utah is a unique experience. The state has many lakes and rivers that offer prime kayaking territory. Beginners will enjoy lakes outside of Salt Lake City. Experienced paddlers will love the red-rock canyons. In addition, the people of Utah are friendly and welcoming, making kayaking a great way to meet new people and explore new places.
Whether you're planning to visit for hiking in Utah's State Parks or if you want to see the epic sights of the National Parks, you'll be in awe. There are so many things to do in Utah. Having been through Utah many times and explored from Zion and Snow Canyon to Salt Lake, from Capitol Reef National Park to the Anasazi lands in the Southeast, hiking and kayaking in Utah is awesome.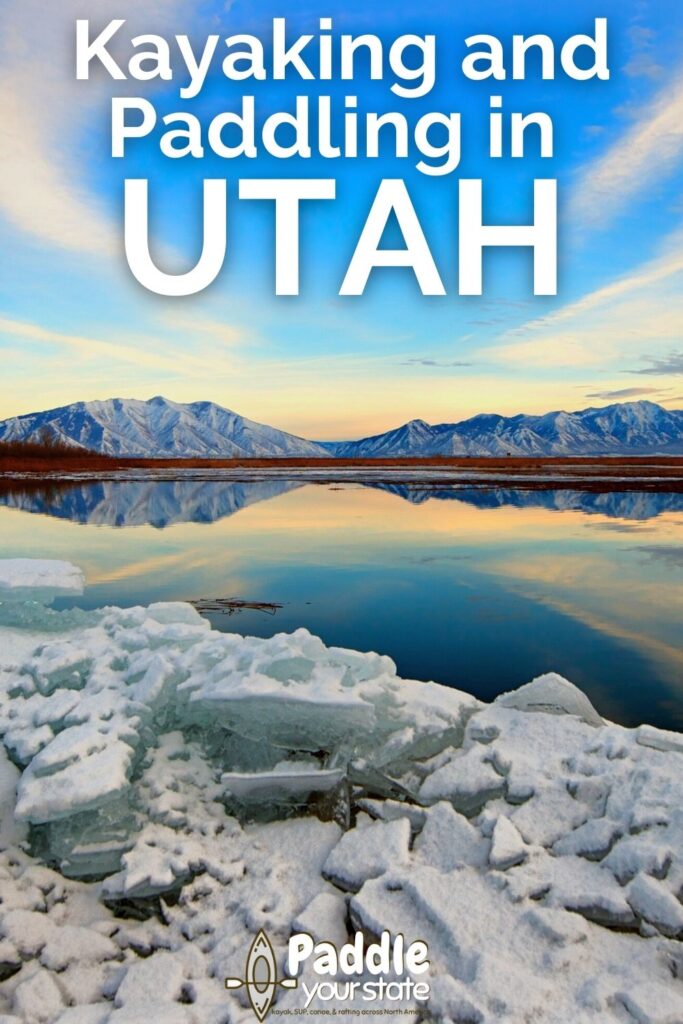 Easy Kayaking Spots in Utah
Utah's growing population brings many outdoor enthusiasts and those new to paddling. For those with little to no experience kayaking, Utah has many calm lakes suitable for a paddle. With so many sites located just outside the city, there are plenty of opportunities to kayak over a day trip or spend the weekend in nature. Add kayaking to a Utah road trip and it's a winning combo.
Utah Lake
Utah Lake is one of the most popular kayaking destinations since it is close to Brigham Young University and offers a variety of easy access points. The water is clean and shallow for children to kayak and swim in as you enjoy the lovely scenery near this resort. The lake is also an excellent destination for fishing, as it is home to white bass, channel catfish, black bass, and other sorts of panfish. *SUP Friendly
Visit Utah Lake State Park's website for a comprehensive guide to the area.
Where to launch: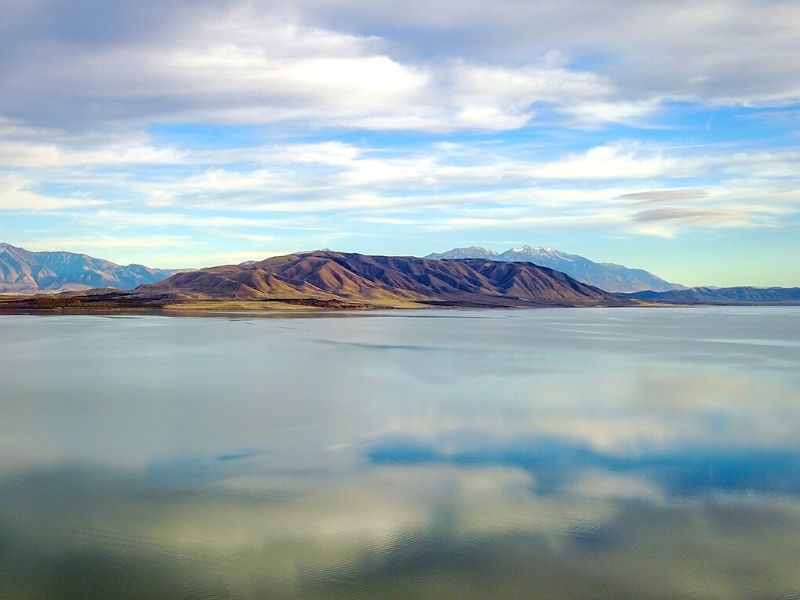 Kayaking the Provo River
The Provo River is a lovely current that runs down the majesty of one of Utah's most prominent and well-known canyons, drawing visitors from all across the state. The water flowing down the river at various speeds lends itself to a range of activities, including fishing, tubing, and kayaking. There are experienced trails for those who graduate from the novice level paddling, making this space great stomping grounds for kayakers who want to level up.
Check out Utah's official tourism page for other activities in and around the river.
Launch area: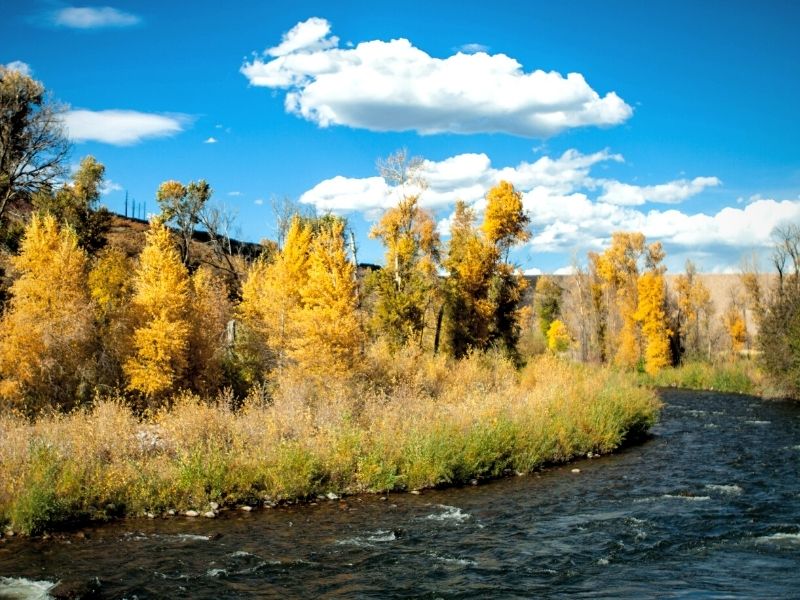 Tibble Fork Reservoir 
Tibble Fork Reservoir is a popular fishing spot, but these days has become an outdoor playground for families wanting to swim, paddle or hike. The water might be cold for swimming which makes paddling even more appealing. Note weekends do get busy. 
Explore Utah Valley gives a good overview of the area!  
Where to launch: There are no official launch sites but carrying in access is relatively easy.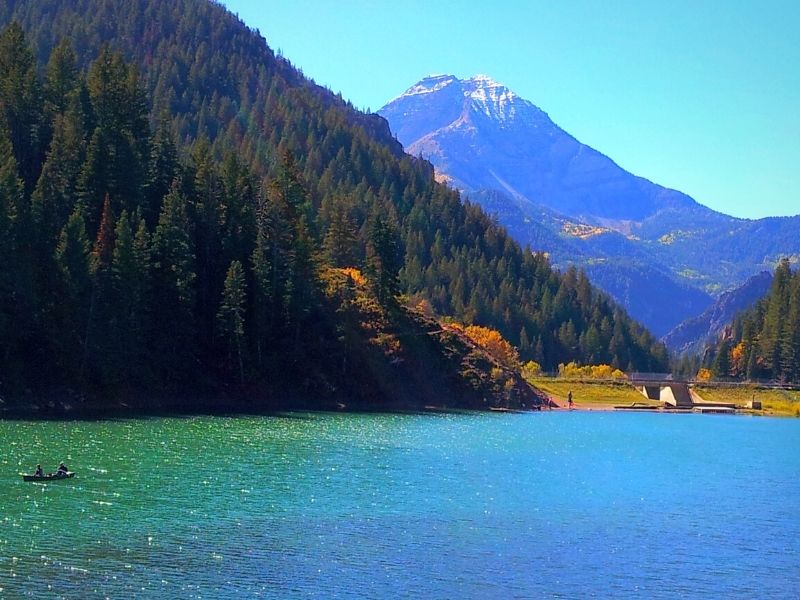 Deer Creek
Deer Creek is ideal for beginning paddlers and those who want to avoid crowds. Surrounded by calm waters, paddlers will get views of the Timpanogos mountain. Families will enjoy the campsites in the area and different activities for the kids, including ziplining. 
*SUP Friendly 
The Utah Travel Industry website gives a great introduction to the area.  
Launch sites: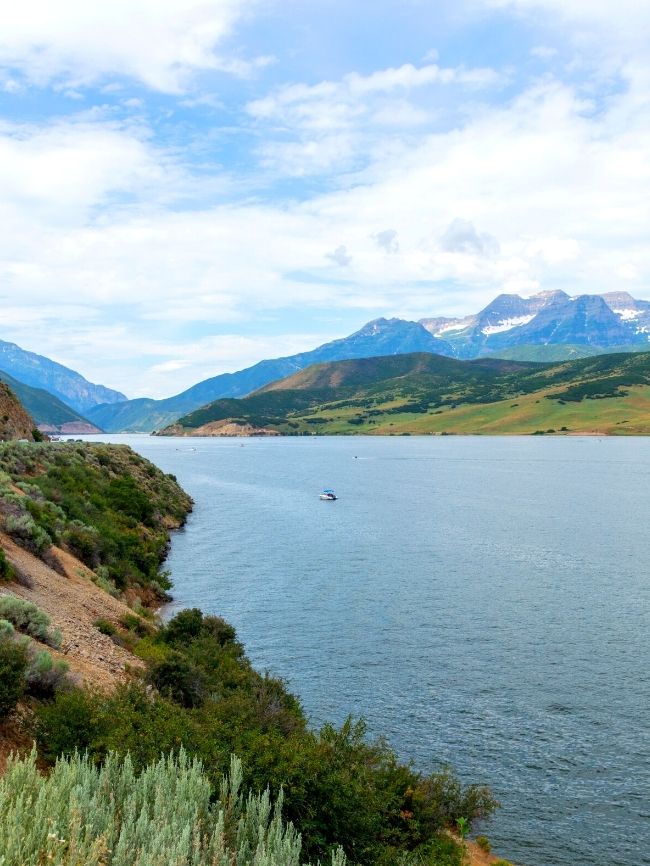 Experienced Kayak Launches in Utah
Whitewater experiences are abundant in Utah. As a result, the rivers that run through the state- including the Green and Colorado and the red-rock canyons dot the waterways. Below are just a few paddling trails that experienced kayakers can find their next adventure. 
The Green River
With over 700 miles of winding river starting in the Wind River Mountains and flowing through Wyoming and Utah, the Green River gives experienced kayakers (and beginners) tons of options to launch. Those seeking a red-rock Utah experience will not be disappointed with beautiful geological features and an abundance of wildlife. 
Check out Utah's official tourism website for planning a trip. https://www.visitutah.com/places-to-go/cities-and-towns/green-river
Launch sites: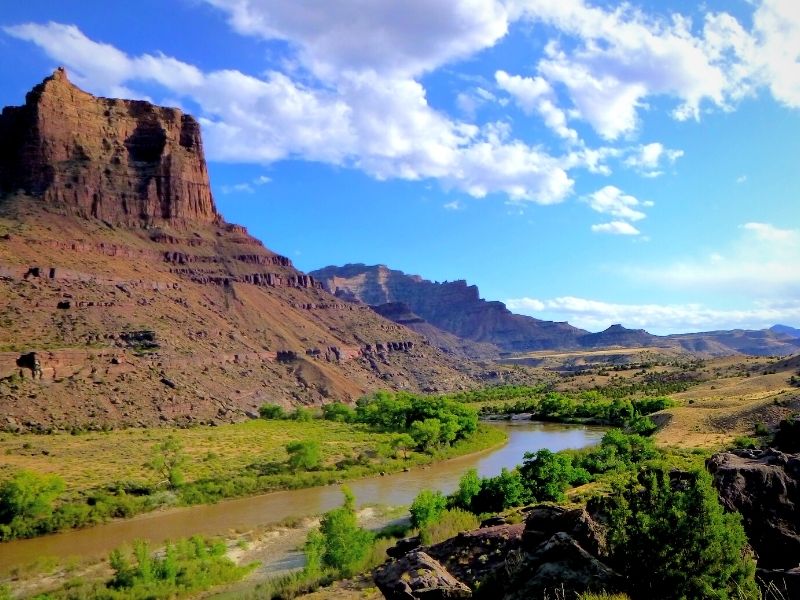 Westwater Canyon
The Colorado River is spectacular and covers an extended range winding through several states. In Utah, and specifically in the Westwater Canyon section, there are opportunities for whitewater paddling. This section of the river consists of a 17-mile run that starts with calm waters, then as the canyon walls narrow, begins to change quite quickly. Major rapids for and as the water slows, paddlers will end up back on flat waters. Rafting in Westwater Canyon is pretty epic and gives some of the Idaho paddling spots a run for their money.
For more detailed information visit read up on whitewater options in Westwater Canyon, Utah.
Launch spot: 
Desolation Gray Canyons 
Desolation Gray Canyons is a beautiful series of scenic canyons that runs through central Utah on the Green River. Starting at Sand Wash and ending up at Swasey's Rapid, this 84 miles trip takes paddlers through unique geological formations and spectacular whitewater adventure. Note that you'll need some planning for this trip as slots are limited and given through a lottery application system. 
Lottery permits: required, important, and all about PLANNING. You can book rafting with a shorter notice, but this Utah kayaking spot for sure requires more notice.
Find out more information at the Bureau of Land Management's website.  
Launch point: 
Lake Powell
Lake Powell is on the border of Utah and Arizona and gets frequent local visitors each weekend. With routes that traverse many canyons and provide opportunities to kayak horseshoe bends. The red rock scenery creates a memorable experience sought out by many paddlers in the southwest. 
When planning a trip, you'll want to consider places to kayak in Arizona as well as Utah. The Lake Powell National Recreation Area crosses the border of Utah and Arizona. Some of the more famous or epic kayaking spots on Lake Powell are on the AZ side, but the shorelines all around are awesome.
Launch sites: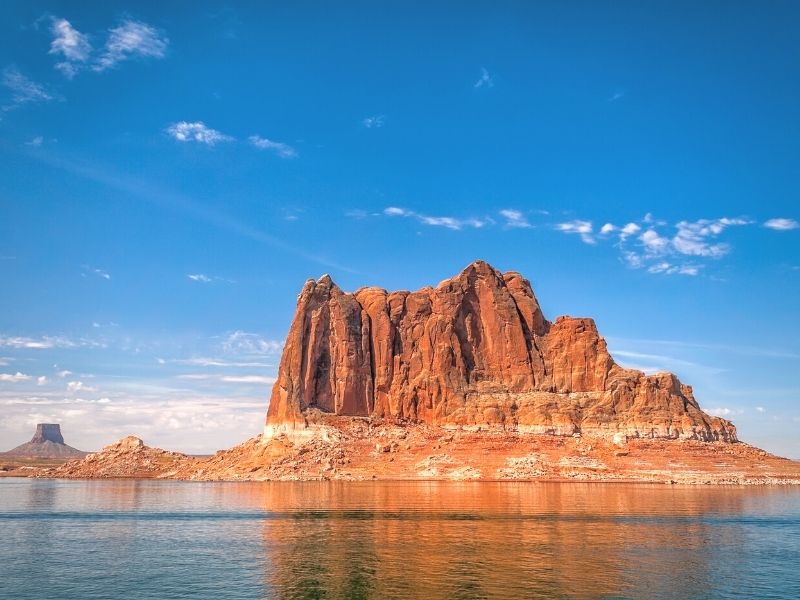 National / State Park Kayaking Spots in Utah
Utah's state and national parks are one of the biggest draws in the tourism sector. For those wanting to be on the water, there are many options. We've listed a few state parks frequented by many locals and typically have fewer crowds than the most popular national parks visited on southwestern road trips. 
Bear Lake State Park
An hour northeast of Logan is the home of Bear Lake State Park. Known as the "Caribbean of the Rockies," this turquoise-blue lake gives wide open spaces and is excellent for beginning paddlers or those kayaking with children. 
For more information on camping and planning a trip, visit the Bear Lake State Park website. They keep all restrictions and regulations up to date through the seasons.
Launch sites: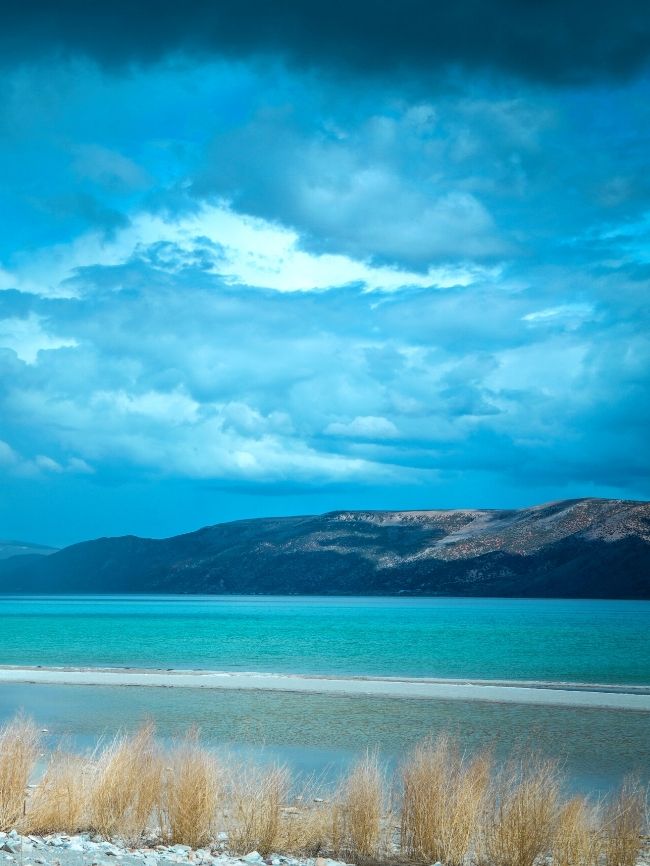 Willard Bay State Park
Willard Bay is a haven for water enthusiasts who want to go out for a swim, a paddle, or fish. The calm waters are great for SUP boarders and beginning kayakers. Located just 15 miles north of Ogden, this area is frequented by many locals and road-trippers visiting the state. 
*SUP Friendly 
For more information on camping and planning a trip visit the Willard Bay State Park section on Utah's website. 
Launch spot: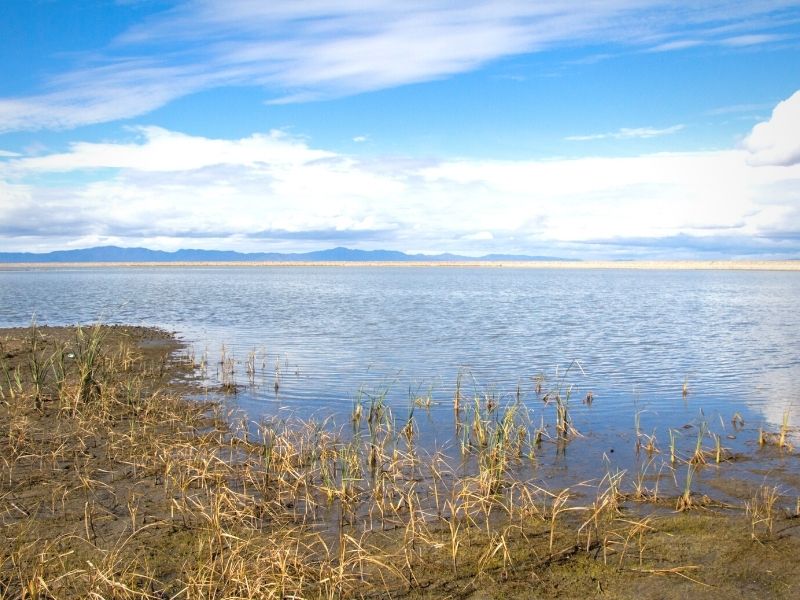 Flaming Gorge National Recreation Area
Flaming Gorge National Recreation is perfect for outdoor recreation. With over 200,000 acres, the area caters to motorized and non-motorized water vehicles. If you're paddling the lake, you will share with boats tugging waterskiers. For those wanting to combine a paddle with fishing, check out the west side of the gorge. 
You'll see that Flaming Gorge National Recreation is a hot spot for camping and kayaking in Utah. Located at the border of Utah and Wyoming, this area is the gateway to so much more than paddling. Check out the map for Flaming Gorge NRA for a better understanding of the destination as a whole.
Where to launch: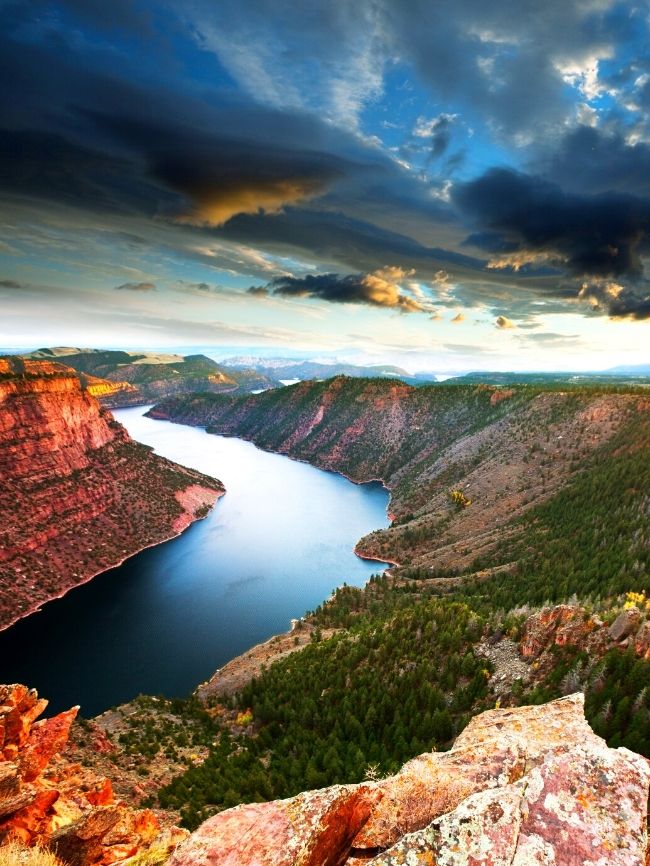 Great Salt Lake State Park
The Great Salt Lake is one of the most popular parks in Utah. Home to the ancient Lake Bonneville, it is the largest saltwater lake in the Western Hemisphere. During sunset time, kayaking is most recommended to experience the splash of red, orange, and magenta hues covering the vast horizon. Given its proximity to downtown Salt Lake City (20 minutes), this is very frequented by local city-dwellers. 
*SUP Friendly
For more information on camping and planning a trip visit the Great Salt Lake State Park section on Utah's Travel Industry website. 
Recommended Kayaking Tours in Utah
If you don't travel with your own gear for kayaking in Utah, or if you want to try paddling, it's a great idea to book a tour in advance. We like to find float trips and low-key rafting that are kid friendly, but then when we're traveling without our little guys, we're all about adventures… but we always research and book in advance.
Fisher Towers Rafting Experience from Moab
Have a go at some whitewater rafting in southern Utah. This adventure is suitable for families with children, and you can choose to paddle by raft or kayak. The rapids can vary, so if you're looking for a rafting trip with kids, check with the guide to see what level the rapids are at. I don't like to do anything over a Class III with my oldest, and even then I'm very clear in conversation with guides beforehand.
Huge Party Paddle Board Rental
This unique paddleboard is perfect for families or groups of 3-6 people wanting to cruise down the Colorado River. While this may look hilarious on first glance, it's actually really fun and is a great way to introduce kids and water-shy friends to paddling.
When to Visit Utah
The seasons for kayaking will depend on what kind of paddling you will do. For those looking at having a whitewater experience on the Green River or the Colorado River, the high water season is from May to June as the winter snow melts, filling up rivers that run through the state. There is year-round access for those visiting the different lakes in the Great Salt Lake State Park.
Weather in Utah
With four distinct seasons, Utah's most pleasant weather in spring and autumn brings in cooler weather (and fewer crowds). Summer is packed with visitors and quite hot. Winter is cold and not the ideal time to be in the water; locals switch themselves into the ski season.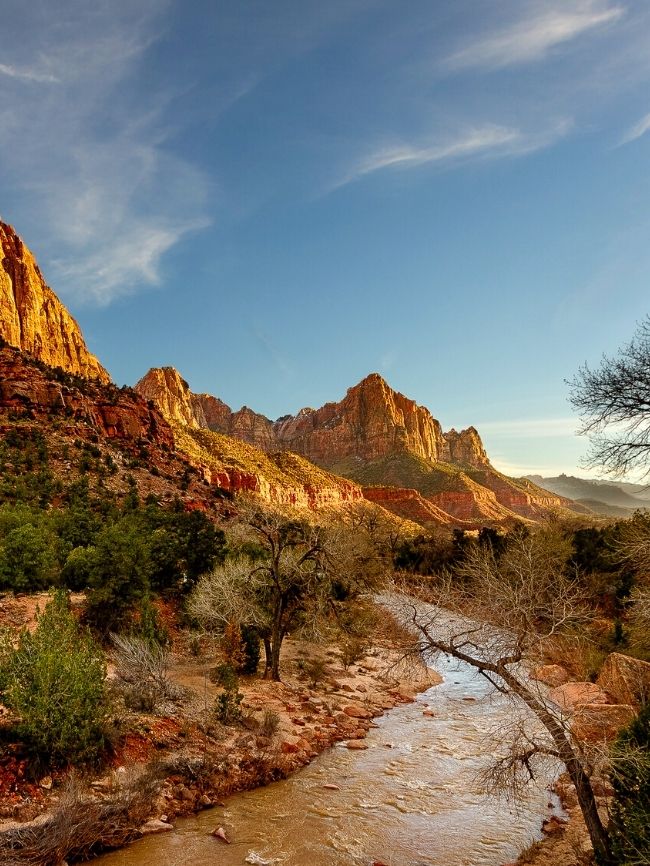 Need to Know for Utah
Depending on the amount of time you have, it's easy to combine paddles with visits to places like Zion National Park or Arches National Park. Weekend trips are easy if you fly into Salt Lake City, as the distance to the different paddling destinations is pretty close. The combination of historical sites, unique geological formations, and abundant wildlife puts Utah high on the list for kayakers. Our suggestions, move into the state and take a deep dive into all it has to offer!