Kayaking around Portland, Oregon is a great activity and very much in tune with the locals. From downtown Portland kayaking to paddling in wine country, we've got 10+ spots to get on the water near Portland.
Did you know that you can kayak downtown Portland, OR? Or just a few minutes from Portland you can go paddling through Oregon Wine County? It's true! Kayaking in the Portland area is a great way to join the locals and experience the Pacific Northwest outdoors.
Oregon is an outdoor lover's paradise, and especially the Portland area. With its many rivers and waterways, kayakers can find a different route to explore every day. The surrounding area is filled with lush forests and rolling hills, providing plenty of opportunity for a peaceful paddle in nature. The Pacific Northwest seasons bring unique challenges and rewards; winter brings rains that turn the rivers into raging torrents, while summer provides long days and warm weather perfect for paddling under the sun. No matter what time of year, there's always something new to experience in this picturesque corner of the country.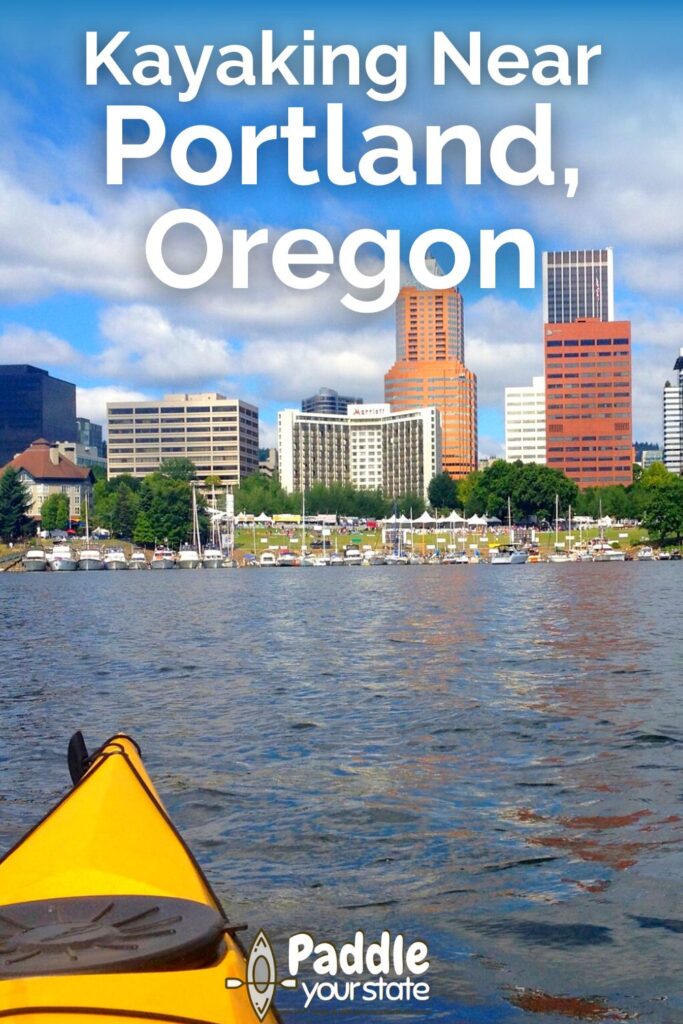 Easy Kayaking Spots near Portland, Oregon
Portland is an excellent area for those new to kayaking. Some rivers and tributaries give a variety of options for novice paddlers surrounded by Pacific Northwest forests and wildlife. The most popular are the Willamette and Clackamas rivers.
Willamette River 
The Willamette River is a great place for beginner kayakers. It's relatively calm and has plenty of beautiful views to take in. The river winds its way through the heart of Portland, making it easy to get to from anywhere in the city. This river is characterized by its mild currents and occasional riffles, which are perfect for those just learning to paddle.
Where to launch: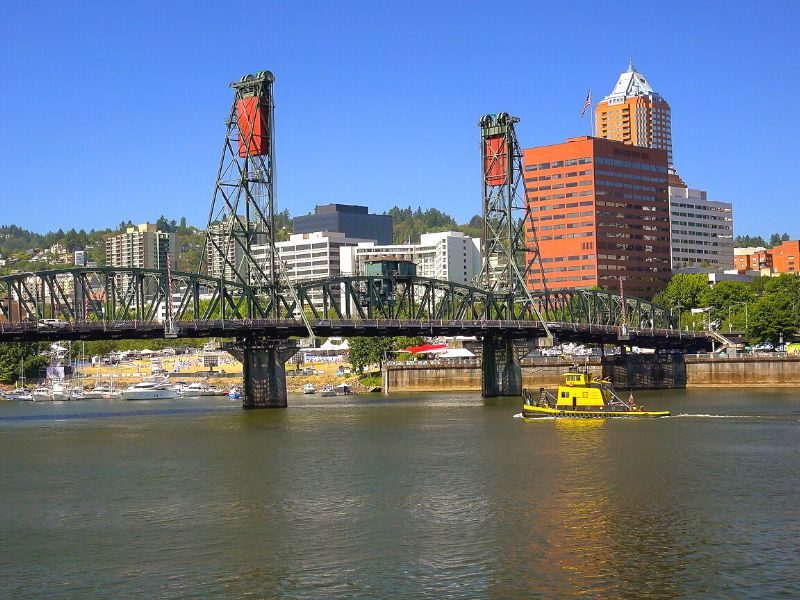 Clackamas River
The Clackamas River is another good option for beginners. It's a bit more challenging than the Willamette, with some Class II and III rapids, but the scenery is worth it. The area is filled with dense forests and towering cliffs, providing a stunning backdrop for your paddle.
Where to launch: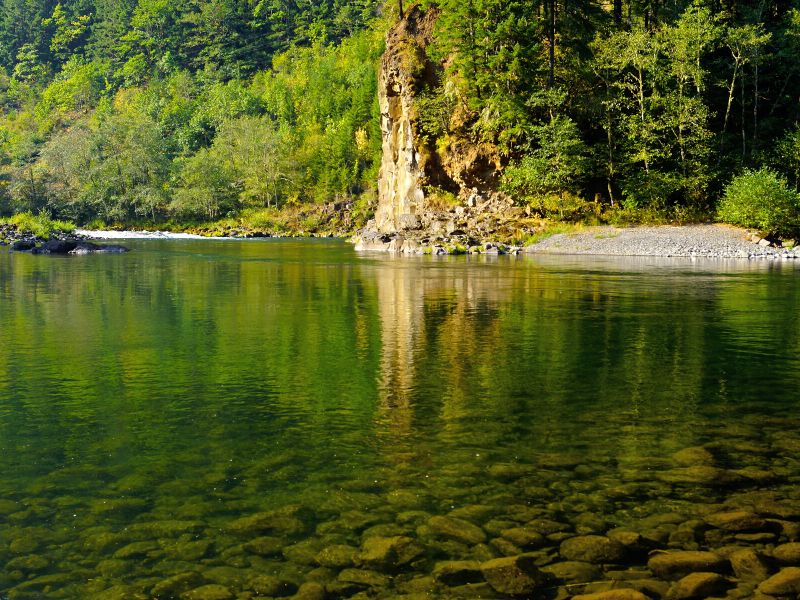 Sandy River
The Sandy River is great for those looking for a more secluded paddle. With its gentle current and lush forest surroundings, it's easy to lose yourself in the peace and quiet of nature here. The riverbanks are also home to various wildlife, so keep your eyes peeled for exciting sightings such as beavers, otters, and bald eagles.
This area, about 40 minutes from downtown Portland is more commonly thought of for it's amazing Columbia Gorge Waterfall Area than for kayaking, but the Sandy River is gorgeous and calm and worth adding to a trip along Historic Highway 30.
Where to launch: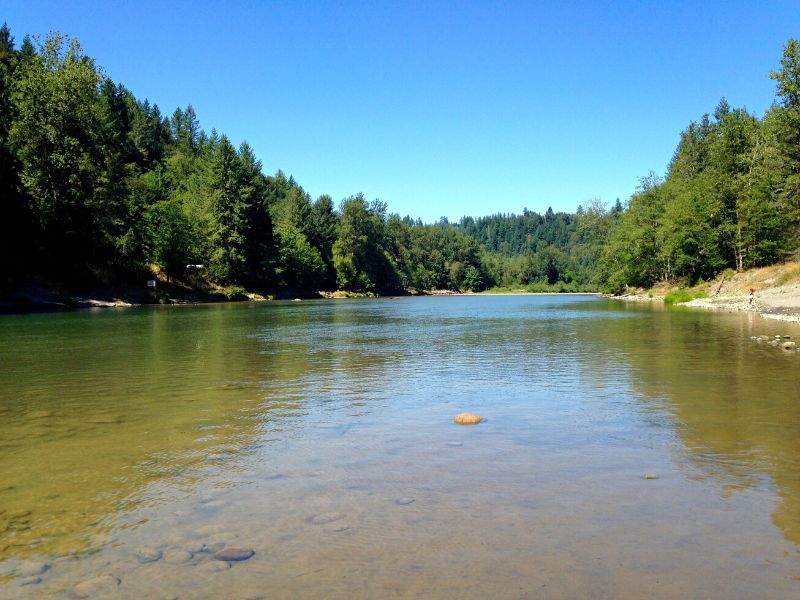 Ross Island Lagoon
For a unique experience, check out Ross Island Lagoon. This man-made lagoon provides an exciting backdrop for a kayaking trip and is perfect for beginners or those looking for a leisurely paddle. The area is also home to various birds, such as herons and ducks, making it an excellent place for birdwatching.
This is an interesting spot because Ross Island itself is an ongoing reclamation project by the state of Oregon. A hundred years ago the island was dredged and exported for gravel, and now today they are continually working on restoring the island partially, creating more habitat for wildlife. This is a really unique place to kayak in Portland.
Where to launch:
Difficult and Technical Kayaking around Portland Oregon
With so many waterways, the Pacific Ocean to the west, and lakes scattered around the area, Portland is a great starting point for those seeking a more challenging paddle. The McKenzie, White Salmon, and North Santiam rivers are great trails for whitewater rapids ideal for seasoned paddlers.
McKenzie River 
The McKenzie River offers some of the best paddling in Oregon. With its many Class III and IV rapids, the McKenzie is perfect for experienced kayakers looking for a thrill. The area is also home to many hot springs, making it a great place to relax after a long day on the river. We recommend going with a local guide due to the intensity of the rapids with changing water levels.
Where to launch: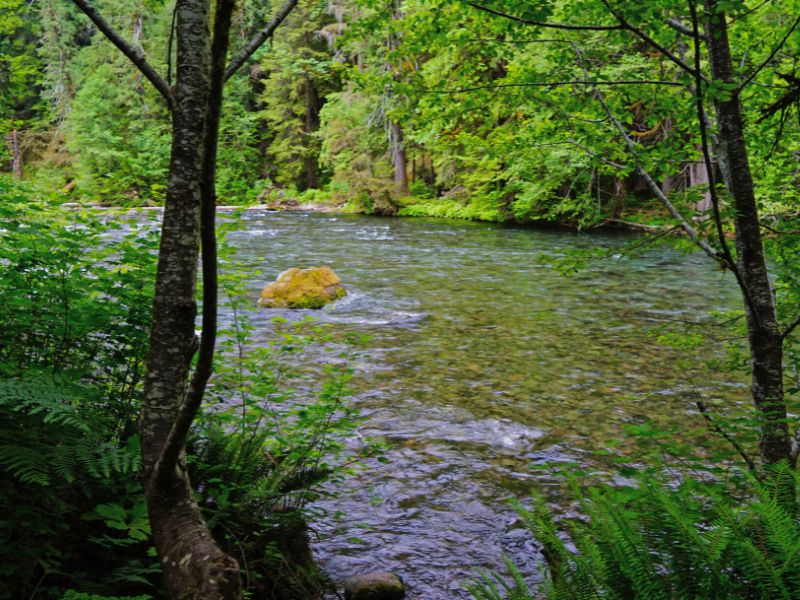 Scappoose Bay 
Scappoose Bay is a beautiful area located in northwestern Oregon, about an hour outside of Portland. The bay is surrounded by lush forests and rolling hills and is a popular spot for kayakers and other outdoor enthusiasts. The area offers various kayaking routes to explore, depending on your skill level and desired experience.
If you're new to kayaking or just looking for a leisurely paddle, several calm waterways wind through the forests and hills surrounding the bay. For those looking for a more challenging experience, the bay is also home to technical sections due to it joining the Multnomah Channel and Columbia River. No matter what your level of expertise, Scappoose Bay has something to offer everyone. 
Where to launch: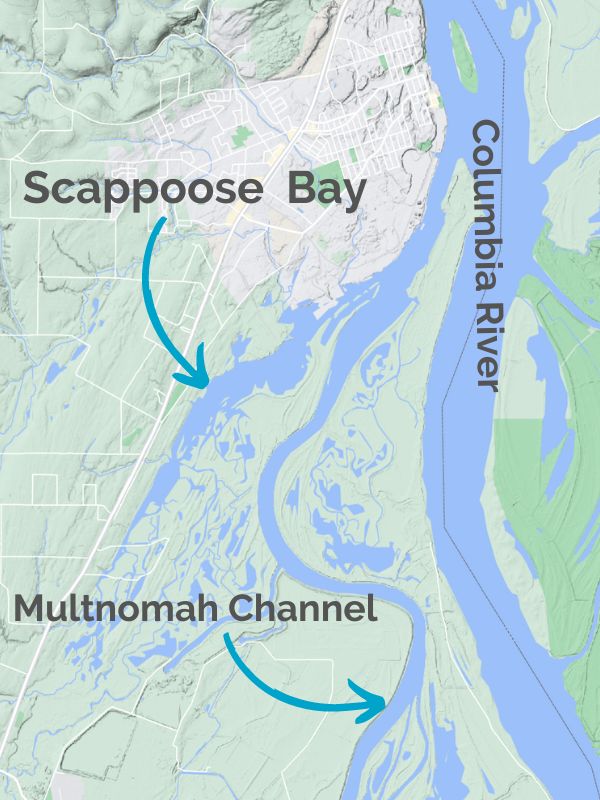 White Salmon River (Washington side of Columbia)
White Salmon River is home to a series of whitewater rapids ranging from Class III to V. The river is a 44-mile tributary of the greater Columbia River. It is most famous for the spectacular Husum Falls and is the most commercially-run area in the country. THIS IS NOT FOR BEGINNERS.
As the White Salmon River meets the Columbia, it does calm down substantially, but it's still an intense river. The people of White Salmon, WA are very proud of their sportiness but they'll tell you that the White Salmon and Little White Salmon Rivers are both very dangerous and should only be paddled with a guide and by experienced kayakers.
Where to launch: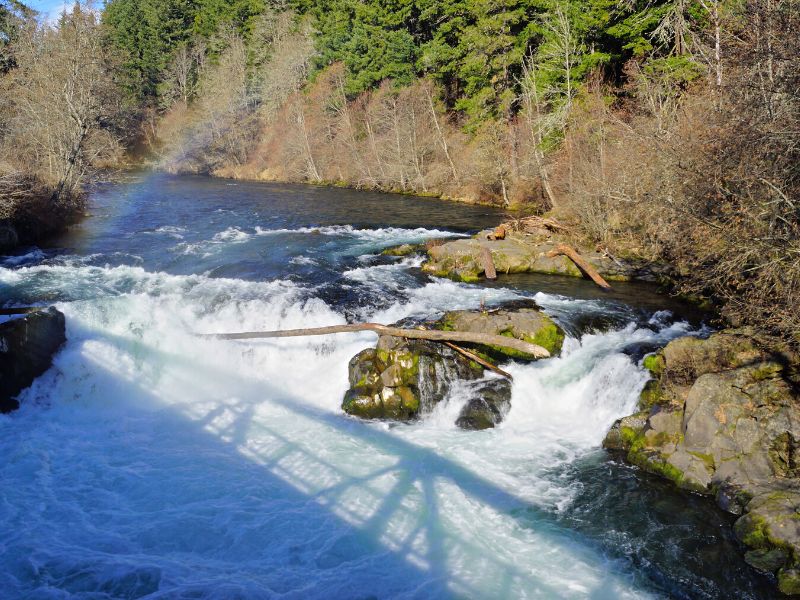 North Santiam River
The North Santiam River is one of the state's most famous rivers for whitewater rafting and kayaking. Packsaddle Park is the most common launch point, starting with Class II rapids. After a couple of miles, you'll hit Spencer's Hole. The river then takes you to an island, a Carnivore rapid, and Mill City Falls.
There are some wonderful mellow stretches of the North Santiam River too, so if you're not into whitewater, launch at the Jefferson Float and enjoy! These kayaking spots are all southeast of Portland, just east of Salem, Oregon.
Where to launch: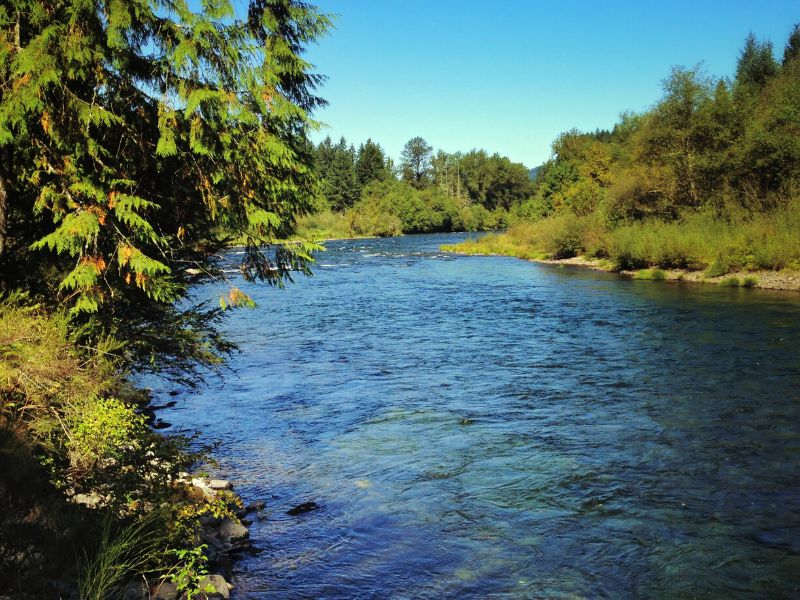 National / State Park Kayaking Spots near Portland Oregon
Oregon is dense in forests, and many of our recommendations below are managed by the US Forest Service. Each forest is home to many lakes and rivers, meaning you'll have difficulty running out of play space. We've also listed a unique former military site turned state park. 
Willamette National Forest
If you're looking for a beautiful place to kayak, look no further than Clear Lake in the Willamette National Forest. This serene lake is surrounded by towering trees and pristine forests, providing a natural haven for kayakers of all levels. The calm waters are perfect for a relaxing paddle, and there are plenty of routes to explore around the lake.
If you're looking for a more adventurous kayaking trip, the Willamette National Forest is the place to go. This massive forest spans over 1.5 million acres, making it one of the most extensive national forests in the country. There are countless rivers and waterways to explore, all with their own unique set of challenges and rewards. Whether you're a beginner or an experienced paddler, there's something for everyone in this vast forest.
Where to launch: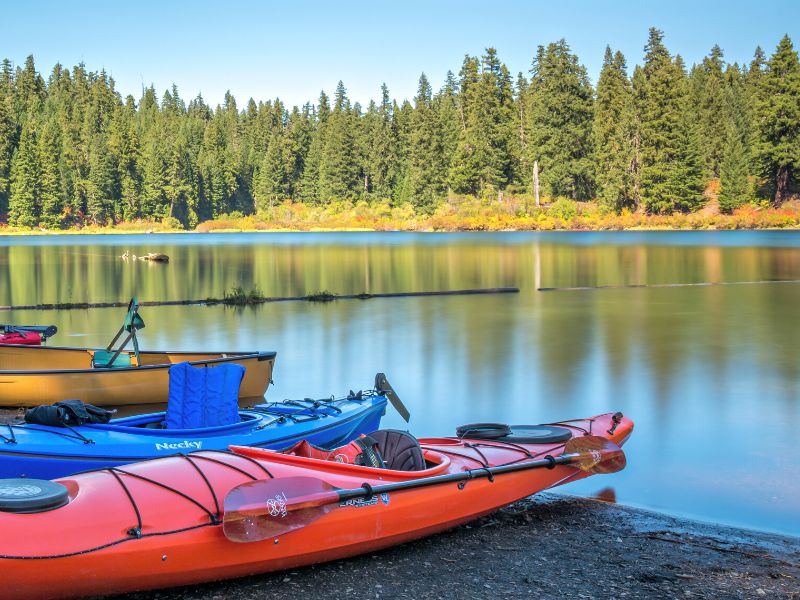 Mt. Hood National Forest 
Mt. Hood National Forest is a popular destination for kayakers and other outdoor enthusiasts. Situated in the heart of the Cascade Mountain Range, the forest offers a wealth of opportunities for those seeking adventure in nature. With over 1,000 miles of exploring trails, kayakers can find plenty of routes to paddle through some of the most scenic areas in Oregon. The surrounding area is full of rivers, lakes, and waterfalls, providing a beautiful backdrop for a day on the water.
The seasons in Mt. Hood National Forest offer unique challenges: winter brings heavy snows that can make some trails inaccessible, while summer provides long days and warm weather perfect for paddling under the sun. No matter what time of year, there's always something new to experience in this vast wilderness area.
Where to launch: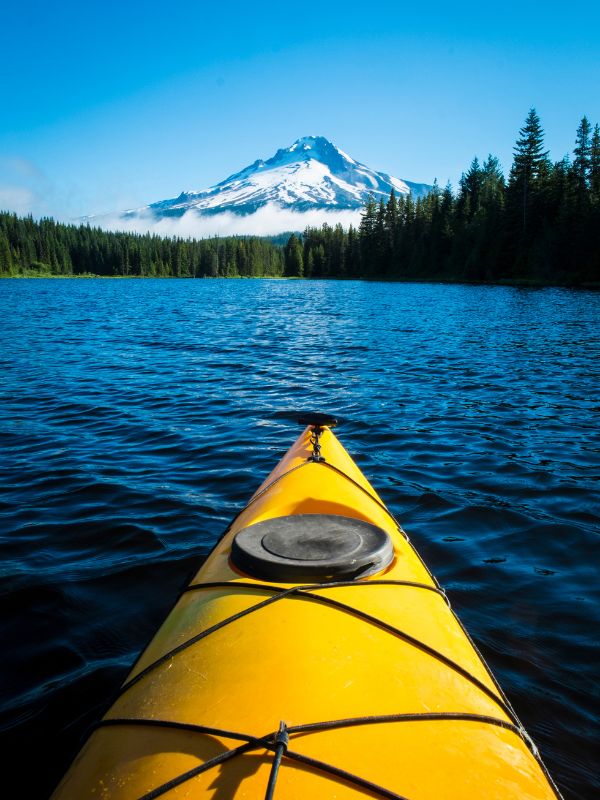 Columbia River Gorge National Scenic
The Columbia River Gorge National Scenic Area is a beautiful and popular destination for kayakers. Located just an hour east of Portland, the gorge offers a wealth of paddling opportunities, from Class III whitewater to serene backcountry routes. There are also plenty of options for overnight camping and river-based recreation.
The most popular section of the gorge for kayakers is the Class IV whitewater run known as Celilo Falls. This section features numerous rapids and demanding water conditions. For those who are up for the challenge, the falls provide some of the best whitewater rafting in the country. GUIDE IS RECOMMENDED!
If you're looking for a more relaxing paddle, the upper stretch of the gorge offers calm waters and stunning views. The area is rich in history, with Native American petroglyphs and settlements dating back thousands of years. There are also plenty of hiking trails and waterfalls to explore in the surrounding area.
Where to launch: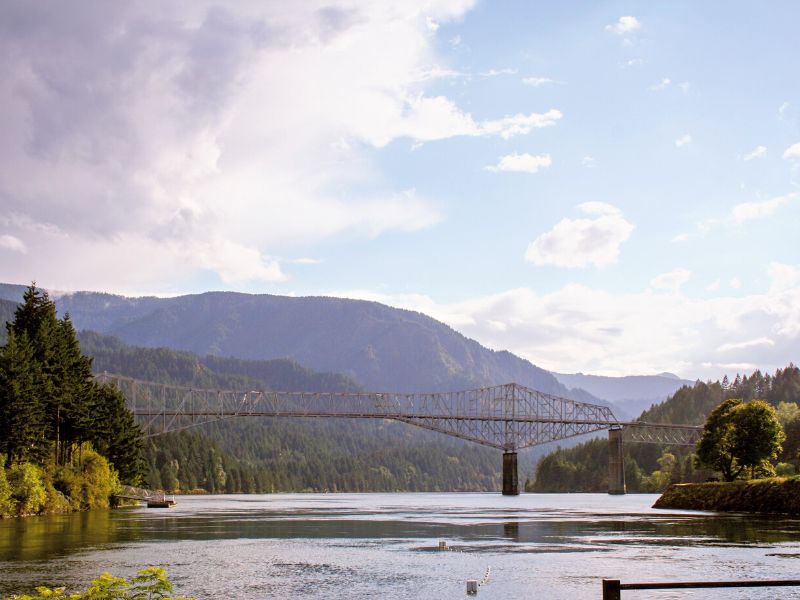 Fort Stevens State Park 
Fort Stevens State Park is a beautiful and historical park on the Oregon coast. With its miles of pristine coastline and rugged forests, and the beautiful Trestle Bay, the park provides a perfect setting for a day of kayaking. The park is also home to an old military fort, which offers a unique glimpse into the area's past. Also, every visit I've ever had to Fort Stevens State Park I've seen elk, so that's a bonus!
The kayaking in Fort Stevens State Park is some of the best on the Oregon coast. The calm waters of Youngs Bay provide a perfect setting for a relaxing paddle, while the nearby coastline offers plenty of opportunity for exploration. When you launch, head southwards for more calm water. If you go north you'll be heading into the confluence of the Columbia River and the Pacific Ocean.
Tip: Kayak Tillamook does guided tours of Fort Stevens State Park with enough notice, or you may be able to jump onto one that's already on their calendar.
Where to launch:
Recommended Kayaking Tours near Portland, Oregon
Rogue River Thrill Seeker – Those looking for a challenge can drive a few hours from Portland to tackle the Rogue River. Your guide will start you on calm waters and then get you through the whitewater rapids before taking you to Tilomikh Falls. This goes out of Ashland, so quite a ways south of Portland, but it's worth the drive!
North Santiam Whitewater Rafting – Thrill-seekers with an intermediate level of paddling skills will enjoy going through class III + rapids on the North Santiam River. The guides will take you through the famous Spencer's Hole and Mill City Falls. This goes out of Mill City, which is just southeast of Salem. It's a little over an hour from Portland.
Need to Know for Portland, Oregon
If you're looking for a city with stunning views, plenty of outdoor activities, and a relaxed atmosphere, Portland is the place for you. Situated in northwestern Oregon, Portland is nestled between the Willamette and Columbia rivers and boasts a population of over 2 million people. The city has something to offer everyone, whether you're interested in exploring the great outdoors or sampling some unique local cuisines.
Check out this Portland, OR weekend plan!
Portland is well known for its beautiful scenery and abundance of outdoor activities. There are endless kayaking, rafting, fishing, hiking, and camping opportunities in and around Portland. Visitors can enjoy all four seasons to the fullest by taking advantage of the area's diverse landscape. From snow-capped mountains to lush green forests to sandy beaches on the coast, there's no shortage of natural beauty in this corner of Oregon.
Weather in Portland Oregon
Oregon is known for its changeable weather, and Portland is no exception. The climate in the city is temperate, with mild winters and summers. However, the weather can vary daily, so it's always best to check the forecast before heading out.
The average temperature in Portland during the summer is in the low 80s, with occasional heat waves bringing temperatures into the 90s. However, the nights are usually cool, so you'll need to pack a jacket if you plan to be out after dark.
Fall is a beautiful time in Portland, as the leaves change color and the air becomes crisp and clear. The average temperature during this season is in the mid-60s, although it can dip into the 50s at night. Winter is the rainiest time of year in Portland, as the city receives an average of 9 inches of precipitation during this season. However, the temperatures are relatively mild, with an average high of 45 degrees and a low of 36 degrees.
Spring is a lovely time to visit Portland, as the weather begins to warm up and the flowers bloom. The average temperature during this season is in the mid-60s, although it can occasionally reach into the 70s. This is also one of the drier times of the year, with an average of only 6 inches of precipitation.
When to Visit Portland Oregon
Throughout the year, there are plenty of things to do in Portland, Oregon. The city celebrates various popular annual events, attracting people from all over the country. Whether you're interested in food, music, art, or outdoor activities, there's sure to be an event that piques your interest.
Most of the city's events occur during the summer when the weather is warm and pleasant. However, there are also plenty of things to do during the winter, spring, and fall.
Some of the most popular annual events include the Oregon Brewers Festival, which takes place in July, and the Rose Festival, which occurs in June. The Portland International Film Festival is another popular event that takes place in February.
No matter what time of year you visit Portland, Oregon, you're sure to find plenty of things to keep you entertained.