13 Beautiful Kayaking Spots Around New York State – from NYC to Upstate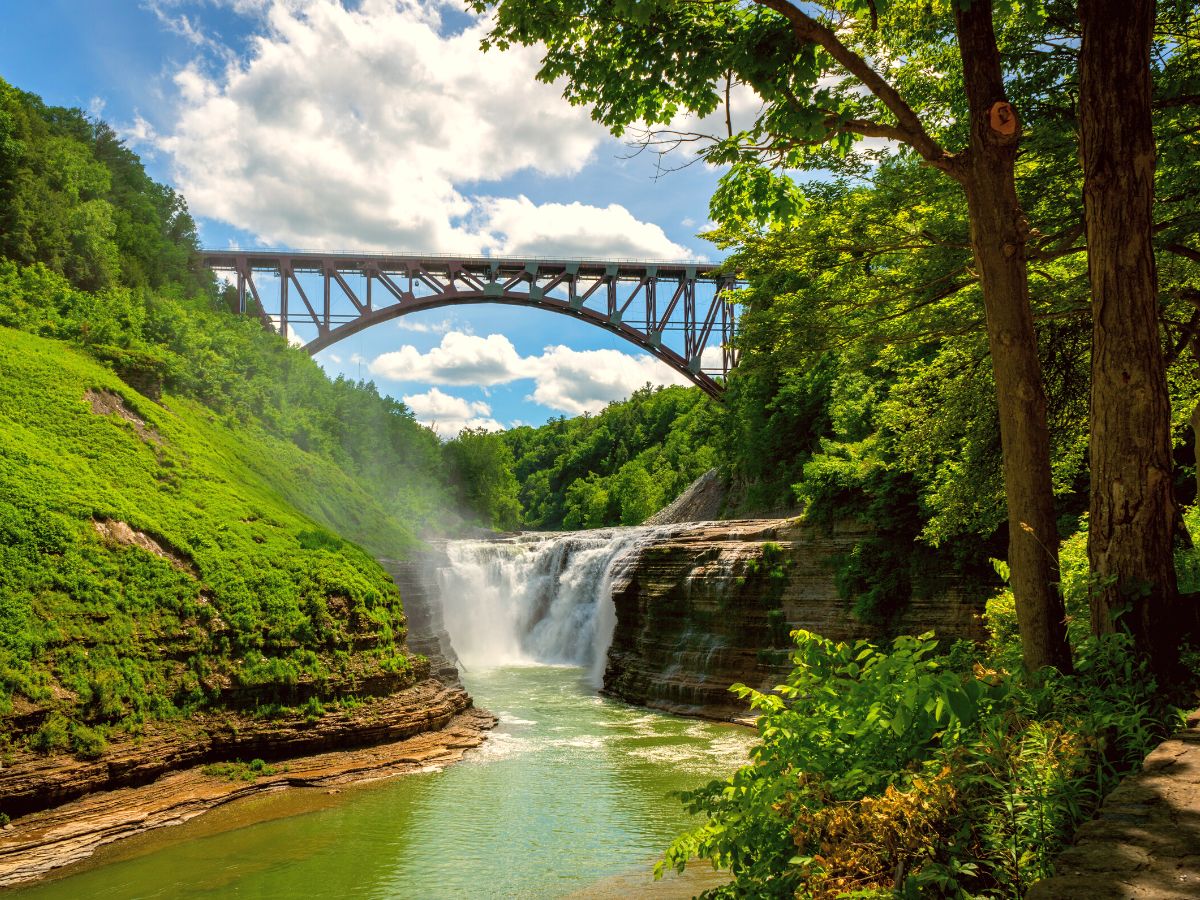 Kayaking in New York ranges from paddling around New York City to calm rivers and lakes of Upstate New York. Check out our top picks for kayaking all around the state, for every skill level.
If you're looking for a kayaking adventure, look no further than the great state of New York! There's something for everyone in New York with plenty of waterways and state parks. Saint Regis Canoe Area, Letchworth State Park, and the Hudson River are popular kayaking destinations.
The kayaking season in New York typically runs from April to October, with average temperatures ranging from the mid-50s to the low 80s. However, it's essential to know local weather patterns before planning your trip. Many state parks host popular annual events like music festivals and kayak races – so check out the event calendar before you go!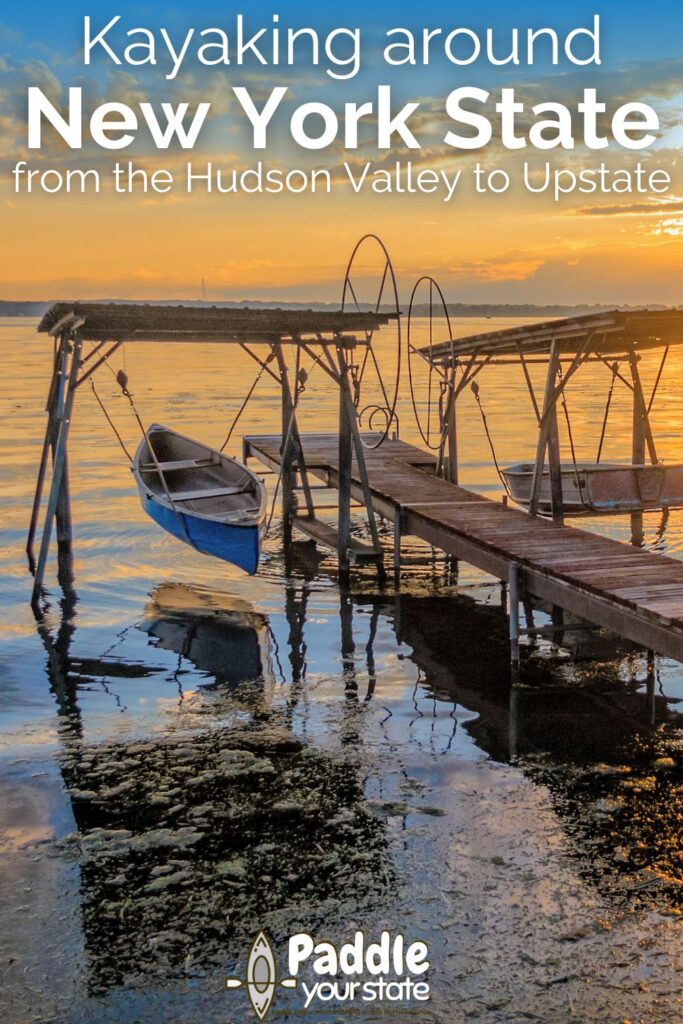 Easy Kayaking Spots in New York  
There are many options for first-time paddlers. The ever-popular Finger Lakes gives flat waters, lakes abound, and there are options to explore the Ausable River or the Hudson River. Find an outfitter to help with the basics and get you started with a good foundation of skills. 
Taughannock Falls State Park 
Taughannock Falls State Park is home to the flat waters of Cayuga Lake and is part of New York's eleven Finger Lakes. Being 38 miles long, these waters provide plenty of space to play. You can also hike up in the state park to view the area's deep gorges and 200+ foot waterfall. 
Where to launch:
Saint Regis Canoe Area
The Saint Regis Canoe Area is a unique designation as it is the only Canoe Area in the entire state. With over 18,000 acres, many lakes are perfect for a paddle in the remote wilderness. Off the water, many people hike to the summit of Saint Regis Mountain, giving panoramic views of the area. 
Where to launch:
Beaver Lake Nature Center 
Managed by the Onondaga County Parks System, Beaver Lake Nature Center is an excellent area to learn how to kayak or simply read a book surrounded by a green environment. Rentals are cheap, $10 per hour. 
Where to launch:
Cranberry Lake
Cranberry Lake is a nature reserve surrounded by a watershed, swamplands, and forest, nearly 200 acres. It's a quiet park in the middle of Westchester County and is popular for walkers who stroll around the lake. 
Where to launch:
Waneta-Lamoka Wildlife Management Area 
Waneta-Lamoka Wildlife Management Area is sandwiched between Lamoka Lake and Waneta Lake. Hunting, fishing, birding, canoeing, and kayaking are popular activities.  Fisherfolk will appreciate the variety of fish, including crappie, bass, carp, and many others.
Where to launch:
Ausable River, Adirondack Park
The Ausable River is an ideal place for those wanting to see wildlife. The slow-moving waters are a leisurely paddle, and the waters are shallow. If you're aiming for a lake, you can paddle to Lake Champlain or Lake Everest. Adirondack Park actually has TONS of kayaking, canoeing and SUP options for a variety of skill levels. Check out our guide to Paddling in the Adirondacks!
Where to launch:
Peebles Island State Park
The Hudson River flows through many parts of the state before hitting the Atlantic Ocean. One section cuts through Peebles Island State Park, which has a popular boat ramp. This is the launching point for the Erie Canal and Mohawk River. Small waterfalls are a bonus. 
Where to launch:
Difficult and Technical Kayaking in New York
The major mountain ranges in New York state are the Adirondack Mountains, the Catskill Mountains, and the Appalachian Mountains. These mountains carved out valleys and provide flowing whitewater rapids that make for a great adventure. For a large waterway, Lake Ontario provides space to paddle but be wary of weather conditions. 
Letchworth State Park
Letchworth State Park is a  home to sections of the Genesee River which flows through a deep river gorge and dramatic cliffs. The area is known as the Grand Canyon of the East. The rapids will be between class II and III, depending on the water level. Not all of the river is kayakable, so DO NOT plan on going through the whole park on the Genesee. There are some beautiful stretches though that are remarkable, from the water or the hiking trails.
Where to launch:
Hudson Gorge Wilderness
The Hudson Gorge Wilderness is part of the Adirondack Forest Preserve. It is a low mountain area with many valleys and the Hudson River running through the wilderness. The river is classified as a National Wild and Scenic River. The rugged beauty holds Class 3 and 4 rapids and should only be attempted by experienced paddlers. The river has many sections, and the New York Department of Environmental Conservation website has the most detailed information. 
Where to launch:
Zoar Valley Multiple Use Area & Unique Area
Zoar Valley Multiple Use Area is a nature reserve considered the most ecologically diverse area in Western New York. It is characterized by dramatic cliffs, deep gorges, ever-flowing waters, and thick forests. Before heading out, be sure to check the Cattaraugus Creek water conditions.
Where to launch:
Sandy Creek Lakeview Wildlife Management Area
South Sandy Creek is part of the Lakeview Wildlife Management Area on Lake Ontario. There are boat launches right on the sand beach. The marshlands are a quiet space. Check ahead of time for wind conditions. 
Where to launch:
Fair Haven Beach State Park
Fair Haven Beach State Park is on the eastern shores of Lake Ontario. It boasts some of the nicest storefronts on the lake but somehow is the most overlooked park in the state. This makes it great for families as their area consists of two sandy beaches that are separated by a channel. 
Where to launch:
Recommended Kayaking Tours in New York
If you're visiting Buffalo, you can easily pop out onto the Niagara River just before sunset to enjoy an end to the day surrounded by wildlife and the gorgeous upstate New York environment. This tour is moderately challenging but is suitable for most. 
If you'd like a half-day tour of Niagra River, you can start at Grand Island and paddle the US/Canadian border. Wildlife is abundant, and you will likely see beavers, mink, and eagles. 
Need to Know for New York
Some kayaking parks in New York also offer annual events that are popular among paddlers. For example, the Adirondack Canoe Classic is a 90-mile race on Lake George each September. Or, if you're looking for a more leisurely trip, the Thousand Islands Paddle Festival offers kayakers the chance to explore the scenic St. Lawrence River. No matter your interests, you're sure to find an event perfect for you.
When to Visit New York and Weather in New York 
The best time to kayak in New York varies depending on the park. Some parks have a limited season due to harsh winters or flooding, while others are open year-round. Generally speaking, spring and fall provide the most pleasant temperatures and scenery for kayakers. However, be sure to check the park website before planning your trip, as conditions can change quickly with weather changes.
So, whether you're a seasoned kayaker or just getting started, check out one of New York's many kayaking parks. You won't be disappointed.