Kayaking in North Georgia includes state parks near Atlanta, river gorges in the Appalachians and even just floating down the Chattahoochee River. Top picks for kayaking and paddling in northern Georgia.
For those growing up in Atlanta, its surrounding areas, or any part of North Georgia you are familiar with the beautiful mountains, valleys, and waterways that make up the spectacular scenery. Kayaking in North Georgia provides a wonderful opportunity to experience the beauty of the Blue Ridge Mountains. The region has pristine, calm waters great for beginners and whitewater rafting that provides a challenge even to the most seasoned paddlers. The trails below are only a glimpse of what the Peach State has to offer.
You'll find that kayaking in North Georgia is very different from the paddling trails of Coastal Georgia. It's more like kayaking in Tennessee or paddling around Asheville, NC with the broad rivers and gorges than what you'll find out by Savannah or in the Golden Isles. You'll love it!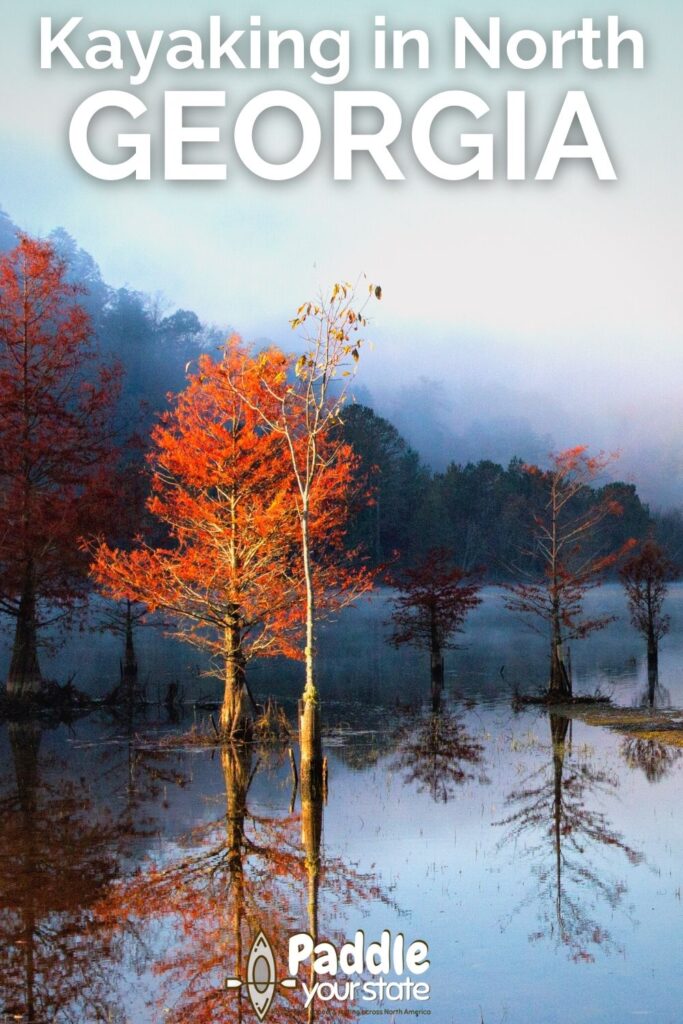 Easy Kayaking Spots in North Georgia
North Georgia is home to the Georgia Power Lakes which consist of a number of lakes that are perfect for an afternoon paddle or a multi-day camping trip. Beyond that, there are many waterways that give ample opportunity for beginner paddlers or those seeking a leisure float.
Lake Rabun, Lakemont, GA
Lake Rabun is a popular spot for those seeking calm waters. The freshwaters contain 25 miles of shoreline and beautiful views of the thick forests that surround the water. With over 80 campsites available enjoy swimming, fishing, and paddling over a weekend. You'll find the lakeshores full of beautiful homes, many with vintage looking boat garages. Lake Rabun is one of the most unique and serene places to kayak in North Georgia.
Nearby you'll also find Minnehaha Falls. This beautiful hike takes you into the Georgia forest and is one of the most beautiful, secluded cascades on the Georgia Waterfall Trail.
*SUP friendly
Where to launch: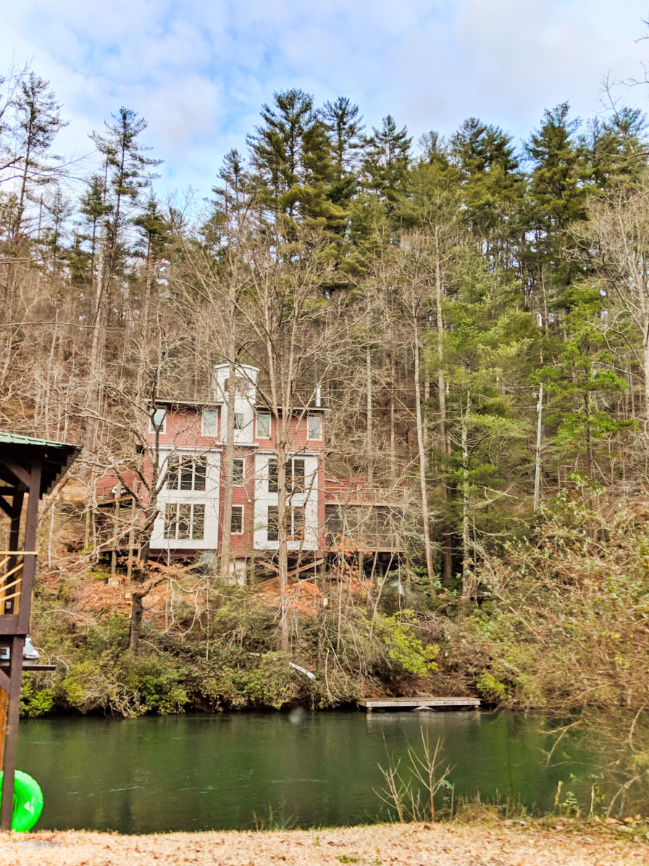 Lake Allatoona 
Being only 30 miles out of Atlanta is the popular Lake Allatoona, welcoming approximately 6 million annual visitors. This area covers over 12,000 acres and nearly 300 miles of shoreline.  There are tons of activities in the large area with houseboats, campsites, and hotels scattered in and around the area. The public land is owned and operated by the US Army Corp of Engineers. 
*SUP friendly
Where to launch: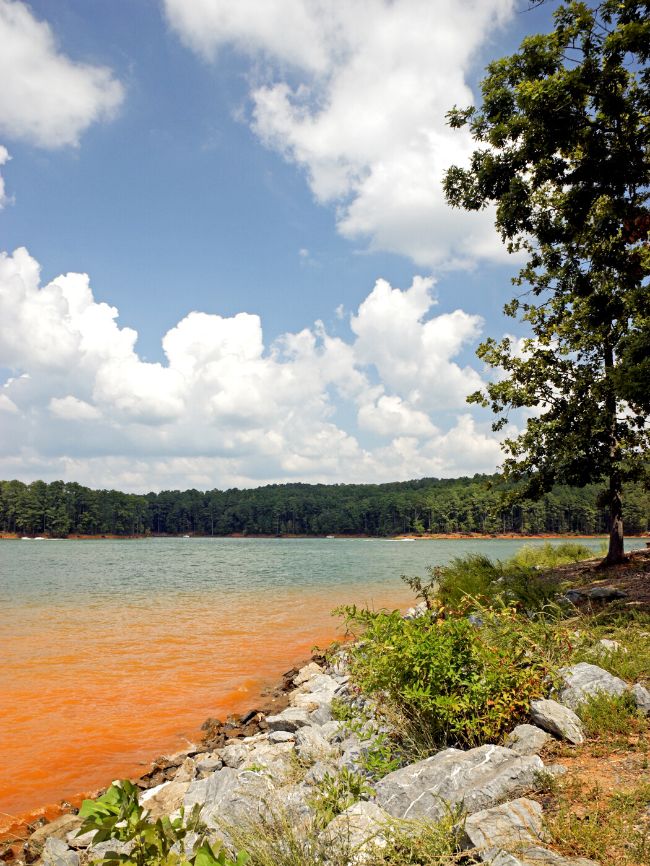 Tallulah Falls Lake
The smallest lake of Georgia's Power reservoirs is Tallulah Falls. The lake covers just over 60 acres and has a shoreline of 3.6 miles. It was impounded in 1912 and is the oldest section of Tallulah Gorge State Park. Fishing and picnicking are popular activities and the mountain surroundings provide a great backdrop for leisure.
Be sure to do the 1099 stairs at Tallulah Gorge after you're done kayaking. It's one of the prettiest and most unusual hikes in northern Georgia.
*SUP friendly
Where to launch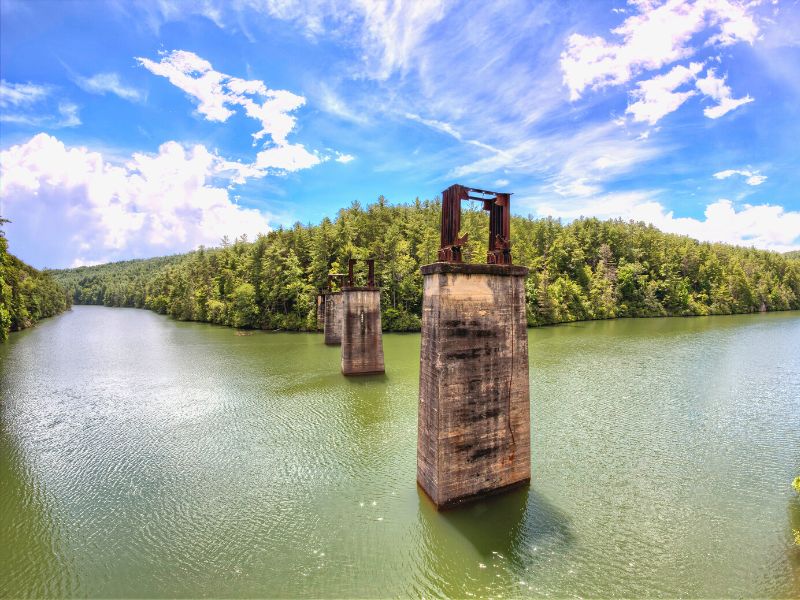 Lake Tugalo 
With over 5 miles of water, Lake Tugalo is a more narrow lake with less wind. Many folks combine fishing with a paddle and have a good chance of catching bluegills and bass. And here's a bonus: the border or Georgia and South Carolina runs down the middle of the lake, making this a great addition, not just for kayaking in northern Georgia, but also to a South Carolina paddling trip.
*SUP friendly
Where to launch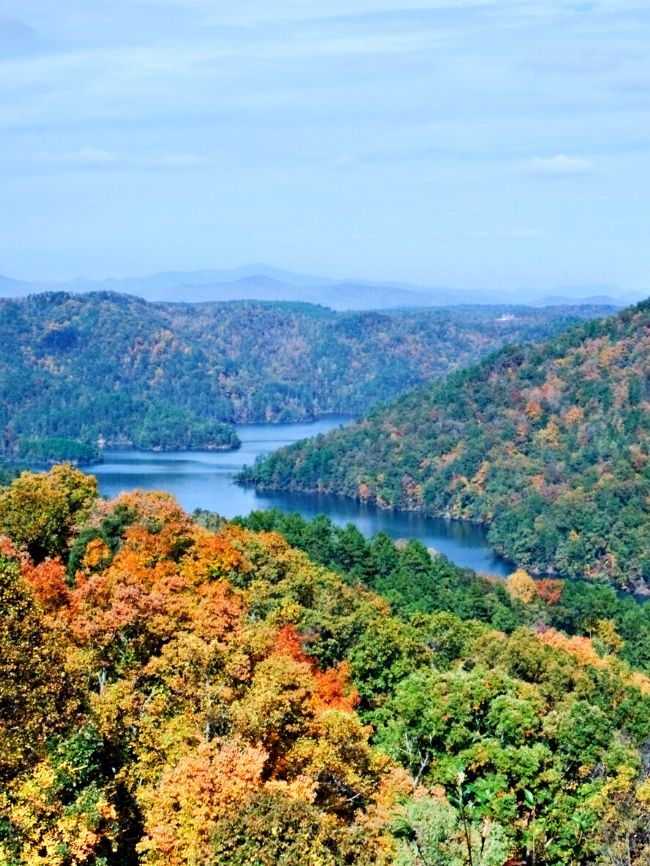 Experienced Kayak Launches in North Georgia
The most popular National Wild and Scenic River in Georgia is the Chattooga River which hosts several sections perfect for a whitewater paddle. Tallulah Gorge is also a great option for those wanting a class V paddle (I'll pass, thank you), while the Toccoa River is best for those learning new technical skills. The Ocoee River gives paddlers the opportunity to get on a former Olympics event trail. Beyond these other chances exist to get the adrenaline pumping.
Tallulah Gorge State Park
The Tallulah Gorge State Park is a very popular park and a great way to avoid the crowded trails is to take on the challenge of whitewater paddling.  The landscape includes canyons and beautiful waterfalls across a two-mile-long waterway that is approximately 1000 feet. You'll need the skills for a class-V paddle.
For information on where to launch check out the Department of Natural Resources for scheduled water releases. They also regulate kayaking.
Where to launch: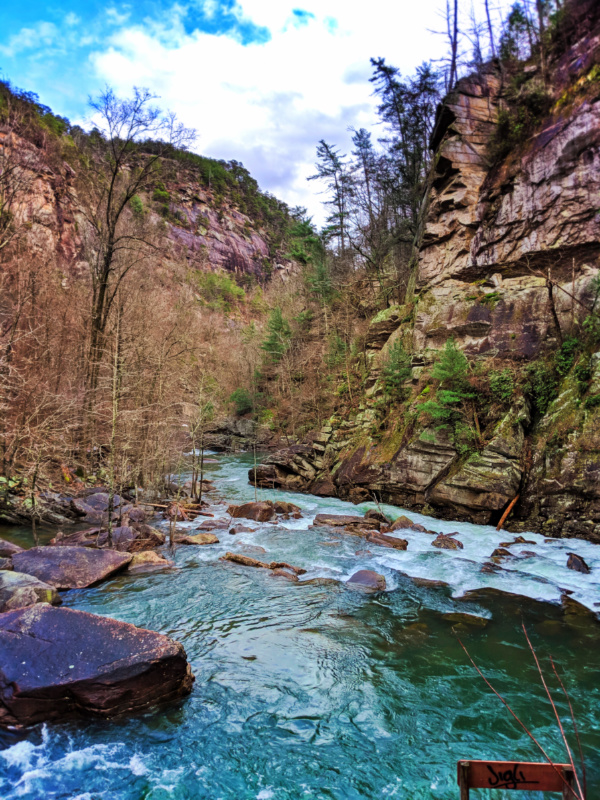 Chattooga National Wild and Scenic River
The Chattooga River consists of nearly 60 miles of the designated National Wild and Scenic River. A paddle on this river may start in South Carolina depending on the specific route you're looking for. There are a variety of difficulties but many come here for the opportunity to whitewater paddle. Chattooga River starts in North Carolina, crosses South Carolina, and then ends in Georgia. Is the main tributary of the Tugaloo River system.
The Chattooga River is one of the best, most pristine rivers in Georgia and if you follow it along, it's one of the best places for kayaking in North Carolina. It's just one of the wonders of the Southeast.
Where to launch:
Toccoa River Canoe Trail
Toccoa River Canoe Trail is a great way for paddlers to advance their skills from beginner to intermedia. With a few rapids and a great landscape surrounding the river, this trail is popular for those looking for a more gentle whitewater river paddle with the Blue Ridge Mountains in the background. While you don't have to do the 15 miles from Deep Hole to the Toccoa River Campground, it's a great paddle, including some rapids.
The town of Toccoa is also really neat. About an hour and a half from the Deep Hole Campground it's home to Toccoa Falls (has a rainbow over it each day) and a wonderful vintage downtown.
Where to launch:
Ocoee River
Ocoee River provides class III-IV rapids and was home to the 1996 Summer Olympic events: canoe, kayak, and slalom sports. For non-Olympians, summers are the perfect time to experience a paddle through the scenic US Hwy 64. Off the water there are tons of trails for hikers and mountain bikers. 
Where to launch: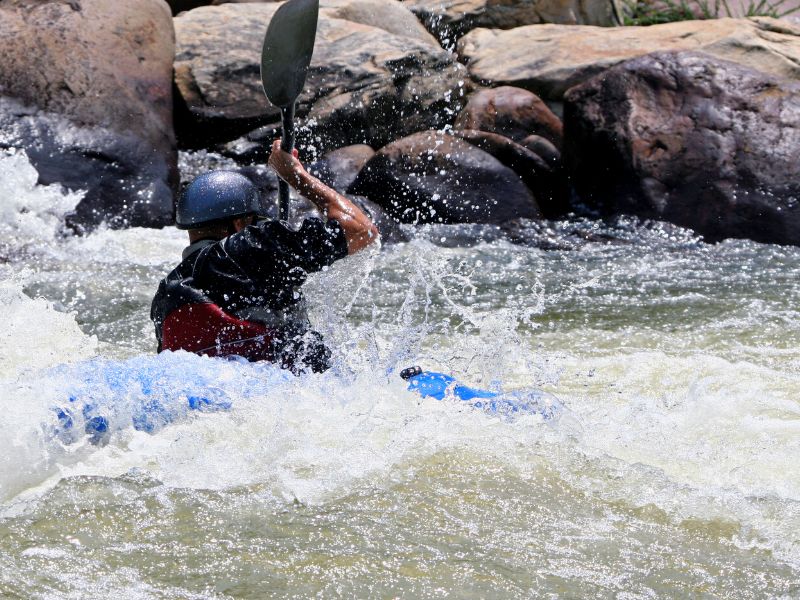 National / State Park Kayaking Spots near Atlanta
Moccasin Creek State Park,  Sloppy Floyd State Park, Black Rock Mountain State Park, and the Chattahoochee River National Recreation Area are just a few of the national and state parks that dot the northern half of Georgia. Complete with four seasons and an entry into the gorgeous Blue Ridge Mountain Range.
Sloppy Floyd State Park
Located inside the Chattahoochee National Forest, this quaint countryside state park is home to two stocked lakes, a small waterfall, gentle lake loops for hiking, and an abundance of bluebirds for birdwatching. It's great for easy paddling and fishing
Where to launch:
Chattahoochee River National Recreation Area
The Chattahoochee River National Recreation Area is home to 48 miles of waterways popular for water sports such as kayaking, rafting, and fishing. The surrounding nature is great for combining a paddle with a picnic on the rocky shores. Since the Chattahoochee actually runs through much of North Georgia, you can find any number of places to put in for either kayaking or just floating the river.
Where to launch-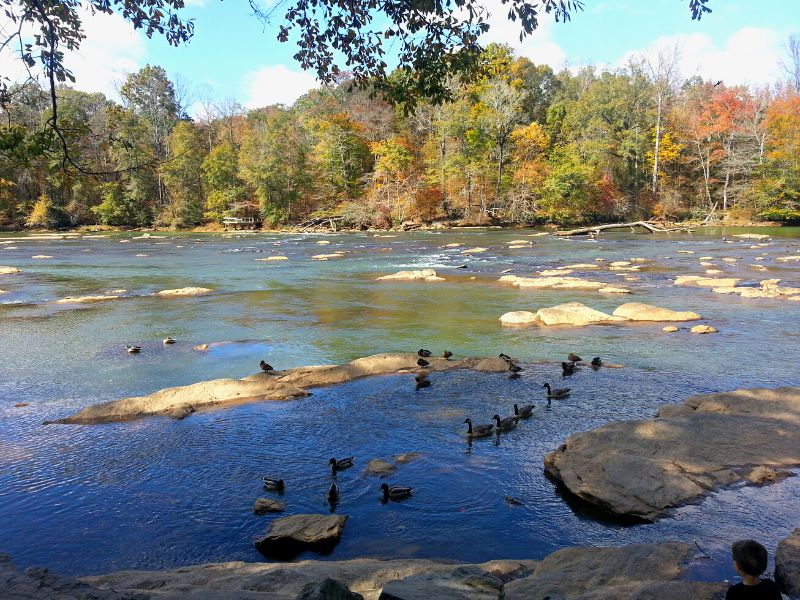 Black Rock Mountain State
Black Rock Mountain State has a small lake that is most popular with anglers fishing. This is a beautiful section of the Blue Ridge Mountain range. You'll have to bring your own canoe or kayak as there are no rental facilities in the park. The area is home to water sports that include boating, kayaking, fishing, and stand-up paddling.
Where to launch:
Moccasin Creek State Park, Lake Burton
Lake Burton in Moccasin Creek State Park is the largest lake in the five lakes that make up the Tullah River Watershed. These freshwaters are home to water sports enthusiasts as the water conditions are perfect for wakeboarding, water skiing, fishing, and paddling. Those looking for their next fresh catch will have a high chance of putting trout on their next plate as the Lake Burton Fish Hatchery raises trout to stock in the streams that surround the area. A recommended side trip would include the two cascades that make up the Hemlock Falls.
Where to launch:
Sweetwater Creek State Park 
For paddlers near Atlanta, this is one of the most accessible trails. A quick trip through woods and a historic textile mill takes you to the waters outside of downtown Atlanta. One of the closest spots to kayak near Atlanta is Sweetwater Creek State Park. Just a few minutes from downtown ATL, you'll follow a beautiful woodland trail to the waterside framed by the historic ruins of a Civil War-era textile mill. Out on the water, there are tons of fish and plenty of space on the over 200 acres of the George Sparks Reservoir.
Note: given its proximity to downtown, this area can get crowded.
For up-to-date information check out the Georgia State Parks website.  
Where to launch: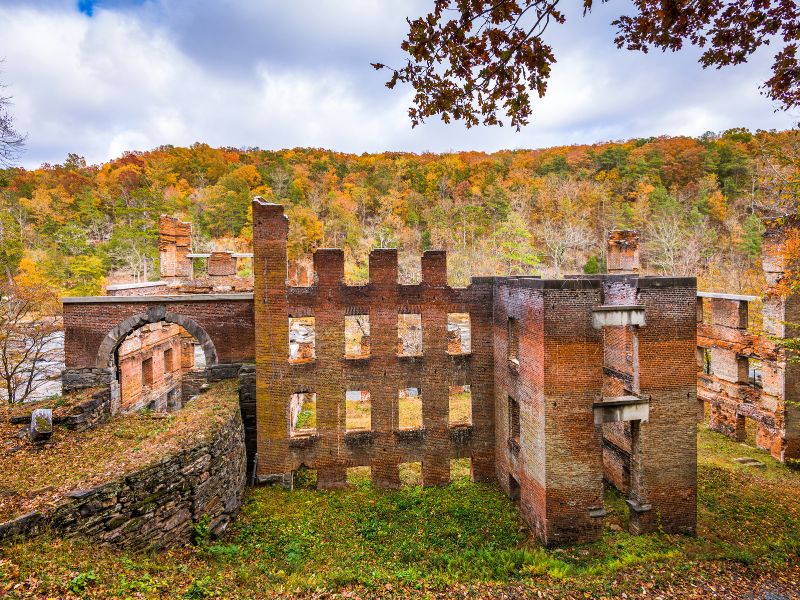 Recommended Kayaking Tours in Atlanta
For those based out of Atlanta, combining a wine-tasting with a peaceful kayak exploring the surroundings of the tranquil Broad River couldn't be easier. Paddling wine connoisseurs will appreciate a picnic-style lunch filled with local goodies and then a 6 wine tasting at the end of your journey! Book it here!
When to Visit Atlanta and North Georgia
Atlanta is a vibrant, bustling city in the heart of Georgia that has a lot to offer both visitors and residents alike. Whether you're looking for great restaurants, exciting nightlife, or just some time to relax outdoors, Atlanta has it all. If you're planning a trip to Atlanta and wondering when the best time to visit is, here are some things to consider. Weather is one of the most important factors when choosing the best time to visit any location. 
In general, summers in Atlanta tend to be hot and humid, with temperatures often exceeding 90 degrees Fahrenheit (32 degrees Celsius). While this can make outdoor activities uncomfortable during the summer months, you should also keep in mind that there are plenty of indoor attractions.
Weather in North Georgia
North Georgia is beautiful regardless of the season. Spring brings in new beginnings as animals come out, flowers are blooming, and temperatures are a pleasant 50-70 degrees. Summertime is much warmer and great for paddling. Daytime temperatures can go above 90 degrees. September onwards gives the autumn foliage and hiking is popular. Winter in the mountains brings in snow so you likely won't be paddling.
Need to Know for North Georgia
Finding outdoor recreation won't be a problem in North Georgia. Beyond kayaking, one of the most popular activities in Northern Georgia is hiking and camping in the beautiful mountain landscapes. This is a great way to spend a weekend or summer. Whether you are looking for challenging, strenuous hikes or easy strolls through lush forests, there are plenty of trails to choose from. Another popular activity that can be combined with kayaking in North Georgia is fishing, especially trout fishing along mountain streams and rivers. With so many pristine waterways and abundant fish populations, it's no wonder that fishing is one of the most popular recreational activities in this region.