Review of the Rogue Showdown Inflatable SUP - 14' long paddle board. See what we like and where this ranks with other inflatable SUPs.
This review is of the Rogue Showdown inflatable SUP. The Showdown is a unique standup paddleboard in that it's remarkably long in comparison with most mainstream SUPs. The producer, Rogue, tends to make boards with a more pointed shape, and the Rogue Showdown carries on that style.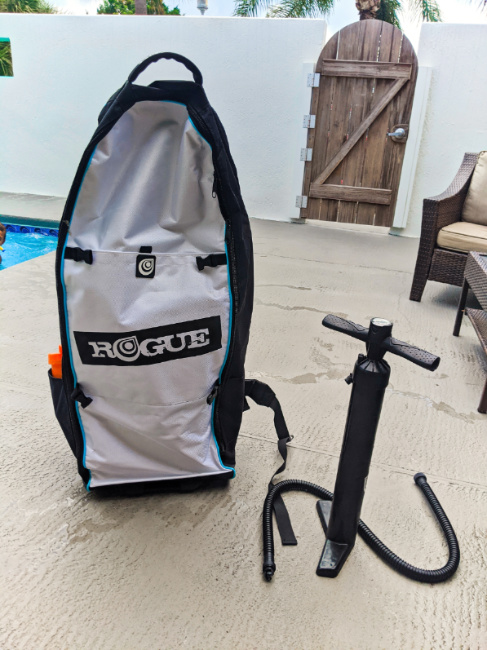 Where to Get the Rogue Showdown Inflatable SUP
I tend to lean towards REI when shopping for new outdoor gear because they have a great return policy and I love getting the dividends on my REI Co-Op membership… but they also have a really good selection of diverse equipment. I found the Rogue Showdown SUP on the REI Outlet site and think it's a great board.
UPDATE: the Rogue Showdown is no longer available through REI, but still available online.
Rogue Showdown Ease of Use
The Rogue Showdown SUP is rather long (14 feet) for an inflatable stand up paddleboard, but it's still quite firm and easy to use. I really like the length for flat water SUP, but find that it also handles rollers quite well. Of course, balance is always something that's learned, so a beginner might topple, but in general the length/width ratio is actually good.
I found that paddling the Rogue Showdown with the intent of speed… it's no different than my 10'6″ or 11′ boards. I had high hopes that being longer like a touring board, that it would cut better, but it's still pretty standard. And yes, this is when it's fully and properly inflated.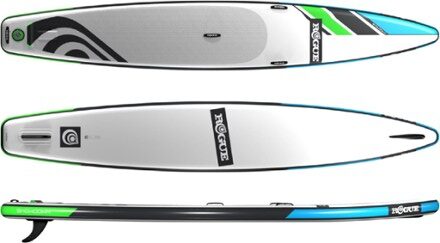 To Like About the Rogue Showdown
First off, I love how pretty and clean this board is. It's colors (and of most Rogue boards) are a nice change to the standard SUP colors, and I like its texture. The Rogue Showdown is very grippy and since it has no extra attachments or gear on it, it's good for SUP yoga or just relaxing and flowing with the current.
I really like how easy the Rogue Showdown inflatable SUP packs up. It's very easy to roll and fit back into its carrier with the rest of the gear (paddle, pump, repair kit…) It's also lighter than other inflatable SUPs at 26 lbs vs a packed weight of 30 lbs+.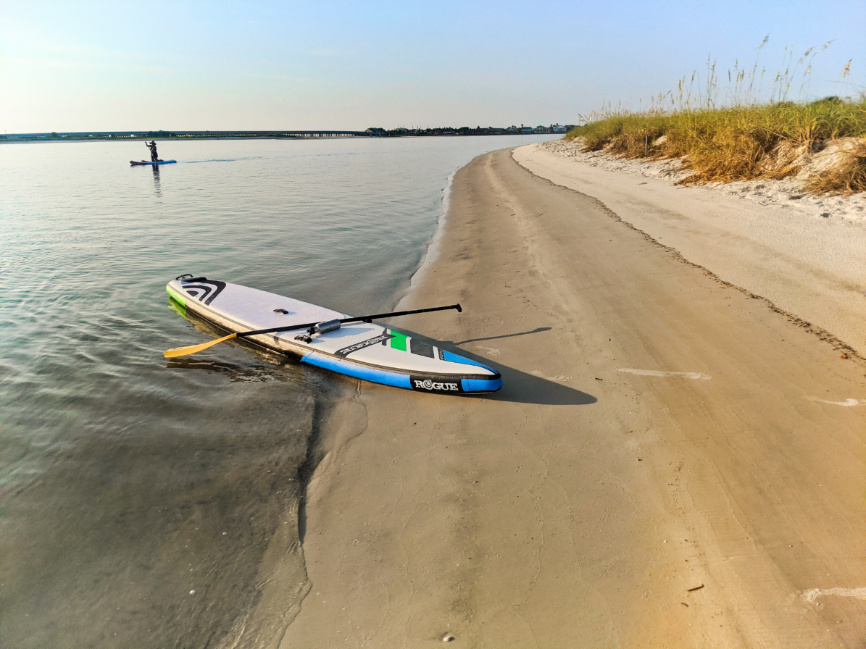 Negatives of the Rogue Showdown
I really wants the length of this board to have a positive impact on the experience. Unfortunately, the length didn't help with being more swift across the water, although it did make rough water easier to navigate. Also, since it's more narrow that most SUPs, both inflatable and hard, balance can be tricky if you're not used to it. It's for sure NOT a SUP for newbies.
Overall, not a bad board but not our top pick. The Rogue Showdown has its good points, but there are better boards for the same or lower price.
Check out more of our SUP Reviews, including one of our favorites, the WOW Watersports Rover (current top pick).